As we leave 2012 behind, we cannot help thinking that the term CRM recently celebrated its 30th birthday! Despite its age, Customer Relationship Management couldn't be a more "current" issue. As the beginning of a new year is a time for reflection, we are also reflecting on what will matter most to us in 2013. Customer relationships are certainly top of this list, but we're thinking about many other elements as well.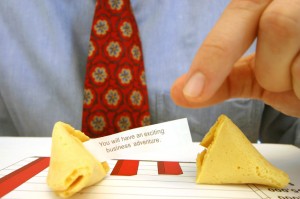 Power to the Customer
Software buyer behavior has shifted over the last few years, and this change has been driven by the rapid adoption of cloud-based services and solutions. This transition in buyer behavior will become even more profound in 2013 as the cloud continues to impact the entire customer management lifecycle, from acquisition to retention. The bar of expectations for serving the customer at every touchpoint in the lifecycle will be raised even higher, from selling within the context of the customer's chosen channels to serving customers when, where, and how they prefer. Today's customers define the product and service by what they actually use, in part because usage is more measurable than ever. The "power" has shifted away from the vendor and moved into the customer's hands. This shift is especially relevant for SaaS products and cloud services in general, as switching to another provider is less painful with SaaS than with on-premise software.
Marketing Is the New Sales
Marketing will play a greater role in software sales in 2013. Vendors must engage customers in an ongoing relationship, not only to acquire new customers, but also to optimize purchase flows and retain existing customers. This means that marketing and sales need to be more integrated in order to help companies understand where to monetize in the customer lifecycle, how to drive business effectively, and how to go to market faster. Digital marketing will grow in importance, with search volumes increasing and SEO becoming more complex. In fact, Forrester predicts that "digital marketing" is set to lose its prefix and become simply "marketing" this year. Most of marketers' output will become "inherently digital" over the coming months.
Channels Are Here to Stay
Actually, that's an understatement. The role of the channel in the ecosystem for software sales is definitely changing, but channels are here to stay and will only grow in importance, even for SaaS sales. What this means is that vendors will have to equip their sales channels with new tools for effectively managing customer relationships and adding value. If you're a reseller that is just shifting boxes (or rather, bits and bytes), you're finished—to put it mildly. Fortunately, value add can take many different forms for channel sales partners, from effective implementation and integration assistance to ongoing customer service, helpful product reviews, or even entertainment (including games).
The Rise of Resellers and Affiliates
Another interesting part of the role change for the channel is that resellers will start working as and with affiliates. Speaking of affiliates, coupons will gain importance on content affiliates' websites. Affiliate retribution models for software, such as pay-per-install or pay-per-download, will increase. And multi-attribution marketing will be the term on everyone's lips by the end of 2013, because it enables more flexible attribution for sales while solving many other issues that software vendors face, such as crediting several affiliates from different networks for the same sale. B2C approaches will be leveraged by affiliates for B2sB and increasingly, B2B, with the help of dedicated retribution models like pay-per-lead or pay-per-call.
Social Becomes (Even More) Central
Social media plays a major role in consumers' lives, and usage of social services continues to grow rapidly. By facilitating customer interaction, the convenience of social media adds many touchpoints to the software sales process, even as it accelerates the overall sales cycle. Companies that can advance the purchase process smoothly, without disrupting the social experience, will be well positioned to build their user base using social. By facilitating ongoing interaction with customers, social media interferes with the sales cycle, which no longer ends with a sale. Customers expect frequent communication and education from their vendors, and reward these efforts by sharing their experiences on social, widening companies' reach exponentially. Paying appropriate attention to social will position companies for an accelerated sales cycle, happy customers, and effective word-of-mouth marketing. Ignoring the social component is certainly no longer possible. What marketers are still struggling to figure out is the value of social for B2B and its optimal connection with e-commerce. 2013 will surely see progress in this area.
Mobile Surpasses Desktop
Providing a mobile optimized sales and support experience that's fully synchronized with desktop interactions will continue to become even more important as the installation base for mobile devices is expected to surpass that of PCs by the end of 2013. Companies need to ensure that their products make it easy for their target audience to browse, buy, and use software products on multiple devices. An inconsistent (or not optimized) experience across devices will lead customers to look elsewhere for solutions that meet their needs, so companies should design with mobile in mind.
The Attraction of Foreign Markets Continues
Whether B2B or B2C, the international markets will continue to be attractive for software sales in 2013. Local strategies will become more relevant than ever before, in tandem with the increased attention to customer behavior and expectations outlined above. Emerging markets will remain very attractive, with higher growth rates in IT purchases than the world average. China and India are key examples of this phenomenon.
Continued Shift to SaaS and Online
We already know that 8 out of 10 start-ups are SaaS and that all evidence points towards a wider adoption of SaaS applications across all industries. What is also interesting (and fairly obvious if you think about it) is that many on-premise software companies are now looking at transitioning to SaaS. In addition, an increasing number of enterprise software companies (even the "Big Giants") will start selling online, even if they do so only with some product lines or enter SaaS through mergers and acquisitions (a process that's already begun).
Going Beyond Subscriptions
With a growing appetite for pay-as-you-go sales models in the B2B as well as the B2C world, subscriptions are still just a small piece of what the software market will look like in the future. In 2013, more and more software companies will be looking to implement subscriptions. This will involve identifying the best revenue and business models to adopt for different markets, as well as selecting the tools and solutions that will help put a subscription-based strategy into practice. To support these initiatives, we'll see more third-party recommendations, tailored to  software, gaming, and publishing firms, for specific solutions that help such providers take their business to the next level with more sophisticated commerce tools.
Stay tuned for more posts and resources on software and SaaS Sales as 2013 progresses. In the meantime, feel free to share your expectations and predictions for 2013 with us. We look forward to hearing from you.