Most companies have some idea of their customer acquisition costs, or CAC. But another key metric for software companies isn't always tracked as closely: customer lifetime value (CLV), or the value a customer is expected to bring to a company over time.
It's incredibly important to keep customers subscribed, renewing, buying more and upgrading after they select your product. However, extending the customer relationship in this way won't happen accidentally. It takes some conscious planning, effort and testing, and it all starts with tracking your CLV.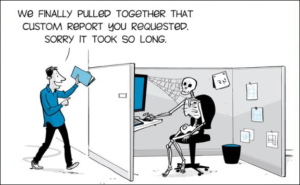 The good news is, once you start to track CLV, you can start to improve it. To help you figure out how to grow your CLV, we recently took part in a webinar hosted by the Software & Services Division of SIIA (the Software & Information Industry Association) about Increasing Customer Lifetime Value for Software and SaaS Subscriptions. In the webinar, our own Conversion Optimization Strategist Shannon MacLeod took us through the entire customer lifecycle from acquisition to renewal and suggested tactics for increasing CLV at every step in this lifecycle. In this blog post, we give you an exclusive look at some of the insights she shared.
First, Shannon talked about the evolution of the sales funnel and what the new subscription customer lifecycle entails.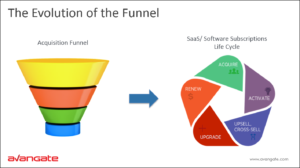 You can see below how different stages of the lifecycle contribute to CLV over time: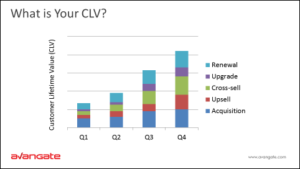 When it comes to maximizing CLV with upsells, some basic tactics involve creating interstitial pages or overlays to show a special offer to shoppers before or on the checkout page. Offers such as discounts for extending the term of a subscription or on a suggested upsell offer can be tremendously successful in increasing CLV.
Here's an example of an interstitial upsell from SEO PowerSuite: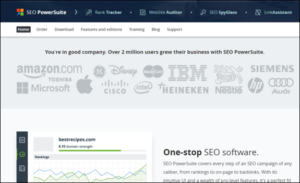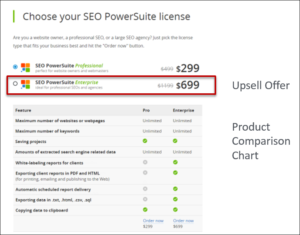 A few of the most popular types of cross-sells in the software industry are an offer on the checkout page, an overlay on the checkout page and post-checkout offers.
There are many other creative cross-selling examples given in the webinar. Here's a nice one of a post-sale cross-sell from AVG: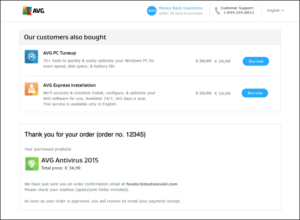 How effective are post-purchase cross-sells compared to cross-sells in cart? Judging from the popularity of the two approaches, it appears cross-selling in cart is preferred. By capitalizing on a peak moment of customer engagement, merchants can showcase their most compatible products right in the cart, without waiting for shoppers to finalize the purchase (and potentially losing the "buy now" moment).
On the other hand, you have nothing to lose by offering cross-sells on the thank you page. The order is already finalized, so even if the cross-sell on the thank you page doesn't convert as well, it still brings in additional revenue without the risk of overwhelming a customer with too many choices and missing a purchase altogether. Here's an excellent example of cross-selling on the thank you page that helped Bitdefender triple its conversion rate and boost AOV by 12%.
Tip: make sure your customers don't have to re-enter their payment details to take advantage of a thank you page offer.
Another key tactic for maximizing CLV involves upgrades, with email offers, in-product messaging, offers in the My Account area and customer support being  the main avenues for making upgrades happen. But CLV isn't all sunshine and rainbows: sometimes, customers want to downgrade or cancel their subscriptions altogether. Although a cancellation request might seem like an inauspicious start to growing CLV, it can actually be a prime opportunity to retain customers and extend their value with tailored discounts or offers to switch to a similar product at a lower price.
Below is an example of an effective discount offer from AVS4YOU: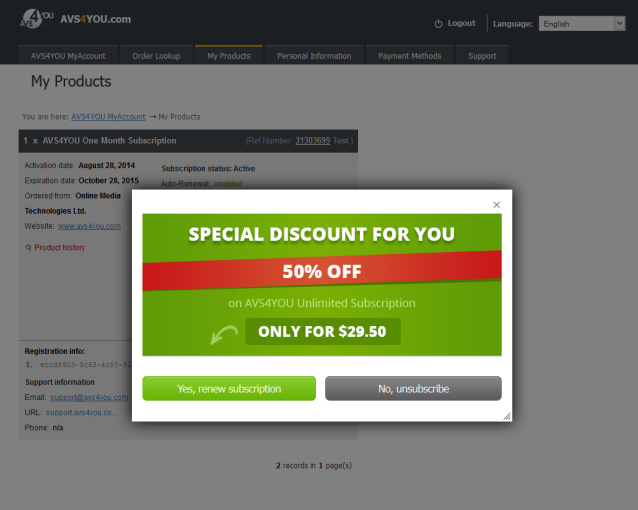 Customers typically want to cancel accounts if they feel they're overpaying for what they get, so offering a slightly different level of service for less money can keep them around. As their needs change over time, they might be willing to upgrade back to the original package. Even if all renewal efforts fail, you should at least attempt to get some feedback from customers who are determined to cancel their subscription. Learning their reasons for cancelling will give you valuable information about what you can do to keep other customers going forward.
Renewals, of course, substantially affect CLV. Although there are many different tactics you can use for manual vs. automatic renewals, the renewal model (automatic or manual) is a major factor that clearly impacts CLV. Logically, it's more difficult to persuade your customers to agree to an automatic versus manual subscription, but get this: the average auto-renewal rate for subscriptions is almost two and a half times higher than the manual-renewal rate (according to Avangate platform-wide data). Here's a graph that clearly shows just how much the renewal model impacts CLV: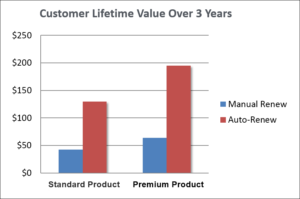 When it comes to manual renewals, you still have options. You can try email offers, in-product messaging and offers in the My Account area, as well as customer support and migration campaigns, to retain customers who've chosen manual renewals. Messaging type and timing will be different for subscriptions with auto-renew versus subscriptions with manual renewals.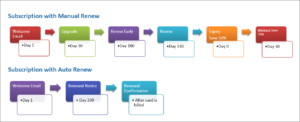 Messaging type and timing for yearly renewal models
When it comes to auto-renewals, you'll need to bring in some heavy lifters for help to ensure success. To get you started, here are six key questions to ask your payments provider:
Do you use multiple payment gateways?
What are your renewal and authorization rates?
Describe your retry logic.
How do you manage expired credit cards?
Can customers disable auto-renew without cancelling their subscription?
Does your support team offer downgrades for customers who want to cancel their subscription?
Why ask these questions? Authorization rates increase with local payment gateways, especially if you are selling internationally, so you need to optimize authorization with payment processors in each region in order to increase your conversion rates.
Intelligent payment routing and gateway failover are other effective ways to increase authorization and, consequently, renewal rates. Above all, you should KNOW your authorization rates. Visibility into renewal rates and recurring billing practices is critical to marketers. How else will you know what to improve?
And because so many data breaches happen with credit cards, having an account updater service in place is a must for customer retention.
Finally, similar to downgrade offers, put in place campaigns or options for your customers to switch from auto-renewal to manual renewal if that's the only way to avoid churn. You can offer ways for customers to disable auto-renewal in the shopping cart – here's one example from Workshare:
Or, let customers turn off auto-renewal from your customer support or My Account area, as in this example from Absolute: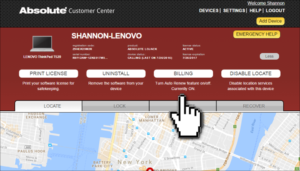 Shannon's final word of advice in the webinar was, whatever you do, live the user experience. Do a "wall test" with all of your messaging, including campaigns across channels and across stages in the client lifecycle, to check for consistency on branding, discounts and messaging.
This blog post gives you just a few ideas for keeping your customers coming back. To get more tips on increasing CLV and hear the questions your peers asked (plus the answers they received from Shannon), watch the full webinar here.