Ecommerce websites inevitably have issues with shopping cart abandonment. As a result, companies invest major resources in finding methods to recapture the attention of buyers who don't complete purchases.
Just think about the number of people who visit your website every day, download your free products, add items into their carts, and then go into the checkout page and leave without purchasing. You've probably already come up with many ways to ask these visitors to come back and purchase, perhaps even offering a small discount to incentivize them to buy.
Our experience shows that using remarketing with Google Analytics is the best way to recapture the attention of customers who abandon their shopping carts. With remarketing, you get maximum exposure for your brand and products at a low cost, and also increase your shopping cart conversion rate by bringing in people who already engaged with your brand and are very likely to convert.
Also: Check out this Step by Step Guide for Tracking Website Visitors' Activity with Google Analytics.
If you're not convinced, look at the numbers: 20% of cart abandoners return to make a purchase after receiving remarketing messages, and these visitors spend about 55% more than those who do not abandon the cart. These statistics speak loudly enough for me to want to implement remarketing lists right about… now.
Getting Started with Remarketing Lists
Since last year, Google remarketing works with your Google Analytics account, so you don't have to use separate remarketing codes for your web pages. This makes it a lot easier to implement remarketing lists and keep them updated over time. You can now see Remarketing Lists in the Admin section of your Google Analytics account.

Remarketing Prerequisites
Before setting up remarketing lists, you'll need to do the following:
Link your Google AdWords and Google Analytics accounts.
Set up ecommerce tracking for your Avangate Cart in your Google Analytics account and ensure you are receiving accurate data.

If you don't have ecommerce tracking set up yet, this step-by-step guide will show you how to use Google Analytics for high-performance analysis of your Avangate cart: Analytics Mini-Bible.

Set up Avangate Cart Transaction goal.
Update your privacy policy on the website.
Decide who you want to target: all visitors who abandoned the cart, visitors who added multiple items, or perhaps even visitors who made a purchase and may need a related item.
The 4 Steps to Setting Up Remarketing Lists
After your prerequisites are in order, you can set up remarketing lists for shopping cart abandoners by following the 4 steps below.
Step 1: Update your tracking code
First, update the Google Analytics tracking code  inside your Avangate shopping cart template. This will enable the remarketing lists to track your shopping cart abandoners properly.
Replace the following Google Analytics code from your Avangate shopping cart template

…with the new code highlighted in the example below.
Please keep in mind that you must make the same update to the rest of the Analytics code existing on your website.
Step 2: Create your lists
Now that you've updated your Analytics code, start creating your remarketing lists. To get started, click on +New Remarketing List in your Google Analytics account. You will see the following options: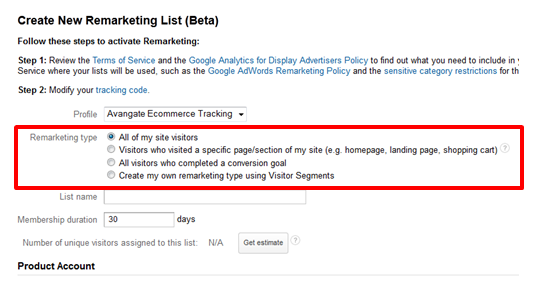 As you can see, you have the option to target all of your site's visitors or visitors who have viewed a certain page of your site. However, you also have two more options: target all visitors who have completed a goal that you have previously set up in Google Analytics, or create your own remarketing type using Visitor Segments (which is similar to setting up Advanced Segments). For our remarketing list, we will use the final option: Visitor Segments.
Note: It is best to define who you want to target before setting up your remarketing lists. If you haven't already done this, spend a few moments with your team identifying the top 3 remarketing lists (other than shopping cart abandoners) you'd like to create, according to your business needs. You'll want to choose the list name, select the criteria for the visitors that will be added to that list, and define the length of time visitors can stay on that list. Pay particular attention to the name of the list; it should be descriptive enough so that you will remember its structure in the future.
To re-engage buyers who abandoned the shopping cart, start with the list of users who visited the checkout page but did not make a purchase. To define the user profile that collects the visitors you intend to target, select "Create my own remarketing type using Visitor Segments":

Then, create a special Visitor Segment for the users who visited the Avangate checkout page but abandoned the shopping process (did not complete any transactions). The following image shows you how to define these visitors using filter criteria.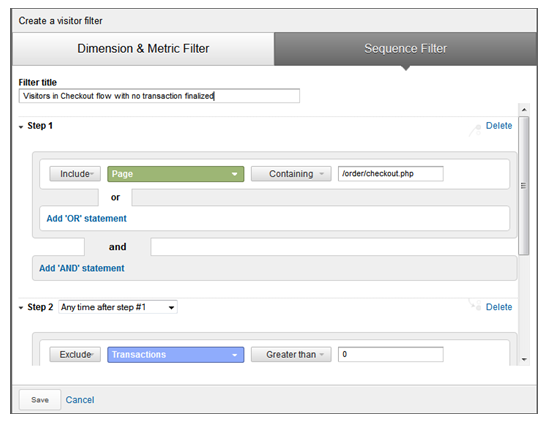 Congratulations! You've just created a sequence filter that will help you identify shopping cart abandoners and send targeted messages to convince them to re-engage with your brand or product. Here's what the finished filter looks like:

Other options: In addition to filtering for visitors who accessed the shopping cart but didn't complete any transactions, other lists of highly qualified prospective buyers could include:
Visitors who purchased a product that are qualified for cross-sell or up-sell products.
Visitors who purchased a product with a short lifespan.
Visitors who downloaded free products.
Visitors who signed in to your site.
Step 3: Collect user data
Once you have defined your remarketing list, you will have to wait to collect enough data for your remarketing campaigns. After 100 users meet your remarketing criteria (that is, 100 people abandon the shopping cart), the list of these users is automatically sent from Google Analytics to Google AdWords. After the list has been sent over, you can start remarketing to those visitors with Google AdWords.
Step 4: Remarket using AdWords
Steps one through three get lists of qualified leads into your AdWords account. Now, you can create and run custom ad campaigns for these visitors using Google AdWords. The creative materials for these remarketing campaigns should have specific messages that match the list of target users. For example, you might attract shopping cart abandoners with a message like "Finalize your purchase order! Get your product now with 30% off!" Have no worries, your targeted remarketing messages won't be shown to people who are not on the remarketing list.
That's it! In just four easy steps, you are remarketing using Google Analytics!
But wait, there's more…
A few final remarketing tips & tricks that show the many possibilities out there:
Create lists with visitors coming from different traffic sources (PPC, organic, etc.).
Create lists with visitors who have engaged with your website in depth (based on time on site).
Create custom offers for your lists based on previous behavior such as product/service interest or technology used.
Offer promotional prices/discounts/bundles to your remarketing lists.
Address users with a seasonal message (New Year's, Easter, etc.).
A great complementary remarketing tactic that will make your remarketing efforts complete is setting up the Lead Management module available in Avangate Enterprise. This will allow you to set up follow-up emails for unfinished payments (with recovery rates up to 40%), abandoned shopping carts and free trial downloads. And it's up to you to decide how many to send and how often.
Remarketing has proven to be a very powerful tool for increasing conversions by targeting engaged prospects who have already visited your site. Integrating remarketing with Google Analytics provides more power and may even transform abandoned carts from a liability into an asset for your company.