We've all been there.
Whether you call it window shopping, comparing prices, exploring gift options, or just mere curiosity, it's followed by abandoning the checkout process.
For 58.6% of US shoppers, cart abandonment is an unavoidable consequence of the way users browse eCommerce sites. In this post, we focus on the other, more preventable reasons for cart abandonment.
We dug into some studies and spoke with our software & SaaS customers, and this post outlines the main shopping cart abandonment reasons for software & SaaS shoppers we found. Not only that, but we also provided easy "fixes" for some of the reasons.
Bonus: Whitepaper – Shopping Cart Best Practices.
Let's look at how you can start bringing back users who abandon their carts.
 1. Lack of Perceived Value
Too often, users don't understand the real value of your product. They give up on long or complicated checkout processes because they feel that what they're about to acquire is not just not worth it.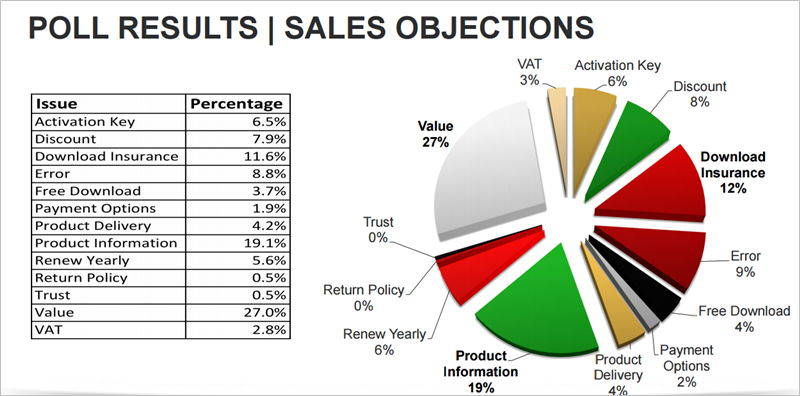 Movavi conducted a survey to understand why shoppers don't complete purchases and found that the major reason, accounting for 27% of objections, wasn't related to trust or security, but the perceived value of the product. As a result, Movavi worked on improving its perceived value and communicating more about site security.
The study also showed that displaying too much information about a product on the checkout page can be harmful. Instead, product details should be communicated upstream in the purchase funnel. Your users will respond to a cleaner-looking cart with less text and a lower cognitive load.
 2. Lack of Reassurance
Hesitation and uncertainty are the some of the biggest enemies of ecommerce merchants. And for good reason: usually, shoppers have to take your claims for granted and hope for the best. Offering some kind of insurance reduces the potential objections a prospect might have about buying from you.
Movavi found that its own Download Insurance Service (DIS) was one of the main reasons for shopping cart abandonment and wanted to test the best way to display the service on the checkout page.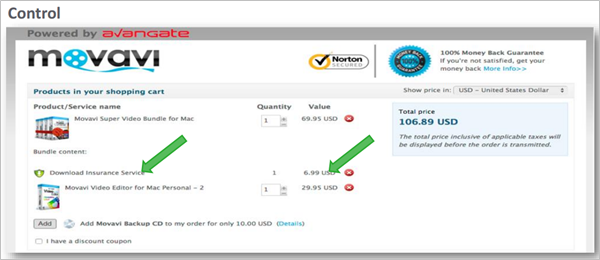 Variation 1 offered a more detailed explanation for the Download Insurance Service and allowed the user to "opt-in" to the service.

Variation 2 included a Download Insurance Service opt-out but still offered in-depth information about the service.

In Variation 3, the Download Insurance Service was removed for a cleaner-looking cart.

Variation 2 was the best performer:
Highest attach rate for Download Insurance Service
Highest attach rate for Backup CD
Highest revenue per visitor (RPV)
Similar user experience to control (low-risk change)
What can we learn from this test? Users respond better to the Download Insurance Service when there is an explanation with the product. They don't necessarily respond negatively to having DIS automatically added to the cart, just to having it added without an explanation.
TIP: More users are persuaded to buy when you "reverse risk" with a money-back guarantee, so don't miss this opportunity. Displaying information about your refund policy will also help reassure users. Adding icons showing your "Satisfaction Guarantee" or "30-Day Money Back Guarantee" can remove hesitation and reduce risk by reassuring buyers that they have recourse if they don't like the product. These guarantees show that you care about customer satisfaction and may remove the doubts that can trigger cart abandonment.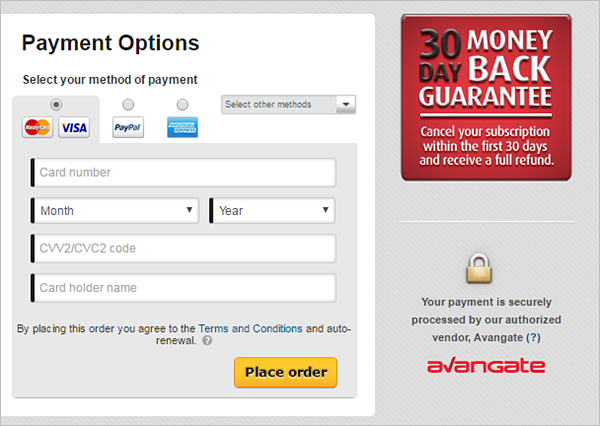 To further boost trust, you can display customer support contact information such as a 24/7 local toll-free phone number at the very top of the page. The footer can include additional details such as email, instant messaging, live chat and social networks. Shoppers will trust you more when they can see how easy it will be to reach you through a variety of channels.


Finally, when using an eCommerce provider as your merchant of record, leverage the credibility of your eCommerce partner by co-branding the cart page and adding their logo to the header. This is especially important because the users need to understand that clicking the buy button will redirect them to the third-party eCommerce provider.

 3. Cart Errors
Even if you have the best IT team you can find, your website might crash or your checkout page might display an error from time to time. Shoppers are very sensitive to these mistakes, so they may give up on buying a certain product or abandon your company altogether if something goes wrong even once. As you improve your checkout process, keep in mind that system-generated error messages need to be read and understood by humans. Display only clear error info and actionable fixes that will help shoppers resolve an issue. Provide visually distinctive cues when errors are generated and when they're resolved.
TIP: Make sure you have a team monitoring checkout pages to prevent small mistakes from affecting your conversions. You can also customize recovery actions based on the type of error that occurs. For example, to fix an "Invalid signature or link expired!" error in the shopping cart, you can set up an error event trigger to a third-party app (such as Google Analytics) to solve the problem faster and more efficiently with specific follow-ups.
4.      Price Research
Another key reason shoppers abandon the cart is "window shopping" or "comparison shopping." In this case, users are checking out your pricing or comparing you with your competitors. To create a sense of urgency and avoid losing potential buyers, try to recover these curious abandons with an offer they can't refuse. Use exit pop-ups to emphasize a limited-time offer for a product in their shopping cart.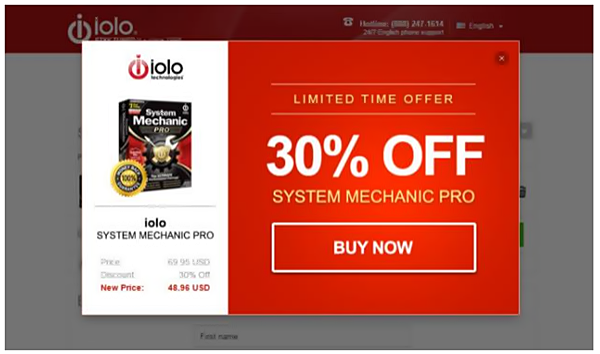 You can also use remarketing emails to let these shoppers know about your offer, in case they leave your website without completing their order—just remember to capture contact information before users reach the cart. Remarketing is especially effective if the initial intent was to purchase later or for users who simply walked away from their computer and abandoned the session. On average, about 2-3% of your software revenue can be recovered easily with follow-up emails.
TIP: As a rule of thumb, the first follow-up email should reach potential customers within an hour of cart abandonment to be most effective. Approximately four out of every ten customers open messages related to abandoned carts, so send your first email within 30 minutes, the next after 24 hours and the third after 48 hours.
Another aspect that you need to take into account is price consistency between your website and your cart pages. This is a common mistake and can be easily avoided by properly integrating your systems and synchronizing changes in real time. Price differences can be the result of poor localization as well.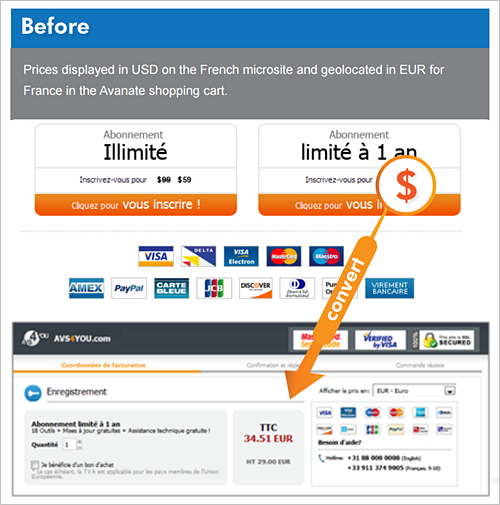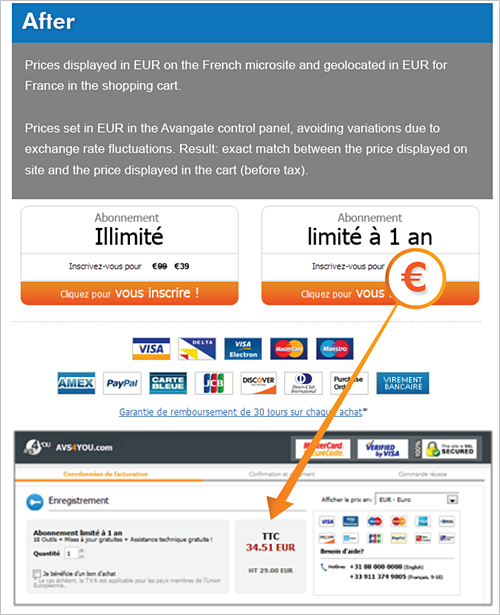 5.      Not Enough Payment Options
If you're only offering a single payment option (or very few choices), you're putting unnecessary obstacles between your prospects and your revenue. Offering more payment options decreases the cart abandonment rate by letting people pay the way they prefer.
For instance, Workshare offers multi-currency support, so international visitors can understand the price and pay using their preferred currency.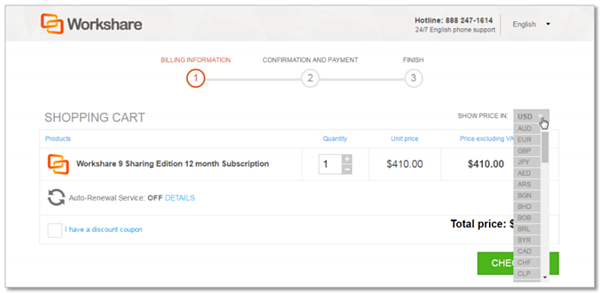 TIP: Avangate Global Payments enable you to sell globally and settle payments seamlessly while giving shoppers a secure localized buying experience with more than 45 payment methods and 130 currencies.
 6. Lengthy Forms or Cumbersome Checkout
The length of forms or the checkout process can be another reason customers abandon shopping carts. Due to the amount of information online, shoppers have a short attention span and will abandon a purchase if it takes too much of their time or they find the checkout process difficult to follow. Avoid this by making the purchase process as efficient as possible. Note that I wrote efficient and not simply short. In some markets, such as the USA (also the biggest software market in the world), a short purchase flow is preferred. In other markets, such as Germany, a checkout flow with several steps is sometimes preferred. The best checkout flow will vary by market.
Visicom Media, the creator of ManyCam webcam software and screen recorder for live streams and video chats, concluded that looking only at your overall global market is not enough to improve the purchase funnel. A drill-down into country-level data reveals the need for a localized experience throughout the purchase flow and cart template, not simply for language, currencies and payment methods.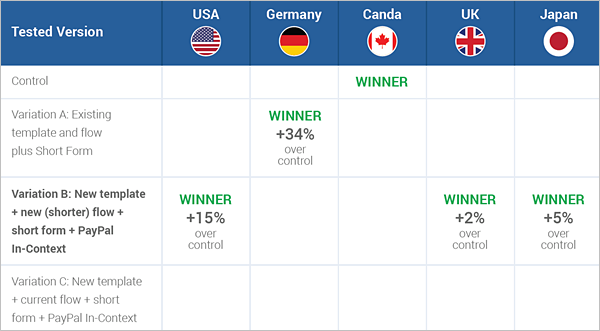 Excerpt from the 2Checkout (formerly Avangate) case study on Visicom Media's ManyCam. Full details here.
Another way to accelerate the checkout process is with relevant visual cues, such as thumbnail images of the product, to assure the shopper that they've added the correct item to the cart. When shoppers enter their information in a form field, you can display a checkmark to generate positive momentum.
TIP: Adapt the checkout form by requiring only vital information and show a progress bar to let customers know how many steps are needed to complete the purchase. If you have the resources, customize the purchase flow and shopping cart for each market, or at least focus on your main markets to maximize sales.
7.      Concerns about Trust and Security
Now more than ever, our security is being threatened by malware and other online threats. It's not just using or downloading pirated software that can get you into trouble: simply visiting a suspicious website can cause problems as well. When it comes to credit card data or other payment details and personal information, shoppers are very cautious and want to be reassured that their data is handled securely.  Users won't enter their credit card details on a certain page unless they trust that page.
In order to build trust, inform your shoppers that their online transactions are secure and their private information is protected. Adding a well-known trust mark from an organization such as Norton Security, VeriSign, ScanAlert or Better Business Bureau comforts shoppers and decreases ecommerce cart abandonment. These can be used as visual cues on the cart pages.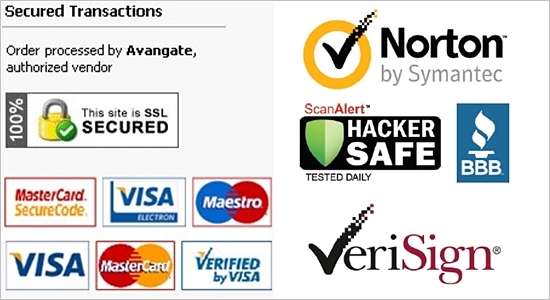 In addition to these trust marks, make sure to add a phone number or live chat option at the top of each page. People usually trust websites that show the possibility of having some human interaction.
Now that you've seen seven reasons people abandon carts, are you ready for more? If you're interested in going deeper into shopping cart best practices that can boost sales, download our white paper.