Have you ever struggled to increase your shopping cart conversion rate?  Your products are flawless in their presentation and utility, yet your traffic seems to dissipate instead of converting to happy customers who always return.
Insufficient conversion rates can usually be traced back to your shopping cart, as the primary culprit. Why? Because it's the intermediary between your products and the financial feedback you receive for your business efforts.
Bonus: Watch our workshop on CRO to get the best advice on how to boost your conversion rate optimization tactics.
In recent years, the eCommerce ecosystem has been flooded by shopping cart apps and templates that are easy to integrate with your online business or storefront. While that abundance can provide a wide range of solutions, making the wrong choice or switching carts too often can negatively impact your conversion rates and user experience over the long term.
This post will show you how to select a shopping cart template for your commerce business that will increase your conversion rates and help you gain your customers' trust. After all, a third of global shoppers rank a commerce site's experience and trustworthiness over everything else when it comes to their decision to buy.
When you are looking for a shopping cart that converts well you'll have to make sure that it meets the following criteria:
1.    It's compatible with your business model
A simple thing like knowing and understanding whom you are selling to, whether they are B2C or B2B customers (or both), can prove to be an important factor when choosing the right shopping cart. For example, the cart template below has been optimized for software companies that use either a perpetual license or a SaaS business model.
Our studies revealed that for a SaaS company, this template can provide a conversion rate of 42.32%, which is 16% higher than those of templates optimized for other business models.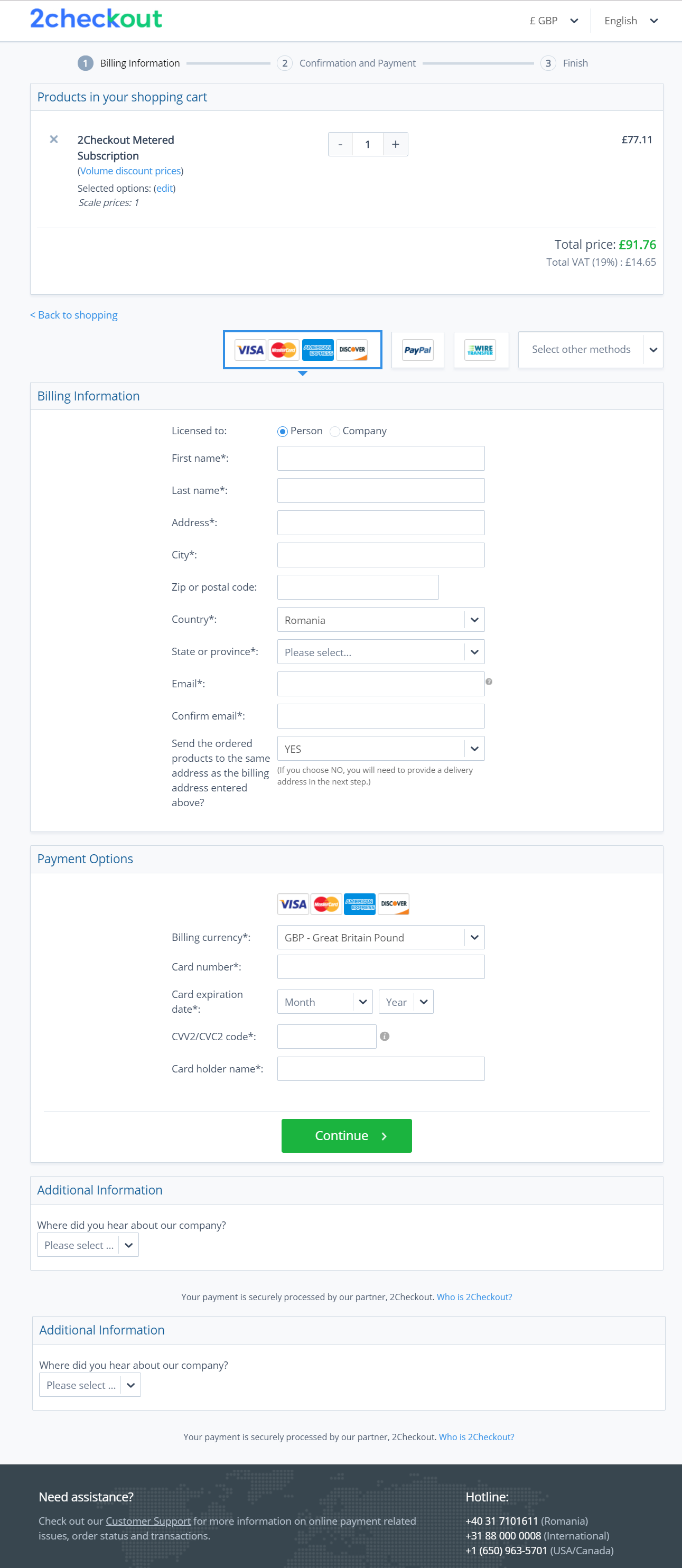 2.    It understands the customer
Recent data shows that cross-border shopping will make up 20% of eCommerce by 2022. Every online shopper will have access to an abundance of offerings. Some businesses will thrive, others will fall, and a major differentiator will be the amount of trust a buyer has in you.
Social studies show that we feel more comfortable in familiar settings because our primary needs are security and trust. Language is an important factor when it comes to building trust with your customers.
To provide the familiar experience your customers are looking for, and build trust, you'll need to use a cart with options for localization. That means every aspect of your cart, including text, labels, messages, date and time, phone number, prices, graphics, formatting, addresses, and currencies, needs to be adapted to the country where you are selling.
Our stats show that most international markets benefit from localization:
Germany sees a 24.49% higher conversion rate if the cart is in German (as opposed to English).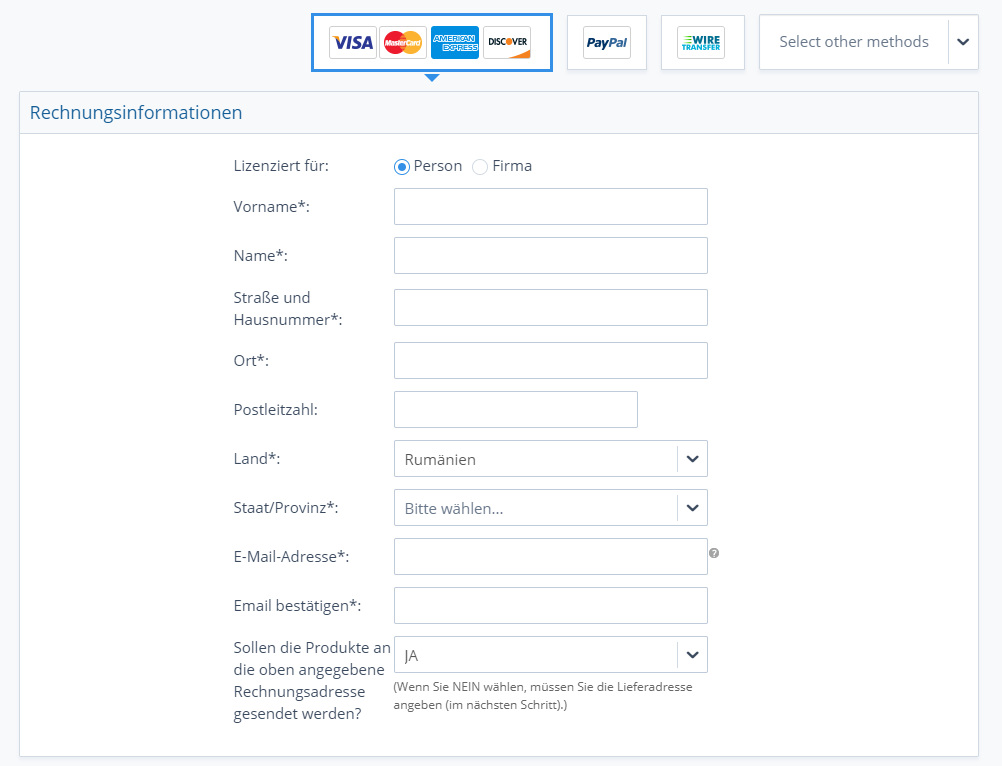 You can gain a 38.28% higher CR in Turkey if the page is localized from English to Turkish.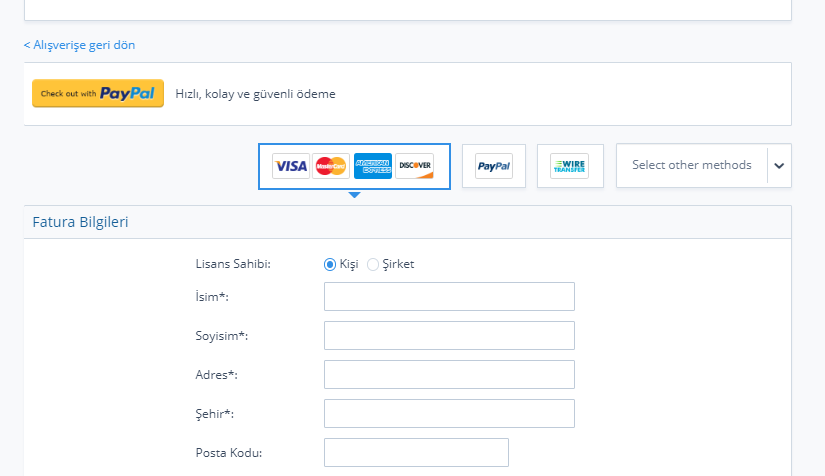 In Italy, the conversion rate can be as much as 83% higher for an Italian-localized shopping cart than one in English.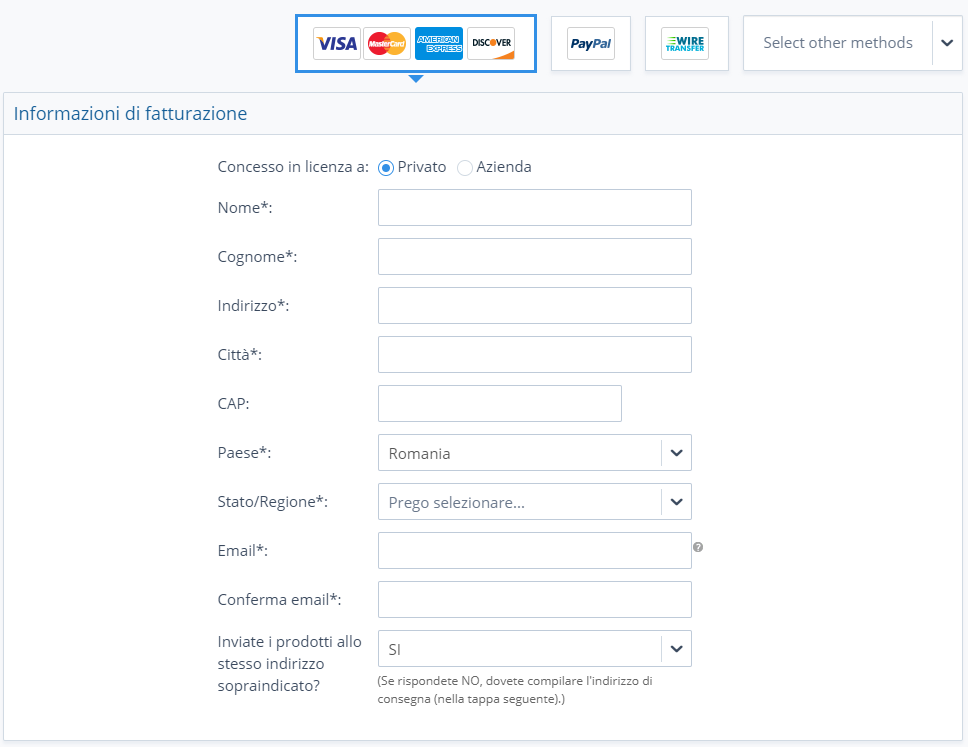 However, localization involves much more than just translating some words in another language. Your whole strategy needs to be adapted to the particularities of the market you are targeting and the preferences of its customers. To learn more about proper localization, check out our eBook on How to Localize your Digital Business for Global Commerce.
3.    It's made to receive money, not lose it
Nothing drives customers away faster than a shopping cart with unsuitable payment methods. Payment methods are key in the customers' decision to buy. Offering your shoppers' preferred payment methods in your cart is the fastest way to create trust and comfort. While some merchants might stick only to a couple of the most widespread payment methods, like Visa or MasterCard, the most successful businesses accept popular local payment methods, like Boleto Bancário in Brazil or iDeal in the Netherlands.
When we analyzed payment methods at the country level, we discovered that:
In France, 26.6% of the total transactions were processed via local payment methods, which generated 24.8% of the total revenue in the country.
In Brazil, 29.9% of the total transactions were used local payment methods, accounting for 27.4% of total revenue.
In the Netherlands, 52.8% of transactions were paid for with local payment methods, amounting to 43.9% of the total revenue in the country.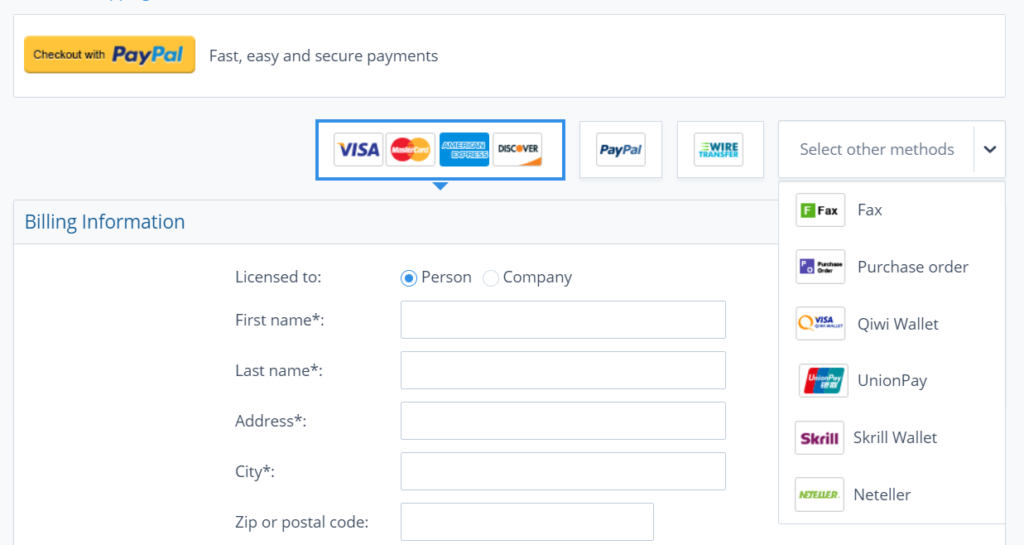 4.    It's the best "marketer" for your products
If you sell multiple products or products with different price points, you'll want to have a high percentage of visitors buying more than one product, or buying the most expensive products in order to increase the average order value (AOV) or revenue per visitor. An effective shopping cart will be flexible enough to allow you to implement several marketing tactics to grow the AOV, such as:
Promotions – as we discovered in our latest Digital Commerce Benchmark, promotional sales bring, on average, 33% of the revenue for those merchants that use them properly;
Cross-sales and up-sales – adding these tactics to the purchase funnel can raise the average order value by 20%-30%.
Bundles and packages – you can bundle together products or services that complement each other and make it easier for the customer to buy them with one click, and maybe even at a discounted overall price. Endpoint security company Bitdefender increased AOV by 12% with this tactic alone.
2Checkout Shopping Cart Templates
Now that you know what to look for when choosing a shopping cart for your online business, you just have to pick a template and you are ready to increase your revenue and conversion rates. Here are the templates available on our 2Checkout platform, for example:
Scale Express Checkout
This is our most popular template for companies that have a renewing license or a SaaS model and are selling to either B2C or B2B customers. It can be enhanced with add-on products for increasing AOV and recommended products for cross-selling.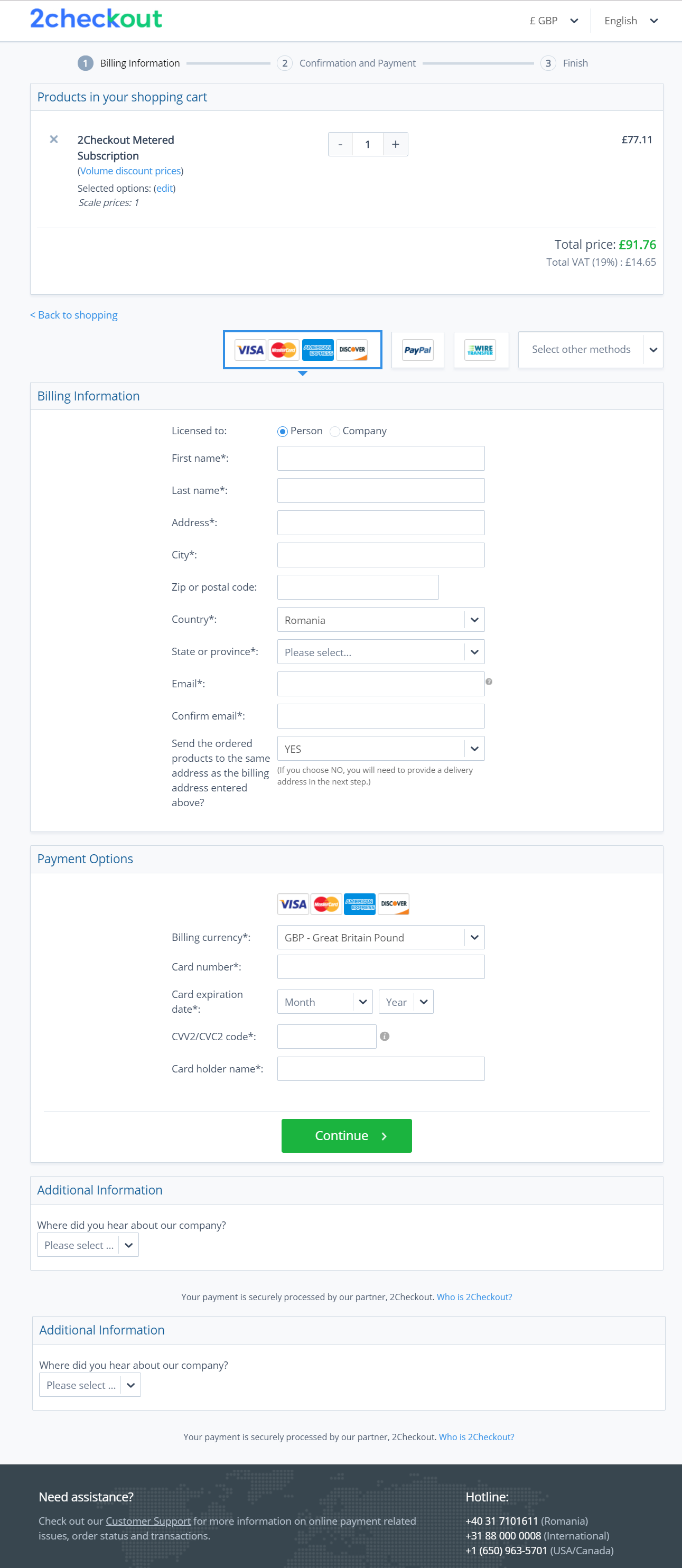 Global Optimizer for SaaS
This is our payments-optimized template for SaaS companies that sell globally and use a wide variety of payment methods. It supports the addition of recommended products for AOV increase.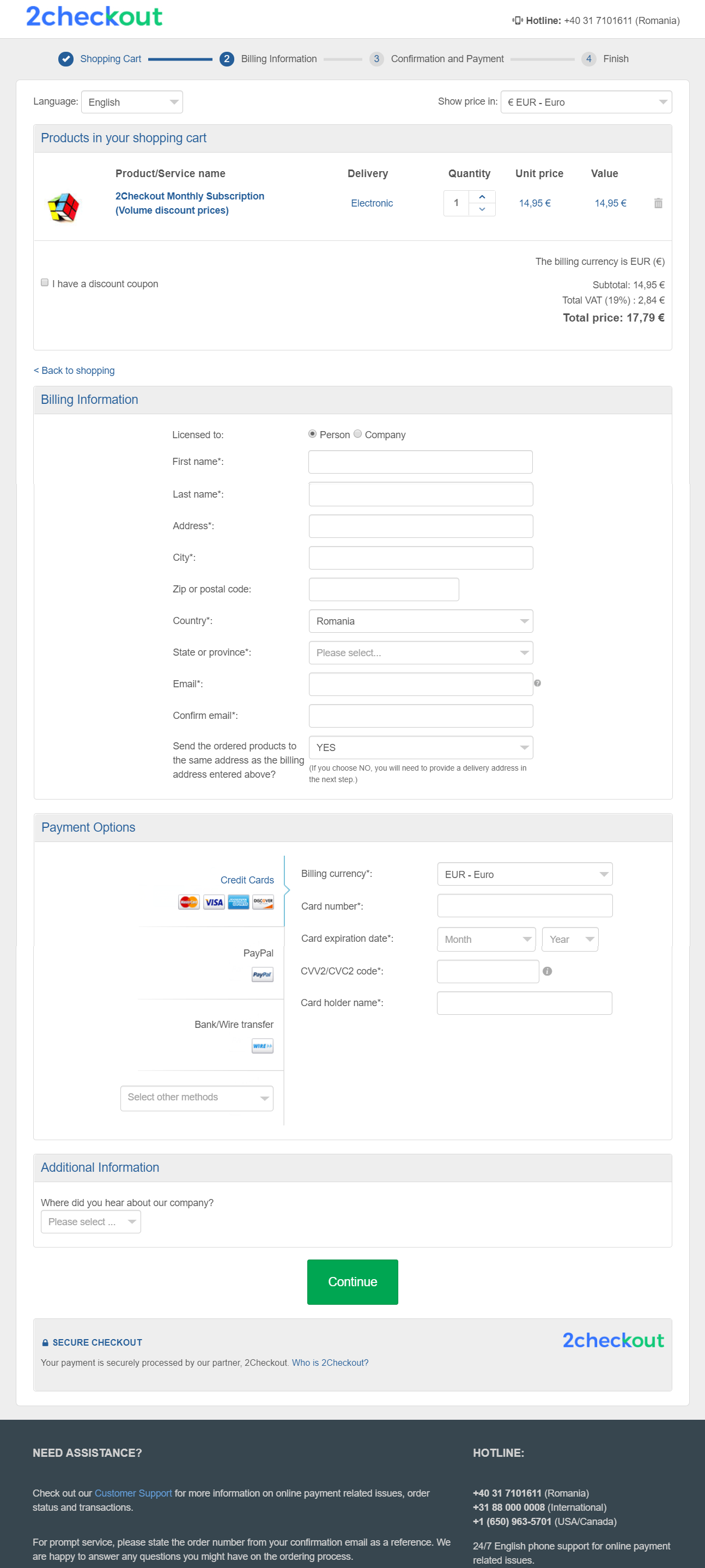 Swift-Pay
2Checkout's template for high-traffic SaaS companies, targeting B2B and B2C customers, which use credit cards and PayPal as payment methods. It also supports a cross-selling field above the billing information.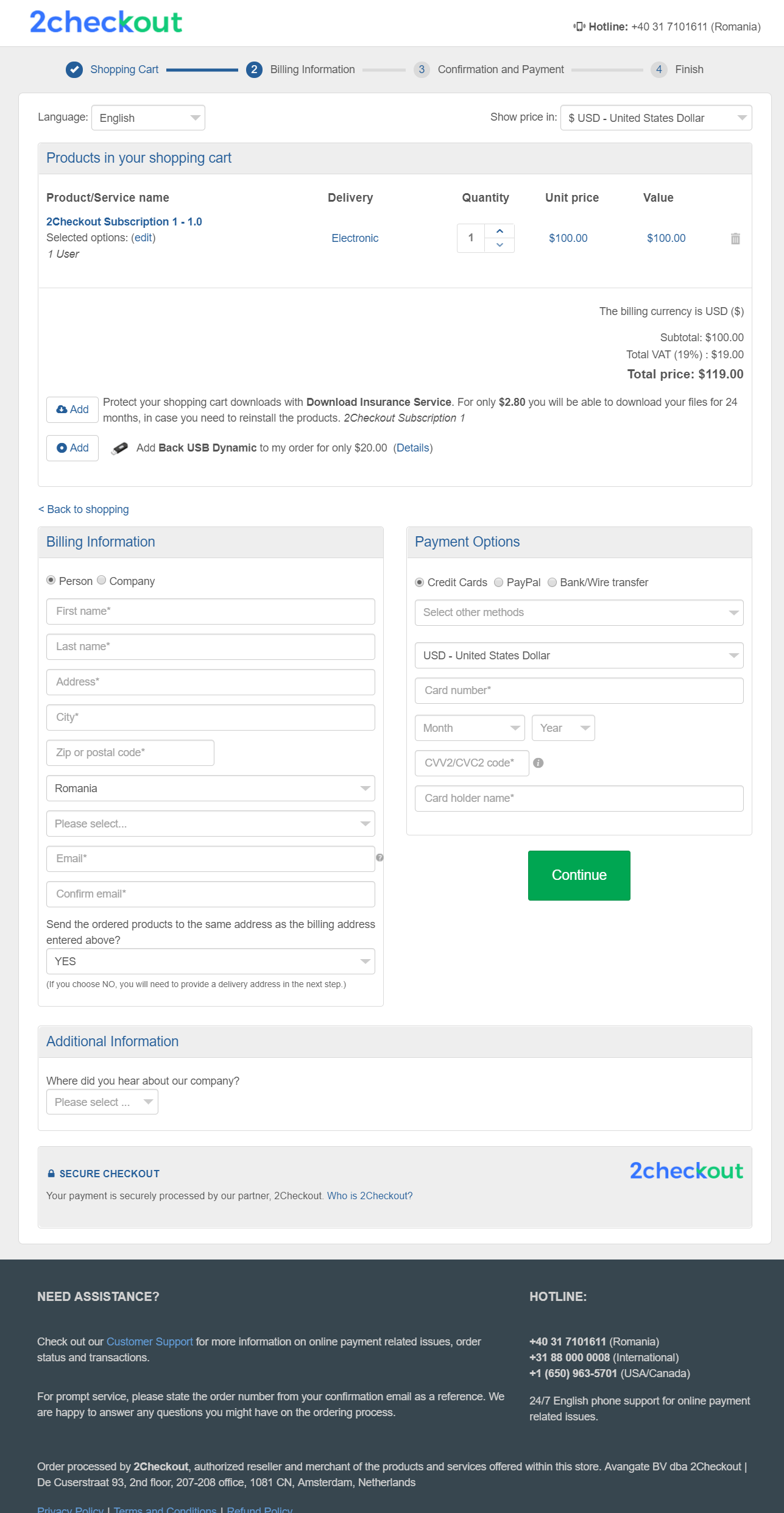 Acquire and Retain
This extensive template targets B2C or B2B shoppers, with a sidebar for global payment methods, security logos, customer testimonials, or partner logos to increase credibility and trust in your online store.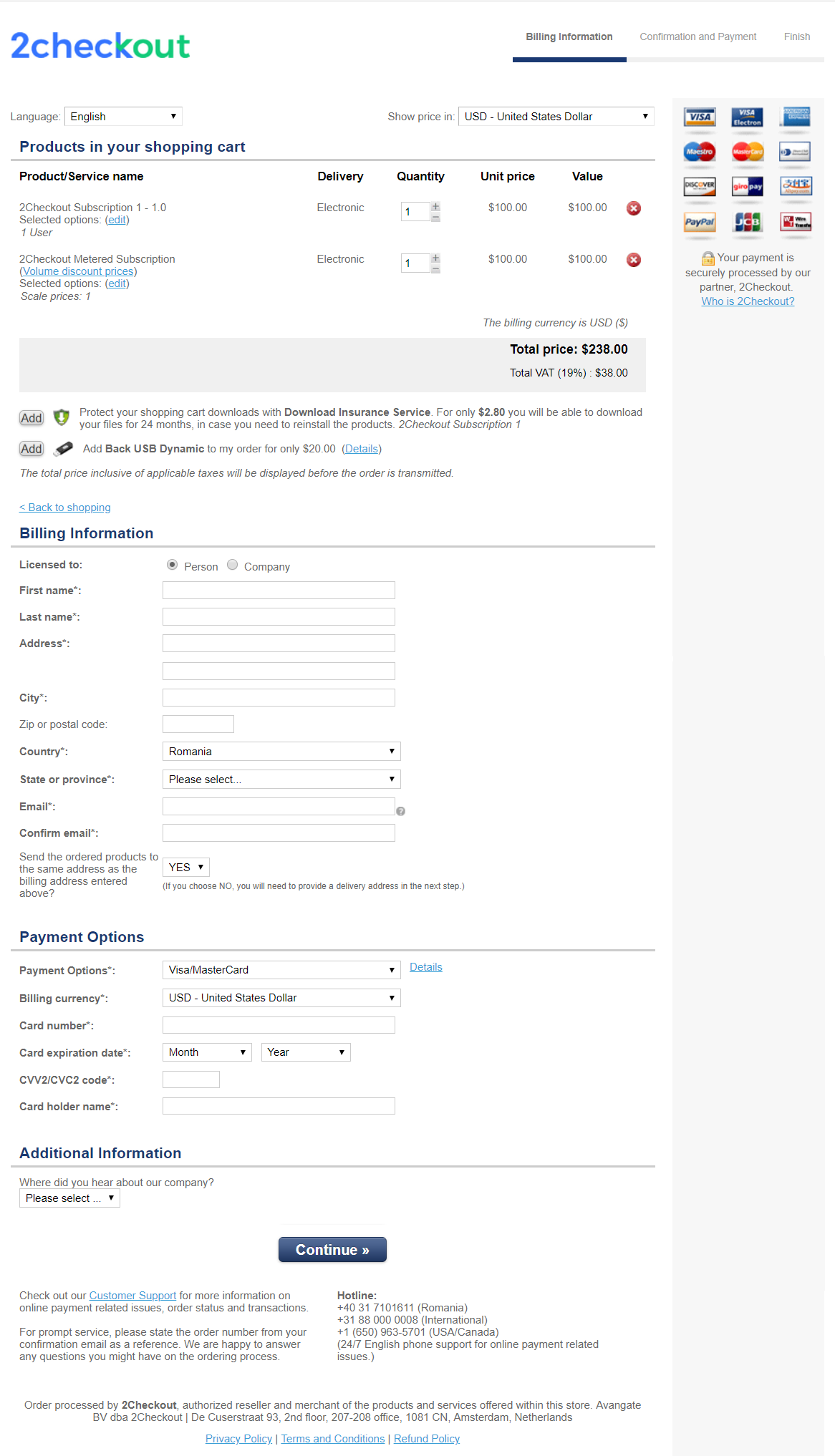 Compact Plus
This compact template may be used by global companies targeting B2C and B2B clients with renewal licenses or SaaS models. It includes a PayPal Express button.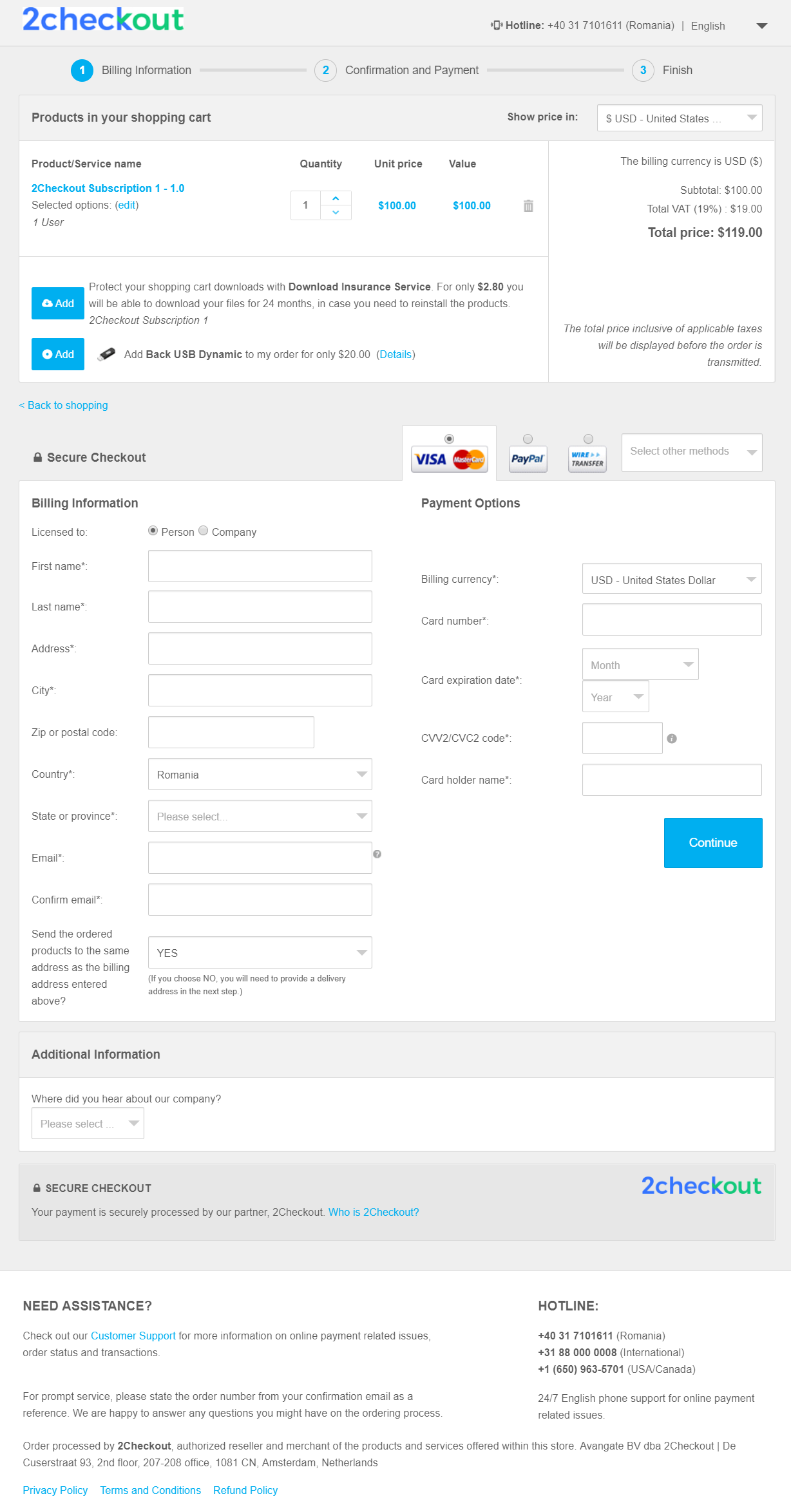 We hope the above tips and examples will help you implement the best possible shopping cart experience for your customers.  A well-designed shopping cart not only ensures increased conversion rates, but also creates a memorable experience of purchasing from your store and interacting with your brand, which ultimately improves customer satisfaction, loyalty, and lifetime value.
If you want to learn more about optimizing your shopping cart and getting the best conversion rates out of it, download our free eBook on Shopping Cart Best Practices.