You've just finished developing your software product and you're ready to launch it on the market. However, before you actually get to sell your software online, you need to consider how to present it to potential customers. This is crucial, considering that your product is essentially intangible.
When making a purchase online, most customers want to see what they are buying or even try before they buy, instead of simply taking your word for it and then having something go wrong.
Fortunately, there are some key steps you can take when presenting your software to avoid customer problems and returns.

1. Have real users test your software product before actually selling it online

You may think you have created an easy-to-use, intuitive piece of software, yet in the end, it is not you who decides this, it's your customers. If you plan on selling software online successfully, you need to have real people test it to see how quickly they understand how it works and how they can use it most effectively for their own business. These test users can also help squash the bugs you might have never noticed on your own, thus helping to make your product as error free as possible.
Here are more tips on software testing.
2. Provide an accurate description of the software product

You need a clear and short description of what the software is and what it is used for so that people can understand what it does and figure out whether they need it or not. Even more comprehensive details should be provided somewhere on your website for those who really wish to have a more in-depth view and understanding of its features.
VideoSoftDev, a multimedia software company, offers a straightforward description of one of their video editors, making it easy for potential customers to assess. Following is a recommendation to read their FAQ section or address an email to their team to learn more about the specific product or about the subscription.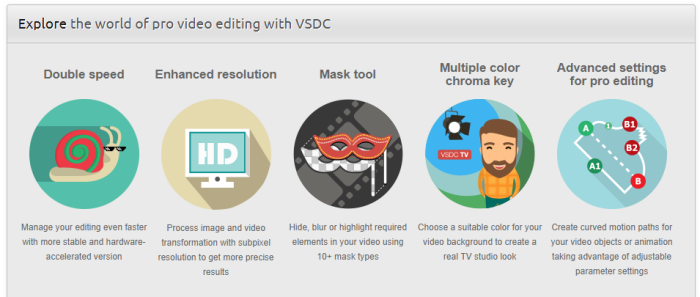 If it makes sense,  use comparison tools between your products, or your products and competitive versions.

3. Make screenshots available

They say a picture says a thousand words, and providing screenshots can be very helpful when selling software online. Screenshots show users that the software product has a well-designed interface, and lets them get a good look at features like the menu bars and toolbars, which will help them quickly assess whether the required functionality is there for a customer's own business.
For example, Malwarebytes offers an array of screenshots that help you better visualize and understand the capabilities that their software offers.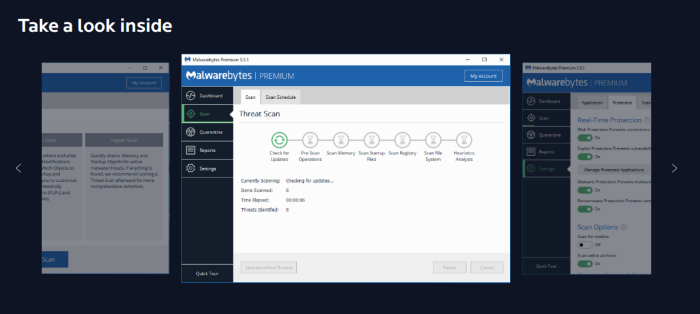 4. Use a "try before you buy" approach

Don't just say your software is "easy to use." If your software product is as easy to use as you say it is, then why not let people see that for themselves? Offer them the option to download or access online a copy of your software and try it before asking them to pay for it.
Zoho.com, which offers a comprehensive software suite, has a prominent "try it for free" button on their homepage that allows a customer to do a "test run." This free option includes test-creating their own products or services, adding plans, and add-ons;
simulating customer subscriptions for them; and setting up test-hosted payment pages and simulate transactions, among other features. A potential customer is urged to upgrade to a live account "only when you are comfortable with how Zoho Subscriptions works."
When it comes to finding the best trial model for your software business, you can look at what your competitors or others in your industry are doing, and experiment with different models to see what works for you. Once you've chosen a trial model, you can do additional split-testing to improve trial conversion.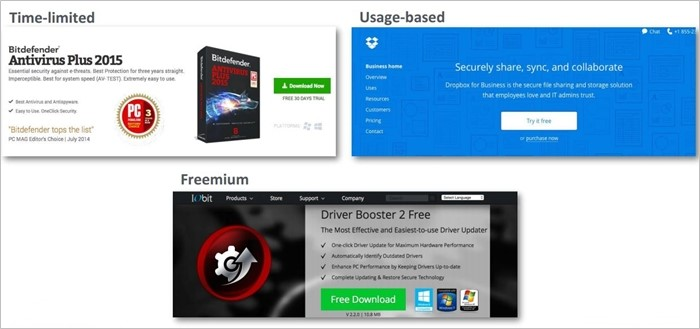 5. Specify your supported operating systems and licensing type

When selling software license online, you should provide a list of supported operating systems when selling downloadable software online. Potential customers need to find out at a glance whether the product will work on their computers, so this information must be easy to find on your website.
Adding other system requirements would be a good idea, too. Do specify the type of licensing for your software product, and it if is purchasable with a one-time fee, or through a subscription (monthly, yearly, etc.).


6. Include a help file and support details

Your software product must have some documentation explaining how to use it, whether in form of a help file or an online manual that is included with the product or can be downloaded separately. People also need to know where to reach you in case they need support, so do not forget to include details like a customer support e-mail address and phone number.


In this competitive market with thousands of competing online subscriptions services available, it is crucial that you present your software in the best possible light. Letting people see the product with screenshots and try it before they buy, providing help files with your software and support when necessary, properly testing it with real users to make sure it is easy to use—these are all things you should have on your to-do list if you plan on selling software online and be successful at it.
After you've taken the steps to effectively present your software to potential customers, it's time to start spreading the word about your software.
Here are some effective tips on promoting your product and getting your first paying customers!