Italy is the world's eighth richest nation and the third-largest economy in Europe with a GDP of over $2 trillion (US). The context of 2020, with its connection to the COVID-19 pandemic, has accelerated digital transformation in Italy by increasing smartphone usage from the previous year despite the overall makeup of its population.
Italy's prosperous population and its relatively untapped eCommerce market  – only 55% eCommerce penetration in 2020 – make it an attractive opportunity for merchants selling online. With an expectation of a 21% increase in eCommerce users, Italy becomes a logical attraction for local and cross-border merchants.
Italy sees uptick in online shopping
Due to COVID restrictions, more consumers were driven to online shopping, accelerating the digital transformation of Italy that started in 2015 and reaching $58.3 billion (US) in 2019. Despite this, eCommerce turnover registered a slight 1% decrease in 2020 versus the previous year for Italy, a contraction driven by the onset of the global pandemic.

Mobile sales are on the rise, and customer experience is key
Analysts expect the market to continue its previous growth trajectory, however, backed in part by the country's rapidly growing base of young smartphone users. At present, 40% of online transactions are completed on a mobile device, and nearly 93% of Italian users access the Internet via a smartphone.
For Italian buyers, a very important aspect of shopping is the quality of their online experience, and if they love it when they click on your website then they will spend an average of as much as $76 (US) per session, at the same level with their European neighbors.

For a cross-border merchant, it can be challenging to penetrate the local market and make their presence felt to consumers. Competition in the digital space is something to consider, as retail global players and local and national supermarket chains currently account for about 37% of all online retail purchases.
Global market is expanding
Italy's urban centers in the North are more open to and confident with online shopping. Italian online shoppers spent over $8 billion on international sites in 2019, generating a decline for local online merchants but opening the doors for new services and cross-border sellers. This generates fresh and healthy competition among merchants, increasing their need to upgrade their services to attract more customers.
Italians prefer a range of products for online purchases
The increase in smartphone usage has been sustained by younger users who are used to navigating the internet and, in general, do more online shopping. Some of shoppers' preferred products for online purchases include:
Fashion and beauty (17.6%)
Electronics and physical media (17.53%)
Toys and hobbies (10.2%)
Food and personal care (8.95%)
Digital products and services are also very popular in the market. Digital music services, for examples, are growing at an accelerated rate, recording 33% extra growth in the first half of 2020 alone. In spite of taking a step back in 2020, the software market is also forecast to continue its development path, with analysts expecting a 3.77% CAGR through 2026, when it will reach $9.54 billion.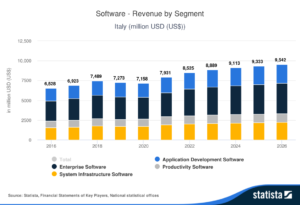 Source: Statista
COVID acted as an accelerator for newly launched services, and motivated existing merchants to tailor their models to better accommodate the needs of consumers, which increased online spending.
Italians prefer a wide selection of payment methods
Online purchasing is still a sensitive subject for Italians because of their long struggle with online fraud and limited internet network coverage. Despite this, more than 94% of Italians do hold a bank account which means merchants can offer a varied selection of payment methods.
Debit and credit cards lead in Italian's preferences for online payments, chosen for 28% of online transactions. The rest is split between digital wallets/mobile payments – with PayPal being the top favored eWallet – bank transfers, and cash.
Cross-border merchants can include domestic debit and credit issuers like CarteSi (Nexi), Postepay prepaid debit card, mobile wallet PagoBancomat, and even Bitcoin. For online businesses located in the Euro currency zone, SEPA can also be used as a payment method.
Fraud prevention is top concern for Italian consumers
When you prepare your business to enter a new market, it is important to take a closer look at your online security system. Italians appreciate a friction-free, fast, but also secure experience while buying online.
Using 3D Secure and 3DS2 protocol is a great tactic to assure increased security. According to the Bank of Italy's report and statistics, 73% of purchases were made using 3D Secure in 2020 while the remainder (27%) were made through the 3DS2 protocol. This authorization protocol can help reduce online fraud and chargebacks and can speed authentication and increase the acceptance rate of online payments, which stands at 90% currently in Italy.

Stringent data privacy policies are a priority
As a European Union member, Italy carefully observes the protection and security of user personal information. With online methods of payment, it is paramount that all the GDPR measures are in place and respected when selling in the country.
If there is a problem, the Garante is the Italian institution that will take charge and investigate to resolve the identified issue. This institute is known for acting if there is a deviation from the rules.
Keep in mind cross-border taxing
In 2021, all taxable goods and services have a 22% VAT, although some items can have a reduced rate. The taxation of B2B sales is handled through the reverse-charge mechanism, where the buyer is expected to provide a valid VAT ID during checkout so no VAT rate will be applied to their purchase.
Closing words
Italy offers a great opportunity for cross-border merchants looking to grow their businesses. As forecasts point to 40 million online Italian shoppers by 2024, it's a good time to focus your efforts on entering this market and tapping into its potential.
For more insights about selling online in Italy check out our eBook "eCommerce in Italy: A Merchant's Cross-Border Guide to Online Sales."