With so much information at your fingertips, you can easily adapt to the fast-moving eCommerce environment and build a competitive edge. However, timely and already distilled resources are not necessarily backed up by accurate and trustworthy information. Your inbox is one of those places which can become cluttered with all kinds of emails and it is important that you proactively curate it.
Whether it's weekly or monthly, newsletters are a free and convenient way of getting the latest information in the industry. As a SaaS business, it's time for you to go to the other side of the barrier and be the one who subscribes and therefore stays informed!
There are plenty of SaaS newsletter examples out there, so it may be quite challenging to decide which of them are useful resources for you and your business. In order to help you, we've compiled a list of 28 newsletters on SaaS and growth that you can't miss having in your inbox.
SaaS Newsletters

Provided by the world's largest SaaS community, The SaaStr Weekly delivers the latest industry news, advice, as well as special discounts and freebies (such as free tickets to the smaller events organized by SaaStr). There is also a weekly edition of their newsletter. By joining their community of over 60,000, you will certainly stay updated on everything SaaS!
Designed as a learning hub, this newsletter is powered by SaaStock, the global community for SaaS founders, executives, and investors. Their weekly newsletter delivers content generated by SaaS pioneers and is its aim is to help SaaS businesses gain traction, grow, and scale. Exclusive offers and updates on the SaaStock events are also included, so it's well worth subscribing to it!

Inside devises newsletters for a range of industries, including SaaS, and is focused on the email channel as it allows them to maintain a two-way communication with its readers. Therefore, twice a week, you will receive SaaS news of the highest quality, curated by humans (not by algorithms). Expect relevant, accurate, and comprehensive content for your SaaS needs from this newsletter.  
The SaaS Playbook is a community of SaaS enthusiasts who aims to help industry peers solve the problems they encounter in their daily activities. Because the founders themselves faced difficulties in finding qualitative SaaS readings, they decided to launch a weekly newsletter. It compiles the greatest SaaS news, best practices, and resources, freshly scouted from the Web by passionate SaaS curators. Here's an added benefit – subscribing to the newsletter will grant you full access to their website, which provides updated content galore.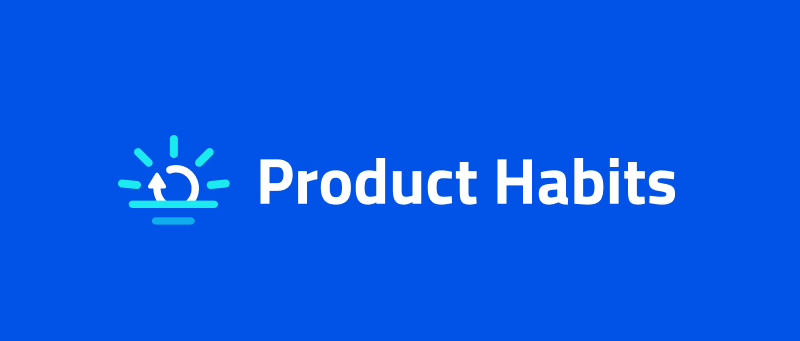 Co-founder of high-profile SaaS brands Crazy Egg, KISSmetrics, and FIY, Hiten Shah is also co-founder at Product Habits. This newsletter is focused on product development and is delivered weekly to your inbox, with content for creating better products, efficiently and effectively. However, it does not neglect the holistic business overview, so expect marketing, management, and growth tips too.
Price Intelligently is delivered by ProfitWell, a business intelligence platform, i.e. SaaS company at its finest. Each month, subscribers receive over 30 pieces of research and in-depth analyses of different issues arising in the subscription economy. Subscribers can also opt for the weekly newsletter. Spoiler alert: Price Intelligently includes videos and interviews with world-class voices in the SaaS/subscriptions industry.
Bonus: Get a glimpse into the in-depth research ProfitWell can deliver in your inbox by watching this webinar with their own Patrick Campbell.

Delivered by ChartMogul, an analytics platform for subscription businesses, this newsletter is designed as a  weekly summary meant to save you lots of time. ChartMogul sends out their top three SaaS readings necessary for you to stay ahead in your SaaS metrics game. By joining their community of more than 10,000 subscribers, you can gain the actionable insights as you need them – already digested.

This newsletter will provide you constant updates focused on software and online companies from the content of the forEntrepreneurs blog, founded by David Skok, serial entrepreneur turned VC. Skok is committed to delivering his best wisdom, practices, and resources in order to help his readers start, grow, and scale their businesses. He writes on everything SaaS, from sales to marketing and metrics. Therefore, his complementary experience of business and SaaS will surely add value to the knowledge base of any newsletter subscriber.

Inturact blog is provided by Inturact, an integrated SaaS marketing agency. Their newsletter aims to help SaaS professionals market their product by optimizing their digital marketing strategy. This newsletter will bring well-documented and curated insights about SaaS marketing directly to your inbox.

Forget the Funnel is by no means your typical newsletter. Instead, it is devised as a weekly series of 30-minute workshops led by world-class marketers. They provide guidance and mentorship so that you can build your SaaS marketing and growth strategy.
Here's the good news – you can join for free! The workshop goes directly into your inbox each week so you can watch it whenever you get the time. You will also receive the workshop topic beforehand so that you know what to expect each week. Convenient, isn't it?
Growth Newsletters

Powered by Intercom, a customer messaging platform for business growth, this weekly newsletter focuses on product management, sales and marketing, customer support, and growth. These industry insights can't be missed if you are a SaaS professional.
The motivation behind the Predictable Revenue blog is to help businesses grow faster by transforming their growth strategies. This weekly newsletter delivers resources that will help you build a successful outbound strategy. Expect lessons and advice on sales are included, as well as invitations to webinars and events.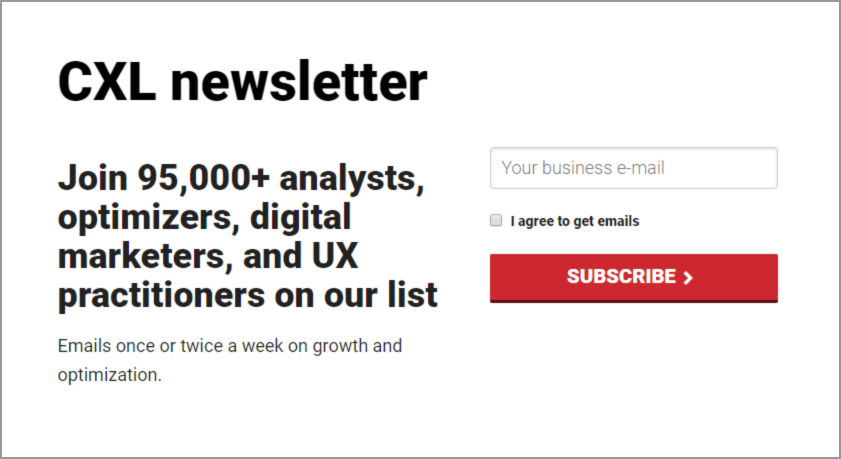 CXL Institute provides courses and plenty of resources on conversion optimization. Their weekly newsletter shares know-how on growth and optimization, and is trusted by 95,000+ analysts, optimizers, digital marketers, and UX practitioners.
The Daily Egg is the content engine of Crazy Egg, the heatmap software founded by Hiten Shah and Neil Patel. By subscribing to this newsletter, you'll receive infographics, videos, guides, and many more on conversion rate optimization (CRO), as well as other pertinent content shared by the founders of Crazy Egg. This newsletter is bound to provide you the latest information, in a timely manner, that you need for optimizing your website.
Why makes this newsletter appealing? It provides user-generated content (don't worry, the content is carefully reviewed by its curation team). You'll get actionable growth and marketing takeaways that will help you grow your business.
This all-inclusive newsletter provides insights into all business functions, from marketing and sales, finance and operations, HR and leadership, to product management. There is plenty of SaaS content tailored for each of these categories, ensuring that you get a bird's-eye view when scaling your SaaS business.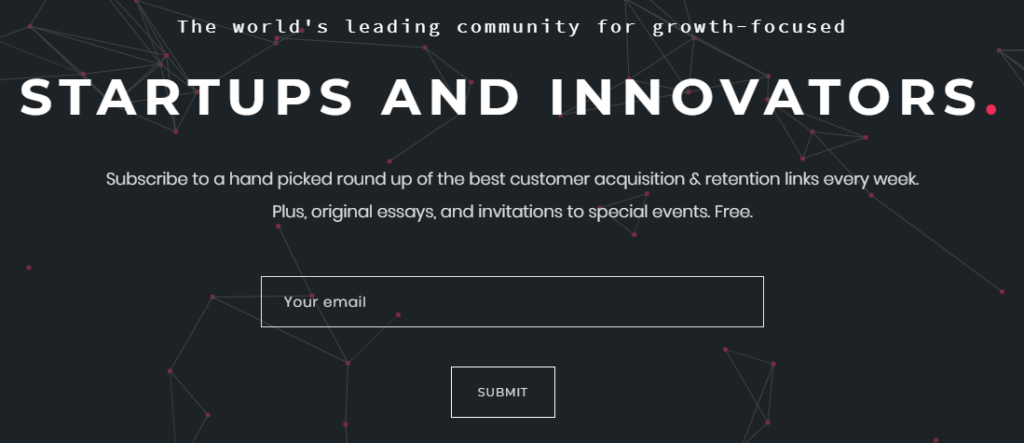 Grow.co is a community built around growth marketing professionals representing companies at every development stage (be it a startup or a global brand). Within that network, the members learn from each other by sharing tips and strategies. As such, the community's weekly newsletter is carefully curated by dedicated professionals. They rigorously select customer acquisition and retention-oriented resources that tackle growth, CRM, product, and design. In addition to the curated content, the newsletter includes original essays and invitations to its community's events.
Totango has pioneered the customer success industry with their integrated solution for customer management. Their blog is a great resource for everything customer-related – from customer lifecycle and lifetime value to analytics and overall business insights. Since the customer journey is a cornerstone of SaaS marketing, Totango tackles that as well. By subscribing to their newsletter, you'll be equipped with the latest news, tips, and best practices for gaining customer success.

HubSpot is a goldmine for any marketer. Apart from their renowned inbound marketing, sales, and service tools, they create extremely rich and diverse content, including blog posts, ebooks and guides, and free courses and research. As expected, their newsletter will arm you with all the necessary information for growing your business – marketing (e.g. SEO, marketing automation, social media, analytics etc.), sales, CRM (e.g. customer support, customer success), or industry trends. These should give you a sneak peek into the big picture.
The product-led growth is a relatively new approach, as opposed to the traditional sales-led approach. The Product-Led Institute, a global community of leading SaaS operators, challenges the industry to think differently. Therefore, it works to help SaaS leaders build their product-led business and adhere to the new trends. Wes Bush, principal at Product-Led Institute, writes a weekly newsletter in which he shares his best learnings and resources in order for you to transform your SaaS product into the main engine for growth. If you want to growth hack your business, this newsletter can't be missed!
Newsletters by thought leaders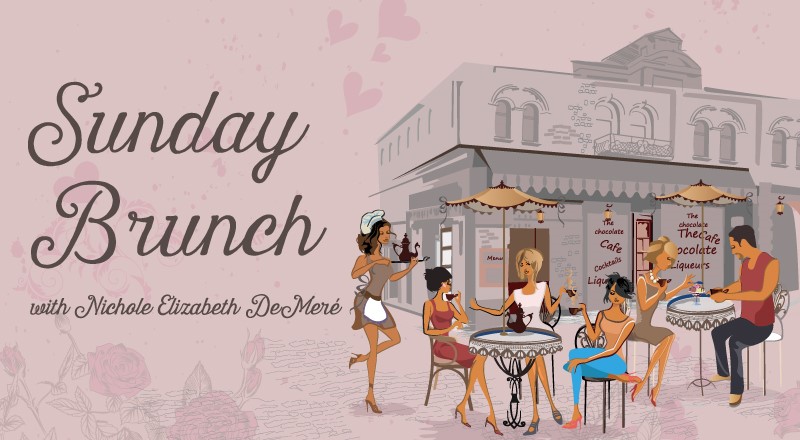 Produced by B2B SaaS Consultant Nichole Elizabeth DeMeré, Sunday Brunch is a weekly newsletter that will teach you how to build an online community around your SaaS product/business. Indeed, the gist here is the online community which, according to DeMeré, can positively impact two key SaaS metrics – CLV and churn. You'll learn how to build from scratch and manage your community in places like Facebook and Slack. Her approach is certainly one that you should look into.
Sujan Patel is a growth marketer and entrepreneur, and a leading voice in the industry. He is co-founder of Web Profits, a growth marketing agency which focuses on helping SaaS businesses scale. His weekly newsletter will keep you updated on the latest growth and marketing strategies and tips.
Co-founder, investor, and advisor in multiple SaaS companies, Hiten Shah certainly has what it takes to be an industry thought-leader. He writes about growth hacking, SaaS, entrepreneurship, business, marketing, and other related fields on his blog, Hitenism. In his weekly newsletter, Hiten delivers insights from his entrepreneurship experience, as well as curated SaaS readings that have appealed to him. As a SaaS business, there's a lot in it for you!

Tomasz Tunguz is a Redpoint venture capitalist who provides guidance to companies in order to leverage data in their growth journey. His newsletter covers topics such as startups, management, and tech trends from a data-driven approach. To put it simply, this is your go-to resource for more quantitative analyses.  

Noah Kagan, Chief Sumo at Sumo, AppSumo and KingSumo, is the mastermind behind this newsletter. With a friendly tone of the voice and personal touch, Noah sends out his weekly newsletter comprised of actionable marketing insights that he used himself to grow AppSumo. Expect advice on how to start and build a business are included, as well as marketing and growth-hacking tips.

Former VP Growth at Hubspot and founder and co-founder of several companies, Brian Balfour is a growth hacking enthusiast, having established himself as a voice in the industry. His main growth focus pertains to the convergence of product and user/customer acquisition. As Brian himself puts it, his weekly newsletter is far from being just "hacks" and "tricks." Instead, he will send you documented, in-depth essays and guides mainly on growth, customer acquisition, and retention. In the beginning, that should be enough fuel for your growth machine to gain traction.
Widely recognized as a top marketer and industry influencer, Neil Patel has helped Microsoft, Amazon, and Google (among many others) grow through marketing. He shares his demonstrated expertise on his blog which generates 3 million visitors/month. Now, that's good marketing! His newsletter serves fresh marketing insights and tactics that will help you stay ahead of your competition. Be prepared to receive information in blog post, podcast, and video formats that will teach you, step-by-step, how to improve your marketing game.
The person behind this blog and its associated newsletter is Lincoln Murphy, a renowned customer success consultant and keynote speaker at SaaS events such as Pulse, SIIA OnDemand, and Freemium Summit. Considering his main focus pertains to customer lifecycle optimization, his newsletter will offer you the latest customer-centric growth tips. What distinguishes Murphy's approach is the insights that he provides on psychology and engagement. These complement the traditional business perspectives and will help you step up your growth strategy.
We're curious to hear about your favorite SaaS newsletters that we haven't covered here, so feel free to share them in the comment section below!
Before pursuing growth opportunities, you firstly need to identify the right metrics to track in your journey. Watch this webinar to uncover a framework that will help you achieve just that!