eCommerce is a fast-paced industry with ever-changing trends and strategies. If you want to successfully run your online business and stay on top of your game, keeping up with industry news and building a strong eCommerce foundation is a must. Free, easily accessible resources like blogs are the go-to place for not only starting your eCommerce journey but also achieving long-term success. From short articles to comprehensive guides, general industry tips and tricks or niche content, eCommerce blogs can be a great knowledge base.
However, searching the vast internet for qualitative eCommerce blogs can be an overwhelming and time-consuming process. Therefore, we've put together a list of 13 blogs that cover several eCommerce topics and offer insightful content on starting, managing, and growing an online business. Full of actionable strategies, advice from eCommerce experts, and inspirational success stories, these blogs are a must-follow for every online business owner, eCommerce professional, or enthusiast.
Let's go through them!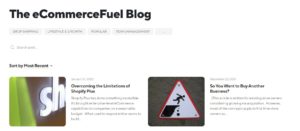 The eCommerceFuel blog was founded by Andrew Youderian, an experienced "solopreneur," with the mission of creating the world's best community for online store owners. Although the blog doesn't post very often, their articles are valuable resources covering a range of topics that will help you run your eCommerce business successfully. If you want to learn more about marketing and website design, scaling up your online store or planning your exit, handling logistics and management, or drop-shipping strategies – the eCommerceFuel blog has got you covered.
eCommerceFuel also runs a private forum for 7+ figure store owners with thousands of members, handled by a team of community moderators.
Some of our favorite articles: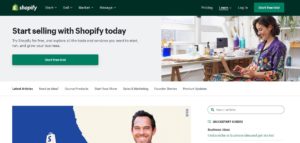 Shopify's official blog is one of the go-to places if you're looking for guidance, ideas, or strategies on how to start and manage an online store. In their thorough blog posts, the experts at Shopify take you through the full eCommerce journey, from the essentials of an online store to insightful digital marketing and sales tips, all the way up to customer retention strategies. Whether you want to sell physical or digital products, directly to the final customers or through third-party sales channels, you can find articles suited for you and your online store.
The Shopify blog also shares online business ideas and stories from successful entrepreneurs who are guaranteed to make you feel inspired and ready to start your eCommerce adventure.
Some of our favorite articles: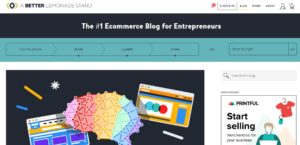 A Better Lemonade Stand (ABLS) is an educational and community-oriented eCommerce blog founded by Richard Lazazzera, a former Shopify growth team strategist. The blog aims to support entrepreneurs from the initial stage of their business to the growing phase through reliable resources and a private network of business owners. The blog posts are divided into three main categories according to the business lifecycle: build, launch, and grow.
Lazazzera's content covers a range of topics such as business ideas and niche selection, driving traffic and converting it into profit, and deep dives into practical eCommerce tools, one of the readers' favorite sections. Lazazzera also shares insights from his own industry experience and offers valuable advice aimed to inspire entrepreneurs.
Some of our favorite articles: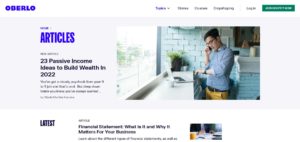 Oberlo's blog is a must-read if you want to successfully manage an online business or to keep up with eCommerce trends. Even though the blog is centered around drop-shipping resources, it also includes articles on related topics such as business ideas, social media trends, popular products, SEO, and conversion optimization. Moreover, Oberlo's blog offers comprehensive guides that take you through the step-by-step process of starting a drop-shipping store or growing your online business through different channels.
Some of our favorite articles: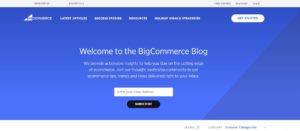 BigCommerce's blog includes practical online selling tips and related in-depth content about payments, conversion optimization, omnichannel, tax, product packaging, and shipping. While a big part of the blog focuses on specific eCommerce business categories like B2B and enterprise, there are plenty of insightful posts suitable for just about any type of online business. With original content on eCommerce best practices and data-driven insights on emerging trends, BigCommerce's blog can help you form a strong foundation and make your online business thrive in the long-run.
Some of our favorite articles: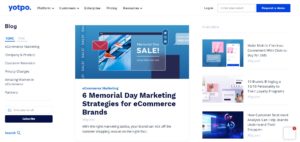 Yotpo's blog focuses on creating content around customer loyalty, growing engagement rates, and leveraging user-generated content marketing to boost online sales. The blog includes insightful guides on increasing client retention though reviews and ratings, building communities, and understanding shoppers' behavior. Moreover, Yotpo's blog shares data-driven reports on eCommerce trends and insightful benchmarks aimed to help eCommerce businesses make better decisions, prioritize their efforts, and spent their budget wisely.
The blog also has a dedicated category celebrating amazing women in eCommerce, featuring articles about their successful journeys in the industry, their actionable advice, and an annual list of nominees.
Some of our favorite articles:
Bonus: Check out our webinar and discover how to turn casual shoppers into lifelong customers!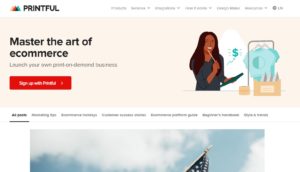 Printful's blog offers valuable resources not only for the print-on-demand niche, but also for every entrepreneur looking to grow their online business and stay up to date with eCommerce trends. The blog's content covers marketing tips, business ideas for holiday sales, preparation tips for the busiest times of the year, guides for platform and multichannel selling, and inspirational success stories. You can also find guides on how to get started with a print-on-demand online store using their platform and how to set it up for success.
Some of our favorite articles: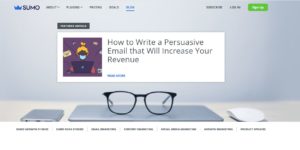 Sumo's blog is a great resource for online entrepreneurs or eCommerce professionals to get actionable insights on how to grow an online business. The blog features in-depth articles on growth strategies and digital marketing – including content, social media, and email marketing. Sumo's blog has dedicated sections for data studies and eCommerce analysis, covering benchmarks and results from actual businesses and Sumo's own platform.
Some of our favorite articles: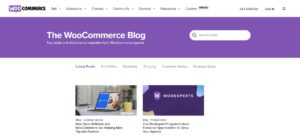 WooCommerce's blog offers eCommerce tips and advice on how to sell online, grow your online store, and get inspired by successful stories. Although some of the blog posts focus on WooCommerce's platform capabilities and managing an eCommerce store using their solution, there is still plenty of content that tackles general eCommerce topics useful for every online entrepreneur. WooCommerce's experts teach you how to start your business, create products, sell online services, and build your brand.
The blog has dedicated sections for marketing strategies that will help you maximize your online store, product shipping and customer experience tips, online business ideas, and real-life examples of successful entrepreneurs sharing their knowledge and advice.
Some of our favorite articles: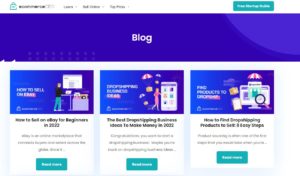 ecommerceCEO offers actionable eCommerce content packed into in-depth guides that help online merchants start and improve their businesses. Their articles have a step-by-step approach to mastering different eCommerce strategies or topics. Whether you're just starting out as an online merchant or looking for strategies on how to grow your online business, you'll be able to find useful guides on the basics of eCommerce, selling via multiple online channels, digital marketing, and even dedicated tips for niche industries.
The ecommerceCEO blog also includes insights on how to make the best use of different platforms and tools for online selling depending on your business needs.
Some of our favorite articles: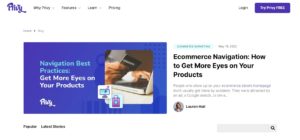 The Privy blog covers topics centered around eCommerce marketing such as email marketing, website conversion, and marketing tips on how to promote your online store during the holidays. With thorough and highly educational articles, Privy's blog will not only inspire your next digital marketing campaign but will also help you boost online sales and take your eCommerce business to a higher level with actionable marketing strategies. The experts at Privy keep up with industry trends and offer insights into how to implement them in your marketing campaigns.
Some of our favorite articles: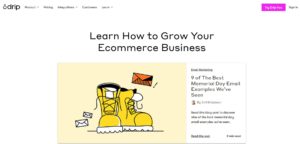 The Drip blog teaches you how to grow your online business with eCommerce strategies on digital marketing, conversion rate optimization, copywriting, email marketing, and marketing automation. Whether you're a B2C or B2B merchant, you're bound to find insightful articles that will help set up your eCommerce business for success. Drip's blog also has a section dedicated to data-backed studies that offer online merchants inspiration.
Some of our favorite articles:
Bonus: Are you a B2B online merchant? Read our eBook to get the latest insights on how to master the B2B selling environment.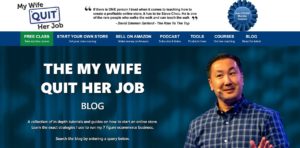 MyWifeQuitHerJob is an eCommerce blog launched by Steve Chou that shares tips on how to start and grow an online store. Amongst Chou's articles you can find actionable advice with real data and numbers based on his own experience of running two seven-figure eCommerce businesses. The blog offers in-depth tutorials that teach you how to run an online store from A to Z, including business ideas, choosing the best eCommerce platform for your business, handling online payments, marketing and advertising, and retaining customers.
Some of our favorite articles: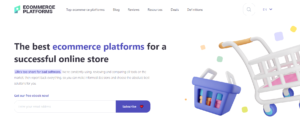 Ecommerce Platforms is a review site that shows the good, great, bad, and ugly of online store building software. Ecommerce Platforms strives to provide easy to read reviews that will help you choose which eCommerce platform is right for you.
Some of our favorite articles:
Wrapping Up…
If you're an online business owner, eCommerce professional or enthusiast, staying up to date with valuable blog content will help you gain useful knowledge on how to set up and grow an online business. We hope this list of blogs will be a great way to get started on your eCommerce path and master your favorite topics.
Let us know in the comments which of these blogs you'll be following in 2022! 😊