Did you know that more than $4 trillion in goods were left in shopping carts last year alone? Abandonment rates vary by industry, with Software at 70%. Tweet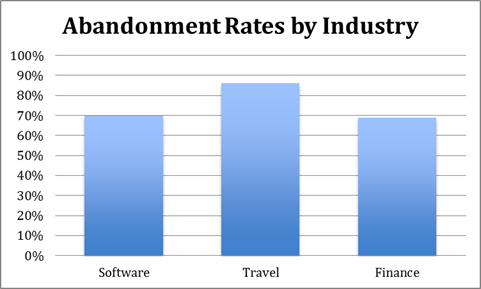 While some cart abandonment is inevitable, what amount of cart abandonment is acceptable? And what can you do to recapture shoppers that abandon?
The fact is, you can recapture up to 25% of the lost revenues through recovery strategies. Tweet
And regardless of your industry, the strategies for recovering lost revenue are essentially the same. The key in all cases is to be proactive, because only 5% of shoppers return to abandoned carts on their own.
The companies that have had the greatest success recovering lost revenue typically deploy a 3-stage approach that focuses on attracting highly qualified traffic, improving onsite engagement, and using remarketing and retargeting.
Avangate's latest "Conversion Series" webinar with Ve Interactive explores each of those stages in depth. This 20-minute recording covers:
How to increase traffic quality with semantic keywords and retargeting
How to win-back shoppers with personalized offers just as they're about to leave
Best practices for sending follow-up emails after shoppers do not complete a purchase
Watch the video to see how two software companies implemented these strategies and increased their conversion rate by 25 percent.
Let's rethink cart abandonment. Instead of accepting the inevitable, let's proactively go after these high quality leads and recapture revenue that would otherwise be lost.