Today is the best day to lead in eCommerce. There are many opportunities provided by technology vendors to business owners, and also, the environment is very friendly. You can meet the right persons who can help you grow your business easier than 10 years ago.
To become a leader in the eCommerce market, you should know that every decision you make will affect your results. Every decision regarding the placement of your elements on the website, their color and size impacts the rate at which your visitors convert into customers.
The average conversion rate for eCommerce websites is around 2-3%, which means that there is space for improvement Tweet. To convert your visitors into customers you can use conversion rate optimization methods that allow you to take data-driven decisions about improving your website.
Conversion Rate Optimization is a complex field that affects other marketing activities such as SEO, PPC and email marketingTweet. Having a powerful conversion optimization strategy will help you integrate all these activities and increase your online sales.
The most basic process of developing a CRO strategy that helps you grow your business has the following phases:
Research
Prioritization
Testing
Learning from insights and repeating
Probably the most important part of the optimization process is the research. This phase involves finding out which part of your page or website is performing well, and also see the interests of your audience.
Without research, you won't know where to invest and which audiences to target with your PPC ads. Also, you won't know if there are segments of traffic that perform very well and won't be able to nurture them.
Furthermore, in the testing process of your website, you'll find out which images and messages make your visitors take action. These insights will show you what you have to improve next to sell more items on your website.
As you see, CRO is a data-driven process and gives you a lot of insights into how to handle your investment in the main marketing channels. We are fans of conversion rate optimization and very excited whenever something happens in the CRO world.
That's why we'd like to let you know about the International Ecommerce Day online conference, where world-class experts will show you how to increase your eCommerce website conversion rate.
The best part of this is that the event is free.
The second best part is that it takes place online and you can attend from everywhere you want: your most comfortable couch, your office, your kitchen, your favorite coffee shop or your bed.
International Ecommerce Day is an online conference at its second edition this year that takes place on the 3rd of November.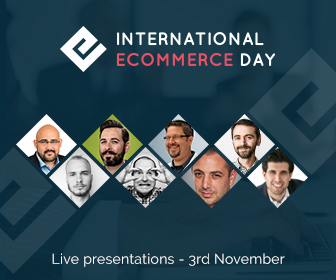 Based on their experience as entrepreneurs and marketers, the speakers will show you how they managed to grow Ecommerce businesses.
The organizers of the event, our friends at Omniconvert, promise to provide an interactive format for the presentations, which will focus on case studies. The conference will be live-streamed, and you can attend from anywhere in the world.
"I enjoyed my participation in the first International Ecommerce Day conference. The organization was highly professional and a good webinar platform was used," – Dave Chaffey – CEO Smart Insights.
To learn to convert your traffic into sales, the speakers promise to teach you their most effective tactics. Get free coaching from Rand Fishkin, Brian Massey, Karl Gilis, etc. Here's a sneak peak into the conference's agenda:
Rand Fishkin from MOZ will show you how to craft the best damn Ecommerce page on the web. A great e-commerce page needs to convert customers, drive direct traffic and social amplification, earn links so it can rank in search engines, and all the while fit with your brand's story and promise. That's no easy task, but  Rand will show exactly how to construct a compelling page that can make your products sing and your virtual cash register ring.
Brian Massey, a Conversion Rate Optimization evangelist and founder of Conversion Sciences, calls you to come with him to convert! He will show you why it's important to optimize your eCommerce website for mobile traffic, what types of tests can you run, and how to avoid poisoning your mobile conversion rate.
Radu Ionescu, Senior Product Manager at Avangate, will discuss the aspect of global payments and how to sell online to a worldwide audience. Simply accepting payments online isn't enough for emerging and growing companies.Selling goods and services online to a global audience needs a combination of smarter payments and commerce tools.Learn what the requirements are for this and how to optimize the digital commerce lifecycle.

Another ambassador for conversion rate optimization practices is Karl Gilis from AGConsult, who will show you how CRO helped him become a better digital marketer. He has compiled for his presentation a list of 6 reasons why digital marketers usually fail. A very promising presentation!
Navah Hopkins, who is a PPC specialist at Wordstream, is also using CRO principles to help eCommerce companies capture and retain new business. She promises a tactical and data oriented session on the top five strategies you can implement to combat shopping cart abandonment.
Other great speakers at International Ecommerce Day are Sam Mallikarjunan from HubSpot and Valentin Radu from Omniconvert. To check out the list of speakers, you can go on the event's official website.
We are proud to support and recommend International Ecommerce Day to you because we believe it's the biggest online event of the autumn. At the last edition, marketers from companies like Telekom, Orange, Bitdefender, FashionDays or ING where there.
The event got great reviews from the speakers of the first edition. An example comes from Meg Lister, Site Optimization manager at Wordstream:
"International Ecommerce Day was a great learning experience, both as a participant and a presenter! I was honored to present among well-respected Ecommerce marketers in a well-organized setting."
Having this in mind, we invite you to register to International Ecommerce Day.
Save your spot at International Ecommerce Day!