What do the current trends indicate about future developments in eCommerce in 2019?
Will we see continued growth and significant innovation, or will digital commerce suffer under increasing pressure from state regulation and cybersecurity threats? Considering that 3.6 billion people (almost half of the Earth's population) across the world now have Internet access, we might expect online shopping to keep growing exponentially.
However, the growth rate of new Internet users is slowing every year, with only a 7% growth last year (compared to 12% year-over-year in 2015). Will that mean fewer opportunities for online vendors in the future? There are many factors that can shape the answer to that question.
Let's delve into some of the most visible ones below and try to see what the future has in store for digital commerce.
eCommerce will grow exponentially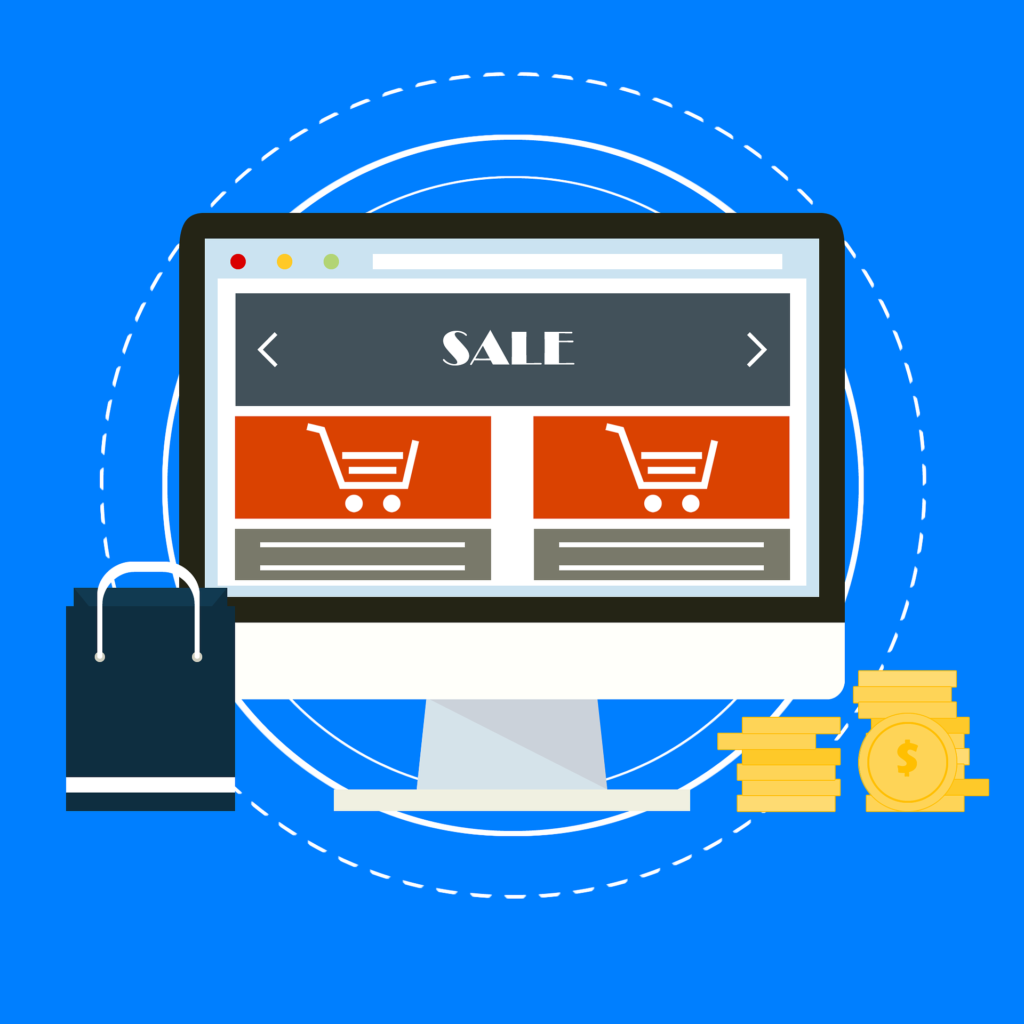 Revenue in the global eCommerce market amounted to $1,78 trillion in 2018 – a 14.4% increase over the previous year. In the U.S. alone, that growth was 16%, amounting to $450 billion – up from roughly $390 billion the year before. We can expect that online transactions will continue to grow in 2019, albeit at perhaps a slower pace – worldwide eCommerce revenues are estimated to reach $2 trillion next year, meaning a 12.7% increase over 2018.
Those numbers do not seem that far-fetched once we realize the magnitude of the shoppers' appetite for buying online. This year's Cyber Monday generated approximately $7.9 billion in online sales, making it the largest online shopping day of all time in the U.S. It overtook Black Friday ($6.2 billion) and Thanksgiving Day ($3.7 billion) in volume, even though the year-over-year growth was greater for those two holidays – 23.6% and 28%, respectively.
We can reasonably expect this trend to continue into 2019, spurred by the fact that merchants are spreading out the "holiday" sales over an ever-wider period, some starting even before Thanksgiving and running the promotions for the whole week of Black Friday or longer. The holiday shopping season will break new sales records in 2019.
At the global level, China leads in overall eCommerce revenues ($636 billion), followed by the U.S. ($505 billion), and then the UK, Japan, and Germany, at some distance. However, in terms of software, SaaS and online services sales, the United States continues to lead, accounting for half of sales worldwide, followed distantly by the UK and France.
We will see more of this distribution in 2019, supported by the momentum of voice search and AI assistants in the US and mobile shopping in China, respectively (more on the impact of those technologies, below).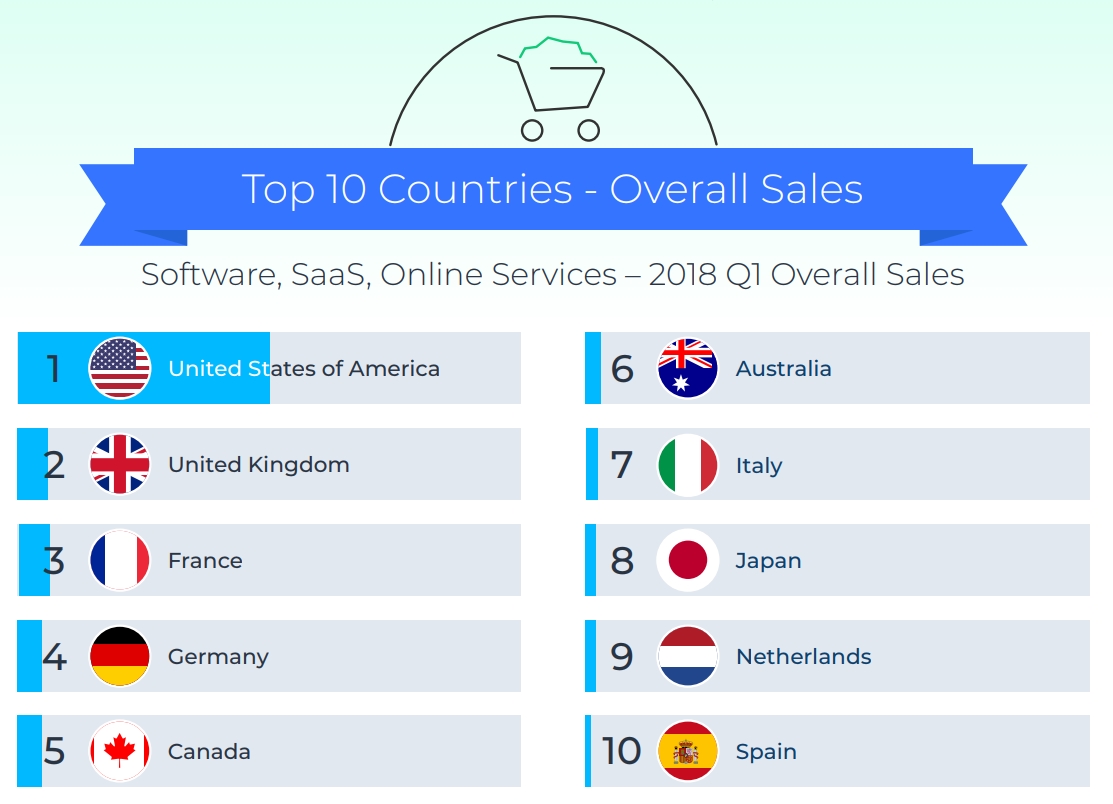 While many e-retailers are investing in speedy and efficient delivery methods (next-day delivery etc.), brick and mortar stores are expected to enjoy a resurgence driven by eCommerce. For example, 82% of mobile users search for local physical stores to buy any product, and 18% of that gets converted within just 24 hours. In addition, Buy Online and Pickup In-Store (BOPIS) over this year's Black Friday weekend saw a record 50% increase year-over-year, so many retailers will probably want to expand their click-and-collect services in the future.
Mobile shopping takes flight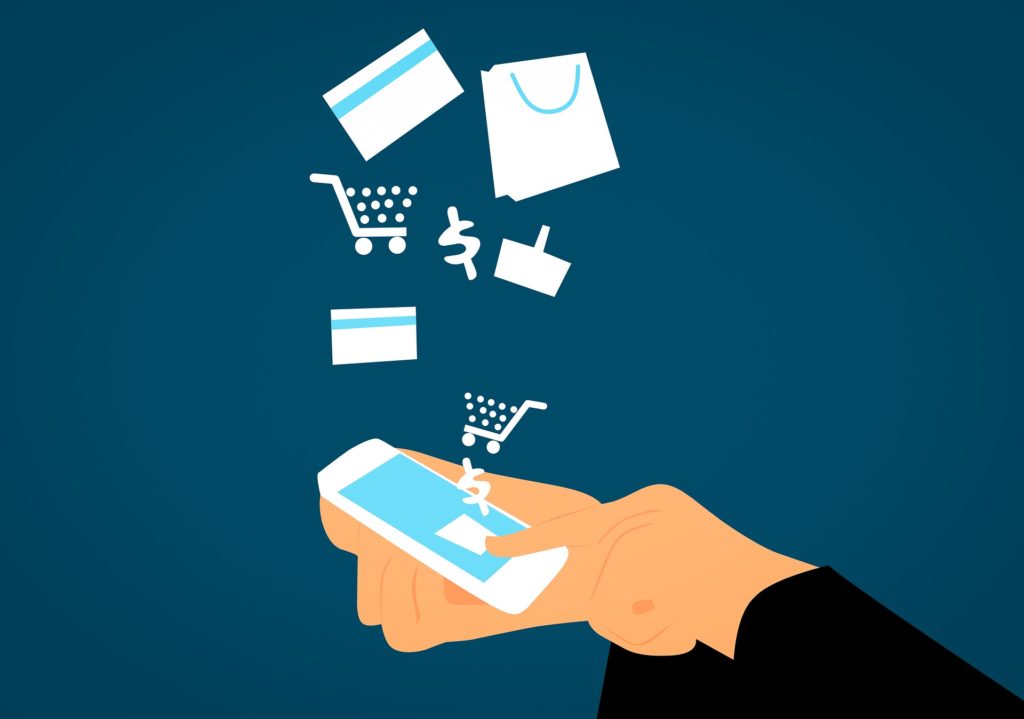 Even though most shoppers declare that they still prefer to make their online purchases on a desktop or laptop computer, with only 45% favoring mobiles or tablets, worldwide mobile commerce revenues will still reach an estimated $459 billion by the end of this year – a massive 59% (!) increase over 2017. Advancements in smartphone adoption and Internet penetration, coupled with most merchants' investments in mobile apps and mobile website optimization, are expected to raise the share of purchases through smartphones and tablets by 69% by 2020.
Once again, the recent holiday shopping fervor brings confirmation for the ascent of mobile shopping – on Cyber Monday in the U.S. alone, mobile traffic accounted for 51.4% of eCommerce website visits (a 16% growth YoY) and 34% of revenue. At the same time, mobile payment volume on Black Friday was up 42% over Black Friday 2017, according to PayPal.
Mobile wallets like Apple Pay, with around 127 million global active users, or Google Pay are gaining ground globally, and some markets have clear preferred payment methods. For example, 93% of mobile payments in China are handled by Alipay and WeChat Pay.
We can, therefore, expect to see global mobile commerce revenues go past the $690 billion mark in 2019. If you sell online and you don't have your mobile strategy in top shape, now is the time.
New payment methods will gain ground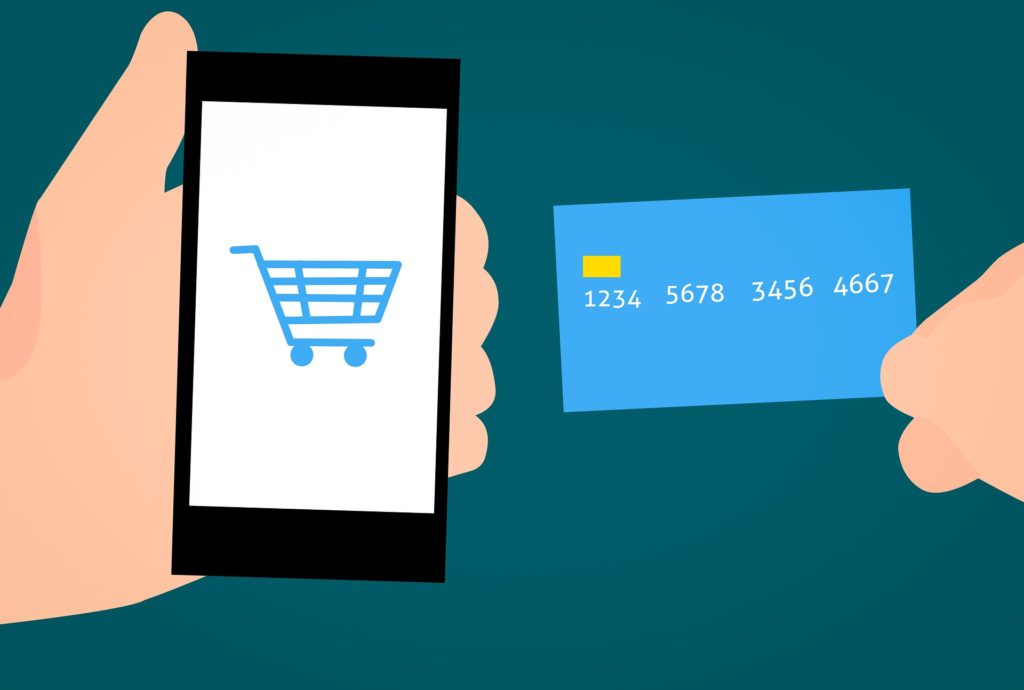 Almost 50% of online merchants are planning to start accepting mobile payments in their stores in the upcoming period. As we've seen above, mobile payments are seeing a rapid expansion around the world, with shoppers appreciating the low friction and quick payments they can make with mobile wallets.
Research by Salesforce has also shown that mobile eCommerce sites that include a mobile wallet payment option benefit from 2X the conversion rates of sites that don't accept mobile payments. Convenience is one of the main influencers of buyer behavior, so it stands to reason that payments with mobile wallets will continue to grow in 2019.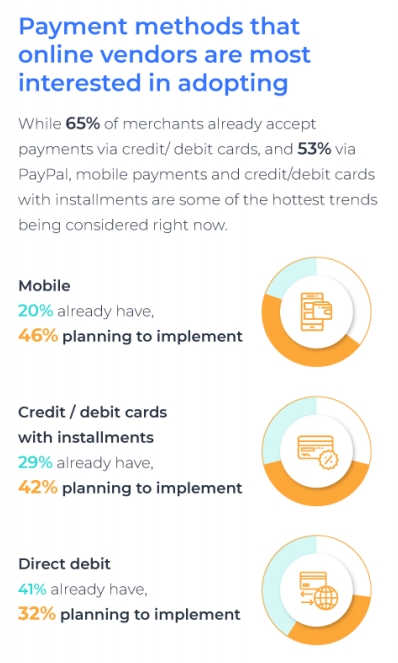 Credit or debit cards with installment options are very popular in some countries, like Brazil or Turkey, and so 42% of eCommerce merchants are planning to implement such payment methods in their stores as well.
Cryptocurrency payments (Bitcoin, etc.) will continue to be rather limited in adoption, used only in certain niche areas of digital commerce. Mainstream merchants are rarely interested in offering these payment methods to customers, as most shoppers do not use cryptocurrency – due to security and volatility concerns (as well as the necessary technical learning curve). Adjacent technologies, such as Blockchain, also are not expected to deliver widespread value for eCommerce in 2019.
Online merchants must keep up with these advancements, since offering local payment methods and currencies in the shopping cart can increase conversion and authorization rates by up to 25%. For those vendors that sell globally, the most efficient solution may be to partner with a digital commerce provider that can offer all the payment methods and currencies they need, out of the box. For example, 2Checkout supports over 45 payment methods and 100 currencies across the world.
Finally, it will be interesting to see what (if any) results the new TARGET Instant Payment Settlement (TIPS) system will have in Europe. TIPS is a low-fee payments and money transfer system among European banks (only deals in Euros) that was launched in November 2018 by the European Central Bank in an attempt to tackle the "scarcity of major European players in the payments market" (i.e. compete against PayPal and the like). However, so far only eight European banks have signed up to the system, so its impact remains to be seen in 2019.
Personalization of customer experience vs. data privacy
Today's savvy and demanding shoppers expect a personalized customer experience that will minimize the time they spend researching products and enable them to buy just what they're looking for, instantly, when shopping online. Therefore, the eCommerce companies that will stand out in 2019 are those that will make the overall customer experience the main focus of their operations. Customer experience – or CX – doesn't entail only the visual aspect of websites or mobile apps, but the whole experience that a customer has while interacting with the vendor, throughout all touchpoints. It includes navigation through the product catalog, product discovery and recommendations, shopping carts and checkout flows, customer service availability and effectiveness, as well as post-sale services.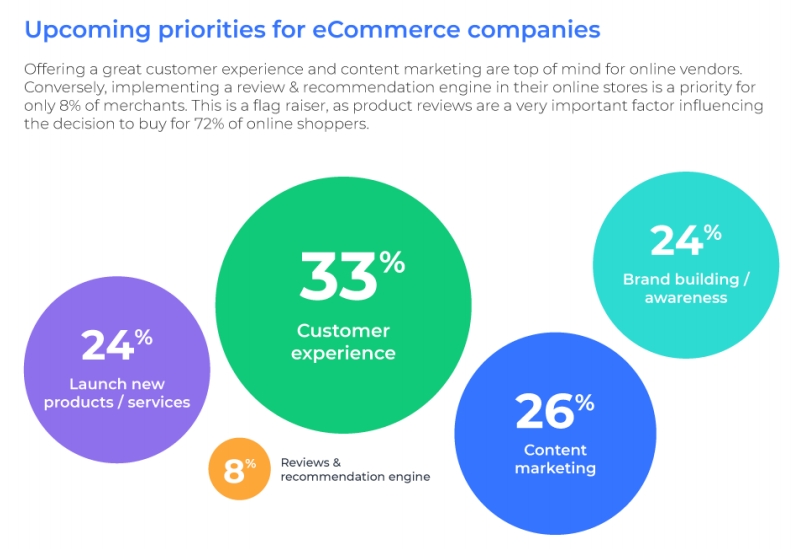 Unfortunately, many brands ignored CX in 2018, leading to a stagnation that will be difficult to overcome in 2018 – even though customer expectations are rising constantly. The good news is that eCommerce companies are starting to realize the importance of customer experience, and it is becoming the top priority for investment in 2019 for 33% of vendors.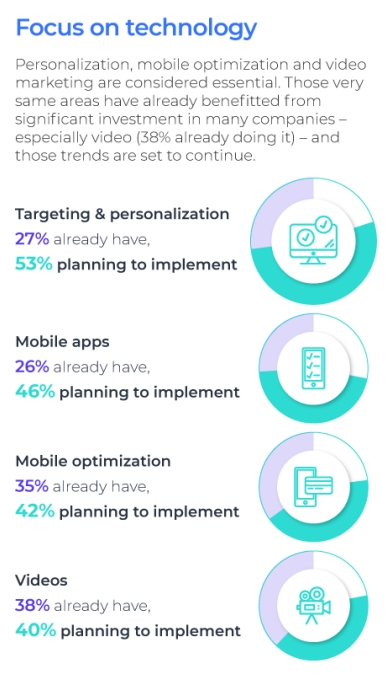 Closely tied to the customer experience is personalization – in eCommerce, that usually refers to curated product discovery and 24/7 recommendations. On-target product recommendations can bring tremendous benefits to businesses, via cross-selling and up-selling – Amazon is the best example, as it can attribute 35% of its revenues to its product recommendations engine. Other companies have also begun establishing dedicated personalization teams for different departments, many of them using machine learning algorithms to derive insights from the vast amounts of customer data that the businesses gather. The prospect of significant revenue uplift means that at least 53% of eCommerce companies will focus on targeting and personalization in 2019, while more than 35% will invest in machine learning for product recommendations and customer retention.
On the other hand, eCommerce personalization in its current guise relies on vendors gathering as much personal and behavior information from their customers. This raises some concerns, since in the wake of the recent data privacy scandals involving Facebook and other companies, many netizens are becoming wary of sharing too much information with companies. The cyberattacks that seem to affect all types of organizations every month exacerbate people's fear of what may happen to their data should it fall in the wrong hands. Therefore, more and more people are expected to use data privacy tools like ad blockers, online tracking protection, or VPNs to limit the data that can be collected about them on the Internet.
State regulation, like the EU's GDPR or the upcoming California Consumer Privacy Act, will also strengthen consumers' protections against data collection and usage by businesses. Marketers will need to adapt – either through more sophisticated technology or through different strategic approaches for CX – to these shifting attitudes in order to regain or keep shoppers' trust, which is the most important factor in their decision to buy.
Voice will be heard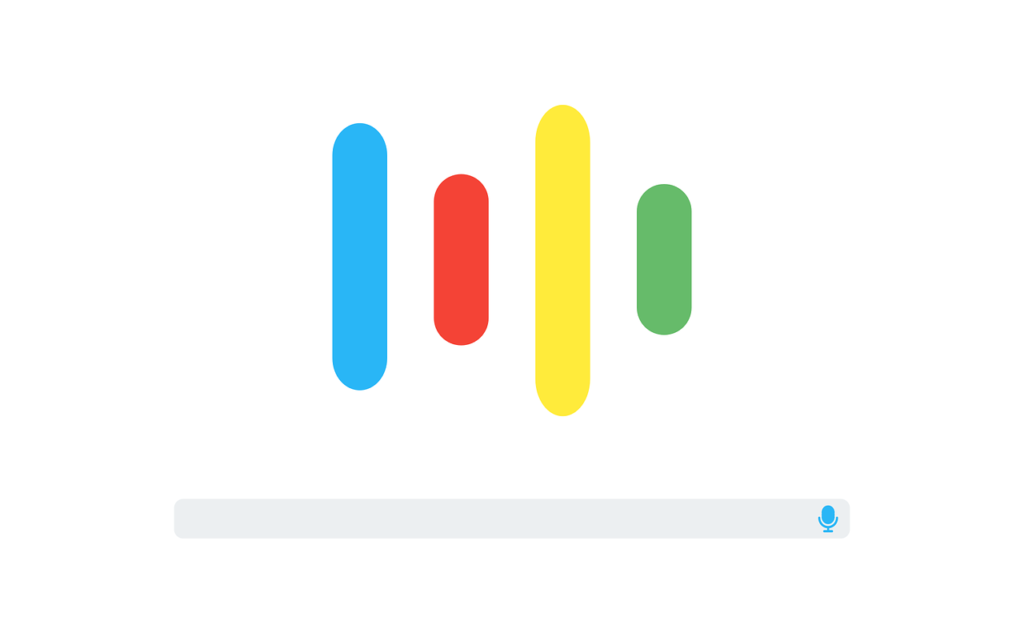 Some studies estimate that, by 2020, voice commerce will reach $40 billion in the U.S. This is attributed to the increasing penetration of smart AI assistants – whether in the shape of "smart speakers" like Amazon's Echo line (powered by the Alexa AI assistant) or Google Home, or software applications on smartphones and PCs (like Google Assistant, Microsoft's Cortana, Apple's Siri and so on). Currently, only about 13% of people the U.S. own a smart speaker. However, nearly half of Americans already use AI voice assistants on an ongoing basis.
Voice is currently used mostly for online search – and that alone will have an important impact on how all businesses approach SEO in 2019 and beyond. ComScore estimates that more than 50% of the total web searches will be voice searches by 2020. Brands will need to implement a two-pronged approach if they want to make the most of the new traffic and conversion opportunities brought by voice search:
Adapt their SEO strategy to target Google's Answer Box – as that is the one that provides the answers for Google Assistant voice queries
Build Amazon Alexa "skills" that allow for their products to be discovered or even purchased through Amazon's voice assistant
Voice is currently the easiest and quickest way to interact with our computing devices, and, as people will always choose the path of least resistance to accomplish their goals, we can expect that voice search and voice shopping will pick up pace in the coming years.
Site search will get smarter
How do online shoppers find the products they need? Currently, 78% use regular web searches, while 31% go to the vendors' websites and search directly there. Site search has grown by 22% since 2016 and shoppers who search on site are 2.4 times more likely to buy and spend 2.6 times more than those who don't. In the U.S. alone, 49% of shoppers begin their product searches directly on Amazon.com. We can expect site search to gain even more weight in 2019, as buyers become more focused on what they want to purchase and expect to find what they need much quicker than before.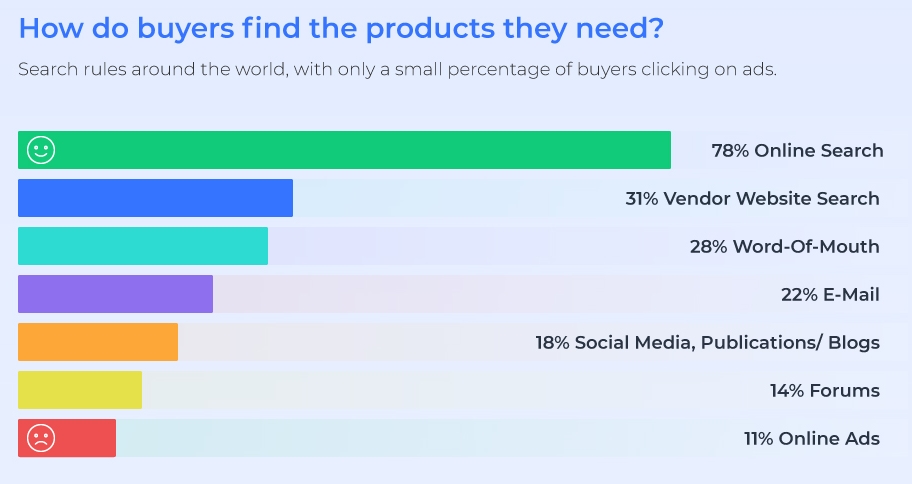 eCommerce companies will therefore need to make their site search as efficient and effective as possible, most likely using machine learning and advanced product filtering, to give customers what they want with as little friction as possible. Impatient buyers will abandon websites if they don't find what they need quickly, so optimizing the process is essential for high conversion rates. Cutting-edge companies are already using natural language processing and machine learning to ensure their customers' satisfaction and loyalty.
Subscription eCommerce will make headway
The subscription eCommerce market has been growing by more than 100% YoY in recent years, with 15% of online shoppers having subscribed to a replenishment, curated or access service so far. In 2019, more brands will embrace this model, enabled by new technology providers and looking to expand their margins and offer more engaging customer experiences. By 2020, more than 80% of software vendors will make the shift to subscriptions. The rise of next-day delivery services is expected to boost the impact of subscription commerce for physical goods as well, as 72% of shoppers would actually shop more and spend more if same-day delivery was available.
For digital goods merchants, transitioning to a SaaS (Software as a Service) model enables increased revenue, greater agility and closer customer relationships. As more software vendors move to that business model, we can expect subscriptions to surpass perpetual licensing and maintenance contracts in 2019.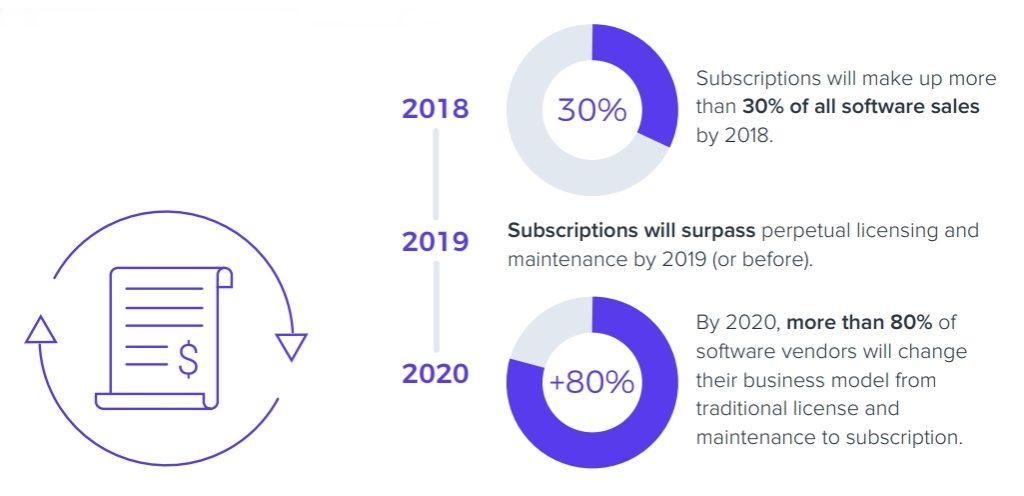 However, only 55% of shoppers who consider a subscription service end up actually subscribing to it. The conversion rate from free or trial models to paid subscription ultimately depends on the quality of customer experience and personalization, with the most successful companies (Spotify, Dollar Shave Club, Netflix, Stitch Fix, etc.) excelling in those areas.
Furthermore, churn rates for subscription commerce are still rather high (40% in a year), so vendors who want to retain customers must really stand out from the crowd in terms of offers and overall CX. If your business is contemplating transitioning to a subscription-based model, have a look at some quick tips in the video below, or get more in-depth migration guidance from this free whitepaper.
 Social media platforms moving towards eCommerce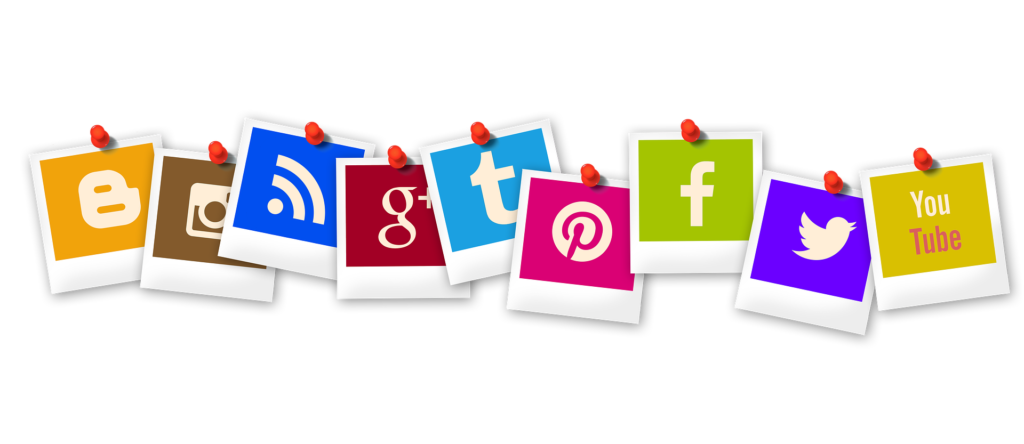 Social media is now an essential driver of product discovery and buying intent. 78% of 18-34-year-olds said they had discovered products on Facebook within the last three months that they were interested in buying. Facebook – thanks to its very effective ad ecosystem – is the social media leader in terms of product discovery and referral traffic to eCommerce websites, but Instagram and Pinterest follow closely behind (59%).
Traffic to eCommerce sites from social media is consistently growing, with most of those visits coming from mobile devices. With 55% of shoppers buying a product online after discovering it on social media, online merchants can no longer ignore the importance of doing social media right. A very impactful approach for social media commerce is influencer marketing – it's estimated to deliver 11X greater ROI than other forms of digital marketing. Partnering with the right influencers for your brand could help you reach significantly wider audiences on social media and boost your sales.
What's more, social media like Instagram, Pinterest, Snapchat and Facebook are constantly adding more features that will enable shopping directly on their respective apps, leveraging their large user bases to become true eCommerce platforms. Online merchants will need to hop on the social-selling bandwagon or else risk leaving money on the table.
AR, VR and video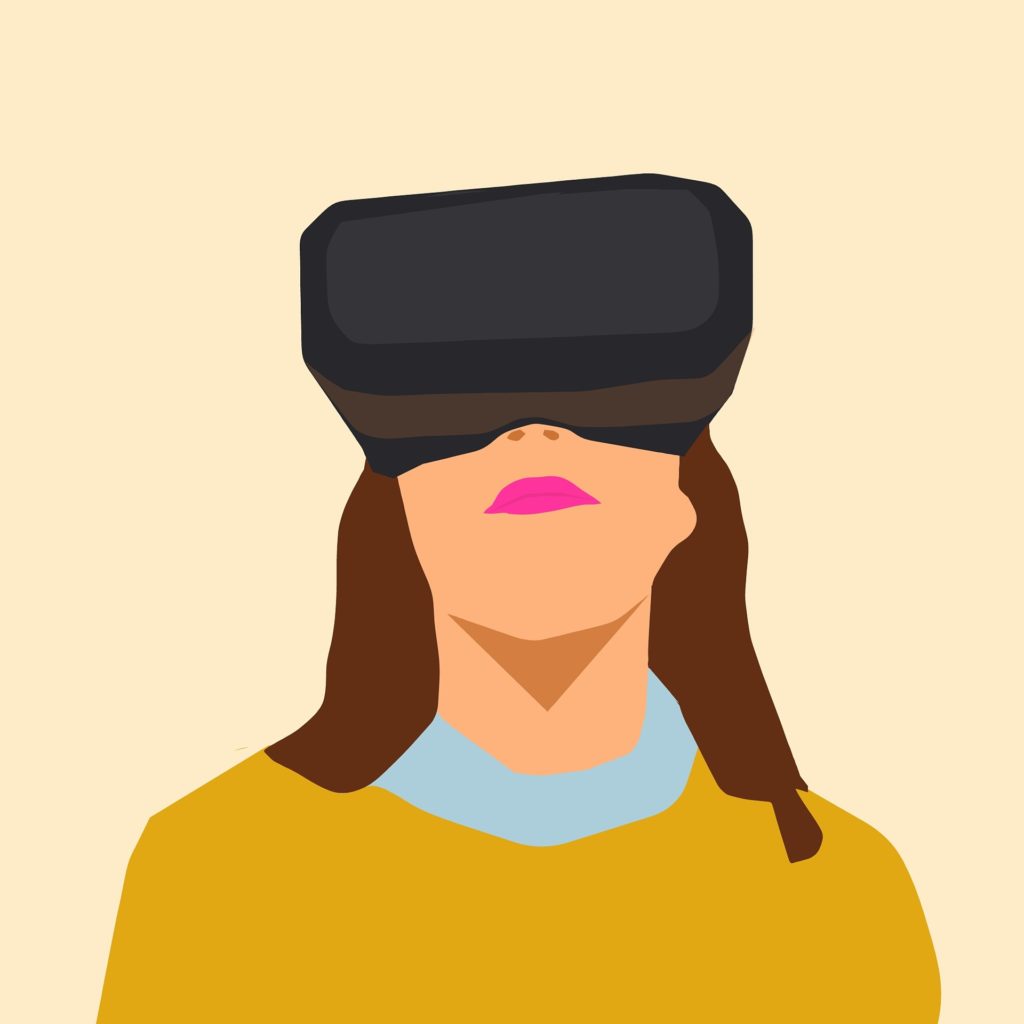 Consumers are more likely to make a purchase after watching a video, while product pages with videos bring up to 37% more conversions than pages without videos. That is why 38% of eCommerce companies have already adopted video marketing and 40% more are planning to invest in videos significantly in 2019.
Conversely, Augmented Reality (AR) and Virtual Reality (VR), while nice to have and impactful when done right, are likely to remain niche implementations next year. AR and VR can help buyers visualize products in a realistic context or "immerse" them in new environments, facilitating their decisions to buy, and some companies are already doing very interesting things with these technologies. However, they are not widely used by regular buyers, and so the impact of AR and VR on the bottom line will probably continue to be marginal in the near future.
To conclude, these are our predictions for the future of eCommerce in 2019. Digital commerce will keep growing at a rapid pace, spurred by the wide availability of the Internet and smart computing devices. Product discovery, as well as purchase and payments on mobile devices, will gather significant momentum, and vendors and eCommerce providers will need to keep pace by implementing suitable payment methods. Companies will seek to stand out by offering superior customer experiences, relying foremost on the personalization of product recommendations and services using machine learning. Yet, they will need to grapple with the customers' and regulators' shifting attitudes towards data privacy.
Technologies like voice assistants, site search, video, AR and VR, if implemented correctly, will help attract and retain online shoppers and subscribers, but they will not completely displace physical stores. Many buyers will still research their products online but then buy them offline, in brick and mortar stores, or they will buy online and then prefer the convenience of click and collect services, if they don't have access to satisfactory delivery services.
For online software vendors, the main trend will be the transition to a subscription/ SaaS business model, designed to ensure business profitability in the long term.
There are as many challenges as opportunities in the future of digital commerce, yet if you plan your strategy correctly and execute your tactics well, your business will be successful.
For more insights into digital commerce and helpful ideas for your online business, check out our resource library as well.