We've all noticed the rapid ascension of the eCommerce industry in these past couple of years, so it's not surprising that if you weren't interested in starting up an eCommerce business before, the idea may have been sparked by now.
There are numerous ways to get all the information and help that you need in this department, from countless blogs, podcasts, webinars, and even workshops. But books still are a major source of information, inspiration, and insight when it comes to learning how to follow the first steps in building up a successful eCommerce business.
We have asked a few of our favorite eCommerce experts which books they believe help deliver the right know-how to build an ever-growing business, and we compiled the results below.
Recommendations came from a variety of eCommerce specialists, including Derric Haynie, Austin Brawner, Kurt Elster, Paul Rogers Carl Hendy, Taylor Holiday, and more.
So, if you are either starting up in the business, looking for new tactics and strategies, or simply figuring out what your next read should be, check out these book titles that will most definitely help you boost your growth and scale your eCommerce business.
Bonus: Check out these brilliant books that SaaS experts recommend!
By Steve Krug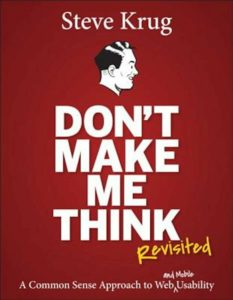 Ever since Don't Make Me Think was published, Steve Krug's resource has helped countless web designers and developers on their journey to usability and understanding the principles of intuitive navigation and information design. The guide is witty, common-sensical, and eminently practical.
Kurt Elster stated that "this is the book that started me on understanding conversion rate optimization. Don't let the age fool you; the principles are largely unchanged, and the updated edition helps."
Don't Make Me Think is recommended by Paul Rogers as well because it is "a great book I read early in my career – just covering the fundamentals of simplifying UX and usability where possible and generally making things easy for users."
(Recommended by Kurt Elster and Paul Rogers)
by Ed Catmull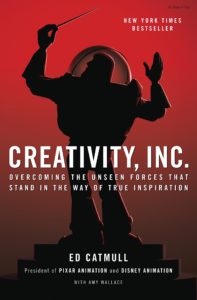 Creativity Inc. is a guide for anyone who strives for creativity, originality, and the first-ever behind-the-scenes access ticket to the nerve center of Pixar Animation. The book offers a look into the meetings, postmortems, and "Braintrust" sessions where some of the most successful animated films in history are made. In its essence, the book is all about unleashing your creativity, and, as Pixar co-founder and former president Ed Catmull writes, "an expression of the ideas that I believe make the best in us possible."
Kurt Elster describes the book as a "a fascinating look at the birth of Pixar, and how the co-founder learned to manage their growing team. Lots of great anecdotes for new managers."
(Recommended by Kurt Elster)
by Sean D'Souza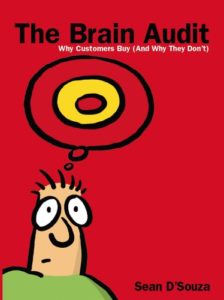 In The Brain Audit, Sean D'Souza (owner at PsychoTactics) explores the way customers make decisions, and what you need to put in place to make your customers feel happy and want to buy products or services from you. The book shows you all the tips and information you need to help your customers make a decision and boost your conversions.
"I know I have a great product, why aren't people buying?" If you're asking this question, you need to read this book. It will give you a deep understanding of your customers and the story you need to tell them about your brand in order to make the sale. The step-by-step process outlined in the book is simple to follow and will improve your messaging and how you communicate it. I'm constantly recommending this book to my clients." says Austin Brawner.
Kurt Elster recommends this book because "copywriting is hugely important for eCommerce marketing, and that has made The Brain Audit my bible for high-converting landing pages."
(Recommended by Austin Brawner and Kurt Elster)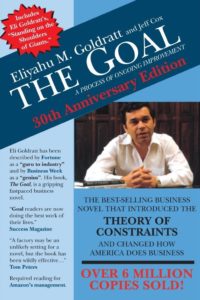 Written in a fast-paced thriller style, The Goal, written by Eliyahu M. Goldratt, is a gripping novel that has been transforming management thinking throughout the world. The book follows the main character that discovers a revolutionary new way to do business – a way for people in any field of endeavor to increase productivity, profitability, and personal fulfillment – at the same time that it explains the ideas which underline the theory of constraints (TOC) developed by Dr. Goldratt.
Austin Brawner describes the book as "regularly used in MBA classes, and for a good reason. This book really helped me start identifying the bottlenecks in my business and what I need to do to remove them. The book is written in novel style but is packed with relevant lessons applicable across many business verticals. Read it, then share it with your employees to get them thinking about the bigger picture."
(Recommended by Austin Brawner)
By Jim Collins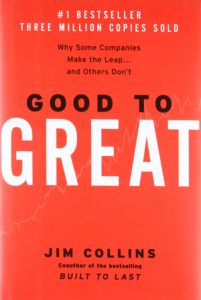 In Good to Great, Jim Collins establishes how companies can transition from being good companies to great companies, and how most companies fail to make the transition, and ways to avoid that. If you are looking to boost your company's growth, Jim Collins has laid out seven principles to follow in order to transform your business from just good to great.
(Recommended by Paul Rogers)
By Eric Ries
If you are on the lookout for the right actions to take when opening your eCommerce business, The Lean Startup is your go-to guide offering you a way to test your vision continuously and to learn how to adapt and adjust in the industry before it's too late. Eric Ries (CEO at Long-Term Stock Exchange) provides a scientific approach to creating and managing successful startups in a time when companies need to innovate more than ever.
(Recommended by Paul Rogers)
By Ruth Krauss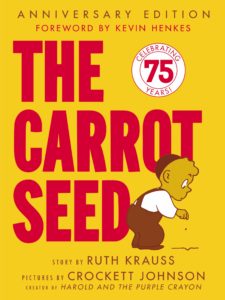 The Carrot Seed tells the journey of patience, determination, and believing in yourself, three key elements that any entrepreneur should learn to master to start a successful business.
Ruth Krauss's novel is Taylor Holiday's favorite entrepreneurial book, "because no story better embodies the journey."
(Recommended by Taylor Holiday)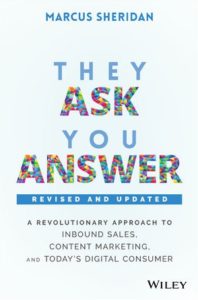 They Ask You Answer is a well-built guide that will help you fix your current marketing strategy. Quality content is now the key to success, it emphasizes, and you have all the ingredients in-house. Written by Marcus Sheridan, this book shows you the step-by-step plan on how to structure an effective content strategy using the same proven principles that have revolutionized marketing for all types of businesses. Make sure to give it a read if you are working on improving your marketing strategy.
Derric Haynie describes the book as "all about answering the questions your customers have in an open and transparent way to reduce friction and increase sales. Being honest about talking about your competition, costs, etc."
(Recommended by Derric Haynie)
By Jay Baer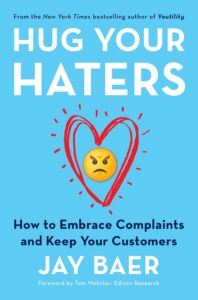 Written by Jay Baer (Founder of Convince & Convert), Hug Your Haters is an extensive study of how, where, and why people complain. The book proves that there are two types of complainers, each with very different motivations – offstage haters and onstage haters – and it shows exactly how to deal with both groups, drawing on meticulously researched case studies from businesses of all types and sizes from around the world.
Whether you own a small business or work for a global company, this book will help you reconfigure your customer service to deliver knockout experiences and boost your customer retention and growth.
Derric Haynie suggests that Hug Your Haters is a "great book for improving your customer experience strategy and getting a new look on your 1-star reviewers."
(Recommended by Derric Haynie)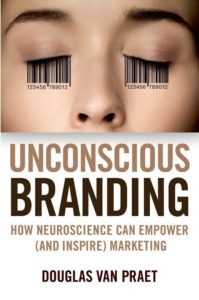 In Unconscious Branding, Douglas Van Praet (Founder of Unconscious Branding and INTENT) takes the most brilliant and revolutionary concepts from cognitive science and applies them to how we market, advertise, and consume in the modern digital age. In his book, Douglas Van Praet simplifies the human brain into seven codified actionable steps to behavior change. These steps that are then illustrated, using examples from advertising, media, marketing, and business, to unravel what marketers and ad practitioners have long done intuitively and deconstruct the real story behind some of the greatest marketing and business successes in recent history, such as Nike's "Just Do It" campaign and many others.
From Derric Haynie's point of view, the book Unconscious Branding "helps you think about the subtleties of your brand and how to nuance your way into the consumer mindset."
(Recommended by Derric Haynie)
By Gabriel Weinberg and Justin Mares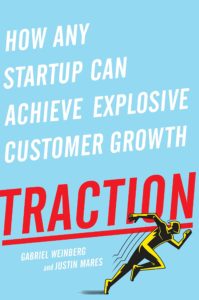 Gabriel Weinberg and Justin Mares learned from their own experiences that building a successful company is hard, but not impossible. Traction shares nineteen channels that you can use to build a customer base and how to pick the right ones for your business. Adding to that, the book holds a collection of more than forty interviews with successful founders, including Jimmy Wales (Wikipedia), Alexis Ohanian (Reddit), Paul English (Kayak), and Dharmesh Shah (HubSpot), sharing their experiences in building and scaling their successful businesses.
In Derric Haynie's words, Traction "helps you identify your top performing channels and focus in on your growth strategy."
(Recommended by Derric Haynie)
Bonus: Carl Hendy recommends Ecommerce Guide as an excellent online source of eCommerce information and everything related to the industry. Check it out!
We hope this comprehensive list of books will give you the boost you need to launch your eCommerce startup and further scale it into a successful business. After all, learning from other people's experiences, mistakes, and learnings is the best way to discover which strategies you should follow and apply in your own business in order to succeed.
We want to thank all the amazing experts for sharing their awesome recommendations.
Do you have any other suggestions of awesome books that helped you scale your eCommerce business? Tell us all about them in the comment section below!