At least ChannelBiz boldly commented along these lines – pointing to research that proves channel critics wrong – in any case, those "who have longed for the day when resellers are cut out of the equation".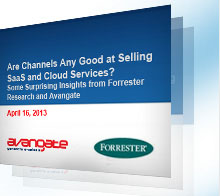 It's a fact that power is shifting into the customers' hands and purchasing habits are changing due to "online-first", while the channel ecosystem is struggling to adapt to the new cloud challenges. This may make it seem like the only way to distribute SaaS products is to sell direct.
Yet a recent Forrester research, commissioned by Avangate, contradicts this assumption: 66% of software vendors surveyed say that channel partners are of strategic importance to their SaaS revenues. The channel is here to stay, although it is and will continue to undergo major disruptions as the software industry shifts from on-premise installation to SaaS delivery and from perpetual licenses to pay-as-you-go subscriptions.
In the next Avangate webinar, on April 16th, we are attempting to answer this question: "Are Channels Any Good at Selling SaaS and Cloud Services?", together with Peter Sheldon, Principal Analyst at Forrester Research. More than this, we'll look at what it takes to develop and optimize your channels to increase SaaS and cloud sales. As software companies need to work harder than ever before at retaining their customers, it is critical to leverage the power of the channel to increase retention rate and reach further out in the market. Coverage of the topics below will help you get started using channels for customer acquisition and retention:
Partner performance: Challenges your peers face enabling channels to sell SaaS products
Revenue mix: Upcoming shift of the revenue mix between direct and indirect channels – how that mix (and your channel strategy) differs based on target market
Channel tools: Technology investments, such as self-service tools, necessary to support channels and equip them to build long-term relationships with end-customers (and how to prioritize these/ benefits of partner order and revenue management)
All webinar participants will receive the supporting whitepaper "As SaaS Goes Mainstream, ISVs Invest in Channel Support Tools" conducted by Forrester Consulting (and commissioned by Avangate), which reflects the importance of channel sales to SaaS.
Sign up now to learn how channels can revolutionize your SaaS revenues. Feel free to share from your experience, or ask a question for the presenters below.