Every marketer should know by now that retaining customers is more cost-effective than acquiring new ones. On average, it costs five times as much to attract a new customer than to keep an existing one. In other words, turning a blind eye to your existing customers can put you out of business faster than you might expect.
A good retention strategy delivers the added benefit of word-of-mouth marketing. If your customers are happy with your product or service, they will become your advocates and tell others about you. And who's more likely to become an advocate than a loyal, happy customer who's renewed a subscription to your product?
"Social Proof is amazingly powerful… when your Ideal Customer prospects see others like them using and succeeding with your product, there's a level of validation that trumps just about everything else you say or promise." – Lincoln Murphy
Bonus: Valuable SaaS Customer Retention Strategies from the Experts
Once you have your baseline metrics on customer renewal rates, move on to crafting and implementing a strategy to improve renewals. Part of that strategy must be to make it easy for your customers to renew their subscriptions.
Here are seven tips for simplifying the renewal process:
1. Tailor your offer to what customers need with flexible pricing
Make your product customizable, so customers can choose and pay for only the features they want. Pricing may also differ based on the size of the organization. For example, users at a startup may not be willing or able to pay much money for accounting software—but they probably don't have the same needs as enterprise users, so it makes sense for them to pay less for a streamlined version of your product.
2. Offer automatic renewals
Set automatic renewals from the start or provide special offers for changing from manual to automatic. The best way to convince customers to switch renewal types is by setting up migration campaigns and running promotions. Of course, you could also offer manual renewal discounts, but keep in mind that the automatic renewal rate is typically four times higher than the manual renewal rate.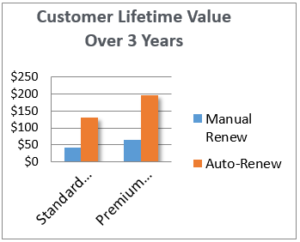 Voluntary churn prevention tactics can also be used for migrations from automatic to manual renewals, and vice versa.

3. Offer multiple ways to renew
In order to keep your customers, you have to give them the flexibility to choose how they want to renew their subscriptions. They might renew automatically, via self-service, directly or through channels, by accessing their account or in-product. You just have to make all the options clear and help customers choose the most convenient renewal method for them.
Reach out to your customers about their renewal options through in-product messaging, system tray pop-ups or real-time messages about subscription expiration. Also, make sure you always allow customers to pay for renewals in their local currency.
4. Notify customers when it's renewal time
If automatic renewals are enabled, always let customers know when their credit card is going to be billed. Segment your messaging by the customer's renewal status at a given time.

If customers have manual renew enabled, then you can lure them with discounts for early renewals and migrating to auto renewal. Or, once the subscription expires, you can get customers back with a win-back discount. Remember not to send too many emails, because you don't want to annoy your customers, but do make sure to remind them about the benefits of using your software.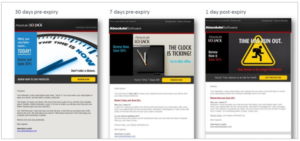 5. Offer grace periods
If your customers forget to renew, don't just cut off their access to your software or, even worse, erase all their data. Just add a few more days to their subscription. This way, they get to decide whether they should renew or not and act accordingly. Customers appreciate having access even with a past due subscription, because it gives them time to update their payment details and back up their data.
6. Use tools to proactively avoid passive churn (RRT)
Account Updater Service is a tool that ensures billing continuity for active subscriptions, significantly increasing your renewal and authorization rates. It allows you or your provider to automatically update credit card data for subscribers when cardholder information changes or goes out of date. You can read about more tools to curb involuntary churn here.
7. Optimize the renewal process
The renewal process is sometimes more complicated than it seems. If not done correctly, it can lead to a higher churn rate instead of an increased renewal rate. To avoid this, don't just rely on what you think might work for your customers, but perform A/B tests on renewal notifications (templates, timelines, prices), renewal emails, migration campaigns and more to see what actually works.

Take a quick look at your shopper support flows, too, and optimize what you can. Consider whether getting back to customers takes more time than it should and how easy it is for them to contact you. Letting customers know that they can reach you anytime to ask about renewals (or anything else) is very important in their decision to renew.
How else do you make it easier for customers to renew?
To learn more tactics and tools for reducing churn and improving renewal rates, watch our webinar on how to improve your subscription business by minimizing churn.