Today, online businesses are looking for new and emerging sales markets to deliver scalable profits. The 2020-2021 COVID-19 online sales surge has savvy marketers looking to Turkey, as an untapped opportunity for phenomenal sales growth. Turkey has a youthful and increasingly affluent population who've grown up using mobile devices to shop online and are pre-primed to buy online.
It is incredible to find Turkey has only 44% eCommerce penetration, mainly concentrated in the western and central parts of the country. That means Turkey's eCommerce market still has plenty of room to profitably grow and massively scale online sales.
Analysts expect online purchasing to increase to more than 53 million shoppers, through 2024. Turkey's new emerging market would be on par with the United Kingdom, making it an ideal target for cross-border merchants.

Here is what you need to know to enter in and be successful in Turkey's eCommerce market in cross-border online sales. 2Checkout has published the latest in its country guide series to cover "eCommerce in Turkey – A Merchant's Cross-Border Guide to Online Sales," which provides an insider's look at what to keep in mind when selling to Turkey customers.
Bonus: Check out this guide on how to start an eCommerce business.
eCommerce Expansion in Turkey Shows Promise for Global Businesses
Turkey is the 11th fastest growing eCommerce market in the world, with over $17B in sales, and the second fastest growing at a rate of 24%.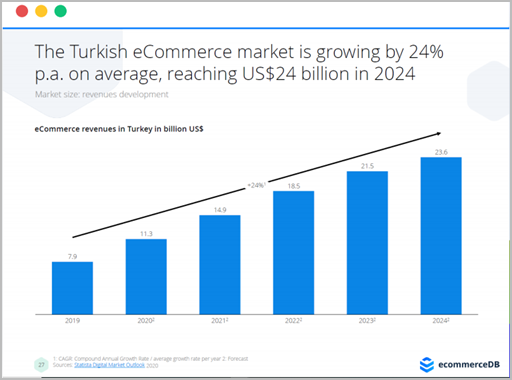 In fact, 44% of Turkey's people shop online. Its internet and eCommerce penetration rates are steadily growing, with a 71% Internet penetration and 67% smartphone adoption to put it on the level with most of its European neighbors.
Turkey's eCommerce took off, growing at an annual rate of close to 36%, between 2008 and 2012. Then, Turkey's economic power showed its resilience with double-digit growth over the next five years, making it the world's second-fastest-growing eCommerce market through 2017.  That's when Turkey's commitment and efforts to build up the necessary infrastructure and the rise in consumer confidence began to pay incredible dividends.
Turkey's economic power surged in 2020 as it became the 11th largest eCommerce market in Europe. Then, COVID-19 happened and, by year's end, Turkey's overall online sales increased by 65%
If you're just getting started and want to understand the ins-and-outs of selling online in Turkey, our eBook provides a comprehensive overview of what you need to know about this country's buying preferences and requirements.
How Turkey Shoppers Like to Buy – High Social Media Adoption Drives Incremental Sales
Turkey's 63% social media adoption and usage is among the world's highest. It's expected to grow to 82.4% and over 71 million users by 2025.
Social media in Turkey plays a huge role in the eCommerce buying cycle. A significant amount of shoppers begin their journey on apps like Pinterest, YouTube, and Instagram, even if they ultimately finish the sale on their desktop.
How Turkish Shoppers Like to Pay
In Turkey, nearly three-quarters (or 74%) of all eCommerce purchases are transacted with a debit, credit or pre-paid card. Turkey also has one of the world's highest card penetration rates, with 1.63 debit cards, .77 credit cards, and 2.4 total cards per capita.
The dramatic growth in this rate is due to the government's and banking industry's goal of making Turkey cashless by 2023 and fintech innovations. In terms of new payment methods, these innovations include: Troy, QR-code-based payments, new digital wallets, pre-paid debit cards which are designed to increase cashless transactions.
Turkey's consumers also prefer installment payments. Installments (deferred payments)
make up 8% of all transactions. While card payments continue to dominate online sales, the digital wallet, is forecasted to grow from 6% to 10% of transactions by 2023.
The critical aspect for merchants to remember is that although Turkey consumers are embracing online commerce, they also prioritize having multiple payment options, as many as five, and prefer installment purchases and certain local payment methods.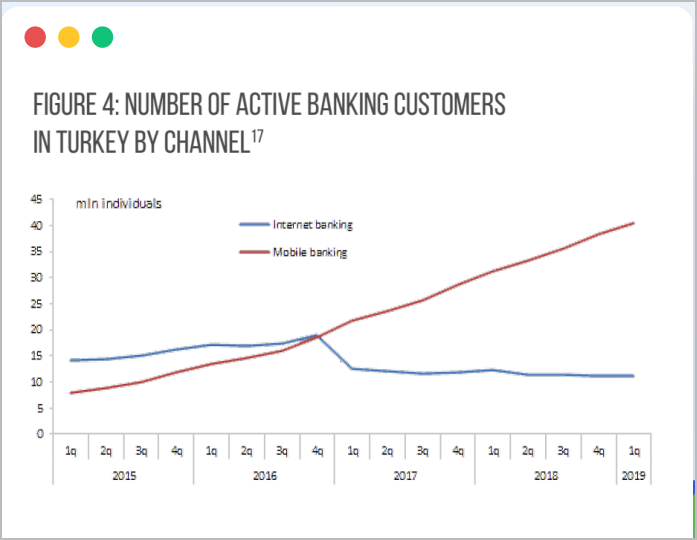 In 2019-2020 debit/credit/pre-paid card payments represented 74%. The rest was split between bank transfers, cash and digital wallets, which accounted for 12%, 7%, and 6% of all eCommerce transactions, respectively.
Merchants would be smart to consider local favorites, such as Visa or Mastercard, BKM Express, iyzico, and Papara, to accommodate all the various preferences.

Some of the most popular payment methods in Turkey include:
Global Credit and Debit Cards. Visa, Mastercard, and other global bank cards like Troy Card accounted for 74% of all eCommerce transactions made in Turkey in 2019.
BKM Troy Card. The Troy card is a product of the Interbank Card Center (BKM) and was introduced in 2016 as an alternative to Visa and Mastercard. As of 2017, there were more than two million Troy cards in circulation and Troy cards are currently accepted by 40% of Turkish merchants.
BKM Express. This is Turkey's oldest and most popular digital wallet, with 1.6 million users and 21% of the non-cash payment market. BKM Express is a public-private consortium and enjoys close integration with all 19 of the country's banks. Using its mCommerce and eCommerce capabilities, consumers can use their digital wallets for in-store and P2P payments.
Bank Transfer. Netbanking is a serious contender with Visa and Mastercard, as the Government of Turkey is pushing it and it has lower fees. With Netbanking the shopper is redirected to their bank at checkout to confirm their merchant payment or via QR-code-based schemes, such as Union Pay where the shopper initiates and completes the bank transfer via their mobile device.
Credit Card With Installments (Bonus Card, Worldcard. CardFinans and others)
Installment payments are popular among Turkish online shoppers so be sure to include these options in your checkout. 2Checkout platform data shows that using installment cards in Turkey brings coverts at a 4x greater rate than other methods.
Popular Card Loyalty Programs. Card programs with installments, all supported by the 2Checkout platform, include Bonus Card from Garanti, Worldcard from Yapi Kredi World, CardFinans from QNB Finansbank, Paraf card or Maximum Card from Turkiye Bankasipopular.
Other Digital Wallets. iyzico, Yapikredi and Papara are new digital wallet providers and already have millions of users and are quickly gaining adoption. Like cash on delivery, digital wallets don't require the user to own a bank account and are less susceptible to fraud than bank cards.

Turkey Shoppers Prefer a Localized Checkout Experience
Since 80% of the country's population only speaks Turkish it is natural that a localized checkout experience with correspondingly tailored language and currency would be the preference of most Turkish shoppers.
2Checkout recommends using dynamic templates that localize these aspects based on the location and language used by the browser. Offering native-speaking phone or chat support can also be helpful to build rapport with these local shoppers.
To achieve high authorization rates from Turkish buyers – and be able to offer the installments they know and love – work with a merchant provider who does local processing to increase conversion rates.
Cart flow is also important: 2Checkout merchants report doubled conversion rates in Turkey when they offer a cart flow that includes a review page.
While the data points to a clear preference for including the review page, we recommend testing your flow, as your results may vary.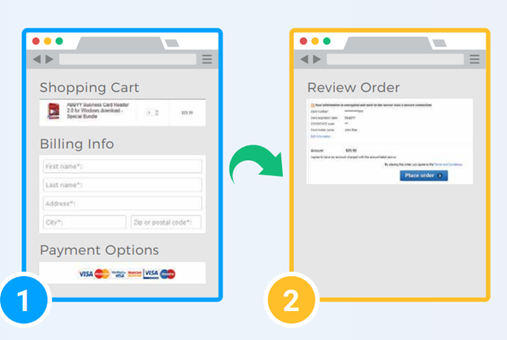 Don't Forget Turkish Regulations and Taxation
Turkey is conscientious about privacy and data protection; in 2016 it enacted The Data Protection Law. The Law outlines a similar framework to the European Data Protection Directive and has been evolving in line with the GDPR. The Law establishes the KVKK and the Board as the supervisory authorities responsible for its enforcement and for ensuring personal data protection.
The Data Protection Law applies to any merchant selling in the country, and this includes cross-border sales. It is recommended that businesses consult legal counsel before entering the Turkey eCommerce market.
Turkey enforces an 18% VAT (value added tax, or goods and service tax) on taxable goods and services, with reduced rates of 8% applicable to basic food, medical supplies and certain services, and 1% for agricultural products and certain machinery/ equipment acquired under finance leases. Printed books, journals and newspapers are exempt from VAT, but online sales of such products are taxable using the standard rate.
Merchants need to register with the Turkish Tax Authority ('Revenue Administration') even if they make only one sale towards Turkish resident individuals.
A 7.5% digital services tax (DST) may also apply to the revenues derived from digital services provided in Turkey. Again, consulting a financial expert is advisable to ensure your business is compliant with all VAT requirements.
Conclusion: Start Your Successful Cross-Border Selling Journey in Turkey
As online sales continue to explode and become the preferred method for more and more shoppers worldwide, it's clear that cross-border merchants are in an ideal position to begin selling abroad in countries like Turkey.
Although there are clear preferences to keep in mind, which vary by country and region, as well as legal considerations, businesses have much to gain by exploring these new cross-border markets in order to expand their business reach and revenues.
For more detailed information on how to successfully sell online in Turkey, read our eBook "eCommerce in Turkey: A Merchant's Cross-Border Guide to Online Sales."