Brexit may still be top of mind when it comes to the UK these days, but there's much more to the country's commerce than just separating from the European Union. The United Kingdom remains the world's third-largest eCommerce market, meaning few companies can afford to ignore it.
Understanding the ins and outs of selling in the United Kingdom post-Brexit can be the key to a brand's success or growth. Fortunately, our new guide, eCommerce in the UK: A Merchant's Cross-Border Guide to Online Sales, is designed to help you with this. Let's take a look at some meaningful insights that will help you tailor your strategy for entering the eCommerce market in the United Kingdom.
Slow and Steady Growth
The UK eCommerce market is already quite large, which means it has less opportunity for rapid growth than emerging markets. The mature market is expected to grow slowly but steadily to reach US$99B in 2023. Brands can look at ways to capture some of the existing market rather than relying on growth. Additionally, the high average order volume (AOV) of more than US$71 means UK shoppers can be particularly lucrative.
Ring Their Mobiles
Mobile penetration is already high in the UK, but is expected to continue rising along with mobile purchases until mobile eCommerce reaches more than 20% of all retail sales and $134B by 2024. If your brand isn't already making the most of mobile eCommerce, now's the time to start making the right investments and developing your strategy so you can capture this growing segment of sales.
Local Brands Are Their Cup of Tea
A few popular brands—Amazon, John Lewis, Tesco, Argos and Next—account for 28% of all online retail purchases in the United Kingdom, which can make it hard for companies to break through and establish a foothold. Still, 1/3 of UK shoppers make at least one cross-border purchase per month, providing ample opportunity for brands from any region to make an impact in the market.
Popular shopping categories for UK consumers include clothing, physical media, consumer electronics and food and drink, representing a wide variety of areas of opportunity for companies selling online.
Software's a Strength, as Are Subscriptions
After Germany, the UK is the biggest software market in Europe, and it's expected to grow. This makes it more than worth tackling for any company selling software. Additionally, subscriptions are strong, with 84% SaaS renewal rates a bright beacon for SaaS companies. And if you sell something physical, don't worry—interest in subscription extends beyond software to physical goods and meal and snack kit subscriptions, too, offering options for many types of businesses.
Ensure a Tip Top Experience
UK shoppers tend to prefer a native experience from local sellers, but you can emulate this thorough localization and careful attention to shopper preferences by region. For example, UK shoppers' response to an order review page in the checkout flow depends on order size: skipping review improves conversion for orders under $150 (~£109), but including a review page is better for larger orders.
A Pence for Your Thoughts
When it comes to popular payment methods, credit cards dominate (unsurprisingly) and PayPal achieves 80% acceptance. SEPA direct bank payments are also popular and continue to be supported despite Brexit. In order to cater to their users' preferences, merchants are advised to include PayPal and other alternative payment methods (SEPA credit transfer, Apple Pay) in their checkout flows.
Merchants using the 2Checkout platform have the added benefit of using PayPal Express which offers a less disruptive payment experience (the template opens a PayPal overlay, as opposed to redirecting the user to the PayPal site) and can even improve conversion rates (8.8% higher CR in the UK when using PayPal Express according to our 2020 platform data).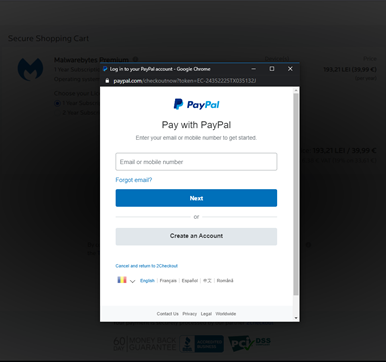 Secure Your Transactions
Because it's such a large and profitable market, the UK is also particularly susceptible to fraud, posting a relatively high 5% fraud rate. Brands should take stringent precautions to protect customer information and ensure secure transactions through tactics like 3D Secure and 3DS2 to keep trust levels high.
Bonus: Read about 2Checkout capabilities that help you and your shoppers navigate the transition to PSD2 and SCA authentication flows.
Don't Forget About Data Privacy
As the country has left the European Union, merchants now need to conform to new data privacy regulations, in addition to the GDPR. A Trade and Cooperation Agreement (TCA) came in effect on December 2020, providing bridging mechanisms for a six-month period, during which the UK cannot negotiate data-flow agreements with third-party countries. At present, merchants selling to the UK must follow the same processes as before under the UK GDPR and the Data Protection Act 2018, as we expect more updates in this area in the second half of 2021.
We hope this glimpse into the minds of UK online shoppers has been helpful and we invite you to read through our full report for more details on these and other useful insights that will guide your way to entering the UK eCommerce market.