Global online sales have increased dramatically over the past few years, and the COVID-19 global pandemic has further altered the landscape of B2C and B2B commerce. The most striking biproduct has been another huge uptick in online commerce, leading to new opportunities and opening markets for merchants around the world.
In order to help you navigate the eCommerce space as a cross-border merchant selling during these unprecedented times, we are publishing a series of country guides that share relevant insights for tackling these markets.
The latest in this series is on France, "eCommerce in France – A Merchant's Cross-Border Guide to Online Sales," and provides an insider's look at what to keep in mind when selling to French customers. If you haven't already, be sure to also read our previous episode on eCommerce in Germany.
France's Mature eCommerce Market Ripe for Cross-Border Sales
France is the world's seventh biggest economy, and the third largest eCommerce market in Europe, with 73% of the French population having made at least one online purchase in the last year. That said, shoppers in France are notoriously exacting in their buying preferences, and big online retailers like Amazon, Cdiscount, Vente-Privee, and Auchan are already favored by at least 25% of all French online shoppers.
The French government has been devoted to improving access to the internet and eCommerce over the past several years, and after lagging behind other countries in Western Europe, France now has internet penetration up to 89%, and expansion of 3-G networks has given 93% of the country mobile broadband access.
This is all good news for businesses selling to France from outside its borders, as is the fact that already 40% of the French population buy across borders each year.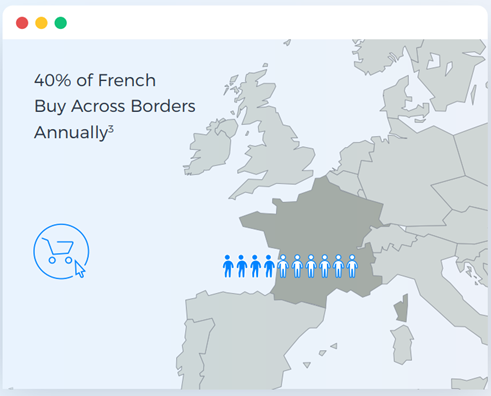 COVID-19's massive spike in eCommerce sales is reflected as much in France as elsewhere in Europe; according to recent research, online traffic in France increased by 70% between March and April 2020, with 18% of online stores reporting increases in sales.
France Seeing Growth in Online B2B and Subscriptions
Not surprisingly for this notoriously fashion-conscious country, B2C online sales in France were dominated by clothes, shoes, and accessories with 19% of all online purchases, with electronics, toys, and hobbies at 23%.
And while the B2C eCommerce market in France is thriving, the B2B market is even stronger, making up 57%  of all online sales.
The opportunities for businesses selling software in France is particularly positive. Enterprise software, for example, is expected to grow at 9% annually with an annual market value of $8.7 billion by 2025.
The French population shows a preference for subscriptions, and their annual renewal rate hovers around 73% – also good news for sellers of subscription models.
Selling in France: Local Focus, Preferred Payment Options, and AOV
Our Guide provides a comprehensive primer (with real-world examples) on the key areas to consider when selling to France, emphasizing the country's particular preferences for buying and payment as well as the importance of following local banking and legal requirements.
Here's a snapshot glance at some of the key factors to consider:
French shoppers demand a native experience. Although many French are multilingual, 60% won't shop at an online store that doesn't maintain a local presence, meaning native pricing and payment methods. It's critical that the shopping cart be available in the French language and displays prices in Euros.
France's preferred payment methods are credit and debit cards, PayPal and other e-Wallets, and SEPA Transfer. It's recommended that the logos of top payment methods are prominently displayed on the checkout page to maximize conversions. Installment plans are becoming increasingly popular in France, with PayPal extending the "buy now, pay later" option to online merchants.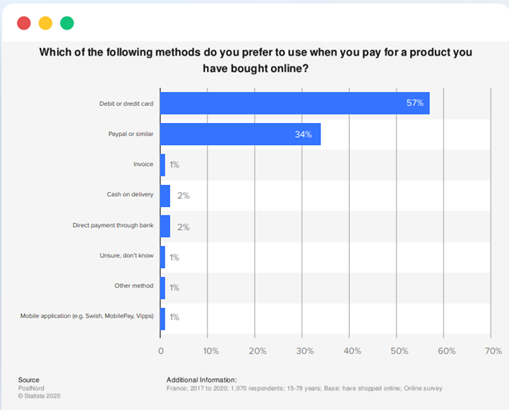 Nearly 40% (34%) of all online purchases in France are made with digital or mobile wallets. This means cross-border merchants should prioritize site, payments, and cart flow optimization for the mobile experience.
French customers want a fast, secure, and frictionless shopping experience. New technology like 3D Secure has reduced fraud and subsequent chargebacks, and secure, frictionless alternate payment methods, like eWallets and direct debits, have also helped with offering a speedy, seamless experience, which the French have happily embraced. Cart flow (including a review page or not) should be tested by cross-border businesses, as the results may vary depending on the product or service offered.
The French, on average, spend $950 USD a year on online consumer goods. This makes prioritizing a high-quality online experience for these cross-border shoppers of critical importance.
Don't Forget Privacy and Taxation
France is stringent about protecting consumers and their privacy, and cross-border sellers need to be mindful of not just GDPR (Europe's General Data Protection Regulation), but also "The 1978 Act," which applies to online business in France.
Both laws cover any business selling in France and include fines and sanctions when not followed. Cross-border merchants should consult legal counsel to be fully prepared for the basic rules and regulations they must follow to avoid non-compliance.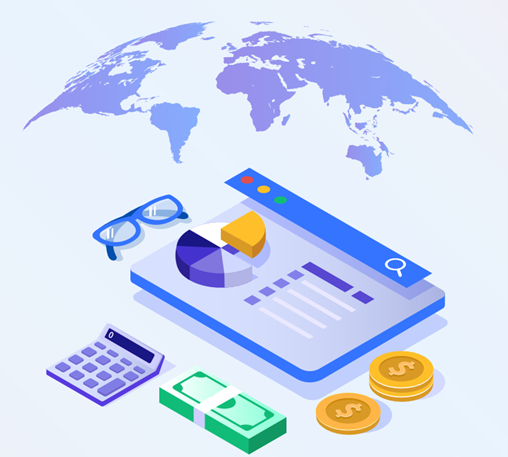 When a non-French seller, either B2B and B2C, exceeds all-time sales of $10,000 Euros or $12,000 USD they must register with the French tax authority and begin collecting and remitting VAT on subsequent sales.
France's VAT is 20% on all taxable goods and services, except for food and medical supplies, etc. which are taxed at a lower rate.
Get ready to start selling in France
Online eCommerce continues to expand rapidly in France, as their digital capacity has improved and COVID has changed shopping habits of French customers.
Cross-border merchants are in an ideal position to take advantage of the rich eCommerce climate in France, and with adherence to the cultural payment and shopping cart preferences as well as to its rules and regulations, they can stand out and experience significant success.
For more detailed information on how to successfully sell online in France, read our guide "eCommerce in France: A Merchant's Cross-Border Guide to Online Sales."