Tickets, check.
Swag ready, check.
Lots of energy, check.
While SaaStr Annual is still a few weeks away, we're already super excited to be a part of the largest non-vendor SaaS conference on the planet. This event is an excellent opportunity for any SaaS professional out there – from acquiring new knowledge, networking, to keeping up to date with industry trends, you're all covered.
At SaaStr Annual and Europa 2019, we had lots of productive conversations about payments, growing SaaS businesses, optimizing subscriptions, and how we can help global businesses become better, more mature companies. Needless to say, we loved the entire experience, and we couldn't wait to get back this year.
What's in Store at Saastr Annual 2020?
2Checkout is proudly sponsoring SaaStr Annual 2020! The San Jose conference will reunite over 15,000 founders, senior executives, and cloud VCs. They will share their most actionable insights about how to grow and scale your SaaS business.
We wanted to share five reasons we're so excited for this event, as well as some tips to make the most of this year's SaaStr Annual conference.
Bonus: Haven't yet decided on the events you're going to attend this year? Check out our curated list of must-attend industry events for 2020!
1. Workshops and Sessions
During three action-packed days, you will learn from the brightest minds in SaaS through 300+ carefully hand-screened and vetted sessions.
The event has gathered leaders who will tell how they went from zero to hero in SaaS, and share playbooks on how you can also do it successfully.
Here are some sessions that I'm particularly excited about: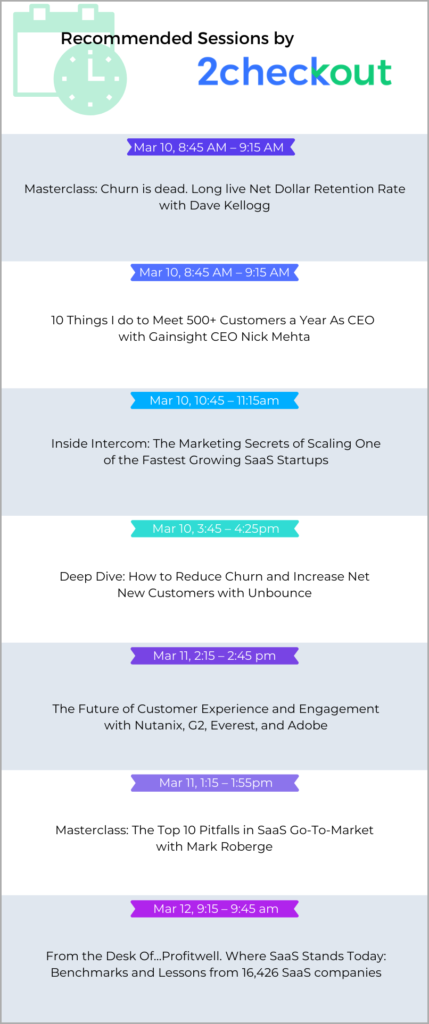 They have also added over 100 workshops, on everything you need to know about how to get more leads, do ABM right, work with mentors, build a world-class CS team, optimize lead routing, nailing pricing, and so much more. 
2Checkout will also host a workshop at SaaStr Annual 2020. Erich Litch, President and Chief Operating Officer at 2Checkout, will speak on the topic "Prevent Subscription Revenue Leakage," on Wednesday 11, at 3:00 pm.
Erich will talk about the links between the various stages of the subscription commerce lifecycle (activation, up-sell and cross-sell, upgrades, renewals, and retention), and share strategies from subscription-based businesses on monetizing revenue growth.  
2. Mentoring Opportunities
You know what's even better than the speaking sessions? Mentoring sessions!
There will be quite a few exciting and different mentoring opportunities at SaaStr Annual 2020.
One will be Braindates, which are 30 to 40 minute-long small group mentoring sessions. These sessions will be 1:1, 1:4 or sometimes, 1:16 Super Braindates during which attendees are seeking personalized advice in small groups. Anyone can sign up to host one!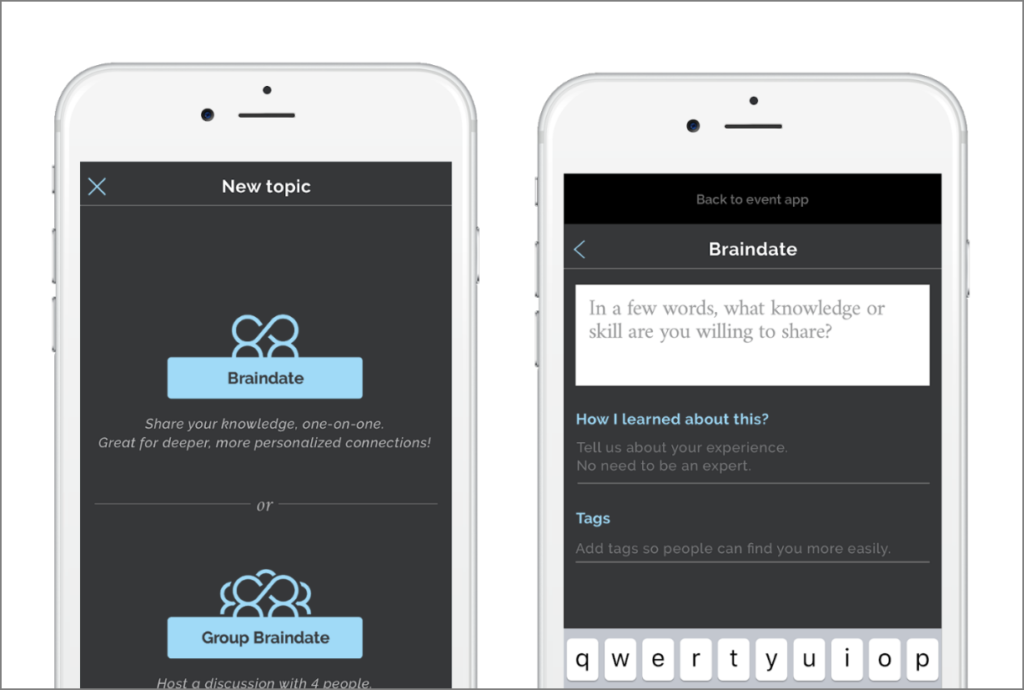 Another thing you can consider is the Brella app, which suggests people you should meet who align with your interests. These are 1:1 networking opportunities, so go ahead and complete your profile in order to get as many useful meetings as possible.
While 35% of attendees are CEOs, 29% are in Sales + Marketing + Customer Success, so you will definitely find someone relevant for you and your business.
3. Larger Exhibit Hall
This year's expo hall is going to be double the size compared to last year. You can connect with people from companies such as Gainsight, Intercom, Samsung, MailChimp, Google Cloud, ProfitWell, Zoom, and many, many others.
Not only that, there will be different lounge areas where you can network and meet new people.
You can also meet the 2Checkout team, who will be an exhibitor at the event. Meet and connect with our experts at Booth #809 to learn how our all-in-one monetization platform will help your business quickly expand internationally, as well as how to optimize recurring revenue streams across channels by simplifying the back-end complexities that modern digital commerce creates.
P.S. We have cool swag ready for you.
4. Parties & Networking
With so many sessions and meetings, there has to be a way to unwind.
Luckily, SaaStr Annual has some of the best parties out there.
On Tuesday, March 10, they're actually shutting down four entire blocks of the San Jose Arts District, which is next door to the venue, just for the attendees. So yes, pretty much the best and coolest part of the city will be all SaaStr. 
Join us in the expo hall for the wrap party 🎉 https://t.co/p7HDLZ2RhN

— SaaStr Annual (@SaaStrAnnual) February 8, 2019
On Thursday, they're hosting both a Big Party, with guest bands, and a Quiet Party, so there's definitely something for everyone.
5. Quality People
Last but not least, we're very excited to meet YOU.
We'd love to hear about your successes, your business challenges, and your ideas and initiatives for 2020 and beyond.
Let's see how we can partner and get the most out of this fantastic event.
After all, this is not a mere trade show, but a community around SaaS aficionados.
See you in March!
To see all the events we will be attending this year, check out our dedicated page.