The 2Checkout team kicked off Feb 2019 by joining over 12,000 participants in San Jose for SaaStr Annual 2019, the largest conference in the world for B2B software.
The general consensus of 2Checkout team members at the end of the conference was simple and to the point: "It. Was. Amazing."
And it's not just us who said so, check out this short video to see all the reasons why!
Highlights of SaaStr Annual 2019 by 2Checkout
Big THANK YOU to all the people who came by at our booth and shared their thoughts on the conference (in order of appearance):  Sunir Shah at the Cloud Software Association, Patrick Campbell at ProfitWell, Ben Smith at Single Grain, Joyce Hernandez at Zoom, Kieron Sambrook at Platform.sh, Meg Gallagher at WalkMe, Melissa Jordan at Pendo, Terrance Martin at Gainsight, Pedro Muller at Zendesk and our very own Philipp Reichardt, Spencer Way and Erich Litch.
Just to give you an idea of the magnitude, the three-day conference hosted 12,500 attendees and featured over 300 speakers from companies including Zoom, Twilio, Salesforce, WordPress, Slack, Dropbox, Harvard Business School, Marketo, Zendesk, Hubspot.
The sessions were visionary and scale-oriented, encouraging attendees to consider how the shared insights applied to their own companies, rather than just delivering cookie-cutter formulas that might not work for everyone. The conference attendees were provided helpful materials to get the most out of the conference, including a guide dedicated to first-timers.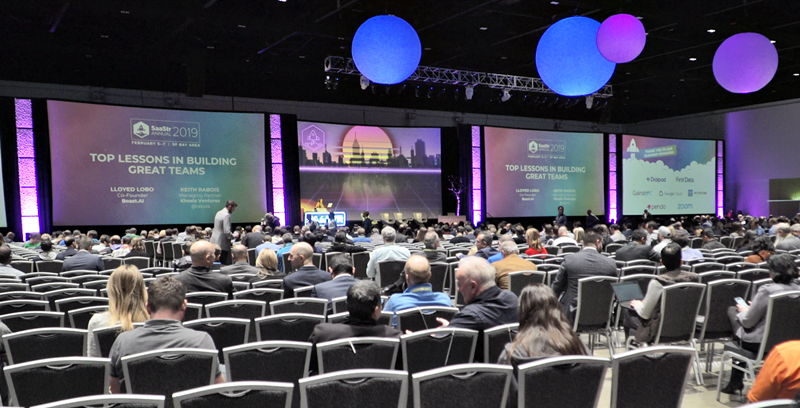 And since we spoke so highly of sessions, here are some highlights of the sessions our team attended:
In the "State of the Cloud 2019" session, Bessemer Venture Partners pointed out that there are now 55 private cloud "unicorns", and their initial predictions from 2015, that the Cloud market cap would reach $500B in 2020, happened much faster, with March 2018 marking the spot. According to BVP, it takes a top performing cloud company about 5.3 years on average to move from $1M to $100M ARR, with Retention being a key metric for business efficiency but also a major driver of valuation (an additional one percent in net retention can increase valuation by $100 million!).
With the huge industry growth potential, sessions around scalability and growth challenges were quite popular. Former CRO of HubSpot, Mark Roberge, shared a data-driven vision on what a healthy revenue growth path should look like for any company trying to move from an initial product-market fit to a go-to-market fit, and finally growth and scale. Defining the right mix of Culture, Sales compensation, Marketing, and Customer Success KPIs according to which channels or markets you want to scale vs. experiment in could make or break a company's evolution to revenue growth.
I hope this gives you a flavor of the quality and depth of the sessions at SaaStr Annual. Clearly, besides the learning opportunity, SaaStr Annual 2109 provided a great networking opportunity. The conference included some very useful activities, like "Braindate", 1:1 and 1:5 mentorship sessions that were designed for participants to share their knowledge, get mentoring, create partnerships, and exchange stories and strategies.
Another opportunity for networking was a Cocktail Mixer on the first evening of the conference, proudly co-sponsored by 2Checkout and hosted by the Cloud Software Association.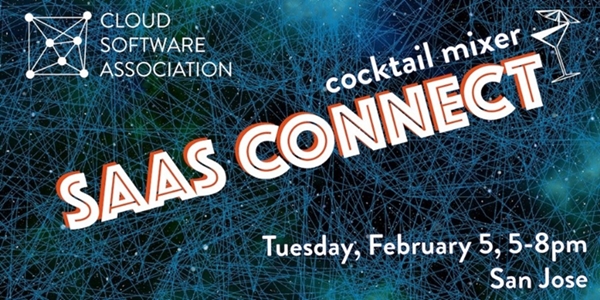 Additionally, "fun" was all around; every full-conference attendee received $10 in "SaaStr Bucks" when they picked up their badges. Then, over the three days, attendees could earn more Bucks by going on Braindates or adding tips to the "Tip & Tricks" boards on customer success, sales, marketing, product engineering, and other industry topics.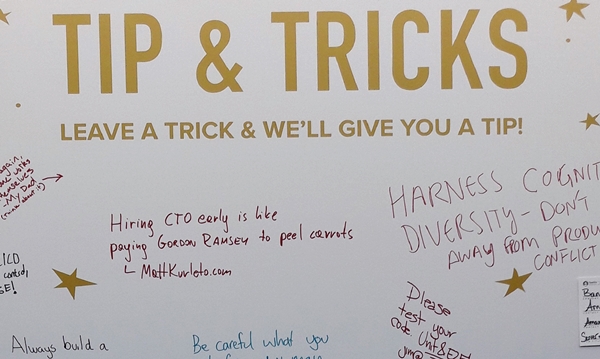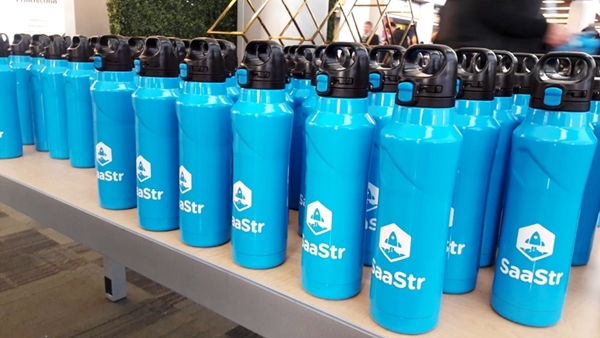 Water bottles were among the cool swag you could buy with SaaStr "Bucks"
To wrap-up, our 2Checkout team – starting with our CEO Alex Hart and our COO Erich Litch – was certainly delighted to make new connections with potential clients and partners, as well as touch base in person with some of our existing customers and suppliers.
We had lots of productive conversations about payments, growing SaaS businesses, optimizing subscriptions, and how we can help global businesses become better, more mature companies. Many attendees shared with us their frustrations around the complexities of growing a global business while keeping payments, sales tax, and subscriber retention under control. We are excited to continue discussions around all of these topics.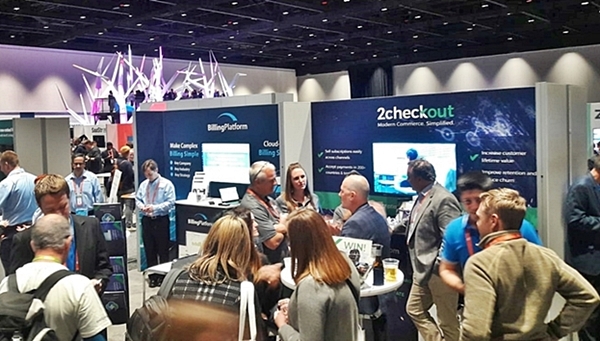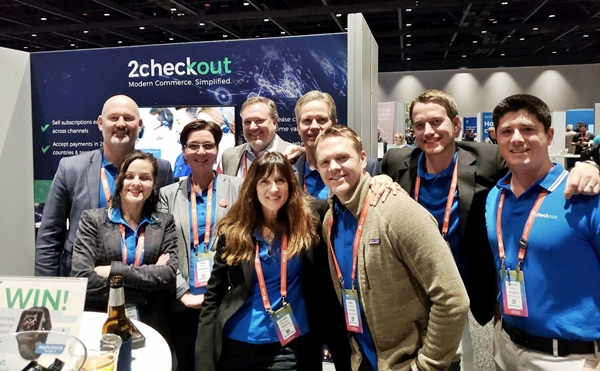 Looking forward to the summer European edition of SaaStr Annual!