Each customer reacts differently to the online checkout experience, and it is critical to tailor it as much as possible to their needs and comfort level in order to drive conversions and increase revenue. Fortunately, 2Checkout offers two ordering engines that help merchants customize the best setup for their customers: Inline Cart and ConvertPlus.
In a recent workshop we organized a live demo on Inline and ConvertPlus and we went through the ordering engines' main features. Alongside our audience, we went behind-the-scenes, reviewing the merchant's perspective, as well as what the shopper would experience. In this talk, I demonstrated how either of these carts substantially benefit merchants in multiple ways:
Improving shopper experience through a fresh & up-to-date design
Localizing the shopper's experience, including access to both international and local payment methods
Converting more leads into customers through lead management features
Increasing average order value through promotions and other marketing tools
…all of which result in significant increases in conversion rate and revenue
We began with a brief description of our larger "factory," 2Checkout's Avangate Monetization Platform, whose modular capabilities cover many use cases and makes it one of the top eCommerce solutions. Businesses can use some or all of its following offerings:
Digital commerce
Global payments
Subscription billing
Global tax and financial services
Partner sales
Risk management and compliance
Reporting and analytics
Before diving into the specifics of Inline Cart and ConvertPlus, the two ordering engines that were the focus of the workshop, I detailed three critical features that define how 2Checkout can handle the checkout flow:
Product Catalog. Businesses need to have it and, fortunately, 2Checkout does offer the functionality to accommodate multifaceted product pages, based on:
Product type: digital/physical
Pricing configurations
Subscription billing
Product options
Advanced pricing options
Dynamic Products. For those cases when the product catalogue is managed outside the platform, 2Checkout offers a mechanism designed to let businesses pass product related information from their system to 2Checkout without being required to have them configured. For example, the product can have a defined name to be displayed in cart pricing and recurring option assigned; an item with a coupon offer can contain the discount to be applied to the entire order; the item can contain the name and amount corresponding to the shipping method; and additional tax fees and charges can be considered in the ordering process.
Checkout Localization. Irrespective of how and where the products are set up, 2Checkout's engines have this important feature embedded, dynamically customizing the checkout flow with international and local payment methods, display language, or currencies, based on each shopper's location. This feature alone can increase authorization rates by up to 25%, limit cart abandonment, and improve the customer experience.
After this intro, we entered the 2Checkout Merchant Control Panel and did a walkthrough for the easy process of setting up either ConvertPlus or Inline Cart.
ConvertPlus
ConvertPlus is an out-of-the-box ordering engine that requires zero development and involves a redirect to 2Checkout for the checkout step. It supports numerous configurations available in the platform for pricing, fulfillment, renewal, etc.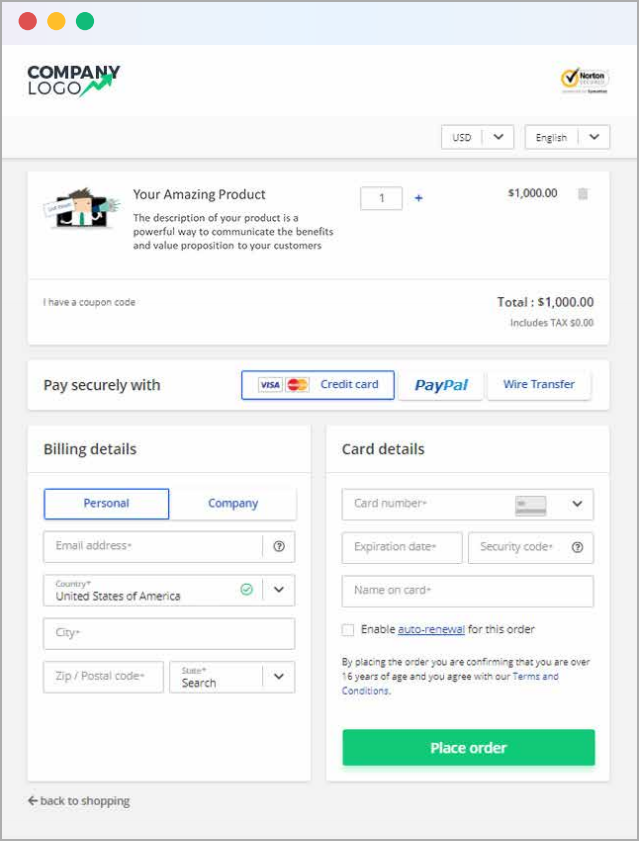 How does it work? The merchant sets up its products either in the 2Checkout product catalog or dynamically, and a link is generated that can be placed behind a button on their website. When the customer clicks the button they will be redirected to the 2Checkout payment page, which is clear, minimalistic, and easy to use, with a short form that only contains the mandatory order fields and a dynamically generated list of available payment methods depending on the shopper's location.
ConvertPlus offers the merchant the opportunity to customize the basic template without any technical or programing skills, by adjusting colors, header and body elements, fonts and images. ConvertPlus is also equipped with a signature feature that secures the payment process when dynamic products or custom price parameters are used.
There is a guide available for ConvertPlus users, that is feature-oriented with all the steps of implementation explained.
Inline Cart
The Inline Cart offers a seamless experience without redirecting the shopper to a different checkout page, by opening up the cart in an overlay on top of the merchants' website.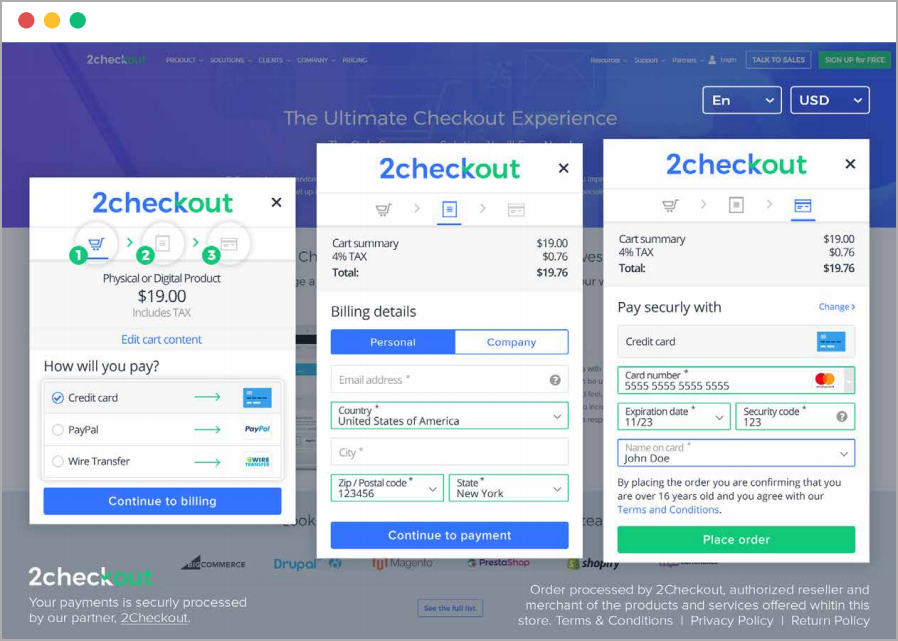 The Inline Cart is best for use cases where the merchant already collects most of the shopper information on their site, and just needs the payment processing function. It is a simple interface with no distracting elements, and a minimalistic design.
For best use of Inline cart, we have an Inline Cart Checkout guide available, an extensive library with very detailed scenarios addressed and explained step-by-step, including a demo.
Towards the end of our demo, we went over our platform's available marketing capabilities, including promotions, coupons (one-time and multiple), recurring charges, etc. The lead management function can compile lists of leads in two categories, so the corresponding marketing campaign can be tailored to the category:
Unfinished payments campaigns, where customers tried to place an order but payment didn't go through, even after retry.
Shopping cart abandons, where the customers left the cart without completing the order.
We concluded with some success stories that show how employing either Inline Cart or ConvertPlus ordering engines resulted in successful cart conversions (a 9 to 20% increase), a streamlined customer experience, and an uptick in revenue, up to a 20% increase, for different businesses.
To view the entire workshop and learn more about how ConvertPlus and Inline Cart can benefit your business, check out the full session here.