Introduction
Activating in a subscription model is not without its challenges.
When a business depends on collecting monthly or annual amounts of recurring revenue, it can no longer focus only on attracting customers. A good part of its operational activities will also need to be allotted to retaining its actual customer base.
Churn, the subscription business' kryptonite
Customer churn is the process through which a subscription company loses clients, for a range of different reasons. Churn rate in subscription models refers to the proportion of contractual subscribers that stop using your product or service in a set period of time. 
Churn can occur when the customer decides to end their relationship with the brand (voluntary churn), but it can even happen independently of the customer's intentions (involuntary churn). A churn rate of 5-7% annually is considered acceptable in subscriptions, as that percentage of lost customers is expected to be recovered through acquisition efforts.   
Dunning as a churn remedy
The bad news? There is no universal solution or one-size-fits-all weed whacker to address customer churn issues. The good news is that there are tried-and-tested solutions you can employ which can considerably improve this poor-performing rate.
One of those solutions is dunning management, used in recovering due revenue. Dunning management is the process of communicating with customers to ensure the collection of subscription-related fees, via product notifications, emails, text messages, or even in-person calls (depending on the right fit with your business).
The dunning process itself should be designed to be a positive customer experience, and not make the customer feel assaulted or threatened. The goal of your dunning communication is to clearly, timely, concisely, and tactfully address either payment failure or the client's intention to leave the brand, in an attempt to get a reaction from them. The key narrative of your dunning communication will mainly depend on the type of churn your campaign is targeting.       
Dunning for voluntary churn: product-focused
First and foremost, check that you still have the option to communicate with the customer, after they've expressed their desire to stop paying for your subscription. Be sure the customer has not withdrawn their consent to be reached out to by your brand, to stay compliant with local legislation. Then, opt for a tone of voice that is in tune with how your brand usually communicates, as humanely and directly as possible.
Because customers who churn voluntarily make a conscious decision to stop using your product, you must communicate the added value your product was bringing or what extra benefits it can bring. In case the customer has switched to a different competitor, i.e. they're still active in the product category, chances are you can still make a case for your brand in dunning emails.
Afterward, design your communication and tailor it to your customers' needs and preferences:
Highlight popular product features. Remind the customer what first drew them to your offering and how your product features addressed their needs. Showcase a throwback moment of when the client was using the product in the past or list one or two product love-features and their impact on the customer's life.
Showcase newly launched/unique features. Tell them about new developments with your brand since they last used the product. Try to set the features in a context that is relevant to the recipient's life-stage. If possible, emphasize something that differentiates your brand from competitors.
Inform them about all they might be losing out on from abandoning your product, such as files stored on your servers, preference information, etc.
Offer promotional discounts for renewal. If you're worried that customers' price sensitivity has made them switch ships in favor of one of your competitors, try to level the field with an attractive discount. The goal here is to acknowledge the customer as a brand partner and reach out with a custom offer. Ideally, the discount offered should not be advertised or made readily available for all customers, just for the ones who churn. Examples:
Offer ways to downgrade to cheaper versions of the product or to upgrade to versions which offer more functionality
Offer a direct link towards the renewal of the subscription
Take the time to call subscribers directly. There is a time to automate and then there is a time to get up-close and personal. Particularly in B2B setups or in business models with high AOV or those which require a closer relationship with the client, phone interactions might be more suitable than automated dunning emails.  Calling customers to inform them of outstanding invoices can improve your brand's image, making it feel more personable and friendly. Make sure your agents handling the calls have access to the recipient's customer history, to ensure they build relatability in their phone narratives.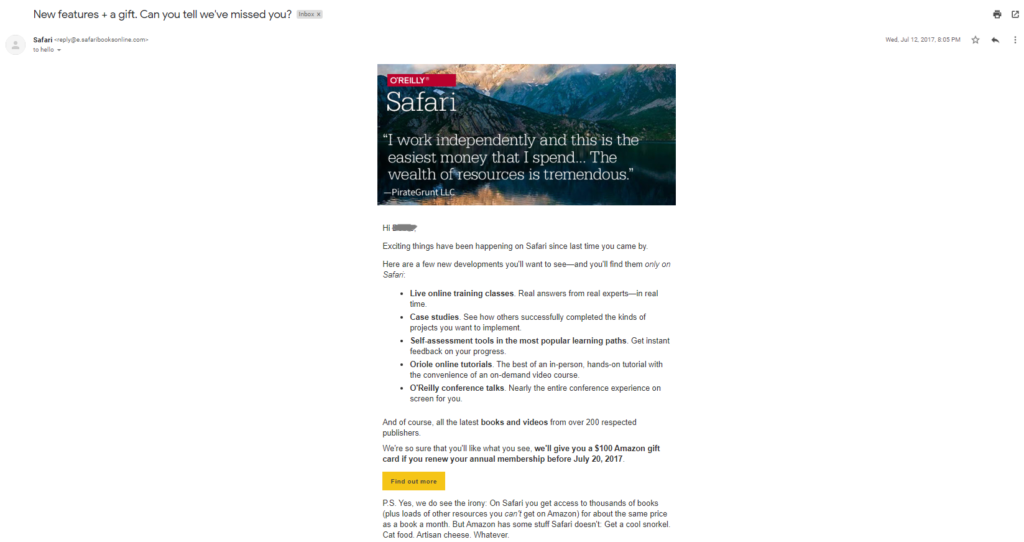 While discounts and promo codes are a popular way to turn around churners, keep in mind that price-sensitive customers may be quite difficult and expensive to manage in the long run.
For voluntary churn, taking a proactive approach and implementing predictive processes to identify customers at risk is very useful. Understand client usage patterns and the most popular product features used, monitor customer engagement, organize exit interviews with churned customers – these are just a few of the tactics you could employ. For a more detailed look at mechanics to combat voluntary churn, read up on how to retain customer loyalty.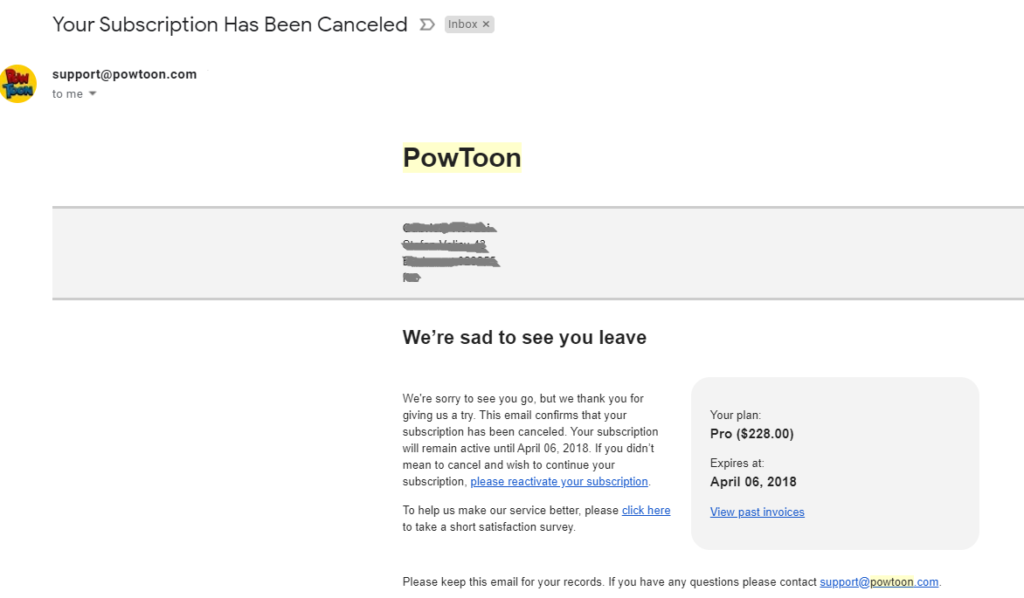 Post factum analysis will also single out the group of churners who have outgrown your product category or whose residence has moved outside the market you are serving. A mother whose toddler has outgrown baby food will discontinue her monthly formula subscription, or a professional who's moving abroad will cancel his local mobile carrier subscription. It makes no sense to attempt to bring these customers back unless your brand portfolio also includes a product for their current needs.
Dunning for involuntary churn: situation-focused
Involuntary churn, also known as passive churn, occurs for reasons outside the customer's control. In fact, quite often customers are not even aware the situation has occurred until the brand informs them via dunning emails. Involuntary churn happens when a credit card transaction gets declined for whatever reason, for example:
The card has expired, has been lost, or has been reported as stolen.
The account has insufficient funds.
The customer changed their card or details (name, billing address etc.) and failed to update the new payment information in the subscription account.
The payment gateway encounters a problem.
The card reached its daily transaction/financial cap, and so on.
Dunning processes in matters of involuntary churn help to: 1) inform the customer of the situation that has occurred (payment issue encountered) or will occur (e.g. card is about to expire), 2) present solutions to this issue and set expectations in terms of time ("do this by date X").
In these situations, dunning messages can be sent via email or they can even be showcased in the product (e.g. the customer gets a notification in their product dashboard informing them of the financial hiccup).
Your dunning messages for involuntary churn can actually be an opportunity to win customer points and tighten your relationship with the client if implemented appropriately. Follow our best practice guidelines for involuntary churn emails to get the message across efficiently:
Introduce yourself. Let the customer know from the very start who is sending that email, to establish credibility and capture their attention. Mention the brand and include the agent's name. Even if you automate these emails, it's worth sending the email as if coming from one of your agents, which makes for a more personal interaction.
Describe the situation clearly and directly from the start. Don't lose your way in brand talk or salesy pitches. Mention the credit card that the payment was attempted from, the sum owed, and the subscription name.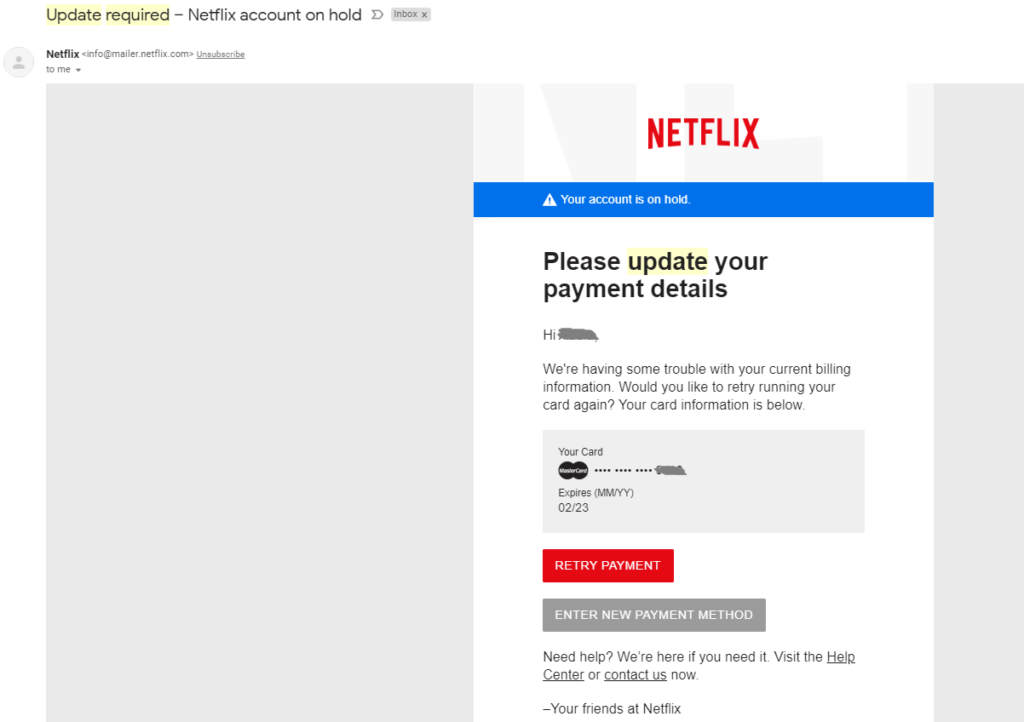 Set clear expectations on what will happen next. Let the customer know if the payment will be retried and when this will occur.
Showcase contact channels and how the customer can reach you. Financial matters may generate additional inquiries from the customer so it's important you let them know how they can reach you with these questions. Encourage email dialogue by sending dunning messages from an email account that accepts replies.
Be sure to accompany your dunning emails with a concise subject line, which gives the customer a clear overview of what has happened. Popular examples include mentions of "Action required" or "Update required". You don't want to sound alarmist, finger point, or cast blame, as such attitudes may involuntarily alienate customers from your brand.
Dunning processes can include up to three to four such reminders, but the right volume depends on the industry and the demographics you are targeting. In general, dunning emails are connected to the retry logic set-up in your subscription management solution; you may communicate with the client prior to the retry logic (informing them a retry will be attempted on a specific date) and/or after a new retry (either signaling the success or the failure of the operation).  You may want to follow up several times with customers who have churned, but being too insistent can make your brand seem unfriendly. After several attempts you'll have to accept that the customer has been lost and move on.
Conclusion
Dunning management may suffer from a bad reputation, but when handled correctly, it can improve your relationship with customers and enhance your existing revenue streams. Dunning done right can help recuperate part of your company's lost revenue, whether it's from voluntary or involuntary churn. The sheer volume of late payments makes dunning management a worthwhile effort for all companies – in the UK alone, late payments are costing SMEs £2 billion every year. 
Just as important in subscriptions, dunning done right will bring you closer to the customer. If you approach it in a personal and direct way, and frame it so that the client's needs are at the core of the message, dunning can help strengthen ties with your subscribers. 
2Checkout's monetization platform includes dunning features that help you address involuntary churn, as part of our Revenue Recovery Tools add-on. Get in touch with us to learn how we can help you better retain your customers.