No matter what you're selling, there's probably an opportunity for you to sell it in a new market.
To make the most of your opportunity to grow your business by selling in a specific region or country, you'll need to support, besides local languages, local payment methods, currencies, as well as comply with local taxation and other legal requirements. In this post, we explore five important elements to consider in your payment localization process. Just as with website localization, keep in mind that you don't have to support every payment method or currency available: just the ones that matter the most to your customer base.
Support Local Currencies
About half of all online shoppers say they will abandon their cart without paying when the price is listed in a foreign currency, so using local currencies represents a major opportunity for you to improve conversion rates. Set up a system that will not only display your prices in local currencies, but also accept payments in those currencies (billing currency) and stay up-to-date with exchange rates—if you're offering a poor exchange rate, buyers may look elsewhere. Keep in mind that although there are 180 currencies worldwide, you may only need to support 30-40 of them to get a substantial sales benefit, so start with the major currencies in your most important locales. We've expanded more on currencies also in this post.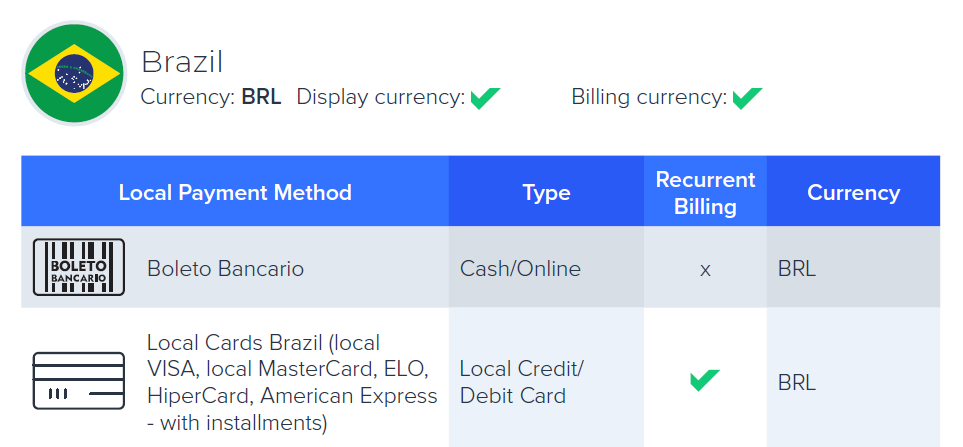 Example of Supporting Local Currencies – Display & Billing
Identify Key Local Payment Methods
Payment methods are changing with technology, and it can be hard to keep up. Fortunately, it's not necessary to accept every payment method: just the most popular ones. For example, Alipay accounts for around 25% of all online transaction volumes in China (for software and SaaS, even more), making it a must-have method for any company selling there. But you may not need to support Huanxun IPS, which is used for a small percentage of mobile payments in China. Identify the most popular methods and implement support for them, then see how your sales change before adding support for new payment methods.
Beyond Alipay, there are several local payment methods to note: Konbini is popular in Japan, iDEAL in the Netherlands, Carte Bancaire in France and Boleto Bancario in Brazil. While VISA and MasterCard credit cards continue to dominate worldwide, many countries like Brazil and Turkey have local credit card brands that you'll want to support.

Local Payment Methods – Interesting Stats by Country – Avangate Digital Commerce Platform Data
If You're Selling Subscriptions, Recurring Support Is a Must
Chances are that you are selling a subscription-based product, or at least planning to in the future, given how the subscription economy has evolved. If that's the case, you need to make sure that the payment methods that you offer your end-customers support also recurring billing. The good news is that most major payment methods offer support for automatic recurring charges.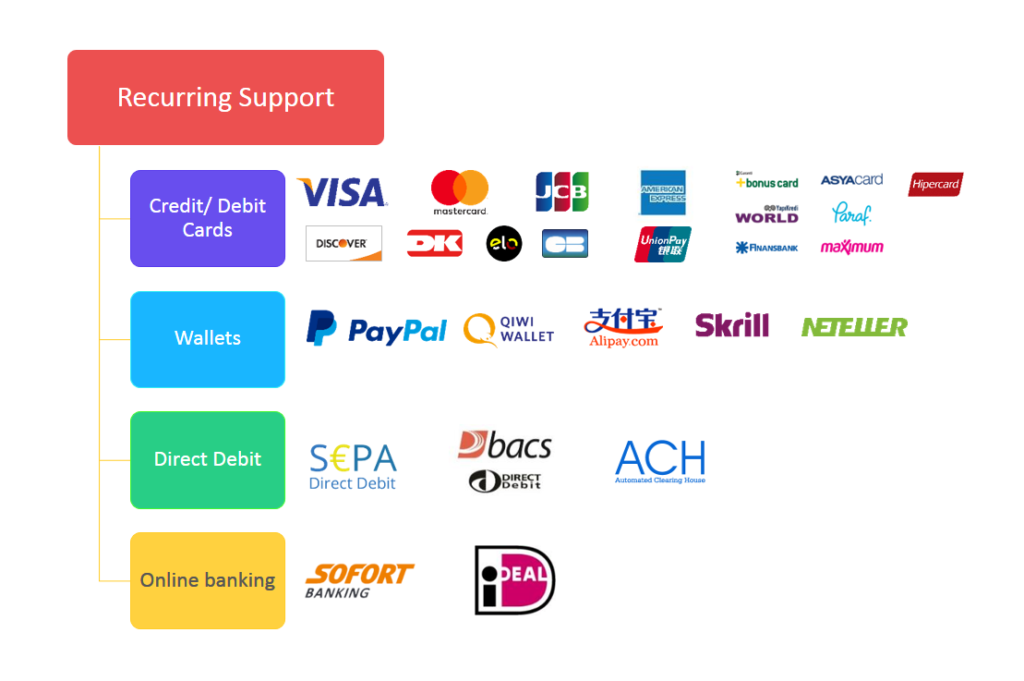 Payment Methods with Recurring Support – Avangate Digital Commerce Platform
Don't Forget About Taxes
If you thought taxation was a pain in your native country, just wait until you start selling in a variety of different locations. Tax laws vary widely between countries and some may have high tax rates that could require an adjustment to your pricing strategy. Additionally, different types of products may be taxed differently, increasing the importance of understanding the ins and outs of local taxation.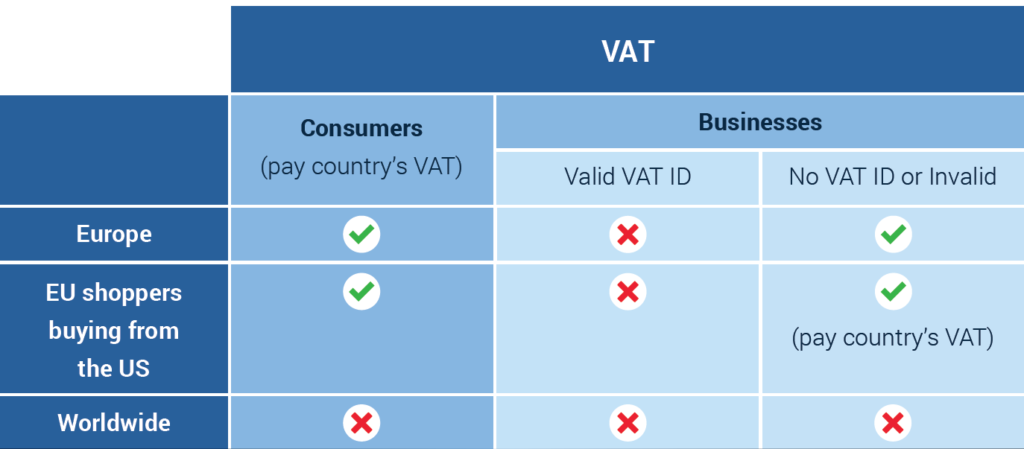 How VAT is Charged – Use Cases
Get Expert Help
If all of this sounds a bit daunting, don't worry: expert help is available. Global payment and digital commerce platforms like 2Checkout can handle all aspects of local payment methods, currency conversion and taxation for you. This frees you of the need to become an expert in every country's currency while still empowering you to expand your sales worldwide, and guarantees that you'll have support for the most popular local payment methods everywhere you want to sell.
Check out our payment method coverage datasheet to see the variety of payment methods which you'd need to consider by country or region.