As an eCommerce business, it's essential to use video content in your marketing strategy. Why? Because video is one of the most effective forms of content when it comes to increasing trust, visibility, and sales.
In this blog post, we'll discuss the importance of video marketing and provide tips on how you can create videos that will help your company grow. We'll also share examples of businesses that are using video effectively to promote their products. So read on to learn more.
The Importance of Video Marketing
Video is a powerful marketing tool because it's engaging and can help you build trust with your customers.
According to Wyzowl, 88% of consumers say that videos have affected their purchasing decisions about products or services.
78% of people say the same about downloading and buying software.
And according to Cisco's forecast for 2021, online videos will have accounted for 84% of all consumer internet traffic. That's a lot of people watching videos!
This basically means if you're not using video in your eCommerce strategy, you're missing out on a lot of potential sales.
On the business side, Wyzowl's report continues that 86% of marketers already use video in their strategies, and 92% consider it an indispensable part of the whole digital promotion process.
What Video Marketing Gives You
So far, we've talked about the importance of video marketing in an eCommerce business in general. But what are the actual benefits of using video for your brand? Here are some of the most notable ones.
Growth in Trust
When it comes to marketing, trust is essential. And video is one of the best ways to build trust with your customers. By providing videos that show your product or service in action, you're allowing your customers to see you in a friendly, non-intimidating environment. As videos help you build a personal connection with your customers and create an air of transparency, they can help them trust you more. Plus, when potential customers can see the people behind the business, they're more likely to trust that business.
Increased Visibility
Video is also a great way to increase visibility for your eCommerce business. In fact, according to HubSpot, 87% of companies that use video marketing say that it's helped them improve their web presence. And according to Mention, Instagram posts with videos receive more than twice as much engagement as images and carousels. And such an expanded online reach is proved by more views, likes, shares, and, therefore, conversions.
Moreover, video content is prioritized on such platforms as Facebook and Instagram, while Google gives videos higher rankings in search results. Some new additions to the social media world like TikTok are being developed with video first in mind.
Increased Sales
Finally, one of the most important benefits of using video marketing is that it can help you increase sales. It is your chance to showcase your products and services via demo and tutorial videos. Such videos turn your potential customers into buyers as they get to know your product literally from the 360-degree perspective. This will give them a better understanding of its features and capabilities, and if your videos name the benefits customers will get, it doubles the chances of them purchasing from you.
Types of Videos You Can Create
There are many types of videos that you can create for your eCommerce business. The most popular types are reviews, tutorials, user-generated content (UGC), and social media videos.
Review Videos
Review videos are a great way to show your products in action and build trust with your customers. In order to make a good review video, start by introducing the product, then showing it in use, and finally telling your viewers the benefits it would bring them and, ultimately, why they should buy it. Keep your video short (around two minutes), friendly, and informative. Grammarly does an excellent job addressing their product reviews to different audiences who may need their services – students, copywriters, office workers, etc.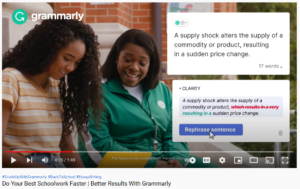 Tutorial Videos
Tutorial videos are another great way to engage your customers and teach them how to use your products. They can also help you increase sales by showing potential buyers how your products can solve their problems. When creating a tutorial video, be sure to keep it clear and concise. Show the product in use from start to finish, and explain each step along the way. Notion has an extensive collection of tutorials explaining the essential features of the software.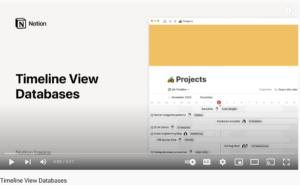 User-Generated Content (UGC)
UGC is one of the most effective types of video content. Why? Because it's authentic and provides real-world examples of how your products can be used. UGC videos provide more authenticity and transparency than brand-generated videos as they feature real-life experience and honest feedback.
Social Media Videos
Social media content is another great way to engage your customers and promote your products. With roughly 4.5 billion active users, social media is a great way to reach your target market. When creating social media videos, be sure to use eye-catching visuals and catchy phrases. And make sure the videos are short (30 seconds or less) so that people don't worry about spending too much time watching them. However, these are pretty conservative and classic tips for making videos. Nowadays, the B2Bob framework is gaining popularity in visual storytelling. It's a more compelling way to create videos, introducing specific guidelines for each element: brand, timing, benefits, and the hero.
How to Make Great eCommerce Product Videos
Now that you know what types of videos you can create, you need to know how to make them worthy of watching. Here are some tips:
Define Your Goals
Before you start filming, take a few minutes to define your goal. Are you trying to increase brand awareness, sell products, or teach people how to use your products? When you have a clear understanding of what you want to get from your video, it will be easier to create content and market it. Knowing your goal will help you create content that is more focused and effective.
Create a Script
The first step in making a good video is creating a script. This will help you stay on topic and ensure that your video is well-organized. Plus, it's a great way to make sure that your message is straightforward. You can jot down your ideas in a simple text editor or go deeper and create a storyboard with all the details, characters, and dialogues. A storyboard is like a rough draft of your video. It will help you visualize how the final product will look and ensure that all the important points are covered. Plus, it can be used to get feedback from others before you start filming.
Use a Strong Message
What do you want people to take away from the video? Your message should be clear and concise so that viewers don't get lost in the details. If possible, try to create a memorable tagline for your video (i.e., "Just Do It!"). This will help viewers remember what they saw and make them more likely to share the content with others on their social networks. The video should also clearly list the benefits or explain how the product works, to make the viewer want it.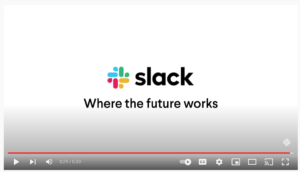 Make Your Style Recognizable
One of the best ways to create a successful video is to make your style recognizable. This will help people remember your videos and associate them with your brand. You can do this by using the same fonts, colors, and styles in all of your videos. Plus, be sure to use a consistent tone of voice so that viewers know what they're getting into before they hit play.
Make Sure the Video Is Engaging
Another important factor is ensuring that it's engaging. This means using captivating visuals and keeping viewers hooked throughout the entire video. You can do this by using interesting graphics, animations, humor, and unexpected plot twists.
Use Quality Equipment and Software
If you plan on filming the content from scratch, make sure to use high-quality equipment such as a DSLR camera, microphone, and lighting kit to ensure good quality footage. And be sure to edit your footage using an appropriate video editor for Mac or Windows, depending on your system requirements. This will help you create a polished and professional-looking video.
Choose a Suitable Location
When filming your video, make sure to choose a location that's appropriate for your product. Make sure the background is appropriate, that the lighting is flattering, and there is no background noise that could affect the recording.
End with a CTA
Always end your videos with a call to action (CTA). This could be anything from asking viewers to visit your website or shop on Amazon to telling them where they can find more information about the product. Just make sure that you tell your viewers what you want them to do next! Here's the clearest and simplest CTA you can ever imagine used by Buffer: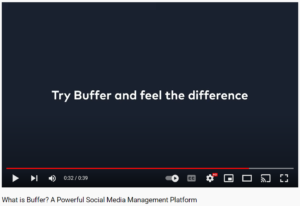 Where to Post and Promote Videos
Now that you have a clear vision of what your video is going to look like, let's talk about the places where you can post and promote it.
Embed Videos on Your Website
The first place you should post your video is on your website. This will ensure that all of your visitors have the opportunity to watch it. You can embed the video on your homepage, product pages, or blog posts to get potential buyers interested in your brand and learn more about your products. Plus, it's a great way to increase conversions since website visitors are more likely to buy something after watching a video.
Upload Videos to YouTube
YouTube is another great place to post your videos. In fact, YouTube is the second-largest search engine in the world. So if you want to reach a larger audience and increase traffic to your eCommerce business, uploading videos to YouTube is a great way to do it. Plus, YouTube is owned by Google, so it will automatically rank your videos high in search results if they are optimized properly.
Post Videos on Facebook
Facebook is another popular social media platform with over two billion active users. It's a great place to share short videos that promote your products and drive traffic back to your website. In fact, Facebook's video content is shared 89 times more than other posts.
Make Use of Instagram Stories and Reels
Instagram is one more visual social media platform that's perfect for promoting your eCommerce video. Since it's focused on images and videos, it provides the perfect opportunity to show off your products in a visually appealing way. Plus, you can add links back to your website or Amazon store in the bio section of your Instagram profile. Hootsuite's Reels are the best example of a coherent video marketing strategy.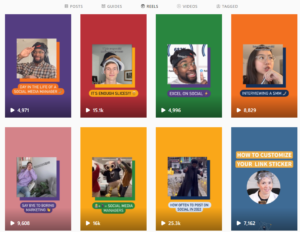 Promote Videos Via Email
Email marketing is a great way to reach your loyal customers and advertise product videos. You can embed videos in your email newsletters or create standalone emails that drive people back to your website or YouTube channel.
Use Video Ads
Finally, one of the best ways to promote your videos is by using video ads. Facebook and YouTube both offer video advertising opportunities, and these ads can be very effective in reaching your target audience. Just make sure to adapt the size and messaging, make them super short, sweet, and compelling.
Conclusion
Video is an incredibly powerful tool in your eCommerce marketing toolbox. Not only can video be used to promote specific products or services, but it can also be incorporated into your broader marketing strategy to help gain trust with consumers and increase sales.
With all of the buzz surrounding video marketing, brands are beginning to invest resources in this channel. As a result, it's clear that using videos for lead generation and conversion rates is increasing. Hopefully, this guide gave you all the tools and knowledge you need to successfully implement video content into your current strategy.
About Author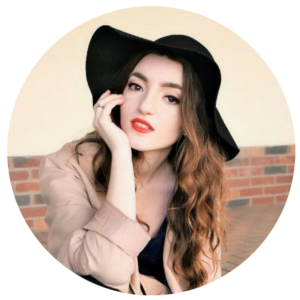 Natalie Oger is an SEO specialist and a content writer at Movavi, with a bachelor's degree in Psychology. She cherishes her job as it gives her the satisfaction of discovering and implementing new technologies. Previously, Natalie worked as an HR recruitment manager for an international bank. Outside work, she enjoys writing poetry and doing yoga. Visit her LinkedIn page for more information.