Global eCommerce is only trending in one direction: up.
While online retail sales will undoubtedly hit record highs next year, we want to drill into the specifics. What are the key technologies and actions that will drive the most successful eCommerce businesses in 2023?
It's not enough to simply follow or identify trends. Businesses need to take decisive action and proactively adopt those which will propel them forward. The eCommerce landscape has never been more competitive, so the need for differentiation is paramount.
There are some trends in the eCommerce industry that don't need to be dissected: yes, personalization remains important, and yes, sales are generally trending upwards—but these things have been true for years.
We chose to focus on the trends which will leave the biggest impact on the eCommerce landscape in 2023. Not every trend in the eCommerce industry should be adopted by every company—but we can guarantee that one or two could play a defining role in 2023 for any eCommerce or online retailer.
Digital payments as a revenue generator
The full power of strategic digital payments as a revenue generator is going to be realized in 2023. There are two eCommerce payment trends which can unlock significant revenue:
Simplified checkouts
Variety of payment options
Convoluted checkout processes are the leading cause of cart abandonment. Streamlining your checkout—diversity of payment options, one-click purchasing, flexible finance, easy login—increases conversion odds and makes your checkout a revenue generator.
When it comes to payment methods, nearly 50% of global eCommerce payments in 2021 were made using digital and mobile wallets: Google Pay, Apple Pay, PayPal. These one-click solutions mean consumers don't have to physically fork out their credit card for each transaction—an enormous and undervalued point of friction in the buying journey.
Localization is also crucial. While PayPal still dominates in the UK and Germany, iDEAL is by far the most popular (and trusted) wallet in the Netherlands.
Strategic payments will be crucial, especially for global sellers, to grow and stay competitive in 2023.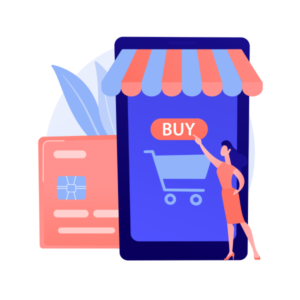 Sustainability and social responsibility
Putting the ethical argument to one side, pro-sustainability and pro-social responsibility have become business decisions.
While some are concerned about the increased costs of green and socially-responsible practices, the reality is that today's shoppers will spend more money on sustainable items. They will also:
This will be one of the most compelling B2B eCommerce trends of the year. Carbon neutrality, fair trade, local sourcing—these are all huge areas where businesses can, and should, differentiate themselves. Shoppers in Nordic European counties, like those in Sweden, are already vocal with expectations related to sustainability, and in 2023 more and more global shoppers are expected to have similar criteria from digital commerce businesses.
And it's not just environmental concerns. Brands are also judged on their culture and social responsibility. Just look at Brewdog—their well-publicized toxic culture has alienated far more customers than its green missions have attracted.
The influential role of AI and chatbots
While chatbots are no closer to "replacing" human customer support in the conventional sense, their augmentation will accelerate over 2023. For eCommerce, we predict the biggest area to be in purchase returns.
Leading brands are just starting with automated returns processes, and they are proving extremely successful. Customers can simply provide the relevant information (name, order number, returns reason) and, if they meet all the criteria, the bot approves the return and shares the next steps. There is no need for human interaction; in fact, bot-let returns are much faster.
The other primary use of chatbots is in "always on" customer support. If agents work 9 am to 5 pm, then there are 16 hours a day when consumers can't find the information they need, and sales may be lost. Chatbots can fix this.
They can answer common queries, describe products, direct consumers to relevant pages, and more. This concretely allows you to capture extra sales and costs a fraction of the price of full-time employees.
Just don't try to hoodwink consumers with bots masquerading as real agents—that's a one-way ticket to churn!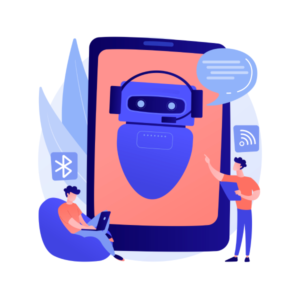 The increased need for omnichannel presence
Selling products through diverse channels is no longer optional. As we head into 2023, the need for omni or multi-channel selling is self-evident: if you're not maximizing revenue streams, you're leaving money on the table—47% of all online searches start with marketplaces such as Etsy, Amazon, and eBay. Nearly 75% of buyers use multiple channels before purchasing.
Connected shopping experiences are particularly essential for Gen Z consumers, of whom 97% use social media for research and inspiration for shopping. The ability to browse and buy within a single app (i.e social commerce) is only getting bigger.
At the same time, brick-and-mortar continues to recover after Covid-19. Consumers expect a seamless integration of physical and digital experiences, including:
Live stock updates
In-store collection options
Familiar branding, interactions and attitudes
Consistent pricing, discounts and promotions
Mobile shopping will dominate desktop
67% of all online retail sales will be made on mobile by 2024. That is a stratospheric increase from even 2-3 years ago.
It is absolutely essential for eCommerce businesses to build, or transition to, mobile-first structures. While some mobile eCommerce trends have been flashes in the pan, the numbers here speak for themselves. Most eCommerce websites are built for desktop but adapted to be 'mobile friendly'. We're entering a new era of 'build for mobile, adapt to desktop':
Design the entire customer journey for mobile interactions
All UX and design work on mobile then adapted for desktop
Adaptive sizing to work on every device
Phone-friendly payment options (mobile wallets, one-click checkout)
Intuitive design (for browsing, shopping, and paying without hassle)
Native apps that work seamlessly
A mobile-first philosophy is not going to sit well with every business owner—especially those who didn't grow up in the smartphone era—but it is absolutely essential for long-term success.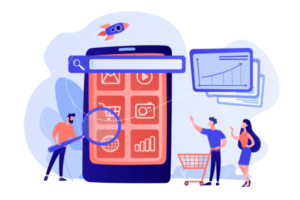 Consumer spending will stay low
Record inflation and nagging memories of the global economic crisis of 2020 are going to keep spending conservative into 2023. On the one hand, this accelerates the need to diversify revenue streams and maximize conversions—if there's less to go around, you need to fight harder for your share.
On the other hand, this is a gold-plated chance to differentiate based on customer experience. One of the major eCommerce trends of 2023 will be flexible returns.
Returns can be expensive, but consumers are going to send items back—regardless of how easy or convoluted the process. The difference is that after a positive experience, consumers will happily buy from the same brand again. After a bad experience, they'll simply shop elsewhere.
Another superpower will be investing in superior conversion tools. Whether it's using a copywriter to revamp messaging, or more technical tools like heat maps, user testing, surveys, or data mining, a focus on maximizing conversions will go a long way in a low-spend year.
Other eCommerce trends for 2023
Everything we've discussed so far looks set in stone. They are the trends that will dictate the course of 2023, and become an integral part of every successful eCommerce's battle plan. However, they aren't the only possible trends for the year.
Here we've grouped some headline-grabbing entries which could explode into industry-leading trends next year, or could fizzle out, and be consigned to the history books.
Here are three other trends for 2023.
Rise of augmented and virtual reality in eCommerce
Mark Zuckerberg's punt on the Metaverse is just one of many signs that our digital world could become a whole lot more immersive. AR and VR tools are currently used in a retail context, but it's a small minority with limited capability.
Many are betting that 2023 will be a breakout year for this technology, that turning the physical shopping experience into an interactive digital one is just around the corner, and that it will change everything.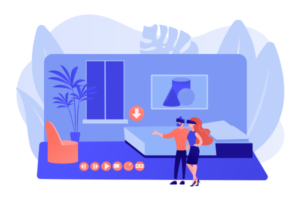 Surge in voice search shopping
Voice search appears to be contentious, yet 60% of US households use some kind of virtual assistant and voice search sales are expected to reach $30 billion by 2024. In anticipation of this growth, some businesses are optimizing their SEO for voice search—putting long conversational keywords, questions and natural language at the forefront of their messaging.
Growth of subscription businesses
With subscription eCommerce currently hovering at around $120 billion for 2022, it's a popular area—but also a divisive one. While some consumers dislike subscription models and prefer to buy on an as-needed basis, the majority, however, appreciate the convenience brough by the recurring model. But, since subscriptions can be an extremely lucrative and predictable source of income, more and more companies are adapting their business models to offer subscriptions. Nowadays, consumers are able to get a whole variety of products and services through recurring contracts, from physical goods like food delivery to digital services, like access to SaaS platforms. For 2023 we expect the subscription market to increase, as more merchants transition to this format of marketing their offerings.
Conclusion
For consumers, the next 12 months are likely to involve tightening belts and pinching pennies. As inflation stubbornly refuses to drop, eCommerce businesses will need to work harder than ever to increase or even maintain revenue and profitability.
In a year where every sale is vital, you need technology that delivers maximum conversions. Working with an all-in-one monetization platform like 2Checkout (now Verifone)  can be the market differentiator that support your digital business to maximize revenues and make global online sales easier.