The eCommerce purchase flow should be pretty simple: people navigate through your site, choose the products or services they want to buy and add them to the shopping cart, ultimately placing an order.
However, during this journey, a lot of distractions and blockers could lead to unfinished orders and lost revenue. While it's true that the whole flow needs to be smooth and optimized, the most "painful" part is right at the end of the journey, the cart. That's where the money is and where you have the biggest chance of capturing customer information, especially for first-time buyers. And not even a well-designed website can save a poorly chosen checkout flow.
About 9.58% visitors to a website add a product to the shopping cart and the global average site conversion rate is 2.95%, statistics show.
So in this blog post, we are going to share the most efficient eCommerce checkout tips that increase conversions. However, keep in mind that A/B testing is the best way to see if these tips are suitable for your website and how they should be put into practice. Tailor them accordingly to your business niche and you are all set for success!
1. Get your website mobile-friendly
What if your customers start adding things to cart on a desktop and finish the order on a mobile device? You have to be prepared for such kind of a situation and have your site optimized for mobile devices.
19% of worldwide online shoppers stated that they shopped online via mobile on a monthly basis and the number is increasing daily.
74% of people say they are likely to return to a company's site in the future if it is mobile-friendly.
Given these statistics, it is imperative to have a shopping cart and a checkout flow easily navigable on a mobile device. For example, you can have longer forms and more steps on the desktop version, but it is recommended to have shorter forms and one-page checkout on mobile.
"2018 will see mobile browsing driving eCommerce — and businesses must make sure their websites are mobile-friendly across devices. Buying habits will also have a greater bearing on mobile; for example, studies suggest millennials are three times as likely as Baby Boomers to have made an online purchase from bed. Retailers must look to capitalize on these habits with well-timed offers and content that's perfected for mobile." – Derek O'Carroll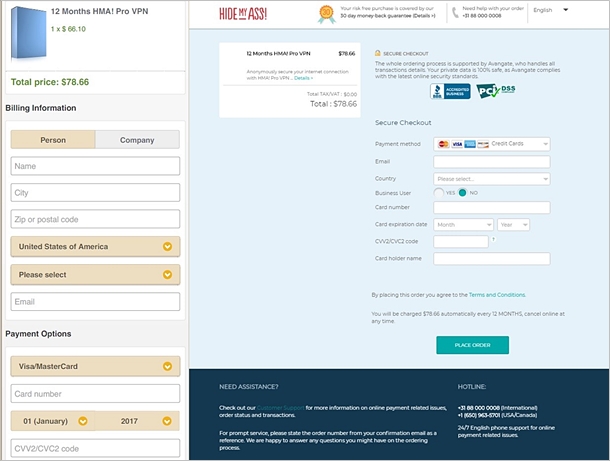 Hidemyass Checkout page as displayed on mobile (left) and desktop (right) devices
2. Use strong call-to-actions
Sometimes, all it takes is just a little push to place an order. Call-to-actions are a great way to "help" shoppers decide towards buying whatever caught their eyes. The best way to determine which call-to-actions are more appropriate for your shoppers is to test several options first. This way you can see which ones fuel your conversion rate growth the most.
"So, what button copy should you use? Click here, buy now and order now are a few call-to-action texts that you see around. I've found that generic phrasing, like the words above, don't really impact conversion rates by much. If they do, then there are other elements on your webpage that need to be tested." – Neil Patel
3. Give small incentives or discounts
Don't underestimate the power of an incentive, it is really effective on most shoppers. Try not to limit yourself to discounts, but offer vouchers, freebies, upgrades to PRO versions of software or a longer subscription period. You'd be surprised how willing people are to buy when they are offered a great deal.
"Don't make coupons prominent – when people see a "Enter coupon code here" field, they feel less special. "How come I don't have one?" Many go to Google to find a coupon; many never return. Leaving the site in search for coupons is a common reason for shopping cart abandonment. Instead, have a text link saying "Got a coupon?" or something similar, and clicking on the link makes an input field appear." – Peep Laja
4. Enable buying without creating an account
Guest checkout is already known to be an affective eCommerce strategy because shoppers don't always want to fill in long forms in order to create and confirm an account to buy the products they want. Some websites even ask for email addresses verification after creating an account. Or, if the buyer already has an account but doesn't remember the password, he also has to deal with a recovering password process. Both situations create too many unnecessary steps to the checkout process.
When facing such issues, most of buyers them will simply turn away from your cart and look for a less complex shopping experience. To avoid these situations, give them the option to buy without creating an account on the spot, but allow creating after placing the order, by simply checking a box.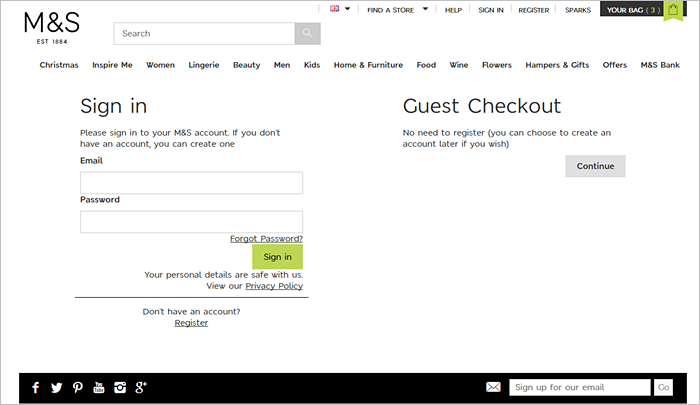 5. Ditch the long forms
Let's face it: no one has the time to write two delivery addresses, a nickname, and three phone numbers when buying something online. So best is not to ask for unnecessary information at checkout because shoppers get bored fast enough and will not finish their order. Our advice is to test multiple form variations and see what information your shoppers are willing to share with you. In other words, make the checkout as easy and short as possible.
Also, to make things easier, in the 'Credit Card Number' form field, enable auto-formatting card number with spaces. This also helps to eliminate card validation errors caused by typos, besides making it easier for the shoppers to type their data.
 "Try reducing input fields on guest checkout forms to the absolute minimum required. Avoid asking guests to confirm their email addresses by entering it twice. Also, use features such as an address finder to cut down input entry for addresses." – Kunle Campbell
6. Allow different payment methods
Let customers choose the payment method and the billing currency they want. If you are running an online shop, it is necessary to offer multiple payment methods because this could be a key growth area for such a business. Statistics show that 40% of shoppers have more confidence in an online shop if it has more than one payment option.
You'd be surprised about in how many countries credit cards are not the most utilized type of payment method. For example, in China, 54% of the total number of online orders are paid via Alipay, as stated here. Give this scenario, your shopping cart should allow choosing between different payment methods if you want to expand into competitive local markets. Make sure that the payment methods are clearly visible, and that express options are available for payment methods such as PayPal, where the user is redirected to another site to complete their order.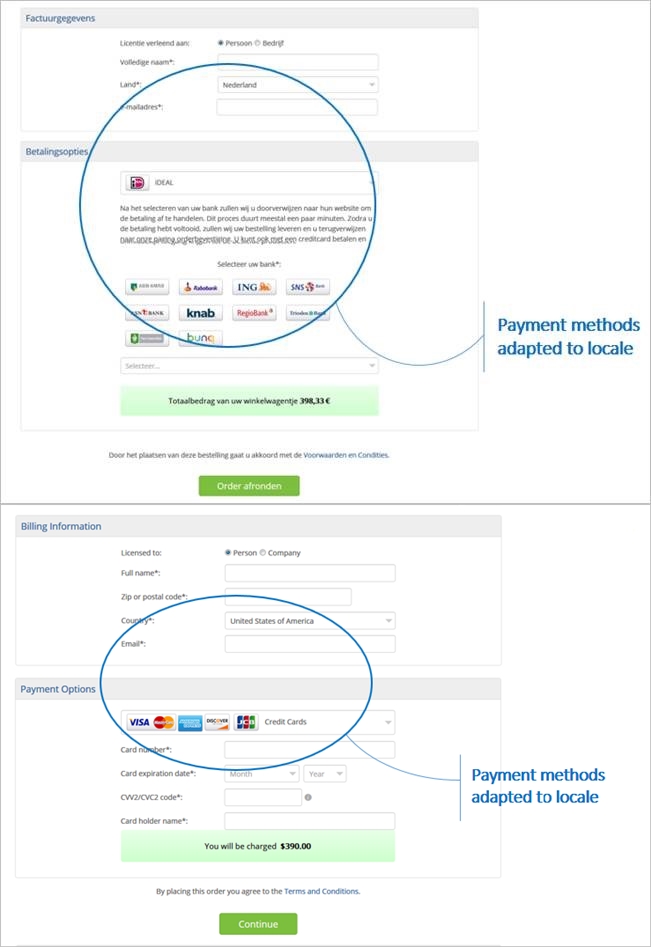 7. Earn buyer's trust
You can do this by displaying trust seals and security badges, including a link to your terms and conditions page, showing the highlights of your refund policy, displaying short reviews etc. For example, icons like "30-Day Money Back Guarantee" can remove any hesitations a potential buyer might have. It shows that you care about customer satisfaction and removes any doubts that can trigger cart abandonment.
"Even if your site already has an SSL certificate and the information customers share with you is secure, they may not be too assured unless they can see some seals or symbols they trust. To reduce customer anxiety and assure them that their payment information will be safe with you, you need to add some trust symbols and/or guarantee statements on your checkout page." – Shane Barker
Movavi does it really well, by showing and emphasizing all of the above on their checkout page: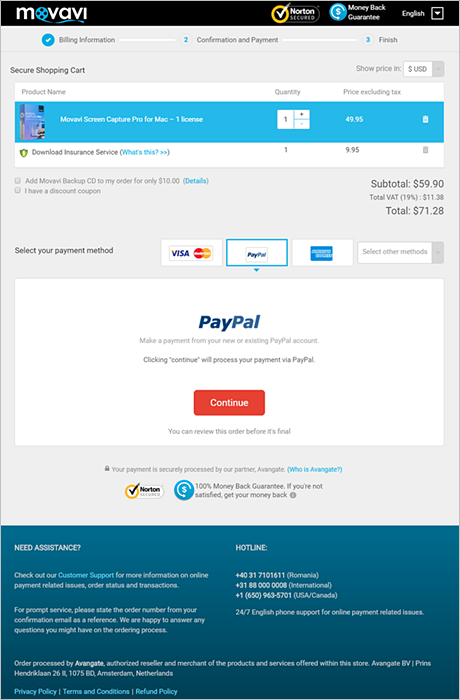 8. Have you considered exit offers?
Introducing exit offers for shoppers that are about to abandon the cart is a great way to keep them from churning. Offers can be triggered when they want to close the tab or browser or when they want to edit the URL. In such situations, you can offer a discount to determine him complete the purchase on the spot. Exit offers have a much higher conversion rate than remarketing emails, since only 30-50% of shoppers open emails. Best is to use both exit offers and remarketing campaigns for optimal results.
Since it's already proved that personalization can increase eCommerce conversion rates, you can apply this strategy to your exit offers as well. Using visitor's name, offering to chat, or presenting a specifically tailored bundle at a good price are just a few ways to apply this principle to your exit pop-ups.
9.Offer wish lists
It often happens that people browse a website and add to cart things without being 100% sure they will buy them. Then they abandon carts, but change their minds and go back to their cart, only to see that the items they have added are no longer in the basket. What you can do is allowing shoppers to create wishlists or keeping their products in the cart for a limited amount of time.
"Offer your customers a wish list to save articles they love but aren't ready to purchase. This does two very important things: it prevents your customers from using a shopping cart as a wish list, which will lower your overall cart abandonment, and it will offer you the opportunity to communicate with your customer based on the merchandise that you already know they love." – Whitney Blankenship
10. Show remaining steps
Depending on what you are selling, the checkout flow of your eCommerce store could have more or fewer steps than usual – three steps is ideal. Having a visual progress indicator where you show the number of steps before completing the order and describe each of them is very helpful for shoppers because they know exactly where they stand and what's next.
While mapping your checkout flow, make sure you don't add too many steps, because it could backfire and lead to a decreased conversion rate. Some examples of checkout steps are Shipping & Billing, Payment, Review & Place Order, Order confirmation & Thank You, Share what you bought etc. Just make sure you don't choose all of them, the secret is to make the process look shorter.

11. Don't add unexpected costs to the total
Be straightforward with your customers and showcase the final cost of the order (including shipping!) from the very beginning, even before the shopper initiates checkout, whether he is a returning client or a new one. You can either request him to enter the delivery country right in the cart or detect it automatically using localization, then calculate the total. After he places the order, don't charge or send a confirmation email with another price than the one he agreed upon when buying from you. That is only going to bring you bad reviews and fewer buyers.
Basically, the shopping cart can make or break your eCommerce business.
Feel free to share your eCommerce checkout tips that increase conversions with us below. For additional information, you can download the Shopping Cart Best Practices for Software and SaaS Sales eBook where we share best practices based on our experience with thousands of B2C and B2B clients that sell software and SaaS online.