We recently chatted with Claudiu Murariu, the founder of InnerTrends.  Here's what he had to say about improving the onboarding experience for any SaaS company.
InnerTrends is a data analytics tool that helps SaaS companies improve the onboarding experience for new users. I founded InnerTrends because my previous SaaS startup had struggled with converting new users.
User acquisition was expensive, and we had to make the most of the users that came to our product. This meant providing a great initial user experience in the product. To do this, we needed to understand the onboarding experience from a business perspective, so we could make actionable decisions. But no existing analytics tool was able to help us do this, because all of them were disconnected from the business. That's why we decided to build InnerTrends.
InnerTrends is deeply connected with the business side of the product. It's designed to give you essential information about user behavior by offering answers to questions like: "Where are users dropping off during the onboarding process?", "Why do some users leave and others finish the process?" and "How long does it take users to finish onboarding?".
With InnerTrends, the user data is presented in a whole new way, based on how product and business managers think, rather than on the constraints of a reporting tool. InnerTrends allows anyone to drill down to the individual user level in the data to gain a deeper understanding.
Analytics is a very hot topic right now. Can you give us a quick overview of this market as you see it, including its evolution and the latest trends?
Just five years ago, business intelligence services were primarily designed for enterprises and major corporations. With the advancement of cloud infrastructure by Amazon and Google, as well as free web analytics services like Google Analytics, BI has now gone mainstream.
User behavior data fuels growth for pretty much every market. It is already generally accepted that hard data, not just intuition, should drive product decisions. And now that everyone is looking to make data-driven decisions, even small companies are looking to tap big data for insights.
Forbes predicts huge growth for the BI and big data markets. While the main industry players still target enterprises, more and more BI services that target small and medium businesses have been launched over the last few years. Analytics services such as Mixpanel, Kissmetrics, and Amplitude are gaining more and more traction among companies of all sizes. However, to get the greatest benefit from analytics services, small companies still need access to highly skilled data scientists so they don't just skim the surface of the available data.
This is where InnerTrends comes in. We take our users' existing data and transform it into clear answers that executives and managers can understand and trust. Basically, InnerTrends plays the role of the data scientist, helping smaller companies make sense of their data.
There are lots of competitors in this space. How is InnerTrends different?
I touched on this a bit in the previous question. Currently, the web analytics services landscape is targeted mainly at people with data skills – data scientists or web analysts like me. By contrast, InnerTrends targets product managers, marketers and executives who are in need of answers to their business questions.
When you need answers, you need them right away. However, what you currently get from most tools on the market are "eye candy" reports that look great but don't really answer important questions. Unless you have advanced data analysis skills or a data scientist at hand, you're likely to only skim the surface of your data and not discover the actionable insights that hide inside of it. Given the difficulty of data analysis, it's no wonder that, while over half of all companies worldwide have access to more than four data sources about their users, less than half of those companies use that data to make decisions.
InnerTrends transforms data into answers that are designed to guide you to find and fix problems. You can use our tracking system or your existing data.
User onboarding has a huge impact on the overall business. That's why we made it our first goal to help SaaS companies optimize the onboarding experience. InnerTrends provides all the details you need to find and fix the problems in your user onboarding process.
What are the main challenges for a SaaS company when implementing an analytics service?
There are no challenges really. As a client, you don't need to invest any developer time or hire a data scientist. You just place a small code snippet from us directly in your app or inside your tag manager and that's it. The tracking is personalized for each customer depending on their platform without them needing to spend even an hour of developer time.
As for analyzing data, there just aren't enough data scientists available, and they can be very expensive. Often, small and even medium-sized businesses can't afford them. InnerTrends solves that problem with built-in calculations and specific statistics for each individual question we answer about user onboarding. That way we make sure you'll never misinterpret the data and we dig as deep as necessary to pull out insights that would otherwise be difficult to spot.
Making decisions based on data shouldn't be such a big challenge. We can all do our jobs much better if we can get answers to our questions the moment we ask them.
What goes on "behind the scenes" of the questions that InnerTrends answers?
Each of our answers is debated by a team of web analysts. We're always focused on what the user (our client) needs to know, asking questions like:
What should the user learn from this answer?
What is the logical follow-up question?
What action can a user take based on this answer?
We currently work with companies that have both large and small data sets, helping them get the answers they need, and we are continually refining our questions and answers.
Of course, the answers to the questions are not the end goal here. The most important thing is the actions that can be taken based on the answers and, further, the results obtained from those actions, such as an increase in onboarding conversion rate or a decrease in the time it takes to onboard a customer. To give one example, here's what the onboarding conversion rate trend looks like for one of our customer after starting to use InnerTrends – it's gone up steadily, just like we want it to: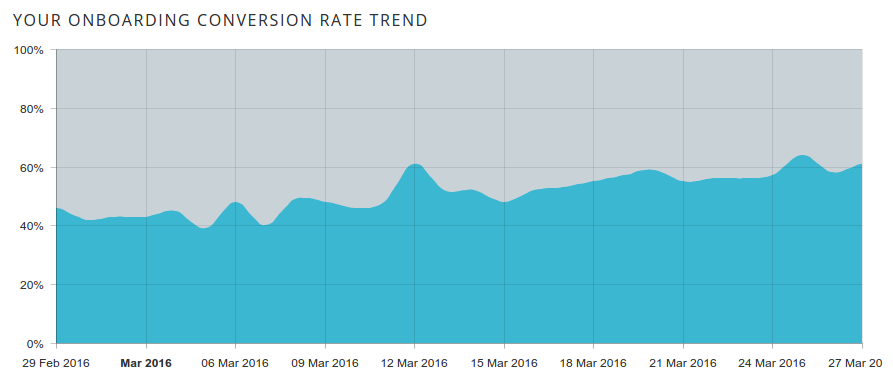 Tell us about "The Experiment."
The Experiment is a monthly digest of great marketing experiments that can be easily replicated by other marketers. We started it because we know that having a data-driven culture requires companies to do two things:
Base decisions on data
Experiment

While InnerTrends helps you base your decisions on data, The Experiment newsletter focuses on the latter task. We help anyone get started with marketing experiments that will put you in the driver's seat for growth.
For The Experiment, we curate, and sometimes even implement, some of the best marketing experiments we find on the Internet. We also document and share every detail of each experiment to make sure you have everything you need to replicate it within your own company.
This is not your first start-up. You were also successful with your previous company, so we're eager to hear some of your quick tips for your fellow software/SaaS entrepreneurs.
Regardless of who you're talking to – your users, your employees, or your partners – you need to ask great questions in order to get to great answers. Question everything and, as scary as it sounds, allow your colleagues and employees to question everything. It will get you farther than not asking questions.
Above all, definitely question your user onboarding. Don't know where to start? Try InnerTrends!