Start using one of the 4 most affordable A/B testing tools to improve your customer experience
A/B testing is a simple process that will help you optimize the customer experience across your website and shopping cart. By testing different versions of key pages, you can easily determine which one produces the best results among your target audience. This is a simple way to remove the guesswork from your design and development process and focus your efforts on finding conversion enhancers.
It may sound simple, but the market is saturated with all kinds of A/B testing tools, so assessing which one will work best for your business can be a daunting task. To help you out, we've been investigating the best options available on the market. Based on our research, we've created descriptions of the top tools and developed a few guidelines on how to choose your own testing tool so you can start A/B testing sooner!
Here are our top tips regarding A/B testing solutions. Most of these 4 affordable and easy-to-use tools offer not only A/B testing, but also multivariate and split URL testing.
Google Analytics Content Experiments
Google Analytics Content Experiments allow you test up to five full versions of a single page, each delivered to visitors from a separate URL (A/B/C/n). Compare how different web pages perform using a random sample of your visitors. You can define what percentage of your visitors is included in the experiment, choose which objective you'd like to test, and receive updates by email about how your experiment is doing.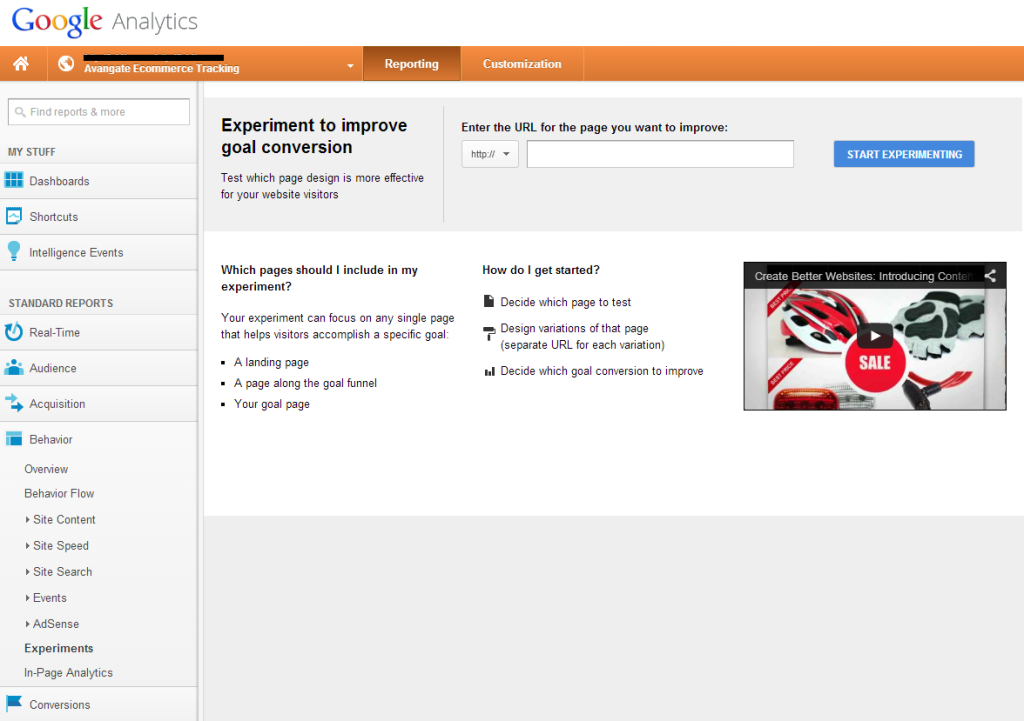 Optimizely's simple visual editor makes each element on every page editable. After inserting a single line of code from Optimizely into your site's HTML, you never have to touch the code base again, which is wonderful. With Optimizely, you can use A/B and multivariate testing along with WYSIWYG editing and real-time reporting.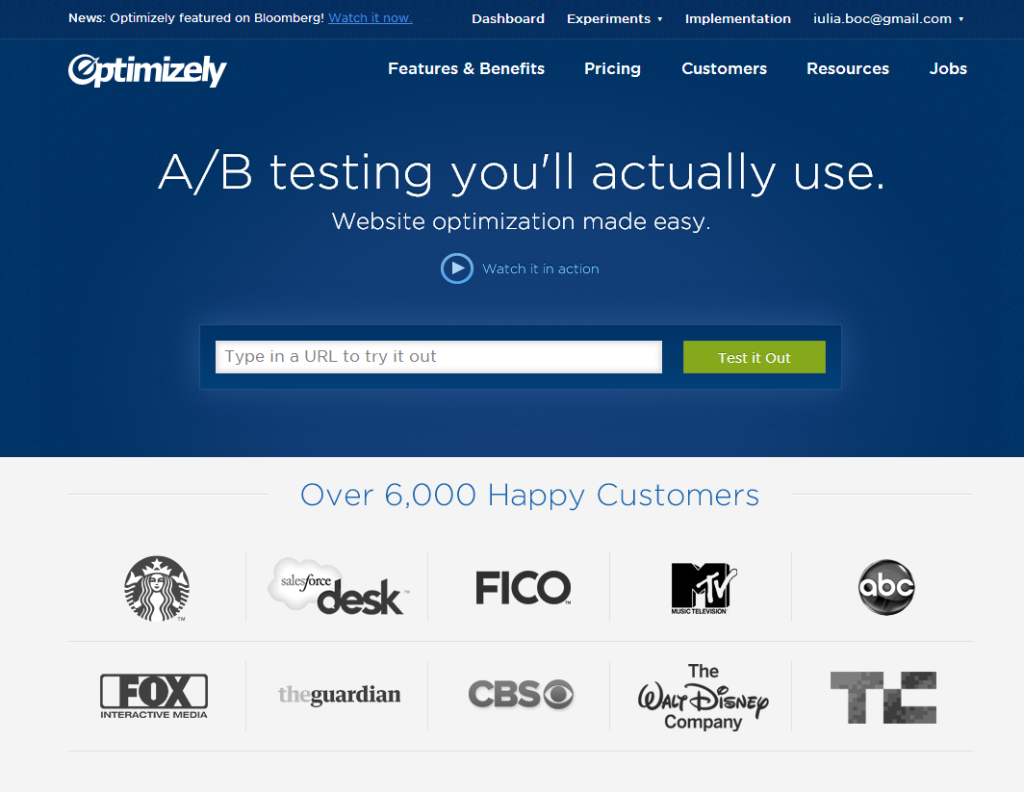 VWO is a complete testing and optimization suite. Along with an A/B testing tool, it includes methods for multivariate testing, behavioral targeting, heat-maps and click-maps, and usability testing. Multiple editing options allow you to change any part of your web page. You can even specify different URLs to split traffic and measure which page performs best.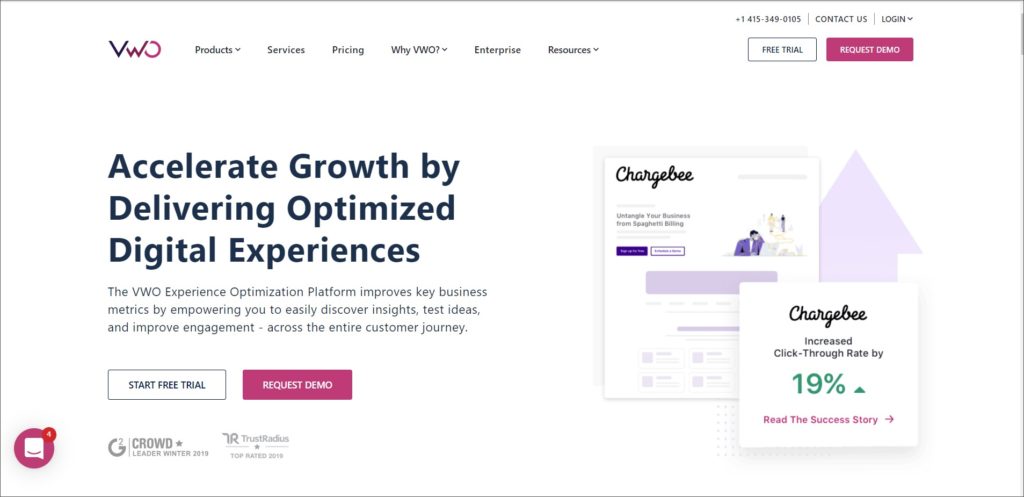 Convert is a testing suite that includes A/B, multivariate, and split URL testing. It offers a simple testing wizard to walk you through setting up A/B tests. Just by using a drag and drop approach, you can move elements around and build out your own tests easily.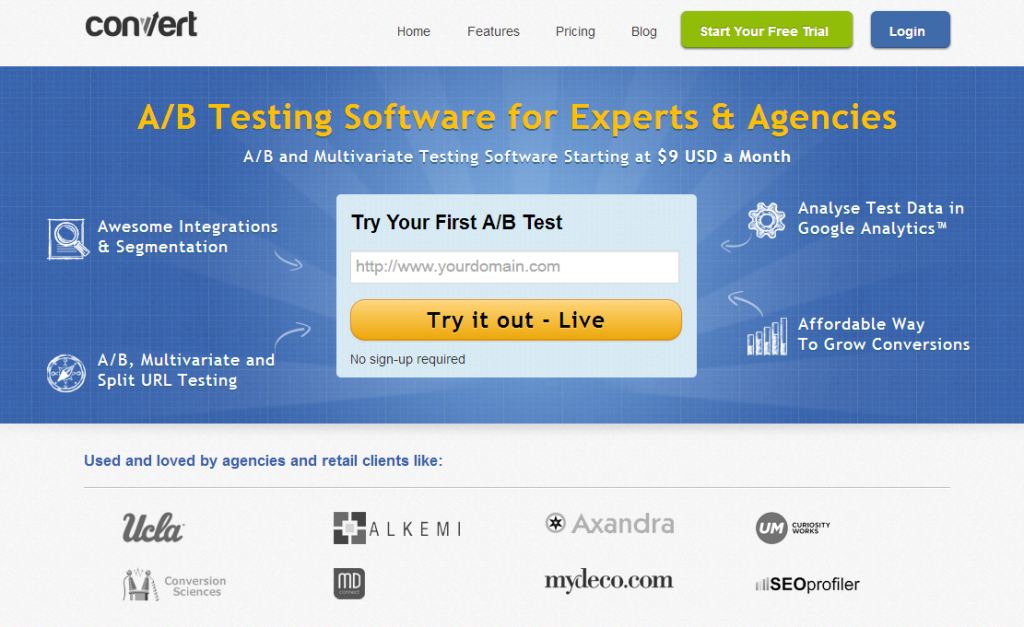 All of these testing tools integrate with most popular web analytics platforms, such as Google Analytics and Site Catalyst. With the exception of Google Analytics Content Experiments (which is totally free), all of the tools also have free trials or free pricing plans available depending on the number of visitors tested each month. And all of these tools can definitely support enterprise level traffic in case you want to scale the testing capabilities.
What factors do you need to consider before making a selection?
There are many factors to consider when choosing a testing tool. For example, when using Google Analytics Content Experiments, you'll need to work closely with your web development team, because the test pages are delivered from your server. By contrast, if you are planning to use one of the other 3 tools, you can modify the content of your page 'on-the-fly' by manipulating your page content with JavaScript and CSS, directly from the admin interface.
The downside of this method is that a slight delay will be added to your page load time while the test script figures out the combination of elements being requested for testing, then alters the content as your page loads. However, for the first year of A/B testing, I would recommend starting with simple A/B testing ideas and ramping up as you learn, so load time shouldn't be a major problem. I am sure that you have lots of conversion killers lurking on your untested pages – it's time to find out what they are!
How can you choose the testing tool that fits your needs best?
Once you have decided to start A/B testing, prioritize the types of tests you are planning to run: A/B, multivariate, split. Then try each one of the tools listed! The free trials should offer enough information to help you assess whether you like the tool or not. Test each one yourself and then evangelize the tool internally. I recommend teaming up with a designer and a technical person to help you work out the more advanced steps. If you need more than 1-2 days to create and launch your first A/B test, you've overcomplicated things. Keep it simple for now and in time your tests will get more sophisticated!
We've created the following quick guide to find the tool that matches your current and future needs based on the internal resources you can devote to testing. Then, choose the plan that most closely matches the volume of visitors you intend to test. This way you will be able to pay as you go:
| | | | | |
| --- | --- | --- | --- | --- |
| Solution | | | | |
| Experiment Types available | A/B testing | A/B testing, MVT, URL split testing | A/B testing, MVT, URL split testing | A/B testing, MVT, URL split testing |
| Ease of Use | Medium | High | High | High |
| Development required | Normal | Minimum | Minimum | Minimum |
| Price | Free | Plans start at $17/month. Free trial available for 30 days. | Plans start at $49/month. Free trial available for 30 days. | Plans start at $9/month. Free trial available for 15 days. |
| Link | Access from your Google Analytics interface | | | |
It goes without saying, but we always love your feedback. Below, please share with us which other testing tools you are using and describe which ones have worked best for you.