The wave of accelerated digitalization in the past couple of years has taken consumer markets by storm, but it's also made a mark in the B2B space. While business-to-business sales have, in the past, been slower to adopt new digital tools, the recent lockdowns and supply chain disruptions have got B2B sellers focused more on rolling out or expanding their eCommerce strategies.
It is estimated that, in the US alone, B2B online sales on eCommerce sites, log-in portals and marketplaces increased by almost 18% in 2021 versus the previous year, to $1.63 trillion, as more users researched and bought through online channels. This shift has got analysts concluding that the future of B2B sales is hybrid, primarily backed by digital touchpoints, which are expected to broaden customer engagement and unlock more opportunities than traditional avenues.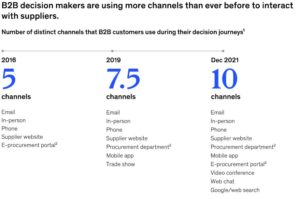 Source: McKinsey, 2022
In this article, we will look at the different lead generation digital opportunities B2B sellers have, with a focus on those that can boost their sales strategy and drive more revenue.
What is B2B Lead Generation?
B2B lead generation is the process of sourcing and acquiring customers that could be interested in buying your product or service, in situations where the buyer is a company or legal entity. B2B is distinctly different to B2C, where companies directly target the end-user.
B2B lead generation involves identifying and targeting potential customers, then creating content or offers that are enticing enough to get them to click through to your online salespoint, whether it is a website, a landing page, a mobile app or a marketplace.
If you want to understand how to attract and qualify B2B leads in 2022, below are some tips and strategies to help you get started.
Best strategies to generate B2B leads
Omnichannel marketing
One of the best ways to generate B2B leads is omnichannel marketing. With this approach, all your branding, messaging, and marketing efforts, be they offline or online, are integrated so that they create a brand-consistent and user-personalized environment.
With omnichannel marketing, you can place your product in front of your consumers in many different areas, each of these moving the consumer down the sales funnel. Users can see a blog post with your product recommendation or an ad on their social media channels. They might also see a review of your product on a third-party website. The important thing is to deliver a consistent experience.
No matter where they encounter your product, omnichannel marketing will make sure brand recognition is always achieved and that prospects have multiple opportunities to buy from you as they interact with your branded content across channels.
The power of omnichannel marketing is undeniable. It raises prospects' trust in you and has a higher chance for conversion than if they had just seen your website or social media account alone.
Of course, B2B lead generation takes more than just omnichannel marketing. All leads aren't created equal, nor are they all interested in your product. You need to have a way of scoring those potential customers to determine which ones are worth pursuing.
By using lead scoring for B2B, you can determine the quality of each prospect, letting you focus your marketing efforts on those that are most likely to convert.
Marketing automation
Marketing automation tools and platforms make executing an omnichannel marketing strategy easy. They allow you to manage all your channels in one place and create customized campaigns for each.
With marketing automation, you can easily segment your leads and target them with the most relevant content for their stage in the buyer's journey. You can also set up workflows so that your team can automatically follow up with leads after they've taken specific actions, such as visiting your website or subscribing to your newsletter.
Optimize your content strategy
Creating targeted content is another great way to generate B2B leads.
Almost 94% of all B2B buyers are doing research before buying, therefore, creating content that responds to their questions is imperative.
This could be something like an eBook or a whitepaper that's specifically tailored to your target audience. By providing valuable information that's relevant to their needs, you'll be more likely to generate leads that are interested in what you have to offer.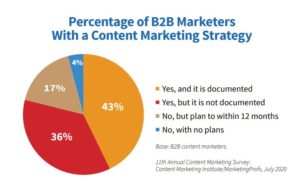 Source: Content Marketing Institute
A content strategy that's focused on generating leads should include:
Research: conduct market research to understand your target audience's needs.
Planning: develop a content strategy that includes topics, formats, and distribution channels that will reach your target audience.
Creation: producing the actual content, whether it's blog posts, videos, infographics, or something else.
Promotion: get the word out about your content through social media, email marketing, and other channels.
Measurement: analyze your content strategy results to see what's working and what can be improved.
Use social selling
Social media is a powerful tool for any company looking to reach its customer base. However, it's essential to focus on what you're posting and when those posts are going out.
With research showing 75% of B2B buyers use these sites as they make decisions, getting your posts in front of the right people at the right time is going to lead to a much higher conversion rate.
Where to post?
As a general rule, you should be where your customers are. The most important platforms for B2B companies are LinkedIn, Twitter, Youtube, and Instagram. Our recommendation is to start by prioritizing one or two networks at a time, so you don't spread yourself too thin.
When to post?
The best time to post varies on the network you're using, but usually, Monday–Friday from 9 am-noon remains a popular period. Research shows that this is when people are most engaged with social media. However, don't forget to analyze your own followers, as their location and timezone might heavily impact when you should post.
What to post?
When it comes to posting content, make sure it's relevant and helpful to your target audience. You want them to see you as a thought leader in your industry.
The most fundamental social selling rule is to prioritize information above sales. Instead of looking for product placement or advertising, people use social media to seek out interactions, not just marketing.
Provide relevant insights your audience will respond to, so that you can build relationships while also meeting your business goals. Being too pushy might turn some people off but being informative does wonders – especially when done properly.

Finetune your outreach: Personalize your cold emails
Despite the debates, cold emails are still effective. 71% of buyers want to hear from sellers when they are exploring a new product or idea.
Your database of email contacts can be an excellent source of relevant leads but engaging with them can be tricky. One solution that tends to bear fruit is the quality of the email you're sending and the targeting you've done. Personalization and a dash of originality are key, especially in B2B outreach.
Subject lines are the most critical part of any email you send, so make sure it's creative, engaging and addresses your target's needs. Pique their interest by including personalization, using images or graphics to bring your story alive. The adage "a picture tells a thousand words" definitely applies here.
Once you've got their attention, make sure to give them a taste of what you have to offer. A strong call-to-action (CTA) is key here – let them know what you want them to do next. Give them a reason to click through to your website or landing page, and make sure the design is just as polished as the email itself.
The more channels you can offer to your potential customers, the better. Make it easy for them by providing clear buttons or links that will take them right where they want to go. Including social media links can also help get the leads interested in your company.
Simplify the demo/booking/trial process
According to Gartner, 77% of B2B buyers feel that making a purchase is fairly complicated and time-consuming.
The booking experience shouldn't be difficult. If it is, customers may become frustrated and look elsewhere for their needs, directly affecting you as less traffic equals lower revenue.
The focus here should be on simplification wherever possible. Look at your web pages and make sure they're optimized for speed and mobile. Consider the overall UI/UX needs to make sure that customers can easily find what they're looking for.
The key is to make everything as smooth and easy as possible for your potential customers. By doing so, you'll increase the likelihood of generating leads and making sales.
Leverage partnerships with other companies
Many businesses are complementary to each other and have the potential to create mutually beneficial partnerships. These partnerships can take many different forms, such as collaborating on a shared survey or report, co-hosting a webinar or online course, or working together to promote each other's products and services. Building these mutually beneficial partnerships can help both companies succeed at a reasonable cost.
To get started, identify other companies with similar values that offer complementary products or services to yours. Research their target audience and identify any opportunities for collaboration that might appeal to both parties. Then approach potential partners with a proposal outlining the benefits of working together and how each party can contribute. Be sure to clearly outline your expectations and be open to negotiating terms.
Working together with other businesses – for example those that offer complementary goods and services or those that address additional needs of the same ICP – will help you reach a whole new audience that you may not have had access to before.
With the right partnerships in place, you can significantly increase your lead generation and boost sales in the long run.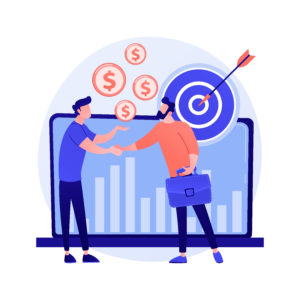 Attend industry events
When you're planning your next marketing strategy, don't forget the tried-and-true networking method. It may take a little more time, but the results could be worth it.
A recent study showed that 97% of B2B marketers believe that in-person events have a major impact on achieving business outcomes.
With opportunities for one-on-one interactions, networking can be an effective marketing channel. At networking events, people are learning and meeting their peers, not being sold to. You have to be respectful of that and focus on providing value.
Additionally, don't forget about digital networking. 68% of B2B marketers say that most of their leads come from virtual events. That's something to keep in mind.
By using a mix of traditional and digital networking opportunities, you'll be able to reach a wider audience and maximize your chances of making valuable connections.
Use paid ads and remarketing for website visitors
PPC, a form of online advertising that allows you to target potential customers with keywords related directly to what they want, could also be a source of leads and prospects for your business. Continued optimization guarantees higher conversion rates because visitors see specific products instead of browsing around aimlessly.
61% of B2B marketers use PPC ads to distribute content and 16% of B2B companies' top marketing spend is online advertising.
While paying for traffic can become expensive over time, you can be reasonably sure that those visitors are interested in becoming leads by selecting keywords with clear purchase intent.
Remarketing is one of the most effective tactics for increasing website conversions. This involves displaying targeted ads to individuals who have previously visited your site. These people have already expressed an interest in what you offer, which is why it pays to keep your brand or offering top of mind for them, helping you move these prospects further down the funnel.
List your B2B product/solution in online directories
Another way to generate more leads is through online directories and listings. Online directories and review sites serve as a great source of information for customers and offer a unique way of building trust. Therefore, make sure your business is listed in as many relevant directories as possible. This will help guarantee that prospects can find you when they're searching for similar businesses.
When shopping for anything, consumers often turn to online reviews for unbiased feedback about the products and services they're considering. By establishing a presence on popular review sites, such as G2, GetApp, Capterra, or TrustRadius, you can directly influence these customers' purchasing decisions.
Third-party reviews and comments are another way to build trust with your prospects. When people see that other companies have been happy with the service they received from your business, it increases their level of confidence in your brand as well.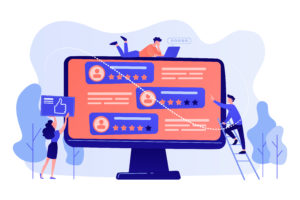 Why online reviews matter
Studies have shown more than 90% of customers read online reviews before making a purchasing decision, and most people consider online reviews to be as trustworthy as personal recommendations. This is because customers trust the experiences of others when it comes to buying.
How to get an online review that counts
We've all probably seen those reviews that scream "fake" with a lack of detail and sameness in the tone of voice. To ensure that the online reviews left by your customers count, be sure to ask them to highlight the unique aspects of your product or service in a way that feels authentic and not over-promotional.
You can increase the number of reviews you get by sending follow-up emails or thank-you notes that include a link to leave a review. Make it easy for customers to leave them by providing links to the review sites with simple and clear instructions.
Invest in optimizing your content for organic
Most businesses understand the basic concepts of SEO today. However, when it comes to developing an effective strategy for your brand and getting the most from search engine optimization (SEO), just throwing together some content with keywords in mind won't cut it – you need more than that!
One of the best ways to get more from your SEO efforts and increase B2B leads is to focus on optimizing your content for search engines. This means creating content that is not only keyword-rich, but also informative, engaging, and relevant to your target audience.
As you work to improve your organic rankings, keep in mind that business results are more important than search engine placements. If users aren't converting after they land on a page it could be because of low-quality content or bad intent behind their visit – which means this isn't just something temporary like poor copywriting, but structural problems with how well designed a site is.
Here are some tips to help you optimize your website content:
Do your research
Before you start writing, take some time to do your research and understand what your target audience is looking for. What kind of information are they searching for? What type of tone and style will resonate with them? Answering these questions will help you create content that appeals to your audience and helps you rank higher on search engine results pages (SERPs).
Use Pillar Pages
If you've got many different pages related to the same content, search engines will see this as a strong indicator of authority. This makes it a great idea to create pillar pages – in-depth, highly informational, and authoritative web pages that link out to all the other content you've created on your site. By following this strategy, you'll be able to generate more B2B leads as your website will rank higher for various related keywords.
Consider your promotion plans
While content is an important part of any B2B lead generation strategy, it's not the only factor that determines your success. To reach more potential customers and generate more high-quality leads, you also need to have a solid promotion plan in place. This might involve using paid advertising or social media ads, or partnering with other businesses on joint marketing campaigns.
Track and optimize your performance
One of the most important steps in any successful B2B lead generation strategy is tracking and optimizing your performance over time. This can involve monitoring things like site traffic, email responses, and conversion rates to see which tactics are working, as well as identifying areas for improvement.
With this data in hand, you can make tweaks to your approach to make sure that you're always generating the best possible results.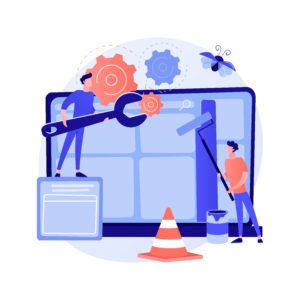 Conclusion
Generating leads is essential for any business, but it can be especially challenging for B2B companies. That being said, with the right strategy in place that includes focusing on creating valuable content, targeting the right audience, and using effective marketing tactics, you can be successful in generating leads no matter the market conditions.
Generating leads, however, is only half the battle. You also need to convert those leads into customers. To do that, you need to create compelling offers that are targeted at the right audience.
Not everyone interested in your product or service is going to be a good customer. Hence, you need to find the most likely people to buy from you and focus your marketing efforts on them.
Finally, it's crucial to use a mix of effective marketing tactics. For instance, if you spam potential customers with too many sales pitches, they're probably going to ignore you. Therefore, in scenarios like these, it might be a good idea to use softer selling techniques via content marketing or social media outreach as examples.
By following the tips and strategies above, you can potentially generate more B2B leads, boost your company's revenue, and put your business on the path to success.
Now that you're ready to generate more leads, don't forget to also look for a trusted eCommerce partner.  Discover 2Checkout's B2B platform and how an all-in-one digital commerce solution can help you attain commerce automation and unified sales.