We get it. Customer acquisitions are sexy and absolutely necessary for a SaaS company just out of the gate, BUT relying on new customers to maintain rapid growth is unrealistic, especially once you cross the $25M revenue threshold.
Of course, you need to acquire the right kind of customers in the first place, but it's NO COINCIDENCE that the SaaS companies with the highest growth rates also have the lowest churn.
Our first proven strategy for increasing retention for SaaS and subscription is… to make retention a strategy, not a random set of action.
1. Embrace Retention as a Strategy
Why?
It can cost you 5x more to acquire a new customer than to keep an existing one.
Your repeat customers are likely to spend 67% more than your new customers.
Increasing customer retention by 5% can increase your company's profitability by 75%.
Retention – and upgrades and upsells – is what keeps the lights on and fuels future revenue growth once new acquisitions stabilize.
2. Learn the ABCs of ARRs, CLVs, and NPSs
Before you can focus on and prioritize retention, you need to know how to accurately measure it. Don't let the dizzying array of acronyms send you home sick.
Start with the basics…
Retention and Renewal Rates
Churn Rate and Number of Churned Customers
Customer Engagement and Net Promoter Scores (NPS)
Customer Lifetime Value (CLV)
Customer Acquisition Cost (CAC)
LTV:CAC Ratio
Months to Recover CAC
And you'll be mastering the more advanced metrics in no time.
 Use the operational, usage and other data you have to build a profile of your ideal customer, including their needs and habits.
Use that analysis to target and acquire the most valuable prospects.
Once acquired, pull out all the stops to give them the best onboarding experience possible.
Analyze your metrics to determine which one is most closely correlated to retention and focus your efforts on optimizing it.
Continue to track usage and utilization and keep customers engaged with relevant offers for training and other success programs.
Solicit feedback and show that you care by following up with meaningful action.
Reward loyalty with discounts, perks and advanced access to new products and features.
3. Differentiate Between Voluntary and Involuntary Churn
Despite their best efforts, SaaS companies lose millions of dollars a year in potential recurring revenue to customer churn. To effectively fight churn, you need to know what's causing it.
The first step is to separate voluntary from involuntary churn.
Voluntary churn happens when a customer decides to end the relationship and stops using your product or downgrades from a paid version.
Involuntary or passive churn happens when subscriptions are canceled without action on the customer's part, and due to failed payment authorizations.
Each type has its own tools and strategies uniquely designed to combat it.
Voluntary churn requires you to focus on the product and the overall customer experience, as well as removing friction from the renewal process.
Involuntary churn is about increasing authorization rates and reducing declines from expired cards and other recoverable causes.
Once you identify what's causing your churn you can apply the best strategies and tactics to reduce it.

4. Put Your Customers on Auto Renew
Auto-renewal is a good strategy for combatting voluntary churn.
With auto-renewals, the customer is billed monthly or annually and requires no action on their part to continue the subscription.
Manual renewals, on the other had, are typically billed on an annual or bi-annual basis and require the customer to place a renewal order.
Auto-renewals enjoy higher authorization rates, increased CLV and generally result in 3x greater customer retention over manual renewals.
TIP: When using auto-renewal, make sure to communicate with customers even before the renewal and to allow them to cancel their subscription should they wish to, and not cause frustration that can result in a bad reputation, refunds or even chargebacks.
Tip: There are many things to consider here, including migration campaigns and special offers. For more details, check out our eBook on Retention: Combating Subscription Churn with Commerce and Payment Tools.
5. Engage with Customers to Reduce Voluntary Churn
If you want customers to stay, you need to continually put in the work to increase usage and prove your value. Provided you're doing that, here are also some tactics that you can use to encourage the actual renewal process.
Use Email Offers and Reminders – Use campaigns to encourage early renewal, promote upgrades, and ensure service continuity.
Focus on Auto-Renewal – Promote auto-renewal as a benefit, not a feature, and use integrated messaging across channels (email, in-app, customer portal) to increase effectiveness.
Use Incentives to Keep Customers on Auto-Renewal – Offering a discount at the point of interaction can keep up to 6.5% more customers on the plan, while increasing revenues by 4%.
Communicate Across Channels – Use email and integrated push messaging across multiple channels – in product, system tray pop-ups – to increase campaign effectiveness.
Make Disabling Auto-Renewal Easy – Make it easy for customers to disable auto-renewal – don't give them a poor experience and reason to churn.
Offer Grace Periods – Extend a grace period to ensure service continuity. Adding a few days to the subscription gives customers extra time to fix clerical issues and builds good will that can help recover defections.
Introduce Cancel Flows (with incentives to stay) – Making it easy to cancel builds good will that encourages customers to stay or come back later.
Track Pre-Cancel Events – Use tracking tools to capture pre-cancel events/actions and create a plan to proactively counter them.
Understand Cancellation Reasons – Use surveys to capture cancellation causes and follow up with corrective action plans and incentives to increase recovery.
Adapt Tactics to the User – Segment customers by risk/reward, cut your losses where appropriate, and focus on areas of greatest profitability.
Use Dunning for Unfinished Auto or Manual Renewals – Dunning emails can recover unfinished payments and increase conversions by an average of 5.1%
Make It Easy for Customers to Renew – Offer multiple ways to renew – automatically, via self-service, directly or through channels. Whatever you do, make all the options clear and help them choose the most convenient method.
6. Test and Optimize Your Renewal Process
When it comes to the renewal process, don't leave anything to chance. Testing can tell you if everything is working the way it should, and, if not, what you can do to fix it.
Here are some things you should be continually testing and optimizing:
Renewal notifications – templates, timelines, and prices
Emails and auto-renewal migration campaigns
Shopper support flows
Timing and responsiveness of customer feedback workflows
One of the software companies we work with was able to reduce voluntary churn and boost renewals with a combination of approaches, which included:
Modifying shopper support flows to grow customer retention by 50%
A/B testing on renewal notification elements such as templates, timelines and prices to decrease chargeback requests and refund rates.
7. Use Smart Payment Tools to Reduce Involuntary Churn
With more than one out of every six card transactions failing for one reason or another, implementing strategies to reduce and/or recover declined authorizations is one of the best investments any SaaS business can make.
Involuntary churn is split between two categories: hard and soft declines.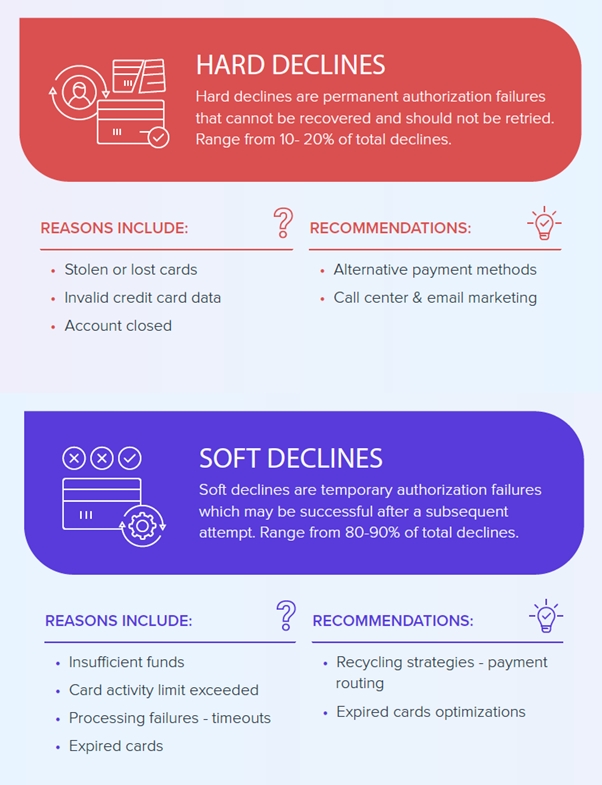 Smart payments contain tools to combat both hard and soft declines. Here are the ones proven most effective for our customers.
Multi-currency Management – offers access to local billing currencies. Increases authorization rates by up to 25%.
Intelligent Payment Routing – routes card transactions to the payment gateways best equipped to handle them. Between 2% and 5% authorization uplift globally.
Dynamic 3D Secure – Achieves a positive impact on authorization in specific countries and mitigates fraud risks.
Account Updater Service – Ensures billing continuity for active subscriptions. Increases retention by up to 40%.
Expired Card Handling – Increases authorization rates for expired cards by 4%.
Configurable Retry Logic – Recovers up to 20% of failed transactions due to soft declines.
Dunning Management – Recovers revenue even from hard declines.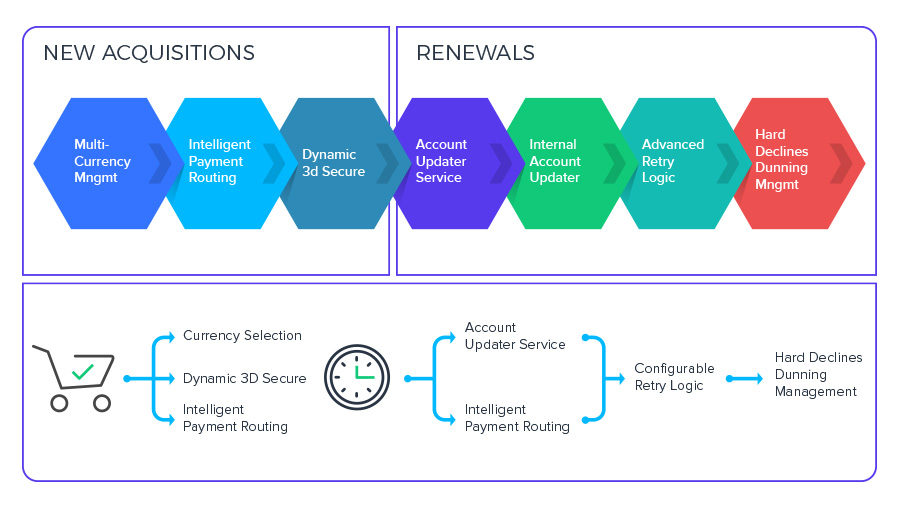 Want to learn more? Download our eBooks on Retention Strategies for Software & SaaS and Combating Subscription Churn with Commerce and Payment Tools.