Today marks the day of 2Checkout's Summer Release '20, an update which brings a multitude of new features and enhancements to the Avangate Monetization Platform. We've supercharged our platform's potential with rich add-ons and new capabilities to help you scale your online business and conquer global markets, as the pandemic continues to be considered a threat.
Our latest release aligns with the key needs of companies selling online to strategically adapt to the COVID-19 economy: launching new products and promotions; reducing subscriptions churn and experimenting with new pricing models like pay per usage; expanding quickly into new markets with new payment methods and local compliance built in; and optimizing conversions and marketing campaigns efficiencies.
Discover details on our newly released toolkit below and test our platform yourself, to see its potential in action.
Engage your Audiences with Brand-Centric Experiences
Take advantage of seamless purchase capabilities for B2C and B2B companies, with more cart customization features, custom pricing, special promotion options, and proposal management for assisted sales. Grow your conversion rate in different markets by accepting more payment methods, now also available in our API 6.0.
Be nimble, and continuously optimize your commerce experience
Convert More with New Checkout Layouts and Promotions Tools
Following multiple conversion optimization campaigns through A/B testing and analytics, we are rolling out a new default design for the latest ConvertPlus and Inline cart ordering engines. Also, we've added new marketing tools to increase sales such as advanced promotions and multi-language abandons recovery campaigns.
You can now create special price promotions and define the final order price your customers will pay, while considering any pricing options or volume discounts configured on the product. This helps you get pricing control and lets you quickly experiment with setting promotions for your loyal customers.
Create Custom Proposal Sending and Quote Management Capabilities for Your Sales Teams
Beyond the B2C ordering experiences we are constantly optimizing for companies selling through sales agents or partners, the platform now allows your team to create a proposal, send it for approval internally/externally, get feedback, edit the proposal, and repeat until the proposal is accepted by your end-client.
The proposal object is an API capability that holds proposal/quote information with custom product configuration, pricing, and discounts and generates an order based on that custom information. Proposal object supported capabilities catalog product usage as baseline starting points, product configuration like quantity, billing cycles, custom pricing, versioning, and buyer information.
Increase cart conversion rates with an enhanced localized experience
Boost Authorization Rates in Russia Through Additional Localized Payments
Acceptance of MIR, one of the most popular cards in Russia with 70 million cards having been issued by the end of 2019, is now available for processing by 2Checkout for Russian and Azerbaijan shoppers paying in Rubles.
Embed New Payment Options – AliPay, WebMoney, GiroPay – supported via API 6.0
To empower you to embed ordering options and fully personalize customer experiences, we have extended the list of payment methods we have available in our APIs (until now only supported via hosted carts):
Alipay is one of the most popular online payment providers in China, available also in more than 70 international markets.
WebMoney is an eWallet and payment method used by more than 40 million customers in multiple countries from Europe and Asia.
Giropay is Germany's official implementation for online banking that comes with secure payments and real-time transaction confirmation.

New and Improved Third-Party Connectors – Shopify, Magento, Prestashop
You can now use 2Checkout with your Shopify, soon also for Magento and Prestashop stores, through our new-and-improved integrations. An optimized design, more flexibility, additional payment methods, and faster loading time driven by our ConvertPlus, Inline Cart or 2Pay.js ordering flows will improve your shoppers' purchase experience and your conversion rates.  The new integrations are available for new accounts but also as an upgrade for the ones already using our current connectors.
Reduce Churn With our Enhanced Subscription Toolkit​
Churn is the one of the reasons that recurring-based businesses don't scale. Churn prevention tools used in combination with multiple billing strategies can increase your client lifetime value, and, therefore your ability to scale your business further.
Keep Churn to a Minimum
Controlling your churn rate is one of the most difficult challenges in the subscription world. The right tools, however, can offload a considerable part of the retention process, building a much more personal and relevant experience for your customers. In a market context where subscribers may be forced to re-evaluate their active contracts, now you can inspire flexibility with our new pause subscription and usage billing features.
Pause Subscriptions Available in Churn Prevention Campaigns and from Merchant Control Panel
Now you can offer your customers the option to pause subscriptions from the customer portal, without the need to write code to allow for that.
With this addition, we make sure that every merchant, no matter what integration method they have, can tackle voluntary churn head on.
You have access to Pause Subscriptions directly from your Merchant Control Panel.
Automate Recurring Billing – Managing Usage via API
Usage billing allows you to bill your customers based on how much of the product or service they use, after it is used. Usage can be billed standalone (without recurring charges), on top of recurring charges, or on top of usage already included in the plan (in which case it is known as overage). Usage billing is also referred to as metered billing, pay-per-use, and pay-as-you-go.
Gain/Ensure Global Compliance with Ever-Changing Regulations
2Checkout continues to simplify the complexity of selling worldwide for all size companies and reduce the risks of ever-changing local regulations, whether it's taxes, payments compliance, data privacy management, security, and/or performance.
We constantly upgrade platform controls for payments and money flows compliance (e.g renewed PCI Level 1 compliance; PSD2 Payment Institution licensing; new VISA mandate for subscriptions trials compliance; and Strong Customer Authentication readiness in EU), privacy and data protection (GDPR), performance and security but also for tax management optimizations.
Apply Tax Only When Necessary – Shopper Tax Exemption US
In the US there are various organizations and individuals that are exempt from sales tax. We have taken the first step to automate shopper tax review and we will gradually start applying tax exemptions for United States subscriptions.
Reduce the Complexity of Tax Determination – Tax Accuracy at Product Level
We have increased the accuracy of determining taxes for products being sold through 2Checkout. Merchants will be able to select new tax categories for their products and 2Checkout will calculate taxes based on the tax nexus and local regulations where the product is being sold. In addition, we allow products that are not taxable, e.g.: educational services in the United States.
Stay Compliant and Keep Data Safe – Performance, Data Integrity and Secure Hash Algorithm Updates
Updates to stay compliant with data integrity regulations covering merchant needs and system upgrades are costly and time-consuming. With 2Checkout, merchants don't have to worry about compliance, maintenance, software licensing, or technical support. For safer authentications and integrations, we encourage transition to Secure Hash Algorithm (SHA) which uses cryptographic hash functions for data encryption.
Updates and Improvements on Transactional Data Management
Searching for orders either from the Merchant Control Panel or via Instant Order Search Export (ISE) is now done using the Elasticsearch service. This translates to search results being returned faster and with increased accuracy, and it also decreases the response time for any potential order search discrepancies. This improvement will also allow the 2Checkout search capabilities to scale much more easily and to be more flexible for future functionality improvements.
Conclusion
To support online businesses during this challenging time and beyond 2Checkout has worked to enhance our all-in-one monetization platform with the capabilities you're looking for to adapt fast and to continue scaling your business for the accelerated digital economy. Discover the added potential brought by 2Checkout's Summer Release '20.
Curious to know more? Save your seat for our July 16 Release Webinar, to see our platform's new features in action.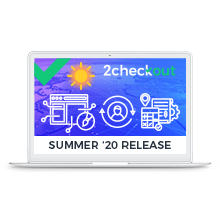 Or schedule a meeting today with one of our commerce experts to discover what capabilities our all-in-one platform could enrich your business with.