It's clear that today's consumers love subscriptions, particularly if they cater to their preferences, needs, and budgets. With this in mind, earlier this year we conducted a global survey of 400+ respondents in 50 countries to ask users what they want, from type of subscription and preferred payment options, to subscription motivators and favored pricing models.
Despite the turmoil caused by the COVID-19 pandemic and current market uncertainties, our survey results showed that 2020 is shaping up to be a good year for the subscription model. If you are a company that relies on subscription sales, you will most probably benefit from learning these findings and trend insights in order to curb churn and improve client retention going forward.
Let's take a look at what our respondents say is important to them, according to our survey.
Entertainment is a top priority for users in 2020
As the survey was conducted when so many of us were stuck at home during the pandemic, it is perhaps not surprising that streaming entertainment subscriptions (like Netflix and Spotify) were ranked in the highest demand, by 64% of respondents. Following that was the close contender of subscription-based software and cloud-based SaaS, with 49% of users surveying having bought at least one SaaS subscription in the last year.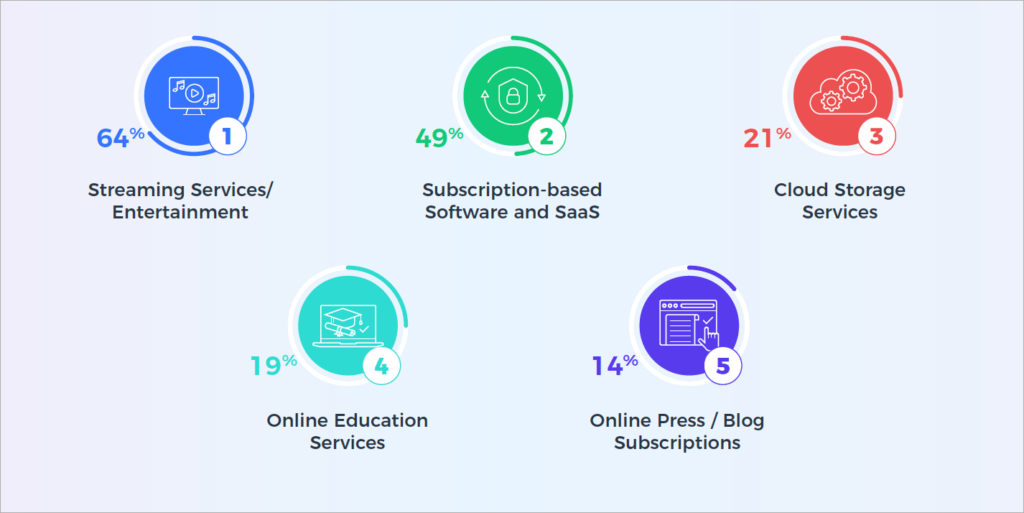 Coming in third in our survey were cloud storage services, which were purchased by 21% of respondents. Next was online education at 19%. Following these were online publications and blog subscriptions, which were purchased by only 14% of the respondents.
Shoppers are continuing to embrace the subscription model
While the subscription market still has plenty of room to grow, compared to past survey results we continue to see an uptick in users as well as merchants offering the model. Our 2020 survey showed that 45% of shoppers adopt one subscription per year, with 28% purchasing two to five new subscriptions annually, while 15%, on average, sign up for at least one new recurring service each month.
Shoppers prioritize flexibility
Flexibility is undeniably important to subscription shoppers. A whopping 79% of our respondents say they want to be able to cancel at any time. Choice of payment method is also critical to users; 73% want to use their preferred method.  Close behind, 70% would like a free trial before they commit, while 60% of respondents said they rely on reviews and seek out recommendations to inform their decision to subscribe. In total, a majority of more than 50% of our respondents considered all of the above factors critical when evaluating a new subscription.

Customers want a variety of payment options
Providing a range of payment options is still paramount to subscription success, although a large majority, 69% of the respondents, did say they favor paying by debit or credit card. Electronic wallets, mobile, or eWallets, were next in line of preference, with 46% of subscribers preferring to use PayPal or ApplePay for subscription purchases. Only 17% said they prefer direct debits or other local payment methods, and less than 3% favor cryptocurrencies.
Users favor easy renewal
Another interesting trend revealed by our survey is the increased appetite for automatic renewals. A little more than half of the respondents (54%) indicated a preference for automatic renewals, which may indicate a trend towards convenience over "control." This is also increasing, compared to previous survey results.
Most users opt for annual or monthly payments
While a near majority of 46% preferred annual payments, the rest were split preferring monthly billing at 34%, quarterly billing cycle at 9%, weekly billing at 6%, and just 5% requiring even more flexibility.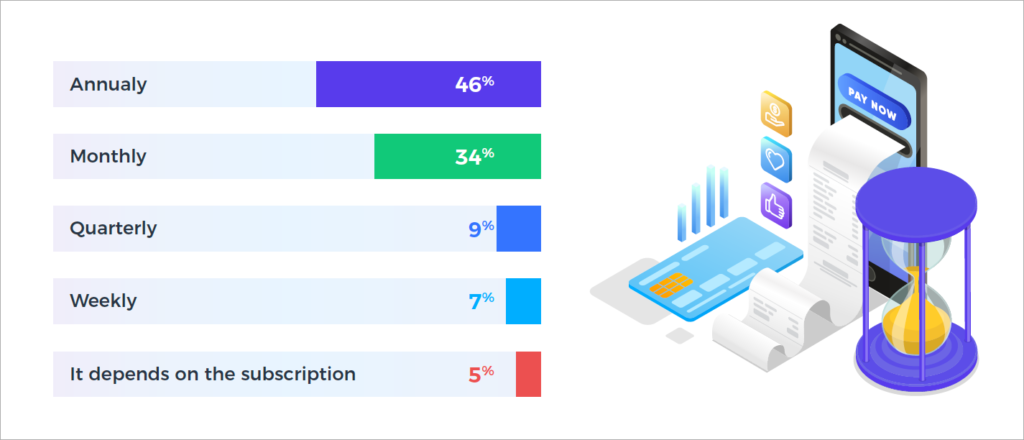 Desktop or smart phone are devices most often used for making the actual purchase
The majority of our respondents—66%–reported they purchased subscriptions on their desktop or laptop computer. The next most popular device was the mobile phone, used by 48% of customers who responded. The remaining 8% chose to place subscription orders on their tablets.
Cost and efficiency are top priorities
While 46% of shoppers mentioned they chose a particular subscription to save money, efficiency in time, usage, and convenience were also popular factors with 28% of respondents.
On the opposite end, 23% of respondents report being captive subscribers, as they have no alternative to the subscription model and thus they opt for it by default.
Shoppers favor simple pricing
Buyers want us to keep things simple, the survey revealed. The great majority of subscribers—65%—were in favor of a flat-rate model, supporting the notion that subscribers favor predictability. Only 17% preferred to pay-per-use (or metered billing), and 14% wanted to be billed for only the features they use. A combination of models, depending on the subscription, was preferred by 18% of our respondents.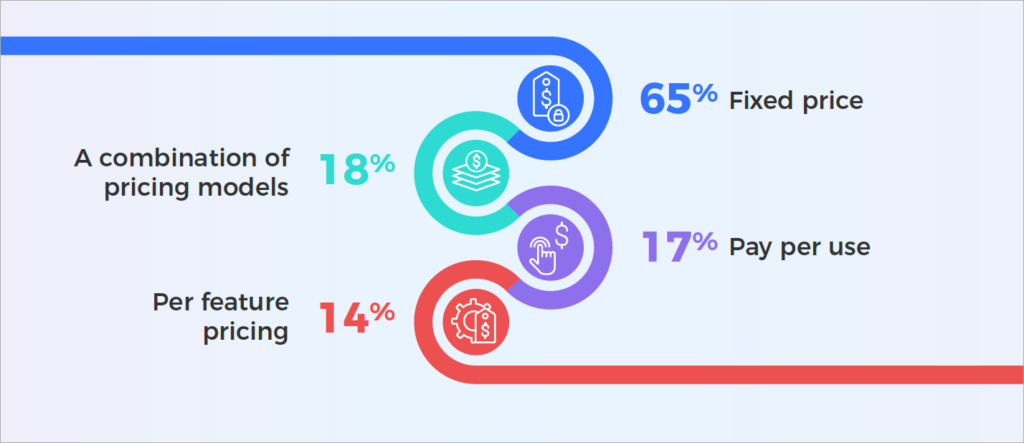 Why do users cancel?
Additional or "surprise" charges were identified by 72% of respondents as the number one reason for cancellation. As a merchant, you need to be transparent and keep communicating with your clients to avoid such… "surprises". A large number of those surveyed –63%–said they cancelled because they didn't use the subscription as much as they thought they would. Half of the respondents reported that their cancellation was due to a poor customer service experience; finally, 60% just felt they couldn't afford it any more.
Conclusion
Despite the turmoil caused by the COVID-19 pandemic, consumers still gravitate to subscriptions, especially when they are in line with what they want, need, and can afford. It's clear from this recent survey that while a lot of what we offer is working well for customers, subscription businesses need to continue to assess what has worked in the past and what trends and behaviors are going to demand changes in subscription strategies in the future.
For more insights and ideas on what you may need to focus on in the coming year, check out our infographic on 2Checkout's 2020 Survey – Subscription Usage Patterns Worldwide.