If you're an entrepreneur nurturing your own company to a full-blown success, you are always looking for insights and ideas to take your business to the next level, right?
But you're probably super busy as well, and don't always have the time to figure out where you should be looking for those insights.
To help SaaS and subscription business owners and enthusiasts find helpful voices to learn from, we've come up with a list of influencers and experts to follow on social media, blogs and so on.
Here are the 25 SaaS and subscription top guns (in alphabetical order) we're following right now.
1. Aaron Levie
Aaron Winsor Levie is an American entrepreneur and the founder and CEO of cloud company Box. He founded the company in 2005 and since then has become one of the most entertaining personalities on the tech startup scene. On social media he also shares some of his considerable experience with building a successful SaaS company from scratch, so make sure you follow him.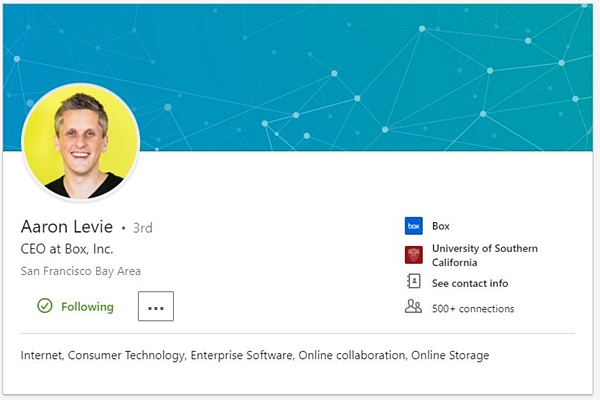 Follow him on: Twitter | LinkedIn
2. Brad Feld
Brad Feld is a managing director at Foundry Group. He lives in Boulder, Colorado, and he invests in software and Internet companies around the US. Prior to co-founding Foundry Group, he co-founded Mobius Venture Capital and, prior to that, founded Intensity Ventures. Follow him for his insights into funding technology startups and more.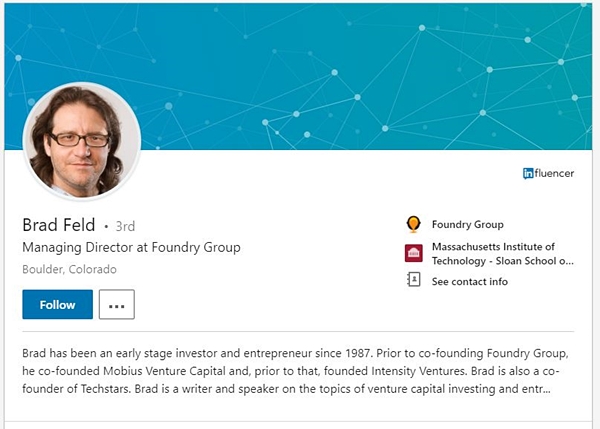 Follow him on: Twitter | LinkedIn
3. Christoph Janz
Christoph is a Partner at Point Nine Capital, a venture capital firm that's highly prevalent in the world of SaaS. Previously he was an Internet entrepreneur and angel investor. His investments include Zendesk, FreeAgent, Geckoboard, Algolia, Typeform, Contentful, and other SaaS startups. He also has a blog about SaaS and early-stage investing, so have a look at it.
Follow him on: Twitter | LinkedIn | Blog
4. Claire Suellentrop
Claire helps B2B software companies achieve sustainable growth. She was the Director of Marketing at Calendly, and she has co-founded two companies: Forget The Funnel (focused on SaaS marketing training) and Userlist.io (a behaviour-based email marketing automation tool for SaaS companies).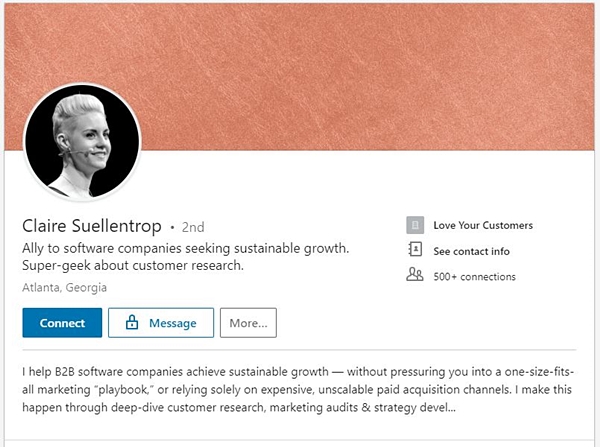 Follow her on: Twitter | LinkedIn | Blog
5. Dan Martell
Dan Martell is the co-founder of Clarity, a marketplace that connects entrepreneurs to help them find great business advice. He's a world-renowned coach that works with high performing SaaS companies. In 2012, he was named Canada's top angel investor, with over 33 investments with companies like Udemy, Intercom, GetAround, and Unbounce.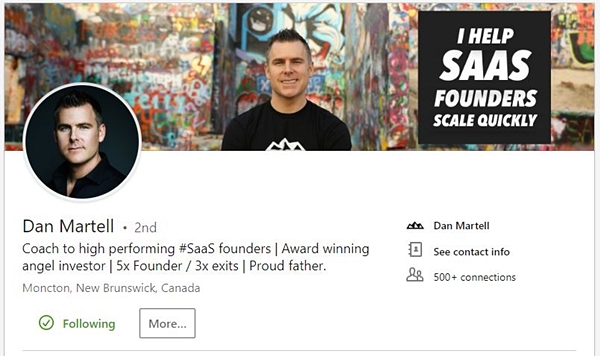 Follow him on: Twitter | LinkedIn | Website
6. Danielle Morrill
Danielle was the co-founder and chief executive officer of Mattermark, a data platform for venture capital companies to quantify signals of growing and potentially lucrative startups. Danielle loves helping customers dig into the data that helps them make better business decisions.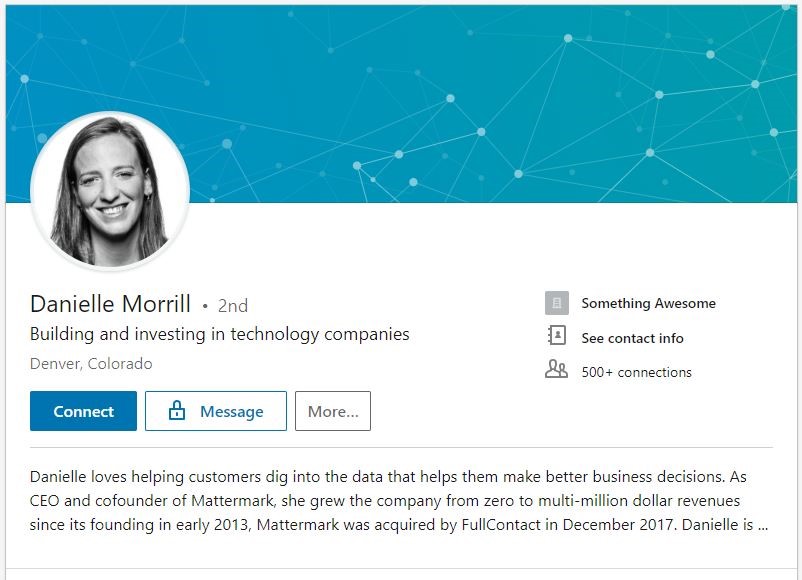 Follow him on: Twitter | LinkedIn | Blog
7. David Cancel
David Cancel is the CEO & Founder of Drift, the leading conversation-driven sales & marketing platform. Before that, he was Chief Product Officer at HubSpot and founded Performable, Ghostery, Lookery and Compete. Earlier this year, Drip added him to its Board of Directors.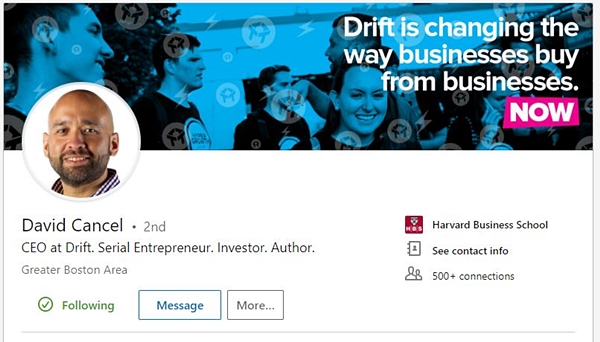 Follow him on: Twitter | LinkedIn
8. David Skok
He started his first company a few months after leaving university, at the age of 21, and over the next 25 years founded a total of four companies (Skok Systems, Corporate Software Europe, Watermark Software, and SilverStream Software). He became a venture capital partner at Matrix Partners. In addition to his broad focus on enterprise software, David's experience encompasses SaaS, cloud, mobility, Open Source, and marketing automation and more.
Follow him on: Twitter | LinkedIn
9. Des Traynor
Des Traynor is the co-founder of Intercom, a customer messaging platform designed to help businesses acquire, engage and retain customers. He previously co-founded Exceptional (now a part of Rackspace) as well as Contrast, a software design agency.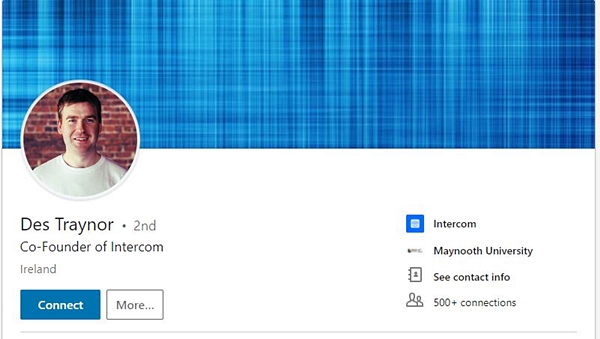 Follow him on: Twitter | LinkedIn | Blog
10. Dharmesh Shah
Dharmesh Shah is co-founder and CTO of HubSpot. Prior to founding HubSpot in 2006, Dharmesh was founder and CEO of Pyramid Digital Solutions. He is an active member of the Boston area entrepreneurial community, an angel investor in over 40 startups, and a frequent speaker on the topic of startups and inbound marketing. Those should be reasons enough for you to follow his insights.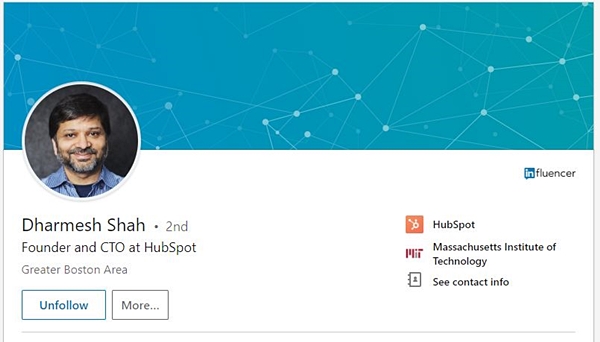 Follow him on: Twitter | LinkedIn | Blog
11. Georgiana Laudi
Georgiana helps growth stage SaaS, ecommerce and marketplace companies achieve their business goals, scale their marketing, invest in their team, and drive serious business results. She's the former VP of Marketing at Unbounce, and now a strategic advisor at her company A Better CX.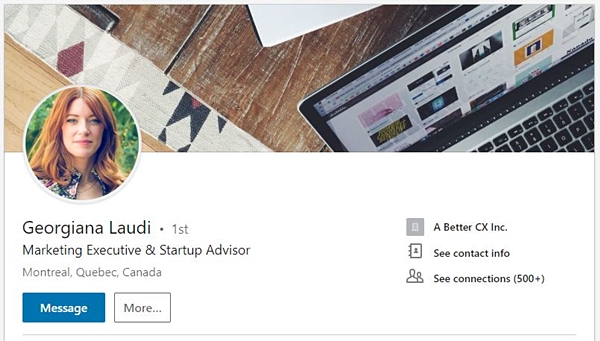 Follow her on: Twitter | LinkedIn | Website
12. Hiten Shah
Hiten has started three SaaS companies: Crazy Egg, KISSmetrics and Quick Sprout. Hiten is currently working on Product Habits, as well as his latest startup FYI. He's also helped coin the concept of "Growth Hacker", together with Sean Ellis and Patrick Vlaskovits.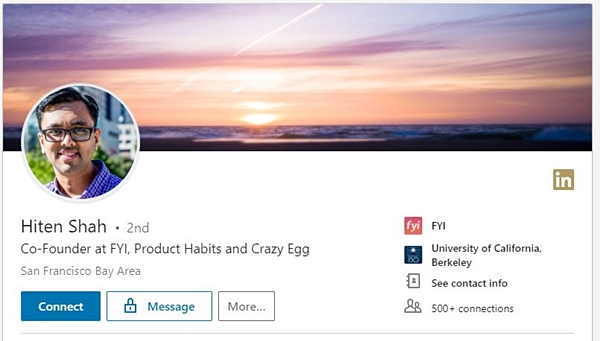 Follow him on: Twitter | LinkedIn | Blog
13. Jason Lemkin
Jason M. Lemkin is a 2x founder, 1x VC, and constant SaaS enthusiast. He's led or sourced the first VC investments in many leading enterprise/SaaS start-ups, such as Guidespark, Greenhouse.io, Pipedrive, Algolia, Talkdesk, Parklet.co and many more.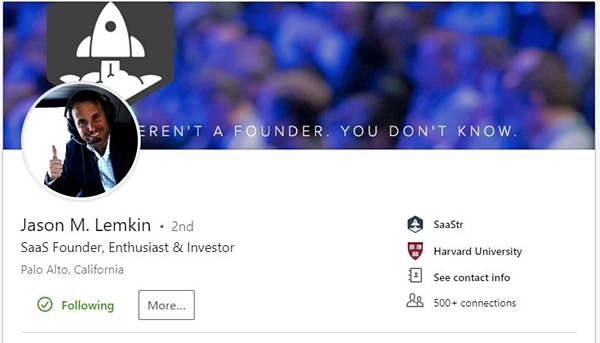 Follow him on: Twitter | LinkedIn
14. Kevin Hurley
Kevin is a second-time founder with a focus on B2B sales and marketing for high-growth SaaS, technology and service-based organizations. Currently helping innovative sales and marketing teams scale growth.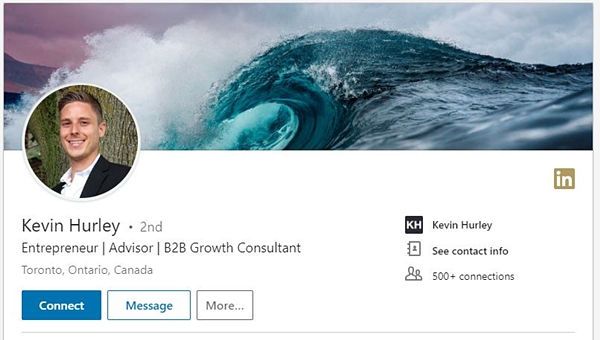 Follow him on: Twitter | LinkedIn | Website
15. Lincoln Murphy
Lincoln has spent years helping to grow over 300 subscription economy businesses; mostly SaaS and enterprise software vendors migrating to SaaS. He is one of the world's leading customer success experts and one of the authors of "Customer Success: How Innovative Companies Are Reducing Churn and Growing Recurring Revenue".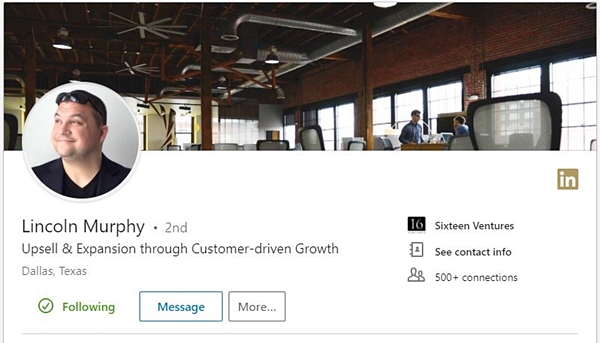 Follow him on: Twitter | LinkedIn | Blog
16. Marc Benioff
Marc Benioff is Chairman, co-Chief Executive Officer and Founder of Salesforce and a pioneer of cloud computing. Before Salesforce, he spent 13 years at database software giant Oracle. He's also an angel investor in dozens of tech startups and a prolific philanthropist.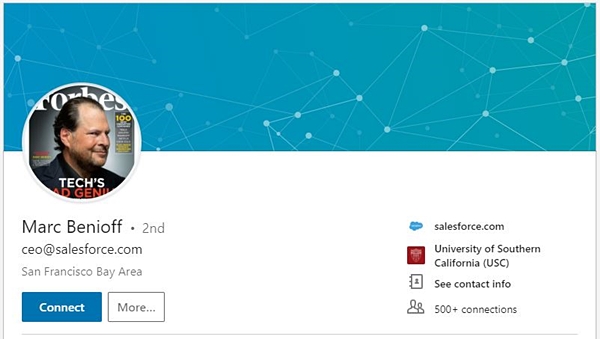 Follow him on: Twitter | LinkedIn
17. Neil Patel
Neil Patel doesn't really need much of an introduction. He is the co-founder of Crazy Egg, Kissmetrics and Quicksprout. He also works closely with companies like Amazon, NBC, GM, HP and Viacom to grow their revenue. Neil is a New York Times best-selling author and a digital marketing expert.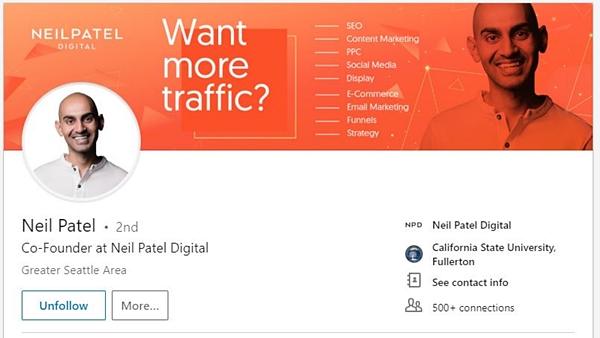 Follow him on: Twitter | LinkedIn | Website
18. Nichole Elizabeth DeMeré
Nichole is a B2C & B2B SaaS Consultant and Growth Marketer. She has worked at Product Hunt, Zest.is, Inbound.org, GrowthHackers.com, and worked with SaaS startups such as Segment, Appcues, Autopilot, Drift, Wootric, InVision, HubSpot, Moz, and more. Her specialty is quickly diagnosing strengths and weaknesses in SaaS companies and strategizing ways to improve customer retention and strengthen brands.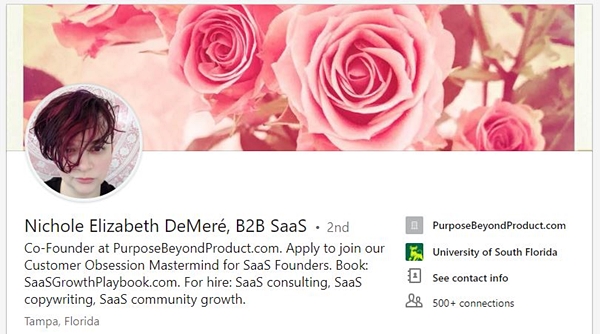 Follow her on: Twitter | LinkedIn | Website
19. Noah Kagan
Noah is the 'Chief Sumo' at Sumo, AppSumo, and KingSumo. Before that, he was an employee at Facebook, at Mint, and worked at Intel.  Noah advises founders and decision-makers on business issues. He also shares insights and strategies on eCommerce and marketing growth.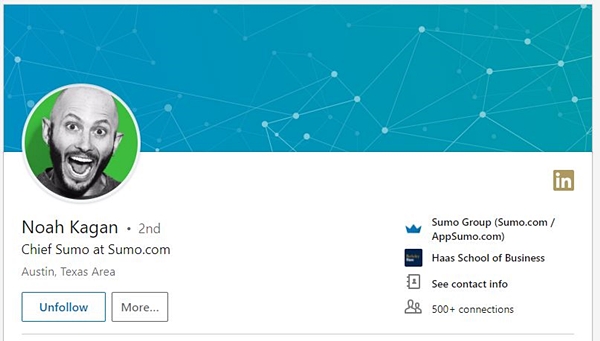 Follow him on: Twitter | LinkedIn | Blog
20. Patrick Campbell
Patrick Campbell is the Co-Founder & CEO of Price Intelligently. Price Intelligently is a Boston based startup that helps SaaS businesses to come up with the right pricing strategy. Prior to ProfitWell Patrick led Strategic Initiatives for Boston based Gemvara and was an Economist at Google and the US Intelligence community.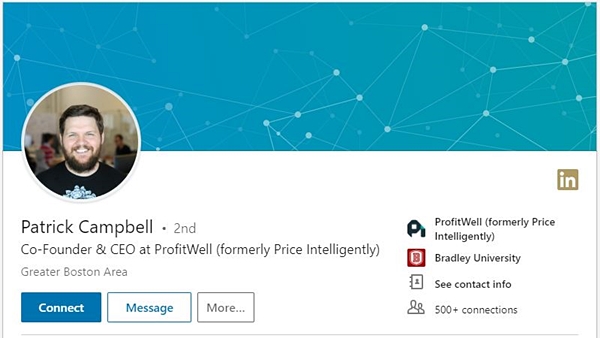 Follow him on: Twitter | LinkedIn
21. Phil Wainewright
Phil Wainewright is a recognized authority on cloud computing, As a blogger, analyst, speaker, and consultant, he specializes in on-demand services – SaaS, PaaS and cloud. He's the Co-founder of diginomica, and writes about how enterprises are using digital technologies to achieve breakthrough business outcomes.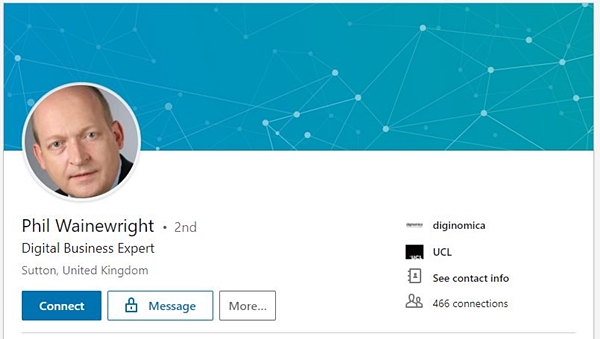 Follow him on: Twitter | LinkedIn
22. Pierre Lechelle
Pierre Lechelle is an entrepreneur,  consultant, and SaaS marketing expert. He helps SaaS businesses to generate more revenue through customer acquisition & retention, using marketing & Growth Hacking.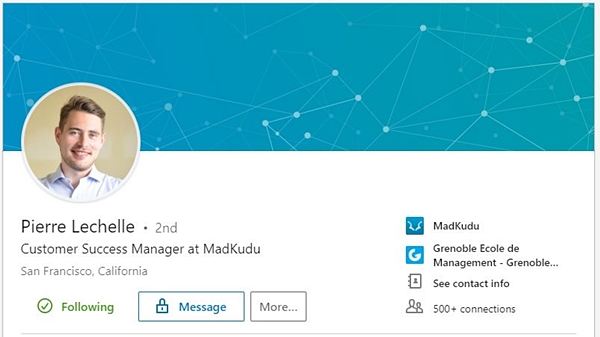 Follow him on: Twitter | LinkedIn | Website
23. Promise Phelon
Promise was the CEO of TapInfluence, the industry's main influencer marketing automation platform. Her expertise includes SaaS growth, raising institutional capital, product innovation, and building loyal teams that drive market transformation.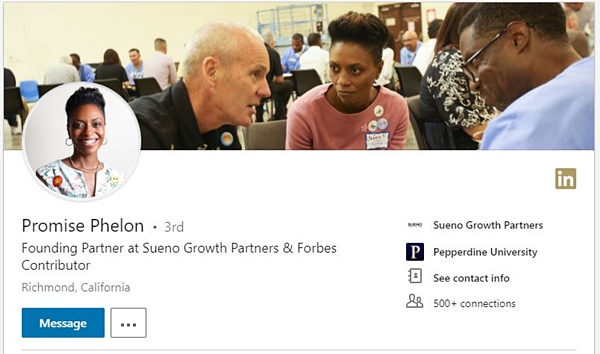 Follow her on: Twitter | LinkedIn
24. Robert Skrob
Robert Skrob is recognized as one of the best member retention specialists out there. He has helped hundreds of membership programs launch and then grow from start-ups to some of the largest membership and subscription companies in the world.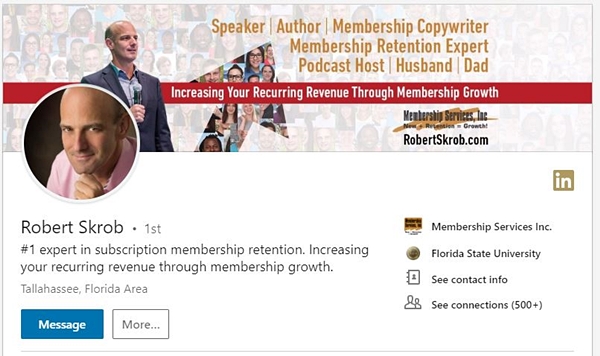 Follow him on: Twitter | LinkedIn | Website
25. Stewart Butterfield
Stewart Butterfield is an entrepreneur and businessman, best known for being a co-founder of the photo sharing website Flickr and team messaging application Slack. In his two decades working on the web, Stewart has been listed on Time Magazine's 100 Most Influential People in the World and BusinessWeek's Top 50 Leaders.
Follow him on: Twitter | LinkedIn
26. Tomasz Tunguz
Tomasz Tunguz is a venture capitalist at Redpoint Ventures. Before joining Redpoint, Tomasz was the product manager for Google's AdSense social-media products and AdSense internationalization. Tomasz has a great blog that helps SaaS founders grow their companies.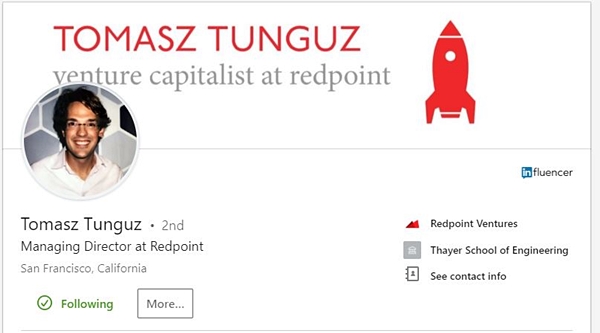 Follow him on: Twitter | LinkedIn | Blog
27. Trevor Hatfield
Trevor Hatfield is the founder of Inturact, an integrated SaaS Marketing Agency. He's a terrific a SaaS consultant and he works with niche SaaS experts to drive growth through customer-centric strategies.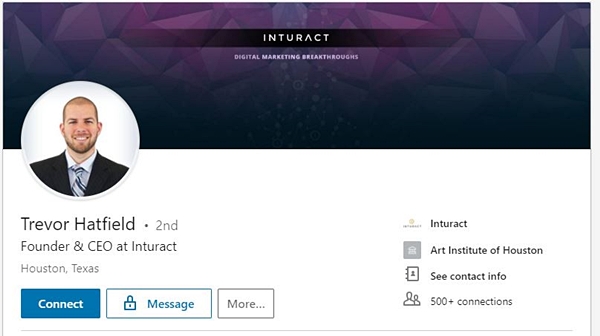 Follow him on: Twitter | LinkedIn
Which experts and mentors are you following? Let us know in the comments below!