The 2Checkout all-in-one monetization platform is the choice solution for merchants looking to increase digital sales across channels and geographies, with a modular setup that gives you access to all capabilities that your business needs to scale.
You can choose to work with the full stack – eCommerce, payments, subscription billing, partner management and additional services (in various flexible combinations) – or you can choose to leverage just the payments piece – and integrate via your existing commerce platform.
To facilitate this last option, we partner with over 120 online shopping carts, so you can offer a full digital commerce experience regardless of the technology behind. You can seamlessly integrate 2Checkout with any of the world leading online carts – whether we're talking WooCommerce, Shopify, Magento, 3D cart, Prestashop – in order to accept payments globally.
To this end, I recently conducted an immersive workshop, "2Checkout's Updated Shopify Configuration," to provide a deep dive into our recently updated integration.
Shopify is a popular eCommerce platform that allows a merchant to set up an online store to sell its products, including physical and digital products as well as services. Shopify is one of the 120 eCommerce platforms that 2Checkout partners with, and this latest configuration introduces the Shopify connector built on top of ConvertPlus, our newest ordering engine.
This update gives shoppers an even more straightforward and seamless checkout experience, ultimately leading to improved conversions (and, correspondingly, higher revenues). 2Checkout customers already using our previous Shopify integration can now transition to this new integration in no time, with just a simple configuration.
Why the change from the Legacy-hosted cart? As always, one of our ultimate goals is to improve conversion rates. With our recent ConvertPlus interface updates and adjustments, we found that conversion rates were improved significantly, leading to the decision to update the Shopify integration to use ConvertPlus ordering engine.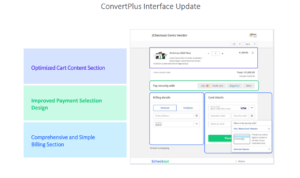 The new Shopify ConvertPlus configuration brings multiple improvements, including a fresh UI, the ability to accept multiple currencies, in 30+ languages, with expanded payments options, while still providing, fraud and risk management, 3-D Secure, and PCI compliance.
In keeping with the educational goal of the event, our session included comprehensive live demos to show Shopify clients what they can expect, firsthand, including the following steps:
Install the new ConvertPlus converter: You can find the download link and complete instructions on how to install the new connector in our Knowledge Center article: "Integrate Shopify with 2Checkout ConvertPlus."
Configure and test the connector: You will need your merchant code and secret word to access the integration, which you can recall from your 2Checkout merchant Control Panel, as well as other important details. Watch the session for a full walk-through on how to accomplish this.
See what your customers will experience: You may go into your online store and see what your shoppers will experience. During the live session we placed a test order with a "dummy" store and product to illustrate the checkout flow, pointing out that the shopper is returned to your website after the payment is complete, the order will show up in the merchant portal, and follow-up emails will be sent to both shopper and merchant.
Enable it to accept payments: Once you disable test mode, your new ConvertPlus powered checkout should be active and available for your shoppers.
Tips and tricks: Towards the end of our workshop we looked at some straightforward ways that merchants can use to create their own customizations in the new checkout, like company logo via their merchant Control Panel.
View the entire workshop and see first-hand how to configure our updated Shopify connector here.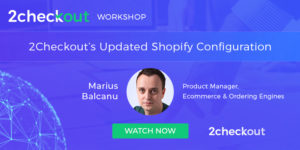 For more information about how 2Checkout can improve your conversions with the new Shopify/ConvertPlus integration and other features, start a free demo today.