Mobile commerce, or mCommerce, requires traditional online commerce strategies to evolve to accommodate consumer preferences necessitated by new generation, always-on mobile devices. In order to keep up with rapidly changing consumer demands, companies must closely track sales trends in mobile devices and plan their offerings accordingly.
Worldwide mobile device sales to consumers are on track to reach 2 billion units in the near future, having already surpassed 1.77 billion in 2011, according to Gartner. Smartphones and tablets are becoming more like full-fledged computers regardless of whether the devices are built by Apple, Samsung, HTC, RIM, Nokia, LG, HTC, Motorola, Huawei, or other top hardware manufacturers. The overwhelming number of new mobile devices flooding the market has revolutionized the way consumers interact with technology and the web. As a result, these next-generation form factors are also impacting ecommerce online in a big way—and anyone selling products online needs to adjust accordingly.
Top Players in the Tablet Market
Gartner predicts that 119 million tablets will be sold by the end of 2012, marking 98% growth in the tablet market compared with the 60 million units shipped worldwide in 2011. Based on Gartner's analysis, here's a quick rundown of how the top tablet sellers are expected to fare over the next four years:
Apple's iPad was the bestselling tablet in 2011, and its supremacy in sales is not likely to be challenged for a few years.
Tablet manufacturers using Google's Android operating system are expected to ship the second highest volume of tablets (after Apple).
Microsoft, a latecomer on the modern tablet market, is currently preparing to finish and launch the Windows 8 computer and mobile operating system, along with its own Surface tablet. Though it registered no tablet sales in 2011, the PC giant has the potential to rapidly become the third most important player on the tablet market.
Gartner is projecting the number of tablets shipped worldwide in 2016 to more than triple the amount of sales expected for 2012, reaching almost 370 million units.
Actual and projected tablet sales worldwide, by operating system (thousands of units)

iOS (Apple)

Android (Google)

Windows

2011

39,998

17,292

0

2012

72,988

37,878

4,863

2016

169,652

137,657

43,648
Source: Gartner (Press release, April 2012)
Core Takeaways from Tablet Sales Trends
Mobile optimization efforts should target the iOS and Android platforms first.
Companies should start planning for Windows 8 optimization sometime in the next two years.
Symbian and RIM operating systems can be largely ignored despite their current positioning, as their currently dwindling market shares are expected to continue eroding.
Optimizing for Bada (Samsung) is only necessary when targeting a specific consumer segment that uses the platform.
Smartphones vs. Tablets
While tablet and mobile sales are still a fraction of total sales, more than twice as many consumers order products online with tablets than with smartphones, as the July 2012 Forrester Research, Inc. report by Sucharita Mulpuru reveals in "THE STATE OF RETAILING ONLINE 2012: MOBILE AND TABLET COMMERCE".
Most probably the larger screens available on tablets are "responsible" for their superior sales conversion rates compared with smartphones. Because tablets offer more screen real estate, consumers can use tablets more like traditional computers and enjoy a more standard website experience, rather than browsing mobile optimized sites that may feature fewer purchasing options and smaller images. The incumbent success of tablets as an mCommerce channel (also reflected by a higher average order value) suggests a future need for companies to take tablet website design seriously, and not treat tablets simply as an offshoot of either desktop or mobile.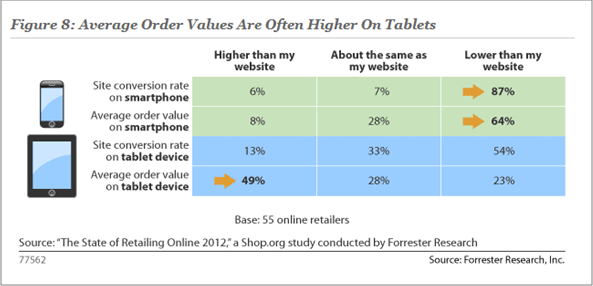 What's next? With this overview of the tablet & smartphone market in mind, in future blogposts we'll explore more mobile commerce trends: we'll tap into consumer concerns and see that, despite all the barriers, mobile payment are in fact paying off and we'll also look at some best practices to boost mobile sales. Stay tuned!