SaaS businesses face some of the fiercest competition around. As such, it's important to win the loyalty of customers and find ways to make your software stand-out from the rest. It's not just about determining the right price for your subscription or SaaS offering and the product capabilities, it is also about how you get users to see what your offer is about.
As a result, in terms of SaaS pricing models, many providers are adopting a "freemium" model to entice new customers to their platforms. Others, free trials.
In this article, we'll focus on freemium pricing. The gamble here — and the question on many SaaS marketers' minds—is whether they can actually convert those users from the freemium option to the premium option.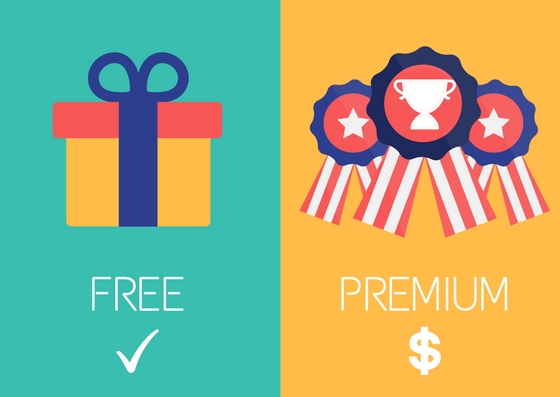 A freemium model offers a limited feature set for free, without a time limit. This is a popular way to engage new customers and prove your value. The product is later offered as a premium subscription with more features and functions, or for increased usage. Although giving away a product free of charge, with no strings attached, may not seem like a way to run a business, with the right freemium strategy, it can be a win/win proposition. The benefits are obvious not only for the user but for you, the business presenting the offer, as well:
Offering free sign-ups attracts a wider user base while reducing advertising spend and the need for a large sales team.
Subscription candidates respond to freemium models more readily than they would to 30-day free trials, since they often dislike (cumbersome) cancellation processes or – at least in the beginning – they don't feel they need all the bells & whistles.
Offering additional incentives to users who like or recommend a business on social channels can result in that company reaching additional prospects with little marketing effort.
Bonus: Want to make a successful transition to Subscriptions or SaaS? Check out this Free Whitepaper.
However, it's important that this potent marketing tool is also a balancing act. To avoid stalling out at the freebie stage, consider the following:
Give a Taste of the Product & Choose the Freemium Limits Carefully
If your service offers many useful features, limit the free subscription to just a few, keeping the freemium offerings functional, yet basic.
For instance, GoToMeeting, a web conferencing tool, includes only three basic features in their free plan, building them up as the monthly price grows.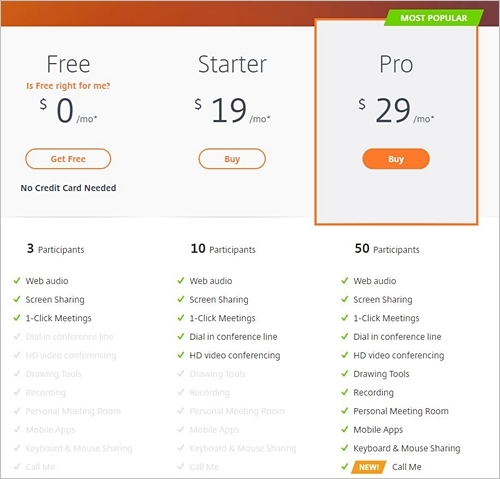 Play with Usage and Make Customers Want More
While the purpose of a freemium model is to attract new users, you don't want customers to get complacent with what they are receiving. Encourage usage and offer that premium package at more intensive usage – whether seats, actions or outcomes.
For example, if your offering can adapt to it, limit monthly usage, much as the New York Times does. In an effort to replace the revenue no longer coming in from paper subscriptions, the Times offers free reading but limits it to ten articles per month. The Harvard Business Review follows an even more stringent policy. It offers two free articles. Period!

Another example is Zendesk, a customer service platform, which comes with a limit of 1 agent & 1 concurrent chat to their freemium version called "Lite". Now, if you choose to upgrade to the Basic plan, you get everything Lite has plus unlimited chats and the possibility of having more agents to help you work on your customer inquiries. And one could always use more hands on deck!
Of course, be clear about the difference between freemium and premium at the outset. Make sure customers know from the start what they'll be getting and what they won't, but don't muddy your marketing with elaborate descriptions of each level. Confused users won't upgrade unless they understand the benefits of doing so.
Give Freemium but Ask for Something in Return
I mentioned this in the beginning of the article, use freemium as a marketing force. Offer additional incentives to users who bring you more referrals that boost your customer base.
Take Dropbox, for instance. Users know that they can get additional storage space for free, in return for some actions. Alternatively, if they run out of space, they'll need to pay a monthly fee.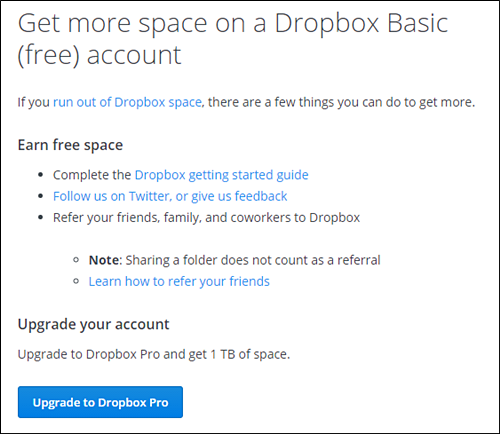 Dropbox knows very well that, initially, most users will be fine with the free storage, as long as they are only storing basic documents. But as they continue to use the service and backup more data-intensive media and photos (as many of their 200 million users do), they'll need more space – and that comes at a price.
Make Upgrading Easy
Now it's time for some freemium model statistics – using the scenario that 1 percent of customers upgrade to a paid subscription, each paying customer will be supporting 100 free users. So, it's easy to see why conversions of freemium to premium are important.
One way to increase that conversion is to make upgrading easy. Constantly take a look at the upgrading process and see what you can optimize: steps, messaging and/or design.
If you thought looks don't matter so much, here's an example from 123FormBuilder, a SaaS provider of Web forms and surveys, who managed to increase revenue by 18% by improving the design of their Upgrade Page.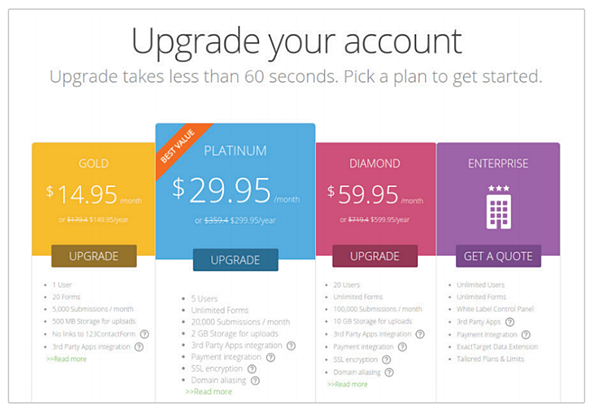 Control: Initial 123FormBuilder Upgrade Page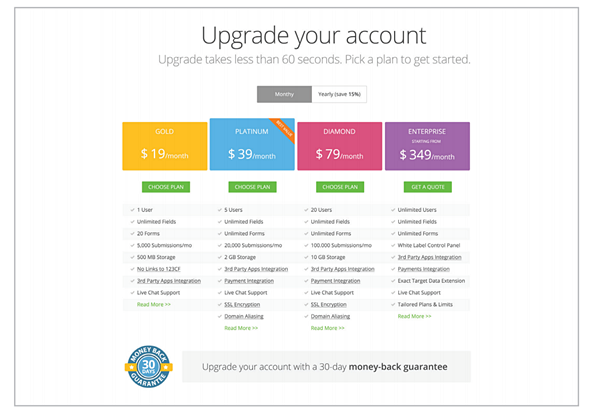 Variation: New, cleaner design of the 123FormBuilder Upgrade page where packages are easier to compare.
Occasionally Offer Discounts for Upgrading to Premium
Another tip would be to offer a discount on your paid plans to grab the attention of those customers who may be thinking about switching. If you add a deadline on the offer and create a sense of urgency, those customers may rush to sign up to take advantage of the reduced price.
For instance, 123FormBulder offers a discount on all their paid plans. This is a great way to win new customers and also generate buzz about their product.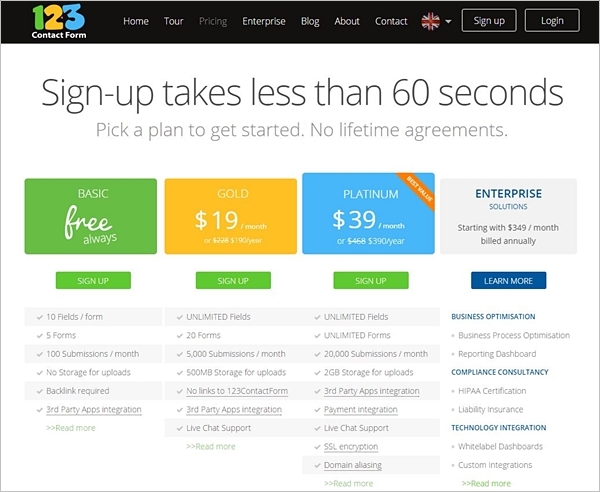 Give Users a Taste of the Premium and See What They're Missing Out
Another tactic to boost freemium to premium conversions is to simply turn on the premium package, for a limited time.
Todoist, a SaaS product that links to and assigns to-do lists from Gmail, has a freemium business model that shows results. More than one user who downloads the free version with an eye on boosting productivity has been disappointed to find out that the ability to create notes in these lists is only available to paid subscribers.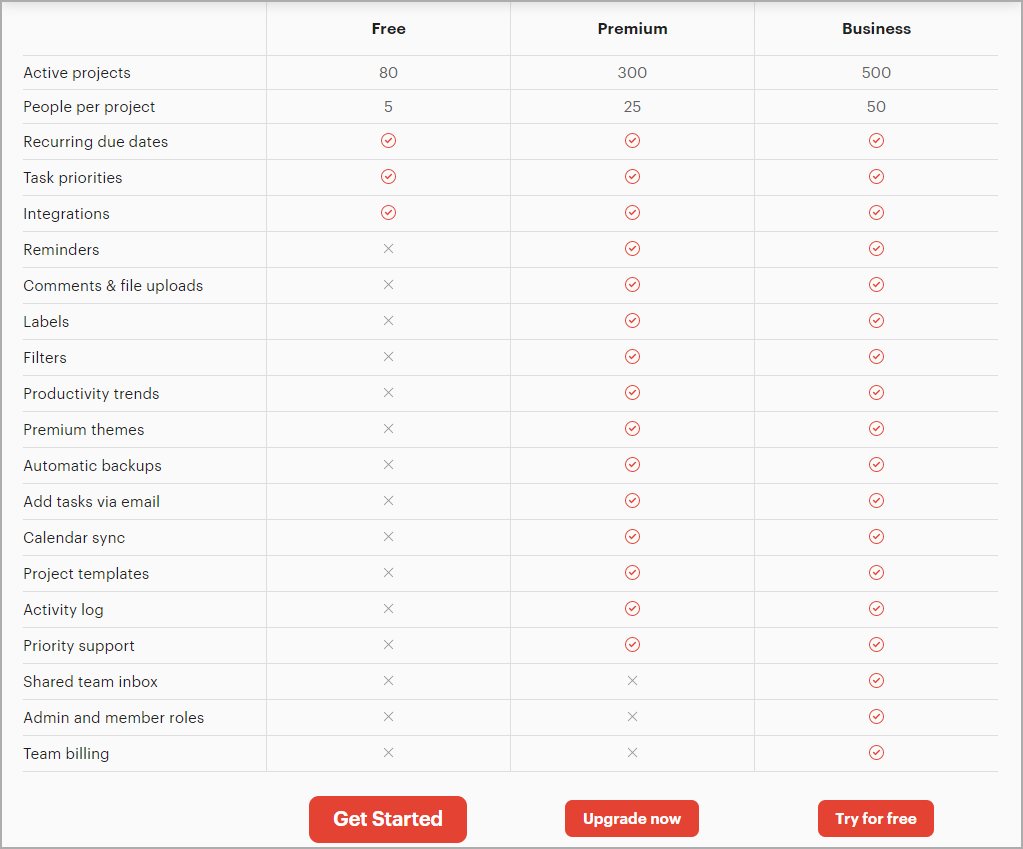 Confident that users, if given a taste of the premium service, would be willing to pay for it, Todoist gives freemium users a week at the basic level, then sends them a note informing them that they have been upgraded to the premium level—for a month. And as the author of an article appearing in ZDnet testifies, for some users, it's an offer too good to refuse.
Todoist also includes an alternative level of service, a practice other SaaS vendors might want to contemplate. They offer a business-class plan, in addition to free and premium plans, that provides additional revenue and scalable income.
Is There an Ideal Freemium Model or Strategy?
While there is a wide array of SaaS models being used by businesses today, the goal should be to come up with one that hits the sweet spot, balancing value with price. With a freemium approach, it's important to focus your strategy on freemium to premium conversions, creating a freemium product that is interesting and useful enough to entice users but that leaves them wanting more.