Hi sellers!
This month, we bring you valuable insights into the hottest trends in the industry, such as how personalization and UX optimization could prove to make or break strategies this year. Plus, 51 experts give their product marketing strategy tips.
Speaking of experts, we have a few of our own joining us on 13-14 June at #CommerceNow to share top tips with you and other attendees. It's the Ecommerce event of the summer and we've already announced the full agenda.

Let's get started!
The General Data Protection Regulation (GDPR) came into effect on May 25th. Here's an overview of how we got ourselves ready while providing you with the key principles of GDPR and our recommendations to ensure you continually meet your GDPR obligations moving forward.
Following a strong close to 2017, many were left wondering "what next?" for the Ecommerce industry. Trends suggest that it's set for even more growth this year. This article provides several exciting predictions of what's to come for Ecommerce in 2018. Read on for more!
AI has already emerged as an essential solution for many large companies, but what about smaller businesses? Will they lose out if they refuse to adapt? Find out what AI industry experts say about when adoption of this technology will reach a critical mass, and what small business owners need to know!
The number of people shopping online continues to rise. This is undoubtedly great news for Ecommerce merchants. However, sharks lurk within these waters and a lack of protection could spell disaster. For some staggering statistics on fraud in Ecommerce and tips on how to prevent it, read more!
It can be challenging to keep up with the latest commerce trends. So we asked a team of industry experts about the eCommerce trends that will matter most in the near future and collected them in this eBook. Make sure to get a copy.
Learn all about the dos and don'ts of Personalization and how utilizing it can help you grow both your conversion rates and your customer lifetime value. Your website, your emails and – most importantly – your ROI can be improved by adopting these tried and tested strategies.
Have you ever wondered which common mistakes can totally kill your customer experience? And which UX sins can condemn you to Ecommerce purgatory? Well, this in-depth look covers the entire customer journey, from discovery to the post-sale experience, and how you can WOW your shoppers every step of the way. Learn more now!
Packed full of tips to keep your marketing wits sharp in 2018, this article brings together a literal boatload of leading industry experts to offer the very best product marketing strategies available in today's Ecommerce landscape. Find out what they say!
Customer acquisition gets a lot of attention, but customer retention can be the key to building your business. When the sales funnel ends, your opportunity to really engage with a customer is just beginning.
Watch now this webinar with HubSpot's executive strategist Sam Mallikarjunan, to get acquainted with how customer success improves acquisition, discover techniques for optimizing customer retention and much more.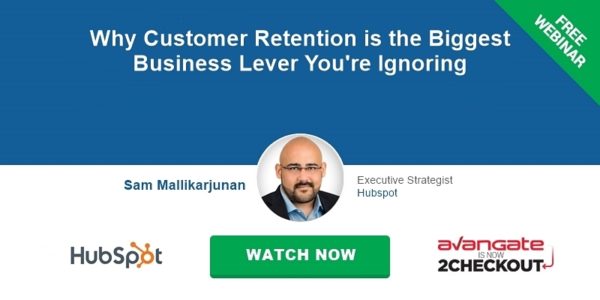 Are you selling digital products worldwide? Domestic payment methods and currencies can make international customers feel more "at home" in your shopping cart, which results in higher conversion rates. This datasheet shares more than 45 payment methods by region and at country level, supported out of the box by 2Checkout. Get your copy!
As always, subscribe to our newsletter and stay up-to-date with latest news, blogs, whitepapers, and webinars on how to grow your Commerce business!