Hi sellers!
The first month of Spring brought not only the revival of nature but also plenty of blooming opportunities in the eCommerce space, so we have a lot to share with you in this article.
As we do each year, we are providing our digital commerce benchmark results with an in-depth analysis to help guide your business strategy over the coming year. We're also sharing some valuable highlights from our blog including best practices for your checkout's sales tax display, email marketing trends, and our latest industry expert interview with actionable tips on product strategy. We've also prepared two upcoming webinars that you might want to check out. There's lots of good online reading out there, and we are happy to share some of our picks which include articles on growing your eCommerce store, customer service strategies from 12 leading companies, and everyone's favorite topic: how to avoid fraud.
Happy selling!
Based on millions of worldwide transactions moving through the 2Checkout's platform during January –December 2020, the Digital Commerce Benchmark revealed how sales of digital goods performed in the year of the pandemic. Discover top markets, payment methods, subscription adoption, and digital goods sold. Plus, get inspired on the revenue-generating avenues online businesses are successfully using.
Selling software and digital goods globally can get challenging with all the localization, taxation, and compliance issues merchants need to observe. However, a reseller model can offload this burden and enable you to go to market quickly while focusing on growth and optimization. In our upcoming webinar experts from Stellar Information Technology and VS REVO Group will share their experiences from working with the reseller model and successfully selling software globally. Save your seat now to hear from them and learn how this model can benefit your business.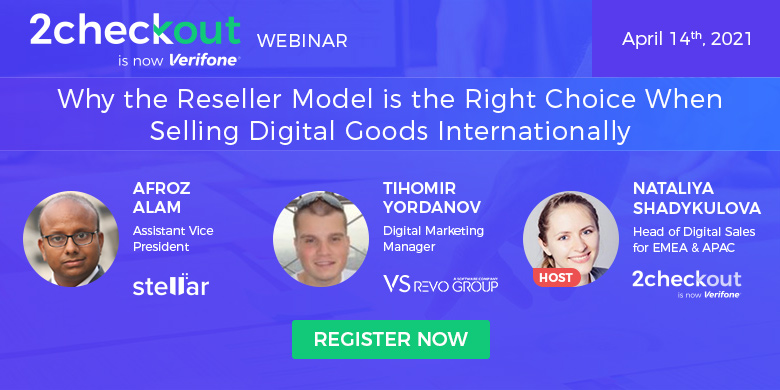 To ensure that your business continues to get a piece of the eCommerce pie, you need to set SMART goals, stick to a detailed budget, build a great team, and have a concrete plan of action. Sounds like a lot, but this quarter-on-quarter roadmap will help you get started.
While you're preparing your roadmap to scale, why not consider international expansion as your next growth strategy?
France, for example, is the world's sixth-largest eCommerce market, making it an appealing destination for online merchants. To successfully tap into this market, you need to first understand the local flavor of the country as well as its shoppers' buying preferences. Read this eBook to discover an overview of France's eCommerce market, including preferred payment methods, checkout expectations, legal guidelines, and more!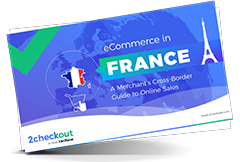 Selling successfully in each new market you target requires paying attention to local currency and taxation rules. Beyond registering, reporting and remitting taxes, one of the common pain points in cross-border eCommerce is introducing the customer to taxes in a timely and accurate manner. Check out this article to learn how to offload the complexity of tax handling and get some best practices for displaying pricing in your checkout, while maintaining a great customer experience.
As businesses moved towards cashless payments and digital channels amid the pandemic, this created new opportunities for fraud attacks. eCommerce fraud is a significant business risk that must be mitigated with a well-designed and implemented identity fraud system. Here are some great methods to help you stay one step ahead of fraudsters.
Did you know that email marketing generates the highest ROI out of any digital marketing channel, making it very affordable in terms of the cost of conversion? If this convinced you to optimize your email marketing efforts, here are some strategies that will redefine customer experience in 2021 and help you stand out from the crowd.
Pricing pages are a valuable chance for SaaS businesses to experiment, to optimize, and to showcase the uniqueness of their product. Learn what it takes to build a high-converting pricing page in our upcoming webinar featuring Georgiana Laudi, Co-Founder & SaaS Growth Advisor at Forget The Funnel, and Alexandra Badea, VP of Corporate Marketing at 2Checkout (now Verifone). They will break down the anatomy of SaaS pricing pages.
Bonus: Georgiana will also do a live review of three SaaS pricing pages, for some hands-on examples and best practices. You can submit your own pricing page using the form on the webinar registration page!
In our latest 2Inspire interview, Matt Bilotti takes a deep dive into tactics and approaches you can apply to step up your product strategy. You'll discover insights on building successful viral loops, leveraging conversational marketing, making the most out of freemium offerings, and more. Make sure to watch the full interview – it's loaded with actionable tips!
How can customer service professionals consistently delight and empower customers, so they not only keep coming back, but also become brand advocates? Here are some great tips for approaches you can use during your next customer interaction, real-world examples from twelve companies that have elevated their support game.
As you can see, there are many growth opportunities, whether you're looking at more strategic ones like international expansion and Product, operational optimizations on your pricing page or digital marketing channels. The sky is the limit!
What growth opportunity are you planning to leverage next?