2021 will be a fresh start for all of us, and it equally applies to eCommerce email marketing.
The pandemic made long-lasting changes in our lifestyles and consumer behavior as eCommerce achieved a decade's worth of progress within a quarter. Indeed, online businesses will have to revamp their email marketing game to match this growth.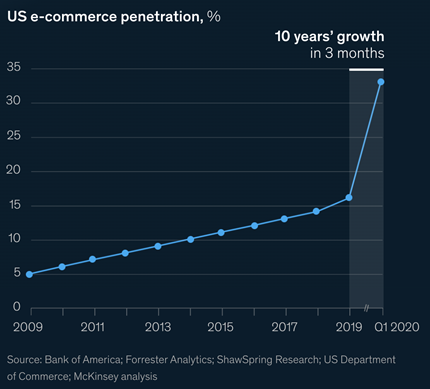 In this article, I will cover the rising email marketing trends for the eCommerce industry that will help business owners and marketers sustain this growth and stand out among the crowd. We will be focusing on changes in the HTML email templates, copy and visuals that will impact conversion and retention as we prepare for the new decade.
Buckle up for the 10 email strategies that will redefine customer experience in 2021 and beyond:
#1 Personalization To Beat The Other 120 Emails
On average, a person receives 121 emails every day. That's many messages, and your subscriber is likely to scan through these emails and read only the most important and interesting ones. Personalization will become increasingly important in 2021 as a lot of eCommerce brands have vamped up their sending frequency.
Sending the messages that concern your subscribers specifically using personalized data will generate value for their time reading your messages.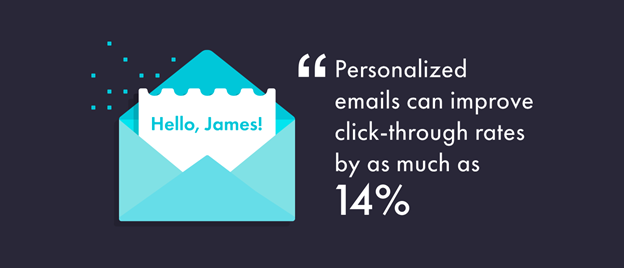 You can also expect the other 120 emails pushing more generic content as segmentation and personalization are time-consuming processes. But 2021 will demand even more. Hyper-personalized messages will be a new normal since they help make decisions and foster your brand's image as a customer-oriented business. Here's a great example from Printful of using personalization to create utility for your customers: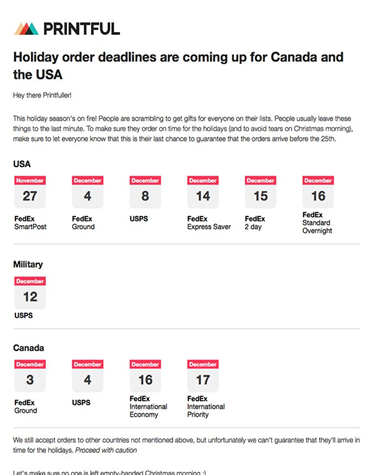 In 2021, email personalization will be about creating value for decision making processes and pushing conversions right from the inbox.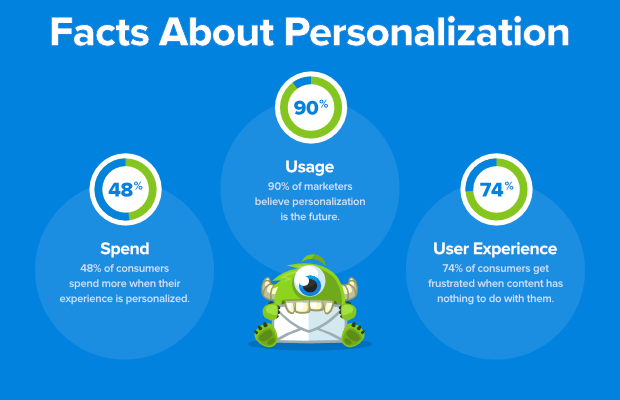 #2  Using Interactivity To Replace Carousels And Hamburger Menus
The eCommerce industry was a big fan of carousels, hamburger menus, and GIFs for displaying their products, but this is all set to change in 2021. With email clients finally stepping up their support for advanced features like interactivity, you can expect online retailers to use interactivity to improve product visualization.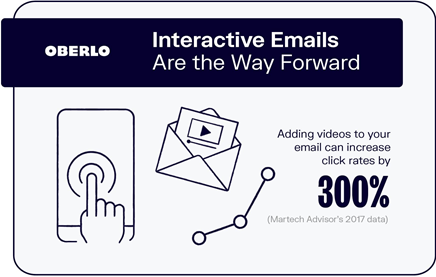 Interactivity can also help you with engagement like in this example. Challenging your email database to a game won't directly impact sales, but it will surely improve your open rates for future communications: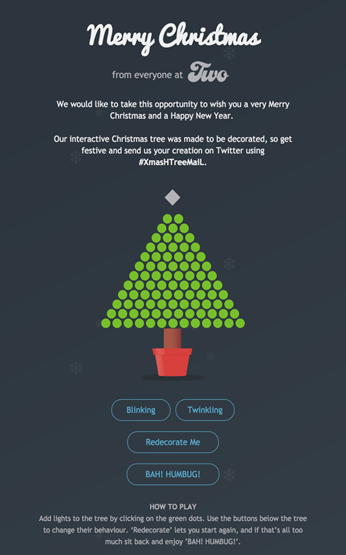 #3 Chatbot Integration: Delivering Self Service Inside Your Inbox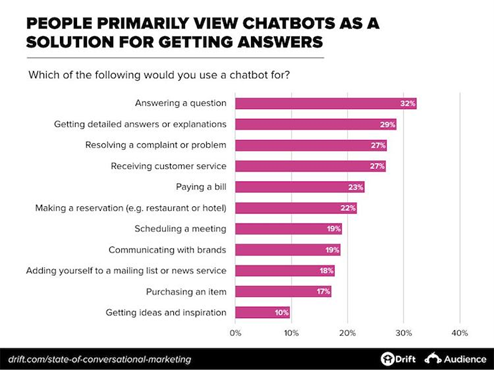 Client servicing via email is highly used in the online commerce industry. For websites and social media, chatbots have done this job fabulously, and we can expect eCommerce stores to integrate chatbots within their emails shortly. This will prove to be extremely beneficial for specifying agitated customers.
Usually, people don't prefer to ask questions like how to use a new type of product, and they resort to either Googling it or even not using it all. Reaching out to customer service representatives can be intimidating but talking to a bot will ease the tension. Chatbots also reduce client-serving costs by 30% while your customers can access them at the time of their convenience.
In 2021, email chatbot integration will prove to be a game-changing factor as it can be used in combination with almost every other digital platform- websites, CRMs, and social media.
#4 Out-Of-The-Box: Attention
Seeking

Grabbing Designs

One of the strategies of grabbing reader attention in the upcoming years is to take them by surprise using out of the box designs. Lately, HTML email templates have become more popular as the majority of businesses now prefers using them. This has also made emails look pretty much the same, which is why using any brand new design patterns will automatically gather more attention with their unusual aesthetics.

Here are a few unusual email designs that might inspire you: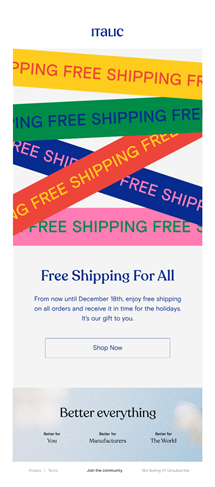 (Image Source)                  (Image Source)               (Image Source)
#5 Using Rich Multimedia As Storytelling Props
Images, GIFs, APNGs, cinemagraphs, and videos fall under the umbrella term of rich multimedia. Their usage is fairly common, but it's high time we start using them as a part of storytelling.
For instance, Redbull is a brand that's a content marketing machine that happens to sell energy drinks. They invest heavily in their brand,  be it events like Sunburn and their impressive social media campaigns which many business experts believe to be the reason behind their success. This has helped it connect with the customer base and turn them from an audience into a super-engaged fanbase. Similarly, a lot of brands are based on their marketing initiatives and narration, which makes it necessary for them to use these elements in email marketing. Most email marketers use rich multimedia to show their product from different angles or emulate human reactions.
However, using these storytelling elements is becoming popular as marketers explore more ways to up their game. All of these rich media elements are heavily used in popular social media platforms like Facebook, which hints towards a greater role in email marketing in the future.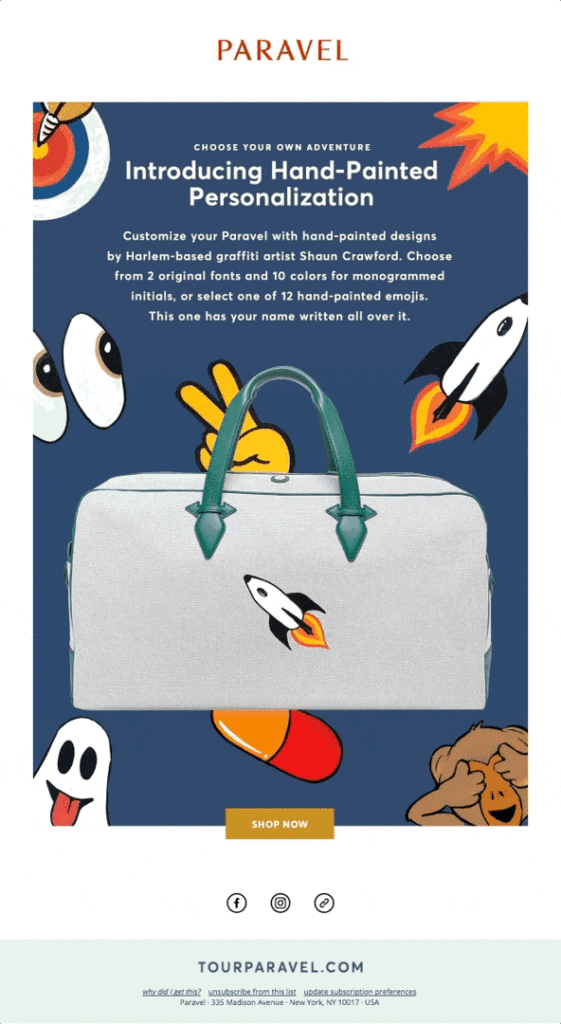 #6 FOMO Obsession: Scratch Cards And Countdown Timers
FOMO (Fear Of Missing Out) will become larger than ever before as people return to their normal lifestyles post-vaccination. One of the aspects of the pre-pandemic era was to share our life experiences no matter if it was going to a restaurant or attending weddings on social media. And this isn't likely to go away once all of these changes settle down. This psychological habit is the core of all social media, OTTs, and you can definitely bank on it when it comes to email marketing. In fact, we can consider that people are trained by their offices for replying to emails and it only adds to the benefits for email marketers.  You can interweave FOMO using limited period offers, access to time-bound online events like webinars/product launches, and flash sales. Incentivizing participation through non-monetary ways like providing exclusivity is a great way of maximizing conversions.
You can use words like "Hurry", "Offer valid till stocks last", and "Last day to avail 50% OFF" to tap on the FOMO instinct.
Here are examples of using FOMO with the help of scratch cards and countdown timers: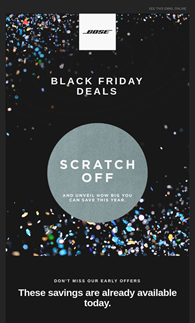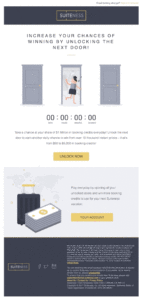 FOMO is deeply embedded in social media, and it will surely sneak into email marketing as we move ahead in 2021.
#7 Harnessing The Videos
Videos are becoming one of the most preferred way of consuming content, and email marketing will soon follow the tunes of this fact. Most social media platforms have adopted videos as a part of their user experience, but email marketers seem to lack at this front.
However, videos can increase your open rates, CTR, and overall engagement as the subscriber doesn't need to invest heavy efforts into the message: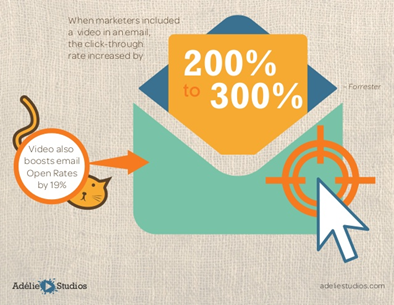 Also, one of the surveys confirmed that videos are highly preferred when it comes to learning about new products and services: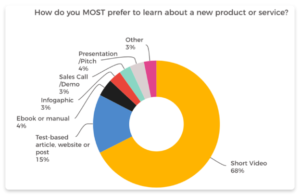 Ecommerce stores can benefit tremendously from using videos in email marketing as it allows the reader to connect in their desired way. However, I recommend using a third-party app for distributing videos via email, as embedding it directly into your message will cause deliverability issues. Your emails might increasingly end up in promotions or spam folder, thus making it harder to reach your audience. However, even if that happens, not everything is lost. This is how you can improve your deliverability.
Here's an professional email example of using videos inside emails from Lego: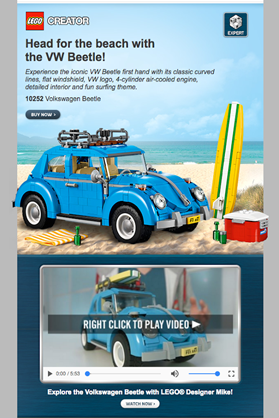 #8 Going Retro: Text-Only, Gradients, And More
Like fashion, design trends in email marketing are also coming back. Text-only emails were a norm back in the day, but we saw a rise in the number of text-only messages, especially during the pandemic. They tend to look more authoritative and trustworthy, making them suitable in such conditions.
Here's an emailer from Move that utilized this fact, and they also added a realistic signature to increase the overall appeal: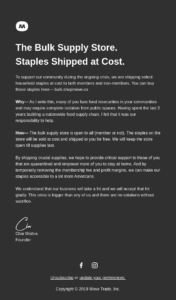 Gradients are also making a comeback. The fact that iOS and Instagram use blurred gradients as backgrounds have made it extremely popular, and using such retro designs can help you get some traction when running out of regular designs.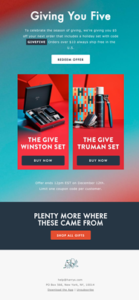 This trend isn't going to become mainstream, but it will turn out to be a great hack for sending occasional messages that need to look different.
#9 Making Email Copywriting More Humane
Again, this trend has gained immense momentum during recent times — using compassionate and friendly copywriting in emails. Most of the emails sent by eCommerce brands consist of either transactional or promotional messages leaving very little room for building communities. It also reduces their chances of making long term relationships as the reader doesn't find anything but 'deals' that other retailers will offer by default. The pandemic has reinstated consumers' value, and we can expect eCommerce brands to take a friendly approach towards their customers.
Here are some examples of using excellent copywriting to foster a positive brand image that goes beyond the pricing game: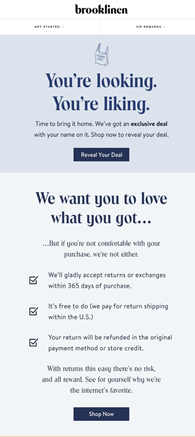 #10 The Resurrection of Referrals
It is not that referrals had disappeared, but they weren't used to their full potential. The fundamental idea behind email marketing's success is that people consider their mail addresses as 'personal' just like their phone numbers. On the other hand, word-of-mouth is one of the best conversion factors, and combining the two can give magnificent results. In the upcoming timeframe, we will see more referral emails coming from eCommerce brands as they compete with the brick and mortar stores along with each other.
Look at these referral emails and see if you can get some inspiration: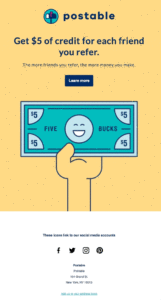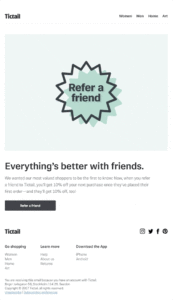 Putting It Together
As we dive deeper in 2021, the eCommerce email marketing maturity designs will evolve faster with the 'K' shaped recoveries and ecommerce boom start reconciling. One of the biggest reasons why ecommerce brands should leverage emails is the fact that they generate the highest ROI of any digital marketing channel i.e. 4400%. This makes them extremely affordable as far as cost of conversion is concerned. It leaves you with more budget and flexibility as you prepare for 2021's opportunities.
I hope that you find this article insightful, and it adds to your understanding of the email marketing trends in 2021 and beyond.
____________________________
Author Bio
Kevin George, the Head of Marketing at Email Uplers – one of the fastest growing custom email design and coding companies, specializes in crafting beautiful email templates, PSD to HTML email conversion and HTML Email coding. He loves gadgets, bikes, jazz, and breathes email marketing. He is a brand magician who loves to engage & share insights with fellow marketers.