Software has already eaten the world, and most software companies are interested in selling globally if they're not already doing so. That raises the question, what's involved in selling internationally? In addition to the business fundamentals of developing and marketing a product to meet customer demands in different regions and languages, there are also a variety of logistical and compliance complexities involved when it comes to selling software.  
From meeting data privacy regulations to handling local taxes, the intricacies of global selling can quickly become overwhelming, especially for companies still in their growth stages. That's not to mention the increasing demands of consumers and businesses alike to be able to transact on any channel they choose, at any point in time they prefer. There's a lot that goes into ensuring an excellent purchasing experience for customers.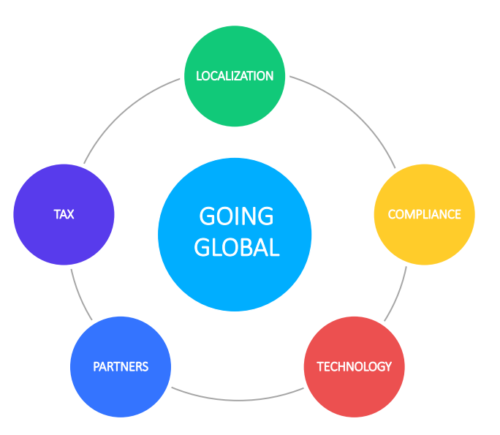 So, what options do companies have when it comes to selling globally? There are two main models: payment service provider (PSP) and reseller or merchant of record (MoR). Each has its benefits and drawbacks, but our perspective is that a reseller model is the right choice for most businesses when selling digital goods internationally because it relieves you of many compliance burdens.  
In our latest webinar, we explain why the reseller model is the right choice when selling digital goods internationally, and feature two of our customers as standout examples of this model. Nataliya Shadykulova, Head of Digital Sales, EMEA and APAC at 2Checkout (now Verifone) was joined by Afroz Alam, Assistant Vice President at Stellar Information Technology, and Tihomir Yordanov,  Digital Marketing Manager at VS REVO Group, in discussing the main challenges when expanding internationally and how working with a reseller model can offload eCommerce complexities.  
The Difference Between PSP and Reseller
First, a quick review of the basic differences between the payment service provider and merchant of record approaches.
A payment service provider (PSP) simply processes payments for you, without taking care of all the pieces of the puzzle, so you'll need to serve as your own merchant of record if you open your own merchant accounts when you choose a PSP.
A reseller or merchant of record (MoR) takes care of it all, from payments and subscriptions to sales taxation to compliance, even including invoice reconciliation and sales tax remittance. If anything should go wrong with payment processing, sales taxes or regulations, you don't have the worry – the MoR is held liable for these aspects of the business. 
The Advantages of the Reseller Approach
 There are many reasons to choose a merchant of record, but perhaps the biggest one is peace of mind. By handling all aspects of payments, taxation, compliance and more, the reseller model not only helps out logistically, but also legally. And there's a third important aspect: order localization, which resellers also take care of for your business, ensuring that everything from the selection of  payment methods, currency and taxation to the checkout experience can be fully localized. Since customers in many countries have a strong preference for local payments, a reseller is particularly valuable on this front.  
 A hidden aspect – beyond the payment methods you can offer in the cart – is the set of processors and acquirers that are used at the backend. In case you use any PSP, the transactions are processed based on your/merchant localtion, whether as in case of MOR there is a possibility to route them to local payment gateways. Processing a payment locally, with local acquirers and local payment methods, can give you an extra advantage through better authorization rates. When you choose a PSP model, you need to handle all of this yourself, including setting up your own local entities to be able to process payments locally in different countries.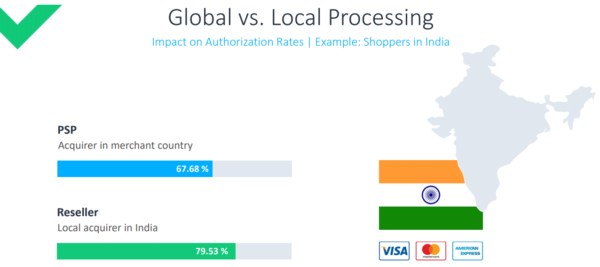 Choosing a reseller model is the easy, all-inclusive way to ensure that your business is ready for global success. 
Reseller Model Success for VS Revo Group
 VS Revo Group, a 2Checkout EU customer, has experienced the benefits of the reseller model approach firsthand. Its core product, Revo Uninstaller, helps customers remove unwanted programs from their computers and has gained traction globally. By working with 2Checkout as its merchant of record, VS Revo was able to expand into additional markets and significantly raise conversion rates, through improved localization. The software company saw revenue uplifts of 17% in Brazil, a 34% in India and an 18% in Russia as  results.  
A "Stellar" Experience with a reseller model
Stellar Information Technology is an APAC-based data expert, with experience in data care, recovery, migration and erasure of data for more than 3 million users in 190 countries. The company chose 2Checkout's reseller model approach to handle a number of important aspects of the business, including local order processing, global sales tax and compliance, and fraud and risk management. Working with 2Checkout with its reseller model in cross-border markets, Stellar was able to continue providing excellent service to clients while counting on key elements of the business being taken care of. 
Discover More about the Reseller Model
Still on the fence about MoR vs PSP, or just want to know more? Watch the full webinar to get more  details and insights of the reseller model's capability to supercharge your business metrics and help you optimize for growth in all the international markets you're selling into.