While many businesses champion various conversion optimization strategies, often marketers fail to commit time towards understanding the psychological processes that can encourage customers to make a purchase.
Although it's understandable to look to audiences on a more general level to facilitate more conversions, this one-size-fits-all approach may cause some businesses to become unstuck in a post-COVID-19 landscape where studies have claimed that the pandemic has led to some fundamental changes in the personality traits of consumers.
With higher volumes of online shoppers and a widespread transition away from brick-and-mortar stores and towards eCommerce due to prolonged periods of isolation, it's worth delving deeper into understanding how the anatomy of modern conversion funnels need to change.
Understanding Customers on a Psychological Level
Understanding customer behavior is the key for businesses looking to secure sales. This means that it's vital to come into contact with the right wealth of data to better learn about what motivates and captivates customers.
With a healthy blend of behavioral data analysis, businesses can use a wealth of customer insights to generate a more personable experience for those who are most likely to convert.
Essentially, consumer behavior analysis offers a new level of data-driven insights into how customers use your retail outlet online.
There are many metrics that this level of analysis can offer, and the most significant ones to observe come in the form of browsing behavior, purchasing behavior, and email behavior.
In a nutshell, browsing behavior from customers can be accurately measured by web analytics platforms. More advanced tools can consider the factors that have drawn a specific customer to a store and how they interact with personalized landing pages among other on-site functions.
The purchasing behavior of customers can also be traced using dedicated analytics tools. By observing purchasing behavior such as consumer clickthrough rates, heatmaps, and form abandonment patterns, marketers are capable of gaining a deeper insight into the psychological makeup of users owing to the intricate buying patterns and collective responses to specific promotional campaigns that can be deconstructed by the analytics platforms.
For instance, purchasing behavior insights can be useful when marketers are looking to gauge customer responses to limited time events like seasonal purchasing patterns or the collective interest in a certain product or service. Furthermore, it can also help to provide insights into specific promotional offers and limited-time discounts.
When it comes to email behavior, this can be another effective way of learning about how customers respond to various marketing campaigns while identifying prospective improvements that can be made in terms of materials and freebies.
By acting on email behavior insights, marketers can gain an understanding into how consumers respond to messaging, tag lines, subject lines and the general content within email-based campaigns. Additionally, this can aid further analysis into customer behavior based on various factors like email open rates, click-throughs, and the volume of emails that ultimately led to a conversion taking place.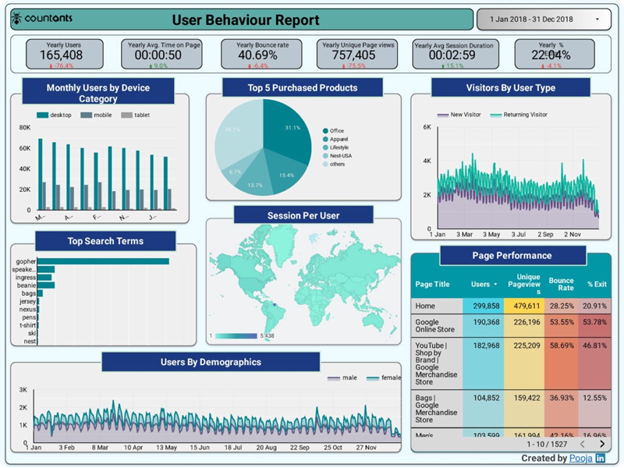 (Image:Medium)
Above, we can see a small snippet of the huge volumes of data that it's possible to retrieve when analyzing user behavior. The insights can point to the performance of specific pages, a company's most popular products, a demographic breakdown of visitors and where they come from, and their most favored search terms.
It's never been more important to gain an understanding of your customers' online behavior. In this shifting landscape, marketers may need to adapt to the altering mindsets of the audiences that they thought they understood in a pre-COVID-19 market.
Coming to Terms with Customer Mindsets After COVID-19
The emergence of COVID-19 in early 2020 carried a significant humanitarian cost while also heavily impacting a range of industries. The pandemic hasn't only had an effect on how we work and the way we interact with one another, but it has also impacted the way that customers behave – potentially on a permanent basis.
The day-to-day lives of customers have changed drastically over the past year, with new routines emerging that require social distancing and working from home for prolonged periods. This heavy emphasis on health and safety inside of global lockdowns has led to new customer habits emerging that didn't exist before, which, in turn, has accelerated a long-standing social media and eCommerce trend that's been forming over much of the past decade.
Time will tell as to how the long-term aftermath of COVID-19 may affect the future of consumerism, but available data indicates that the shifting trends of customer behavior won't reverse upon the arrival of widespread vaccinations. In fact, according to the EY Future Consumer Index, as much as 42% of consumers agree that their shopping habits will fundamentally change following COVID-19.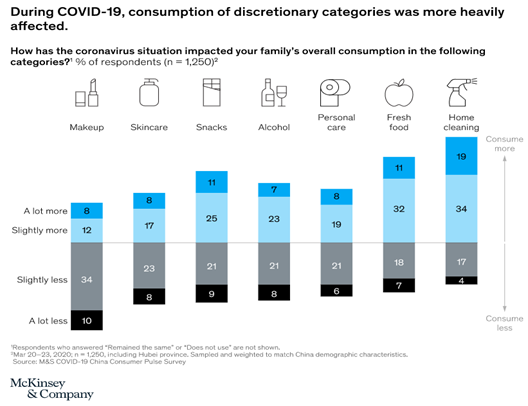 (Image: McKinsey & Company)
According to the chart above, the impact of COVID-19 on consumer behavior has spread across a wide spectrum of industries, with cosmetics and skincare understandably suffering, while fresh food and snacks have seen steady increases in consumption. Interestingly, home cleaning has also increased since COVID-19.
While this may make sense considering the higher number of workers staying at home, the impact of social distancing and being unable to welcome guests into the house hasn't hampered such a significant rise.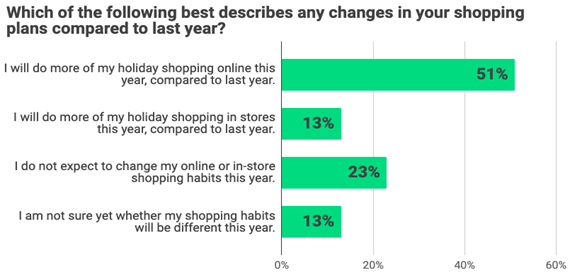 (Image: Street Fight)
As the chart above shows, a significant number of customers are planning to ramp up their online shopping this year as opposed to the year before. This may be great news to marketers who could reap the benefits of adapting their strategies to suit new online customer behavior.
Not only customer shopping habits have shifted in recent months, but also the  affinity towards a specific product category. According to an Accenture report, COVID-19 has paved the way for four significant new buying trends:
Firstly, a clear emerging trend revolves around healthy purchases. With more time available while working from home, customers can stop and work on self-improvement and buying healthier foods.
Another key trend focuses on sustainable living. The pandemic appears to have afforded buyers more time to think about the products that they use. Notably, a widespread shift away from food waste and movements towards more sustainable products appears to be emerging.
The pandemic has ushered in a new era of home-based work and isolation which has led to significant rises in subscription services for entertainment and luxury consumer goods – with spending on subscriptions rising by as much as 39.4% in the UK during the country's first lockdown.
Interestingly, one of the more logical trend-reversals of recent years prompted by COVID-19 came in the form of local shopping. Lockdowns meant that more customers chose to make their essential purchases at local shops, as opposed to traveling further to larger stores. This has provided something of a shot in the arm for community stores and more locally sourced products. Ultimately, this may lead to marketers attempting to find new ways to connect with their customers – whether the solution involves highlighting local provenance or localizing the checkout experience to ensure that currencies, units of measurement, and payment methods are suitable for customers arriving from different locations.
With customer behavior clearly favoring more sustainable and ethical shopping, there could be a significant opportunity for marketers to take advantage of the way that customers are altering their preferences towards products in a post-COVID-19 environment.
While this may seem like a daunting shift for some businesses to accommodate, there are some effective tools available to help facilitate significant changes in marketing campaigns to suit the turning of the tide in terms of customer psychology:
Listen Out for Changes in Customer Sentiment
Even before the widespread disruption caused by COVID-19, consumer trust in both government and large brands had begun to fall away. Today, more people are looking to identify more closely with family, friends and localized businesses. The pandemic appears to have accelerated these trends, causing new challenges for marketers looking to promote their brands.
Branding, especially that of larger companies, may have become more difficult to push for marketers, but businesses may find some success in seeking to re-establish trust through a number of customer-centric actions.
One of the most important proactive customer centric actions to take is to listen out for changes in customer sentiment. Be sure to set voice of the customer VoC programs to listen for references to COVID-19 or other disruptive influences. It's also worth researching on social media to seek out any concerns or informational needs that customers are displaying surrounding your brand or product.
It's also worth balancing out your response. Marketers need to work to support customers and protect their relationships while staying honest about what the company can and can't do for them. Be sure to avoid promising the world when it's unobtainable – after all, it's the transparency of smaller businesses that more customers are craving.
Be careful about taking actions that provide short-term stability (or gain) for the firm at the expense of customer trust.
Measuring how changes in customer sentiment affect behavior can be more reactively through A/B testing, which is very popular in the world of marketing. However, the fresher and more intuitive approach of multivariate testing could be a driving force for optimization. Multivariate testing relies on the modification and customization of multiple variables – hence the name.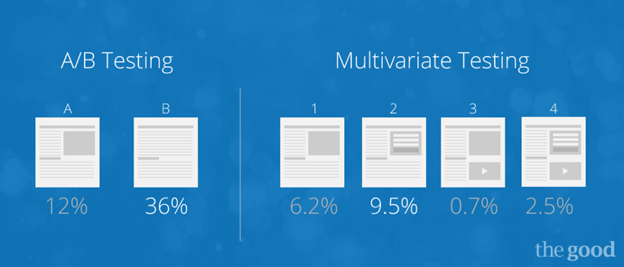 (Image: The Good)
In the comparison above, we can see the greater levels of insight that multivariate testing can afford for marketers. Instead of trying out two different landing page designs, for instance, multivariate testing can pick and choose various page elements from different designs while comparing them for customers.
In the image, we can see that a generally larger volume of customers favored option B over option A within the A/B testing framework, but with multivariate testing, we can see that the elements of option 2 were significantly more popular with the website's arriving traffic – helping to provide more refined insights into what works and what doesn't.
Sales Funnel Analytics
In a marketplace that appears to be changing drastically from its early 2020 form, it's never been more important for marketers to analyze their sales funnels in greater depth. The altering psychological state of customers following the pandemic will undoubtedly impact any pre-existing sales funnels, meaning that marketers will need to go back to the drawing board and re-examine their efforts.
Platforms like Google Analytics and Finteza both offer in-depth insights into each facet of a website's sales funnel – offering analysis into visitor behavior flow and what pages are causing more cart abandonments than others.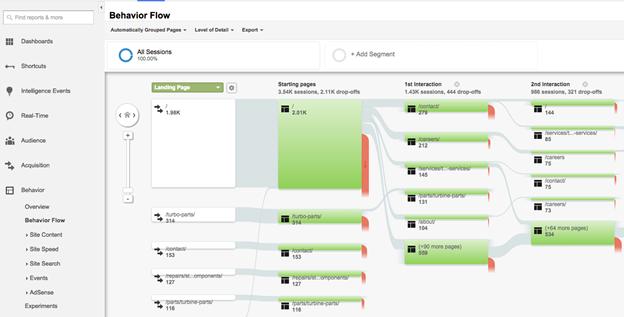 (Image: Crazy Egg)
2020 may have felt like the year that would never end for many marketers and customers alike. While 2021 will certainly pose new challenges to businesses, the dust is starting to settle from what has been the most disruptive year in modern marketing.
In a world that's undergoing rapid social changes in everyday environments, it's inevitable that the online shopping landscape will be heavily influenced by the shifting psychological needs of customers. Luckily for marketers, analytical platforms and intuitive testing means that businesses can adapt quickly to these new expectations.
For more details on how consumer behavior data is employed in acquisition tactics, check out our article on psychological triggers to help you sell more products online.
____________________________
About the Author
Dmytro Spilka is a CEO at Solvid, a creative, long-form content creation agency based in London. Founder of Pridicto. His work has been published in Shopify, IBM, Entrepreneur, BuzzSumo, Campaign Monitor and Tech Radar.