Doing business in a time of uncertainty can be daunting; economic uncertainties lead to consumer behavior changes. During the Great Recession of 2008 we saw people switching to cheaper products. The Bureau of Labor Statistics reported that when the U.S. entered WWII overall consumer spending decreased in areas such as car-related purchases, recreational expenses, household furnishings, and clothing.
How is spending being affected during COVID-19, and how does that affect online businesses?
Millions of people's jobs were affected very suddenly when the novel coronavirus began spreading globally. The U.S. unemployment rate shot up to 14.4% from 3.8%, while 30% found themselves working from home due to shelter-in-place orders. Sudden changes like these cause people to reconsider their purchasing decisions as there are greater concerns about health and savings. It became apparent that people were choosing to delay large purchases and buy fewer discretionary items such as apparel, furnishings, and electronics as they were concerned about upcoming payments. However, there was a marked increase in home food delivery, and the once discretionary cable TV increased, as well. Each industry is being affected differently.
The good news for online businesses is that people have nowhere to spend their money other than online, at the moment. When the novel coronavirus hit the U.S. in full force in March of this year, retail spending was reported at $146.47B compared to $129.89B in Q1 of 2019, with an increase in online spending.
2Checkout wanted to unveil the anticipated impact of COVID-19 on online businesses. We conducted a survey of 843 merchants from 50 countries, selling digital products, physical goods, and online services, in April and May 2020 to learn of the changes they were expecting and how they planned on addressing this new economic environment to respond, sustain, and thrive.
Some industries are being hit harder than others
12% of the survey respondents anticipated seeing record business growth due to the pandemic. There was certainly a shift in consumer behavior when people began working from home and generally spending more time there.
With schools being closed, multimedia software producers have been benefiting. Video games are being played at record levels and gaming marketplaces such as Steam have seen a marked increase in traffic, as well. While movie theaters took a big hit, at-home entertainment providers like Spotify, Snapchat, and Facebook are being used much more.
Middleware companies such as AWS, Salesforce, and Microsoft — cloud-based solutions providers that enable or improve productivity while working from home — stand to benefit from the remote working trend, in addition to companies like Peleton who provide at-home fitness products. Amazon's shares rose more than 25% this year and online grocery ordering and delivery services went from $4B in March to $5.3B in April due to the need for the essentials. Companies that make PPE, goggles, masks and other protective-ware are also benefiting.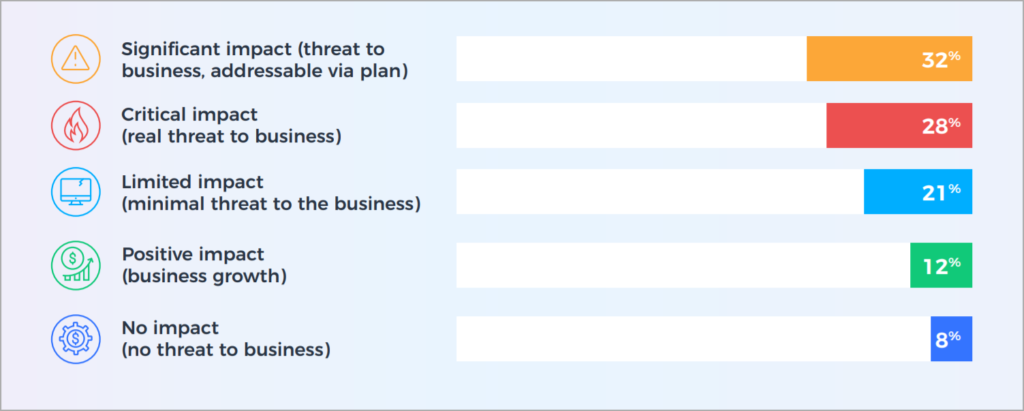 Unfortunately, 28% of companies that we surveyed are bracing themselves for the worst. Most of these are in the physical goods retail space. Just like during WWII, apparel purchases are down. This is one of the easiest areas to cut back in personal spending and people don't need clothes if they aren't going anywhere. Loungewear, however, has done well considering people have to be at home more and at minimum, they should be comfortable.

And, 32% are expecting COVID-19 to have a negative impact on their company, but think that they can overcome it with a good plan in place. The production side of the supply chain in consumer electronics, hardware, and manufacturing resource management is one industry that expects to be affected because of the down time of Chinese manufacturing facilities and being unable to source parts from China. Meanwhile, marketing and advertising are also being negatively affected — especially affiliate marketing. While consumers are watching their spending, they aren't clicking on links and making purchases. Consequently, the Interactive Business Bureau discovered that 25% of their survey respondents said they were putting their advertising on pause, and nearly half have adjusted their spend, wanting to assess the situation first.
There are a fortunate 29% of online businesses that expect little to no impact on revenue, as our survey results show!
How companies are being impacted
60% of the companies surveyed are expecting to see slower sales. These companies were mainly in manufacturing, communications, consulting, marketing, and technology. 18% of those anticipate finding and closing new business to be a difficulty and 17% expect their sales funnels to move sluggishly.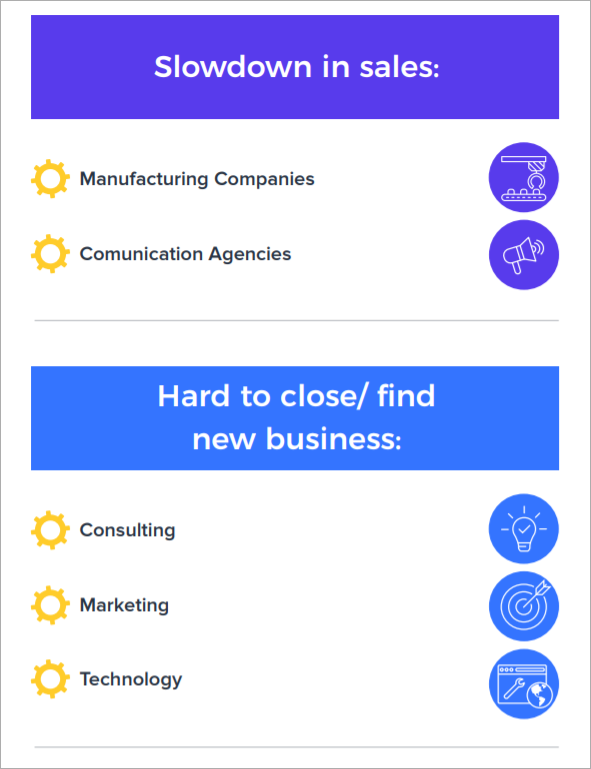 Consumer electronics and hardware, physical goods retail, manufacturing, and dropshipping expect delays in supply chains, with physical goods retail being hit the hardest. Because China is a supplier for so many parts and finished products, the fact that they were greatly affected by COVID is at the center of the supply chain delays.
Some online businesses are reporting that their workforce is less productive with 30% of the workforce now working from home. These productivity struggles were most reported from companies producing online content, call centers, and developer tools. However, it is worth noting that The Brookings Institution suggests that many people will see an increased level of productivity by working from home.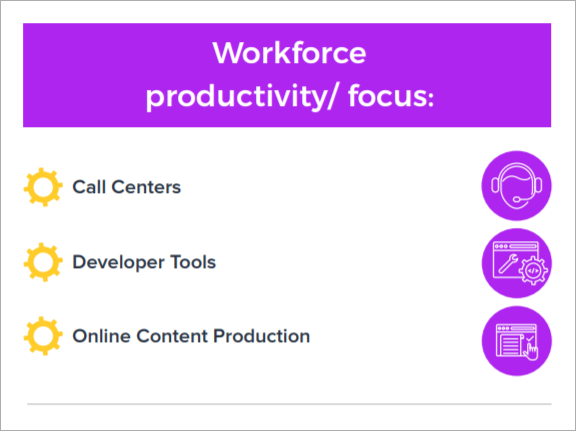 Because consumers are in greater financial crisis, 15% of companies surveyed reported an increase in chargebacks and refund requests.
Challenges: Overcome
This certainly isn't the first time the economy has been dealt some difficult cards  — take WWII and the recession of 2008 as examples — yet, we've come out on the other side. Netflix, Amazon, Domino's, and Lego are shining examples of companies who fared well despite the economy, and it wasn't an accident.
Survive COVID with a strong digital strategy
Some companies may view this as a storm that needs to be weathered — cut back on costs, hunker down, and wait. But, by understanding the context and how it has changed people, their situation, and how they think, your company may be able to come out even stronger. As people are forming new expectations, you must learn what people respond to, now that the usual tactics aren't working anymore. Successful companies will drive their recovery by consumer reactions. What a great opportunity to reinvent yourself! Consumers are optimistic and their innate resilience will push us forward.
During this time, consumers are afraid of COVID and they fear the economy plummeting. With this uncertainty, people want to be able to lean on someone or something. You can respond to this need by building trust — being a safe haven for people. A solid base made of trust will continue to grow and yield results with both your customers and your employees. Think strongly about how you are engaging your consumers and what messages you are sending. Clarity and transparency build trust. Trust is built by meeting a variety of needs: emotional, physical, financial, and digital.
Armed with trust, explore some of the options that our survey respondents plan on prioritizing for a strong digital strategy amid uncertainty. Your product and marketing teams will be instrumental.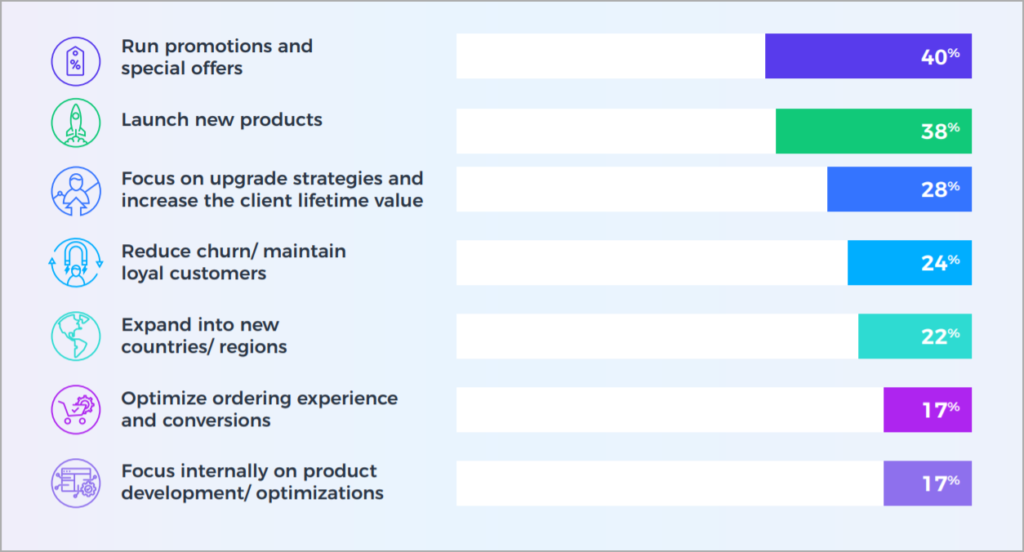 Launch new products

A whopping 38% of the merchants who responded to this survey reported a plan to launch new products — communications companies, companies creating developer tools, and legal services, in particular. Companies in the legal space are now working to meet the increased needs around employment benefits, health, basic human needs, etc. Take JD.com as another example: they created a high-tech solution to use drones to spray people with disinfectant while they wait for the train; or Alibaba, who built a B2B sourcing platform that matches sellers and their products to the needs of hospitals and local authorities. Only a novel virus could help us come up with such novel ideas.
Run promotions

Promotions attract attention, bring in more revenue, and help businesses test new ideas that align with their understanding of the market. 39% of companies surveyed are opting to run promotions, mainly in the system utilities, desktop tools, and business software verticals. For example, Notion.so, a web-based application to organize teams, started running a promotion for first responders, nonprofits addressing COVID-19, and researchers, and are also making it free for personal use. The workout-from-home company, Peloton, released a 90-day trial of its subscription-based app that provides workout classes as gyms needed to close doors temporarily. And, Ant Financial Services opted to provide free COVID insurance coverage.
28% of companies surveyed are planning on using promotions to upsell customers, increasing the customer LTV.
Reduce churn and increase customer loyalty

Technology and IT companies — desktop and internet software, hosting solutions, and middleware —  are concentrating on reducing churn and increasing customer loyalty. 24% of companies surveyed stated this as a new focus, which is spot on because McKinsey reported up to 18% of people are changing their go-to providers. Returning customers are the most valuable as new customers are costly to acquire. Thoughtful communication with your customers can help with this.
Loyalty can be encouraged by investing in relationships and providing things that are helpful or free. King Arthur Flour's loyalty program that featured free shipping, and promotions based on spend, was valuable at a time when it was incredibly difficult to find flour in stores.
Expand into new markets

22% of survey respondents plan on taking the pandemic as an opportunity to expand into new markets or create cross-industry collaborations — this was particularly noted in consumer electronics and online education. Alibaba, China's largest online commerce company, is expanding by moving into teleworking capabilities as white collar jobs shifted to homes. Alongside Dingtalk, Alibaba is enabling remote work by providing live streaming for large numbers of people, video conferencing, document editing, and more. They are also improving loyalty by providing some of these cloud-based communication services free of charge. Distilleries are another great example of an industry that has branched out — they now find themselves making hand sanitizer.
Another focus area is taking the time to UX test and optimize conversion rates. This may become increasingly important because people who weren't previously making purchases online may begin to do so increasingly.
Improve positioning

Positioning best serves your company if it is not tone deaf. 13% plan on improving their positioning, packaging, and pricing to reflect the current state of the world. In fact, most (63%) apparel retailers have COVID-related marketing. Lego came out ahead after the recession in 2008 because of positioning themselves as an affordable, durable toy with long-term value. Despite the toy market declining Lego's value increased 23%. Amazon Prime's subscription model sure helped them during the recession, as well.
Despite some online businesses seeing a downturn, online is where it is at. Brick and mortar companies are moving online faster than ever before. Online car sales increased in China in the first few weeks of the pandemic, concerts are now being live streamed, and people can experience museums virtually. The Italian company Les Petitis Joueurs launched a virtual showroom with augmented reality for trying clothing on. Corporate team-building company, Cheeky Food Events, that used to lead activities around cooking, now delivers the ingredients to the homes of team members and hosts a livestream tutorial. Fitness studios like Frame, who had to close their doors, are now delivering online classes for a subscription fee. And, Chinese cosmetics company Lin Qingxuan which had to close 40% of its stores moved their previously in-store beauty advisors online to become influencers. This move helped Lin Qigxuan see 200% growth over last year's sales.
Conclusion
The pandemic has no doubt been affecting people globally — online businesses being no exception. The survey we conducted with 843 merchants around the world revealed expectations of some challenges to be addressed, including slower sales, delays in the supply chain, and decreased productivity due to working from home. Many plan on looking to their product and marketing teams to aid in launching new products, running promotions, increasing customer loyalty, expanding into new markets, and improving positioning as ways to do more than weather the storm, but to thrive.
These challenges can certainly be overcome thanks to solid digital strategies and consumers looking for companies that they can trust in this time of uncertainty.
For a full overview of 2Checkout's survey insights, read our results infographic.