We've recently had the pleasure to chat with Andrei Nastasie, the Affiliate program manager at Mondly Languages, an innovative language learning app that incorporates native language recordings, augmented reality and virtual reality to help people learn new languages. The VR and AR language learning app works on a freemium model, learners being able to use it either with a free account or a paid one that unlocks additional features.
In this interview, he shares how Mondly started out, what it has been up to and what's next for this creative company.
Please tell us a bit about Mondly – how did you guys get started? With so many language learning tools out there, what was the opportunity that you saw? What did you intend to do differently?
In 2012, after working in the corporate environment for a few years, our founders, Alexandru Iliescu, and Tudor Iliescu, decided to quit their jobs and build apps. They borrowed 1000 euros from their parents, bought their first MacBook and began working on their first iPhone app.
The idea to build a language learning app was first and foremost a labor of love, followed by years of research and hard work. Both Alex and Tudor are multilingual and passionate about languages. Having worked in several European countries, they had to learn different languages from scratch. That is how they noticed the gaps the language learning market had at the time.
One of the most significant gaps they saw was the lack of native voice recordings in language software. Listening to native speakers is one of the most critical parts of learning a language, and other language learning apps neglected this aspect of learning. Thus, the integration of native voice recordings was basically the foundation of Mondly.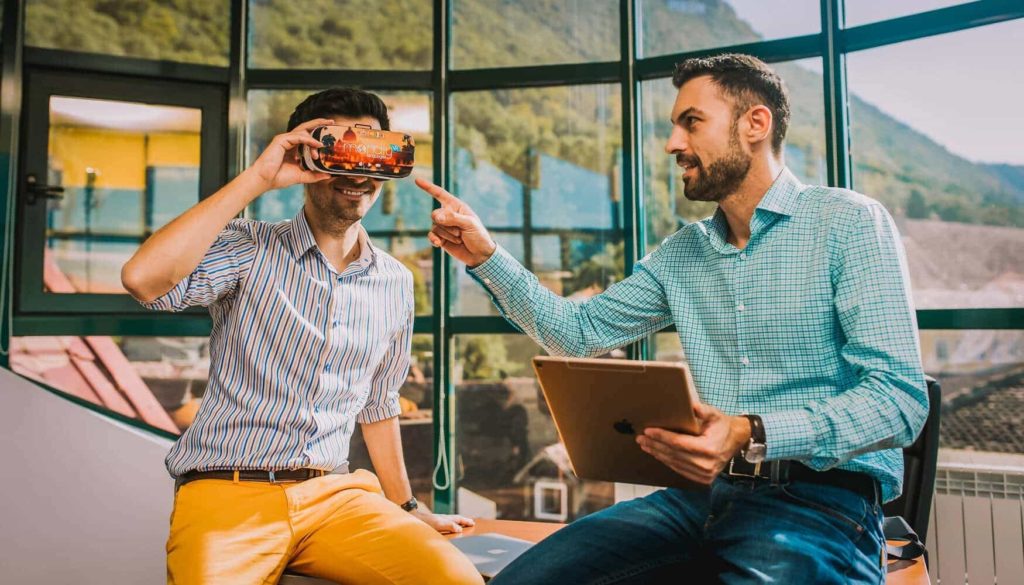 Mondly's Founders, Tudor and Alex, testing Mondly VR
In addition, smartphones were really beginning to gain ground. People were already becoming glued to them. Easy access to apps, combined with the ability to integrate voice recognition, cloud computing and more, all contributed to the early development of Mondly and its success.
Congrats for all the awards you received – Apple "Best New App," Facebook FbStart "App of the Year" in EMEA, Editors' Choice on Google Play. This is impressive! How was 2018 for Mondly and what's in store for 2019?
2018 was indeed an incredible year for Mondly. We had an international premiere – the release of MondlyAR, in partnership with Google; prizes and mentions from Apple, Deloitte, Gartner & Forbes; two Mondly Coding Challenge competitions; the honor of being chosen "App of the Day" and #1 Educational App in China; a sponsorship consisting of 10 iMacs for Transilvania University of Brașov; a "Founder of the Year" prize from CES Awards; our first BETT Show experience as exhibitors and 40 million downloads all around the world.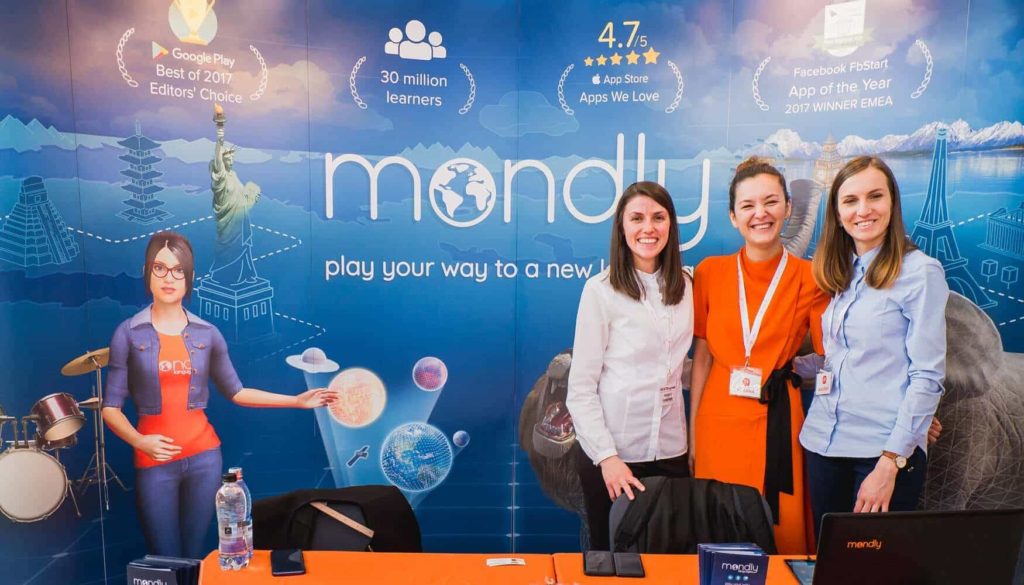 The "Wall of Fame" in Mondly's offices
And 2019 is going to be just as awesome! A few days ago we found out that Alexandru and Tudor Iliescu, our founders, were awarded the "Emerging Entrepreneur of the Year: Technology & Innovation" prize by Ernst & Young Romania. This is an important prize they proudly share with us, their team of superheroes.
What's more, in the next weeks we will unveil two more iMac labs at the Transilvania University of Brașov with 10 iMacs each. We want to keep the rest of the year secret for now, but you can LIKE our Facebook page – Mondly – to find out more along the way!
Tell us a bit about the technology behind Mondly: the chatbot with speech recognition, the AR module, and the VR app. How important is technology and what difference did it make in terms of adoption numbers?
The story of the Mondly chatbot started back in 2016. It was the first one of its kind. No competitor in the language learning niche had this kind of technology implemented in their product. It was a world premiere. From the very beginning, our chatbot interacted with users, understood voice input and replied with a human voice. Its goal was and still is to provide fun and adaptive lessons that encourage users to practice the language they are learning in everyday scenarios, such as ordering in a restaurant.
But that's not all. We created both MondlyVR and MondlyAR incorporating the same technology that made us innovation leaders in the first place: the chatbot with speech recognition. As you might guess, these were also world premieres.
In the AR module, our lifelike language learning assistant from the AR module uses augmented reality and chatbot with speech recognition to reinvent classic language learning techniques. She has the ability to make planets, animals and musical instruments magically appear in the learner's own environment, creating a scenery where people can walk up and around these virtual creations and even interact with them. Language learners love it.
For the time being, we are mainly talking about serving early adopters of state-of-the-art tech because AR and VR are still not notorious enough yet. But we are getting there! More and more people are becoming interested in these kinds of smart technologies. This is why we expect MondlyAR and MondlyVR to grow even more in the next few years.
Language learning is hard. How do you make it easy?
By using smart technologies in our own advantage. One of our main goals was to stimulate people to learn new languages not because they have to, but because they genuinely enjoy it. That is why we created Mondly as a gamified experience that everyone will enjoy: you swipe up and down, select the right answer, arrange letters into words and words into sentences, use your voice to repeat the correct pronunciation of certain words and earn points for every completed lesson. That, combined with augmented reality and virtual reality, becomes a really fun and addictive experience that will keep you glued to the screen. Just like a game, only Mondly is all about learning. And as you very well know, when you learn through play, even quantum mechanics becomes easy.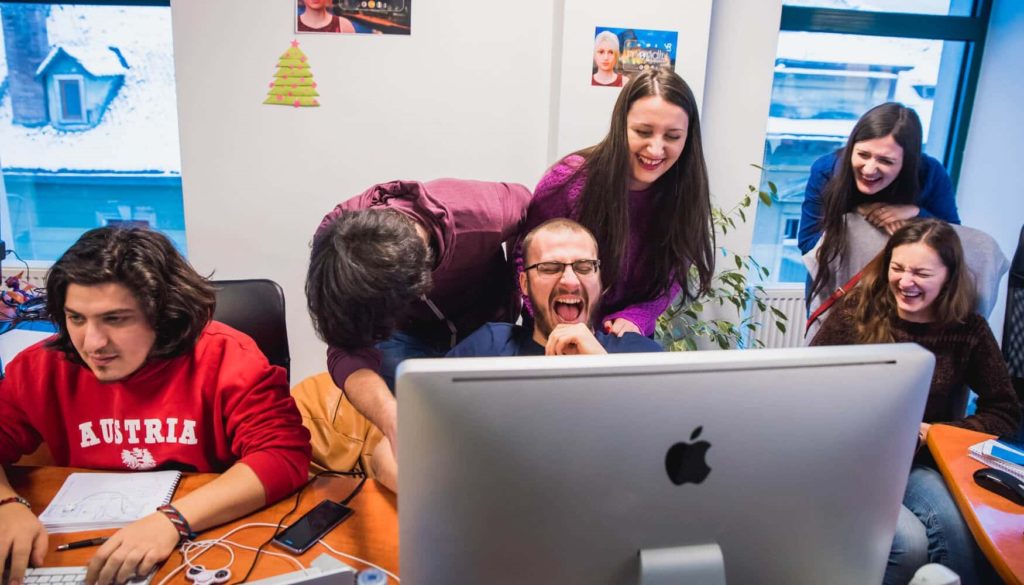 Mondly superheroes having fun @ work
What were your biggest breakthrough and your biggest challenge as a startup?
The biggest challenge we had as a startup was the lack of notoriety. Building and launching a great app was not enough. We had a lot of work to do to get the word out. It's one thing to launch an awesome product when you are well-known and a whole other to launch the exact same product when you are a startup.
The most rewarding part happened in stages. In the beginning, we were happy that people downloaded and liked the app, then we slowly realized our product was actually changing people's life. We have hundreds of thousands of success stories in our 1,000,000 reviews. The third stage is the growing team that manages to make the impossible possible and the fourth is being able to have an impact in your country and hometown. After being so successful with Mondly, we felt we wanted to give something back to the community. This is why we inaugurated the first iMac lab in our city's university, Transilvania University of Brasov.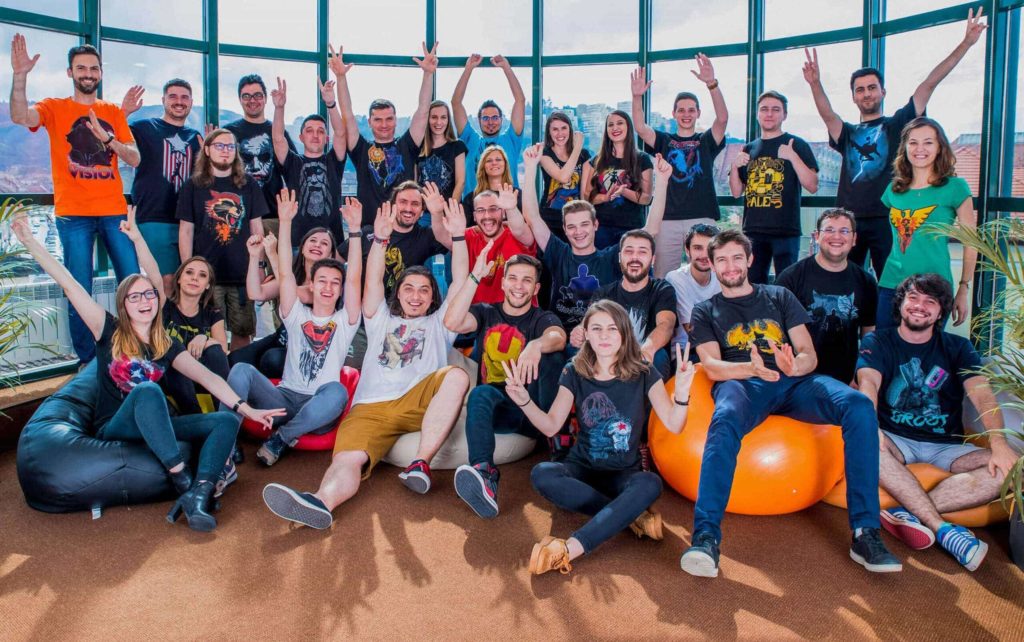 How are clients responding to monetization? Do they expect a free product forever?
Basically, clients can already enjoy Mondly for free forever. Every single day, all our users get a free daily lesson that does not require a premium account. So only users who actually feel comfortable with paying and want access to more content pay. And most of them do that. They download Mondly free to try it out, then pay to get full access to all the content we offer.
What about partnership programs? What kind of partnership has proven successful for sales and brand recognition?
Since we started to develop our affiliate program, we've been open to building relationships with all types of affiliates, from coupon and deals websites, email marketers and review websites, to social media publishers and more, but our most successful partnerships are with affiliates that develop content, influencers if you will, mostly in the education/language learning vertical.
Looking at Mondly's numbers since joining the Avangate Affiliate Network, we see an upward trend in sales. What's your recipe for success with this network?
There's no secret there – our affiliate program's strategy revolves around the idea of building long-lasting partnerships with our affiliates. And that starts with us recruiting new partners inside and outside the affiliate network, then supporting a constant two-way communication channel with the partners that decide to embark on our mission to make Mondly the #1 language learning app in the world.
Then there are the tasks that go into any affiliate manager's schedule, like motivating partners using incentives, keeping an up-to-date marketing kit that partners can use for their marketing actions, running promotions according to our promotional calendar, monitoring & optimizing campaigns, and gathering insights so as to improve future campaigns. In the end, successful campaigns mean revenue for both Mondly and our partners, and our affiliate program's main goal is, as mentioned above, to build strong mutually beneficial partnerships with our affiliates.
Check out here Mondly's Affiliate success story.