After so much work you've done redesigning your website, adding all those cool features and getting rid of all annoying bugs, it would be a pity to ruin everything because you forget the small but essential details.
You cannot afford to lose page rank, valuable links or loyal visitors, in a word, you should not lose more than you win with the new version of the website.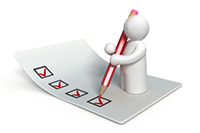 If you're reading this, I know that you are in a hurry, because deadline is probably pretty short ahead of you, so make sure you go through this checklist before the commit of the new website:
1. No broken links, no 404 errors
Let XENU be your best friend today. Download it, install it, just enter the URL of your site and let Xenu do his job (it's free). Fix all the 404 errors, do as many 301 redirects as you need to, and then do the checking again and again, until Xenu says it's ok :). Also, the mod rewrite should be made in a user friendly manner, so as to generate readable URLs. Just to make sure, don't forget to create a user friendly customized 404 page.
As Google itself suggests, you should also be rechecking manually all the internal links, just to make sure visitors get the experience you intended for them.
2. Get the same experience on all browsers
Check your site on all possible browsers out there, or at least on those used by your visitors, according to your Analytics data. Browsershots can do that for you, so you don't need to install anything. Just type the URL in there and make sure you refresh the page once in a while, so that the session does not expire.
According to Phil Thompson, this will help you get indexed much faster. While you're at it, make sure you also submit the sitemap.xml to YAHOO and MSN as well.
4. Insert the Google Analytics code on every page
Oh, Google! You can't forget it, cause you can't live without it. Are you sure you got it right? Use Sitescanga to see that you have no errors with this one.
5. Check the website loading times
Maybe you forgot some large images into your code or just messed up with you CSS files. Don't ignore it, waiting means abandoning! Use this web based tool for website optimization. Also, it is recommended that your pages are not larger than 50Kb, so as the search engines crawlers may easily download and go through your pages.
6. Got PDFs? Are they optimized?
If you're not sure, check out this article on how to optimize your PDFs.
7. Does your website work without JavaScript?
Just disable java in your browser and see how it goes. If your browser does not allow you to disable JavaScript, you can use this Mozilla Addon that allows you to only disable JavaScript for one URL.
8. Check the errors in your forms
Make sure you're not missing some testing text. Errors should be as user friendly as possible. And make sure you send the automatic emails from an address you're not ashamed of. And the text that goes into the email. And don't forget the "thank you for filling in my form" page.
9. Is On Page SEO done?
I mean titles, meta descriptions, keywords, robots.txt implementation, sitemap.xml on site, no more than two h1 and h2 tags on a page, alternate text for images, validated HTML code, sitemap.html, nofollow implementation on the logo, on the duplicate links and useful links such as login, signup, terms and conditions, link titles, etc.
10. Favicon there?
Are the RSS links in the header? Did you update the copyright notice? Can visitors contact you?
The suggestions above do not comprise an exhaustive list, of course, but with your help maybe it can become one. So, go on, it's your turn to comment below – do you have any suggestions, any advice that might prevent us from wasting our redesign efforts?