An affiliate program is one marketing channel in a larger online marketing strategy. If an affiliate strategy is executed properly, the affiliate channel can become a viable new customer acquisition channel for a software merchant. In addition, affiliate partnerships will enhance your brand, drive awareness and increase overall sales for the merchant.
Here is what we believe to be the anatomy of a successful affiliate program.
1.      Setting up an affiliate program
How does an affiliate program work? An affiliate program allows a merchant to partner with website publishers to promote products through their site in exchange for a commission. Commissions are only paid when an agreed-upon action is completed, such as a sale. Affiliates have a variety of ways to drive traffic to the merchant site, some of which include expertise blogging, product comparison, paid search, or social media.
2.      Choosing a commission structure
Some digital commerce platforms, such as Avangate, provide the technical software and tools needed to launch and manage a successful affiliate program. Once affiliate tracking is installed on the merchant website, the merchant will need to set a commission rate based on a desired action. An affiliate commission strategy should take into account company goals, conversion rates, and competitive offers.
Other factors to keep in mind include the sales cycle, average order value, net income, and the lifetime customer value. If the product has two sales cycles, a free trial and a conversion to a paid subscription, the commission structure may consist of a smaller payout on a free trial, and a larger payout on the conversion to a sale. Payouts can be based on a percentage of the sale or on a flat rate. If free trials are abundant and convert well, a simpler commission structure is recommended. In this instance, the merchant may want to only pay on a sale. If the company is focused on driving free trials or if the free trials convert at a lower than expected rate, it is recommended to offer a commission for free trial leads and a commission on a conversion to a sale.
3.      Determining your Terms & Conditions
The Terms & Conditions of the affiliate program should be set and communicated in the program's infancy. Affiliates will reference these when reviewing the program. A common compliance issue within an affiliate program revolves around the affiliates capabilities of using trademarked search terms in paid search.
Some merchants choose an open search policy while others prefer a strict policy of no brand trademark bidding, including longtail keywords. The strategy behind this is mostly a business decision, which takes into account the merchant's current search strategy. If a trademark policy is in place, it also needs to be enforced in the affiliate program. Not enforcing an established policy will frustrate the affiliates that choose to comply and may sour the relationship.
4.      Considering a marketplace
Marketplaces offer affiliates the opportunity to seek out and join affiliate programs. Ensure that there is a consistent process in place on the merchant side for reviewing and approving or declining affiliate applications. In addition, use your marketplace to research payouts from similar merchants. An aggressive growth strategy within the affiliate channel is driven by a competitive offer and coupled with professional management.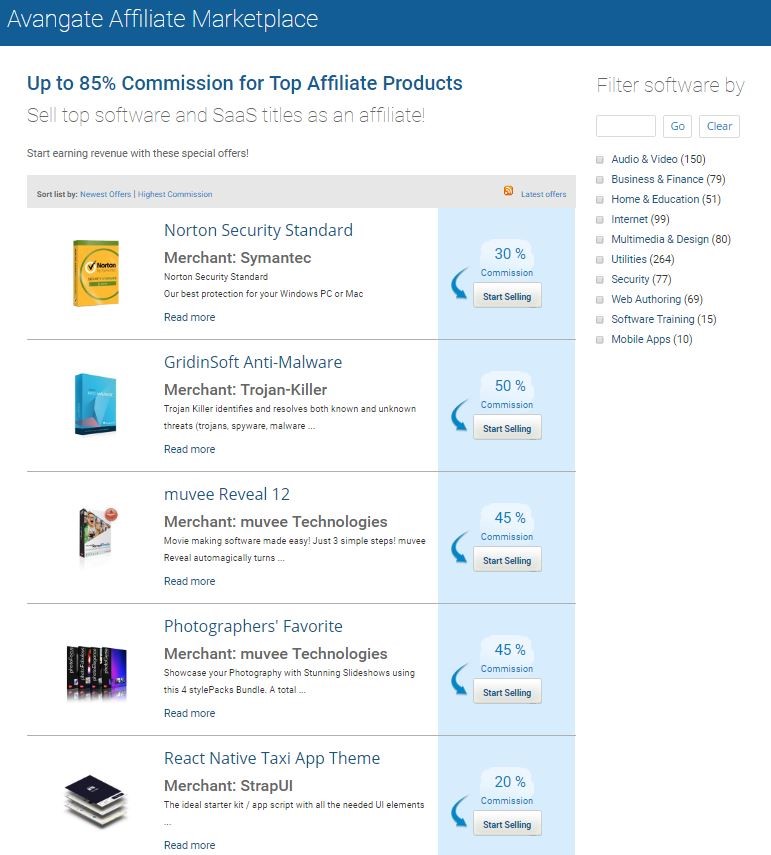 5.      Recruiting affiliates
Once the program is set up technically and financially, the focus should be on new affiliate recruitment. If you've chosen a commerce platform with an emphasis on affiliates, they should be able to provide you with the tools to recruit and communicate with affiliates via email and newsletters. Some even allow for affiliate bonus programs to incentivize faster traction on a per affiliate basis. Consider budgeting for first-sale bonuses or higher commissions for better placement on review sites.
Affiliate recruitment involves list aggregation, culling, outreach, and follow-up. The stages of affiliate recruitment involve sending an offer to join the program, having the affiliate join the program, activating the affiliate to drive clicks, turning those clicks into conversions, and then optimizing the relationship to drive more volume. Cnet and SoftwareCoupons.com are examples of the types of affiliates available to promote software products via the Avangate platform. Cnet manages the site Download.com, a popular site that drives targeted traffic of visitors interested in different types of software.
Another popular affiliate site for potential partnership is SoftwareCoupons.com. Coupon sites have established consumer behavior in the retail segment that has translated over to the software space and an established relationship with these types of affiliates could be beneficial.
6.      Offering coupons and other promotions
Exclusive coupon codes for these types of affiliates have shown to increase new customer sales. These affiliates tend to promote the exclusive code not only on their site, but also in their newsletter, on their social media sites, etc., resulting in an increase in overall awareness and traffic. Exclusive coupons and discounts offer leverage for better placements within affiliate sites.
7.      Incentivizing high performing affiliates
Once the affiliate program has traction, you can track performance by affiliate. To encourage new customer acquisition, consider offering higher commissions to affiliates that consistently drive new traffic and conversions to the site. A sophisticated strategy will involve attributing commissions based on the path to sale, and allocating more budget to affiliates that drive higher-valued traffic.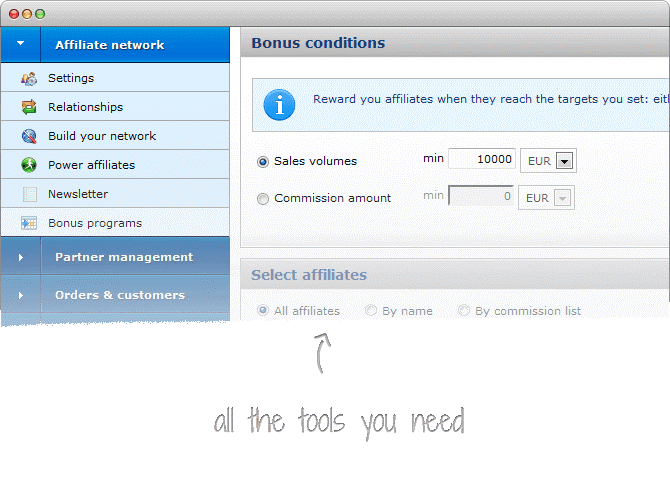 8.      Watching out for fraud
In all programs, merchants should be aware of fraud, and process order reversals for fraudulent or reversed orders promptly through their affiliate network. A merchant should not pay affiliate fees on unqualified actions. Launching and growing an affiliate program requires time and resources. A successful affiliate program will establish long-lasting relationships with top industry sites, in a strategic way. Here are some additional tips to help you get started.
Affiliate Marketing Best Practices
Carefully plan your budget
Budgeting for affiliate marketing programs can be complicated. There are the initial set-up and integration fees, monthly minimums, the tracking platform's fees, your program's default CPA payout, and any custom CPA payouts that you set. In addition, you often have to pre-fund the account properly or you risk harming your relationship with your partners.
If you don't plan properly, your affiliate program could turn into a negative-ROI venture. Take time to understand all costs, create a forecast, and update it regularly. And don't forget to fund your account!
Test everything
It's hard to know what works for your specific brand, product, or niche, in the affiliate channel so testing is necessary. Test different types of campaigns in the affiliate space, including view-through, display, and email. Testing these in affiliate is low risk as you pay only on a completed action. Because of this, some merchants find the affiliate channel a nice space to test retargeting and search strategies as well.
Focus on quality over quantity
Many new affiliate marketers focus purely on volume, which is a valid strategy in some cases. When you launch a program, determine if gross volume is more important than cost-effectiveness. These goals lead to two separate channel strategies. If you're solely pursuing quantity over quality, you risk casting too wide of a net and may over-extend your program. If your goal is to recruit new publishers, activate inactive joined publishers, optimize revenue generated by those with more potential, develop a strategic plan rather than trying to do everything at once. Nurturing important affiliate relationships, requiring opt-in for optimization campaigns, and setting a strategic plan for the year ahead, are just a few simple ways to set a solid foundation for long term quality.
Nurture your affiliate relationships
Affiliate relationships take time. Advertisers should treat affiliates as an extension of their own sales force. After all, affiliates are your brand ambassadors, and seeing them as your employees will go a long way in ensuring that your brand is represented appropriately. When it comes to compensation, this relationship should be handled delicately, as you would treat your own employee.
Clearly set your terms for publisher engagement
Since affiliates are an extension of your brand's sales force, ensure they know the rules to abide by. Set clear terms and conditions and communicate those to the affiliates to maintain program quality. If your product or service requires affiliate education, provide an introduction in the program description with resources to learn more. Make sure terms are clear for what types of actions are commissioned, what types of products are not commissioned, and what the search bidding rules are. Don't allow affiliates to "get by" with violating your terms; other affiliates who work hard to abide by terms will notice.
In closing, launching and maintaining an affiliate program comes down to thoughtful relationship-management and planning. Take time to formulate a larger strategy and work on diligently executing it. If your affiliate program gets in a rut, it may be time to consider professional management.
To learn more about the affiliate best practices, conversion rate optimization, revenue leakage and get examples of in-depth strategies from digital leaders, check out Avangate's Customer Acquisition eBook.