Are you an affiliate marketing professional struggling to figure out which conferences to attend this year? Are you looking to broaden your industry knowledge and take your networking to the next level?
Good news: we've compiled a guide to 12 major affiliate conferences focused on bringing together the latest industry trends and innovations, presentations from experts and unparalleled networking opportunities. Rest assured these events will be worth your time. The list is global, so no matter where you live, we hope there's an event near you.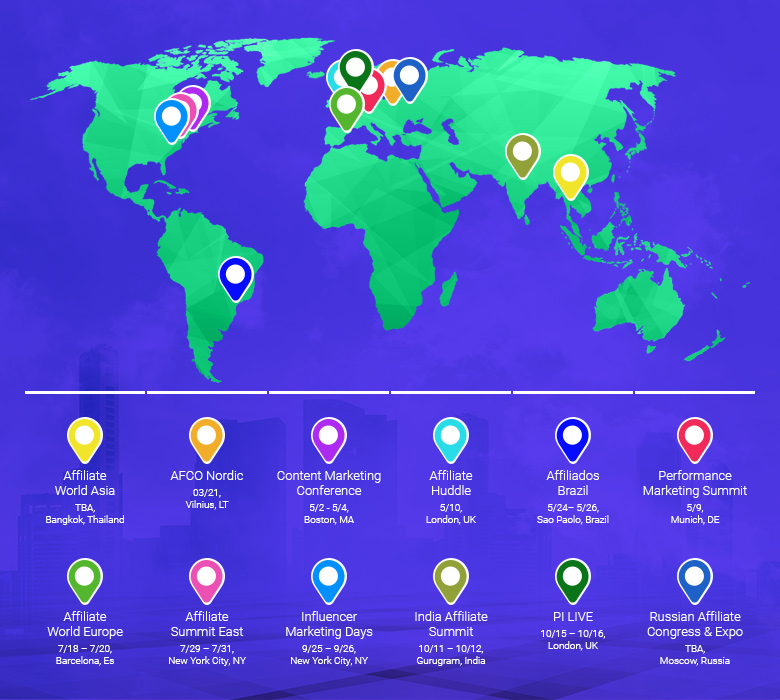 Go ahead, mark one of these unmissable dates on your calendar!
Bonus: Here's a list of more than 130 eCommerce & Digital Marketing Events in 2018 you shouldn't miss!
Affiliate World Asia (TBA, Bangkok, Thailand)
AW Asia brings together the biggest names in the industry, such as Facebook, Uber, Google and many more. "There's an evolutional revolution that's happening in marketing and it's being represented at this conference. This is a space that is at the cutting-edge of change," according to Alexander Nix, Psychographic Data Analyst.
Many exciting things happen at AW Asia, and over the years the event has managed to attract more than 2600 attendees from over 80 countries and offer an outstanding exhibitor market that's doubled in size since last year.
#AWasia
AFCONordic (3/21, Vilnius, Lithuania)
AFCONordic is a performance marketing conference held in the Northern Europe. This brand new one-day conference will take place for the first time in Vilnius, Lithuania. The event promises enhanced networking opportunities in one special Baltic-Nordic day.
#afconordic
Content Marketing Conference (5/2 – 5/4, Boston, MA, USA)
CMC is the place to go if you want to take your content marketing to the next level. This conference is a great fit for publishers who want to master their content, deliver high-quality information and find out the latest strategies and technologies to leverage the delivery of engaging content.
#CMC18
Affiliate Huddle (5/10, London, UK)
The conference is focused on sharing knowledge and encouraging debates about affiliate marketing. The event promises a day packed with actionable talks and passionate panel discussions.
Affiliados Brasil (5/24– 5/26, Sao Paolo, Brazil)
This conference, spread over three days of exciting networking opportunities, is actually the only affiliate marketing event that takes place in Brazil. It's the perfect place to share knowledge on how to monetize your online business and connect with industry peers from the area, as everyone will be in one place.
Performance Marketing Summit (5/9, Munich, Germany)
Performance Marketing Summit is a one-day performance marketing conference packed with presentations from industry experts from Google, Bing, Facebook, Amazon and other major companies, all discussing insights into their success stories.
#PMSUMMIT
Affiliate World Europe (7/18 – 7/20, Barcelona, Spain)
More than 3000 of the most inspiring performance marketing professionals will attend this event, and over 30 speakers who know all the ins and outs of the affiliate marketing industry will share their expertise. The panel topics will focus on building your affiliate campaigns.
#AWeurope
Affiliate Summit East (7/29 – 7/31, New York City, NY, USA)
The Affiliate Summit events have become very well known for their success since 2003. Over the years, they have fostered the perfect environment for affiliate marketers by providing educational sessions and a productive networking space.
Haven't made it to an AS event yet? Check out Avangate's Affiliate Summit Europe 2018 Event Wrap-Up and Affiliate Summit West 2017 Event Wrap-up.
#ASE18 #affsum
Influencer Marketing Days (9/25 – 9/26, New York, NY, USA)
Whether you're already familiar with influencer marketing campaigns or just searching for ways to take advantage of this powerful type of marketing, Influencer Marketing Days will provide all the knowledge you need and inspire you to make the most of influencer marketing at your organization.
#InfluencerDays
India Affiliate Summit (10/11 – 10/12, Gurugram, India)
This conference has announced over 20,000 attendees from the affiliate community and 17+ hours of industry-tailored content designed to encompass the affiliate market space in India.
India Affiliate Summit introduces a new exhibition concept called "The Affiliate Street," which aims to replicate the traditional marketplace. Over 85 exhibitors will focus on creating an innovative environment and fostering new and exciting opportunities for affiliate marketers.
#IAS18
PI LIVE (10/15 – 10/16, London, UK)
PI LIVE is the world-leading meeting point for performance marketers. The conference is focused on the two-day speaker line-up tackling industry's most debated topics. Over 3000 marketing professionals from more than 50 countries, including world-leading advertisers, networks, agencies, publishers and techs, attend every year. This event gets bonus points for its Influencer Marketing track, which will cover how brands, agencies and influencers can work together in order to maximize ROI.
#PILIVE18
Russian Affiliate Congress & Expo (TBA, Moscow, Russia)
The conference is focused on three streams: advertisers, webmasters and mobile & traffic. Reports and use cases will be revealed from the industry's top experts.
In addition to theoretical knowledge, you will be able to get practical skills through master classes and workshops.
Okay, that's quite a list—which event(s) are you going to attend? Don't forget to double-check the dates and locations of these events on their official websites, as many dates haven't been announced yet and changes may occur.
If you know a great affiliate marketing conference that's not listed in our blog post, please feel free to contact us on our Facebook/Twitter pages and let us know about it!