Have you ever wondered how much your customers are willing to pay for your product?
To figure out what pricing strategies are the most popular across the SaaS industry, we at Brand Mentions decided to analyze the pricing pages of over 750 SaaS and subscription-based startups.
We discovered some pretty interesting things – for example, the all-hailed money-back guarantee isn't very popular anymore, and, despite what might be expected,  not all products have a pricing page. Some companies' pricing pages don't even list the price.
Our study was not only about the price itself. While you can take the data and see what the average for your industry is,  you may still decide to position yourself in entirely different pricing segments, depending on your target audience, industry and competitors.
The research looked at many variables, from the number of offered products or service packages to the prices themselves, in order to better understand the ins and outs of pricing pages and the strategies behind them.
Main takeaways from the pricing study
One thing to keep in mind is that this isn't an exact science. Take the recommendations with a grain of salt and always A/B test, because what works for one company may not necessarily work for yours in the same way. You should monitor your current pages for some time and look at the data, before making any changes.
Here are some of the main takeaways and pricing page trends we've observed during our research.
The golden number of offering packages is 3
Have too many product or service packages and you risk confusing people. Offer too few and you risk losing product fit for a large part of your potential customers.

For over 40% of the analyzed pricing pages, the golden number of packages offered seems to be 3. The science behind that number is quite simple – Low, Medium, and High.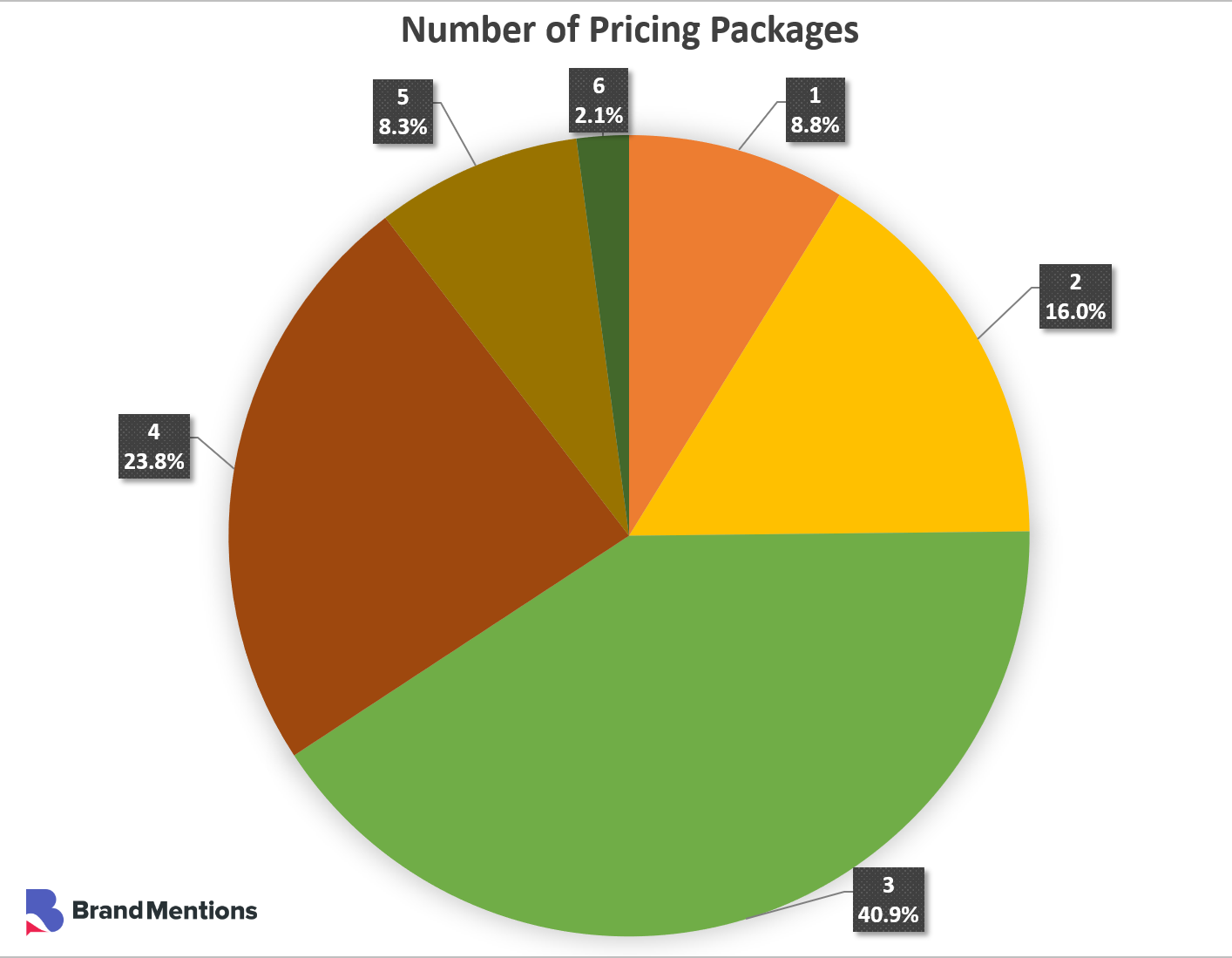 This, of course, might not always apply to your business. Depending on how many variables there are and how often clients ask for customized offers, you might choose to have more or even no packages at all.
Free trials and live demos are a must‐have
Online purchases are usually pretty tricky if you can't see, feel or test the product before you buy it.
Digital products have the advantage that they can be tested, even from a distance. Potential clients should benefit from the opportunity to try a product before buying, to understand if it is right for them or not. By offering free trials or demos, your business will, therefore, benefit from fewer refund requests and reduced transaction costs.
However, the most important business benefit of offering a trial is that you can learn a lot from what your potential clients are experiencing. You can get a ton of feedback from users and find out what might be keeping your prospects from buying your product.
Show the prices from most expensive to the cheapest
Conventional wisdom suggests that the prices are displayed from low to high. That's what about 90% of the analyzed pages are doing.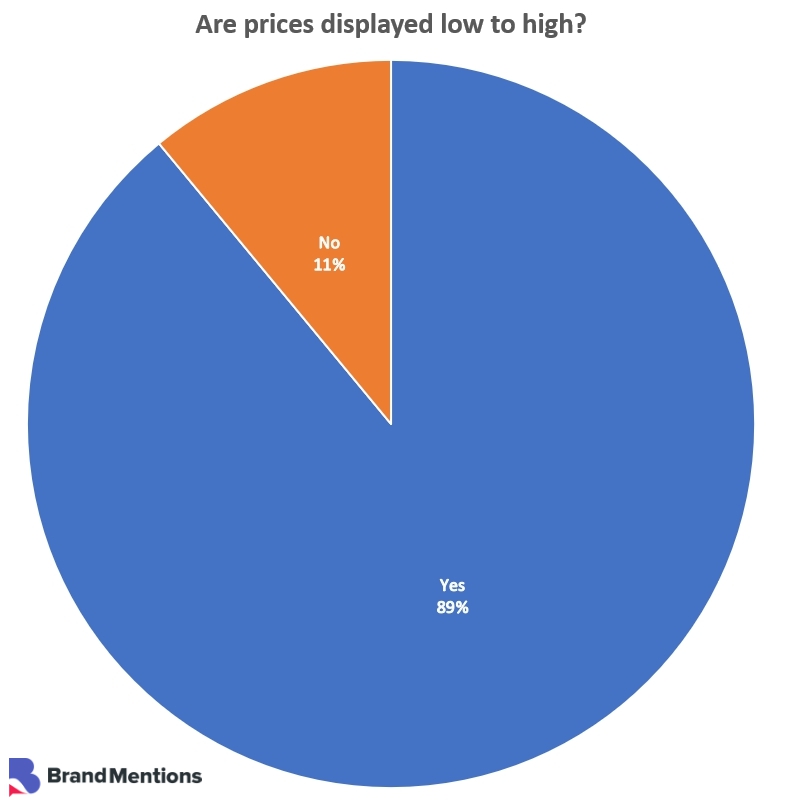 However, there's an important case to be made in favor of displaying prices in the exact opposite way, like those 11% are doing. People (in most languages) read from left to right. If your prices are high by default, even for the starter / lowest tier packages, displaying them from high to low will suggest to viewers that the price of the final package is lower than expected.
Annual packages bring mutual benefits
Over 50% of the analyzed companies are offering annual pricing plans.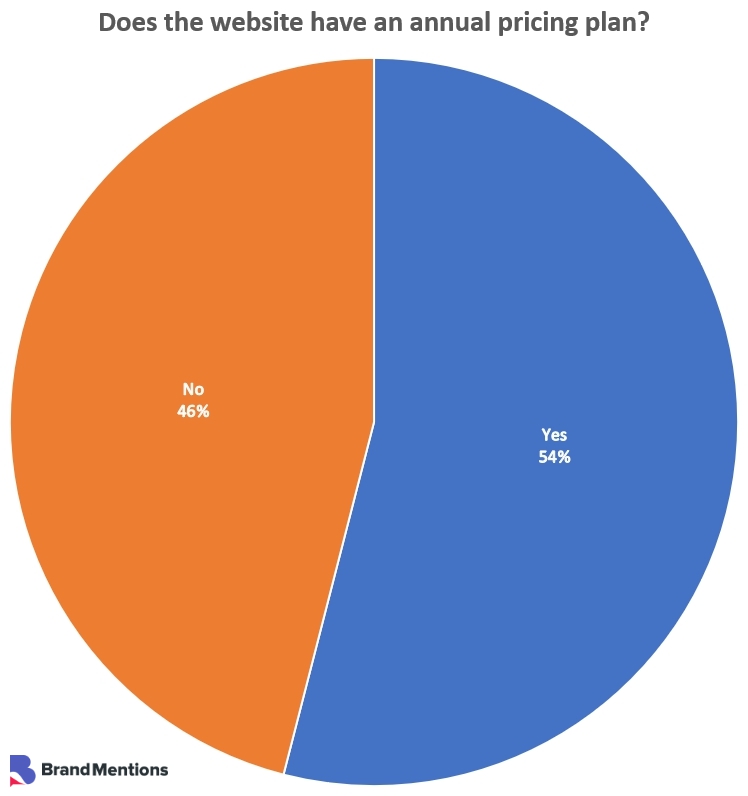 The first thing that comes to mind when thinking about annual recurring billing is discounts. One of the main ways in which a SaaS business can reduce its voluntary churn rate is by optimizing the renewal and recurring billing process. Discounts can be offered on the next annual renewal price, on all the billing cycles, or for something in between. This type of churn prevention program can convert up to 6.5% of the time and grow revenue by around 4%, by increasing customer lifetime value (CLTV).
Social proof has a great positive impact
Although only 30% of the companies featured in the study use social proof, it doesn't mean it's useless.
Many people think that social proof isn't trustworthy anymore because it can be easily faked. And that's true. However, here's how Neil Patel put it when I met him at GPeC a couple of years ago:
Social proof isn't trustworthy when you use untrustworthy reviews. However, imagine if your homepage looked like this: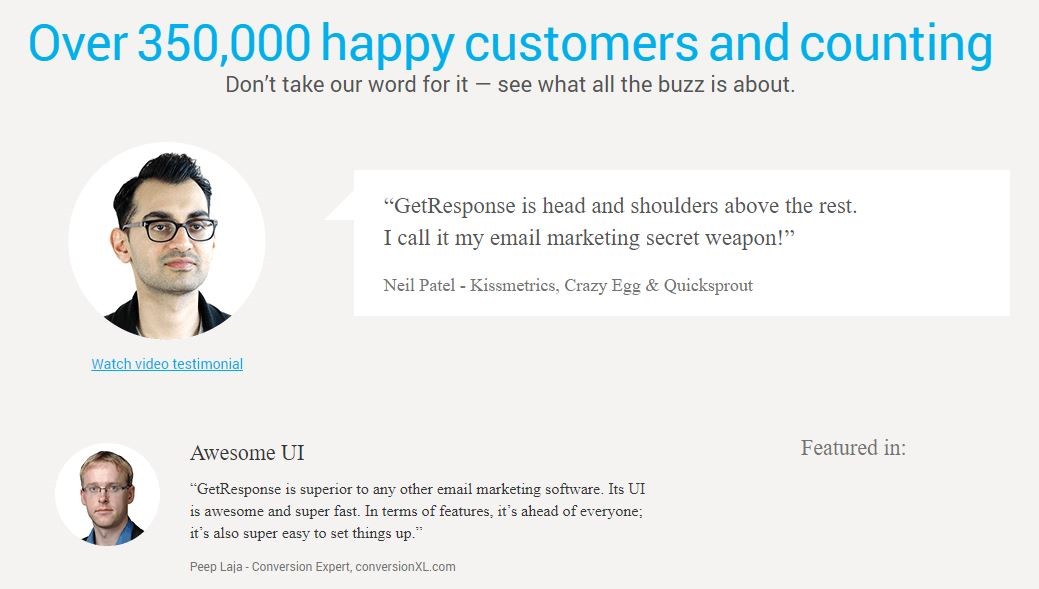 That's GetResponse's homepage social proof from a couple of years ago. It features two of the most renowned digital marketers in the industry, Neil Patel and Peep Laja.
That would definitely attract more attention than some random person's review, wouldn't it? People trust it because it's a lot harder to fake.
Social proof, if done right, has the potential to heavily influence customer's decision to buy, and by ignoring it, businesses could be leaving money on the table.
Recommend a pricing plan to your visitors
Offering a "recommended" package can often help a customer decide what to purchase. How such recommendations are made depends on the industry you're in, the type of product you sell and your ideal customer. For example, if most of your sales come from a specific type of client segment such as "copywriting freelancers," you could highlight a product package on your pricing page with a description like "best suited for copywriting freelancers" or something similar.
Although not many businesses tried to influence which package their clients should buy, around a third of the surveyed companies did highlight one particular package in one way or another.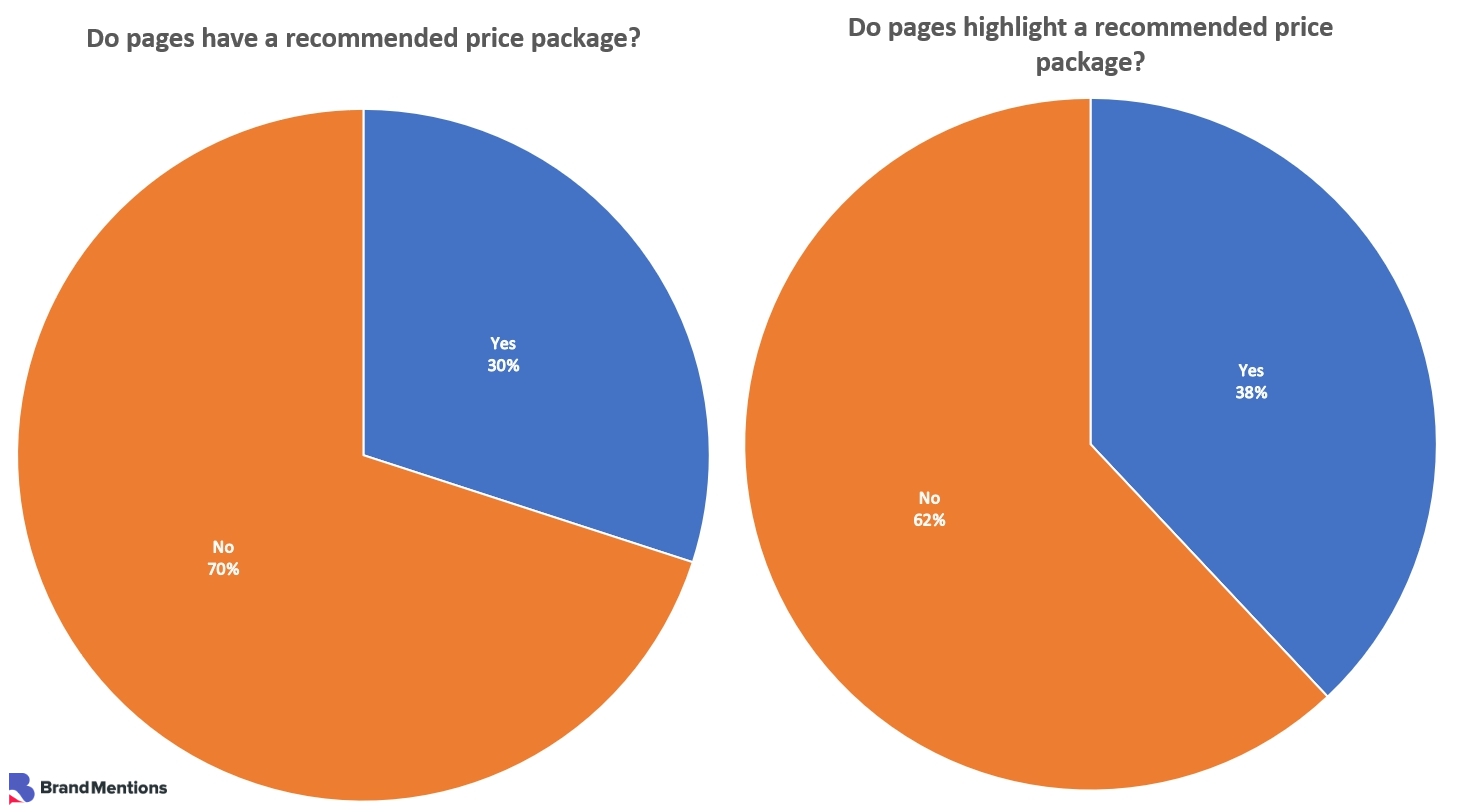 Creative Industries, eCommerce, Customer Support, and Data Security SaaS companies were the most likely to highlight a recommended price package.
Enterprise offerings are required
Offering an "enterprise" package allows your page to clearly state that you mean serious business.
Over 75% of the analyzed companies listed a product package dedicated to enterprises on their pricing pages. It's interesting to note that the majority of those do not indicate a price for the enterprise tier, featuring a "Contact us" or "Request quote" button instead.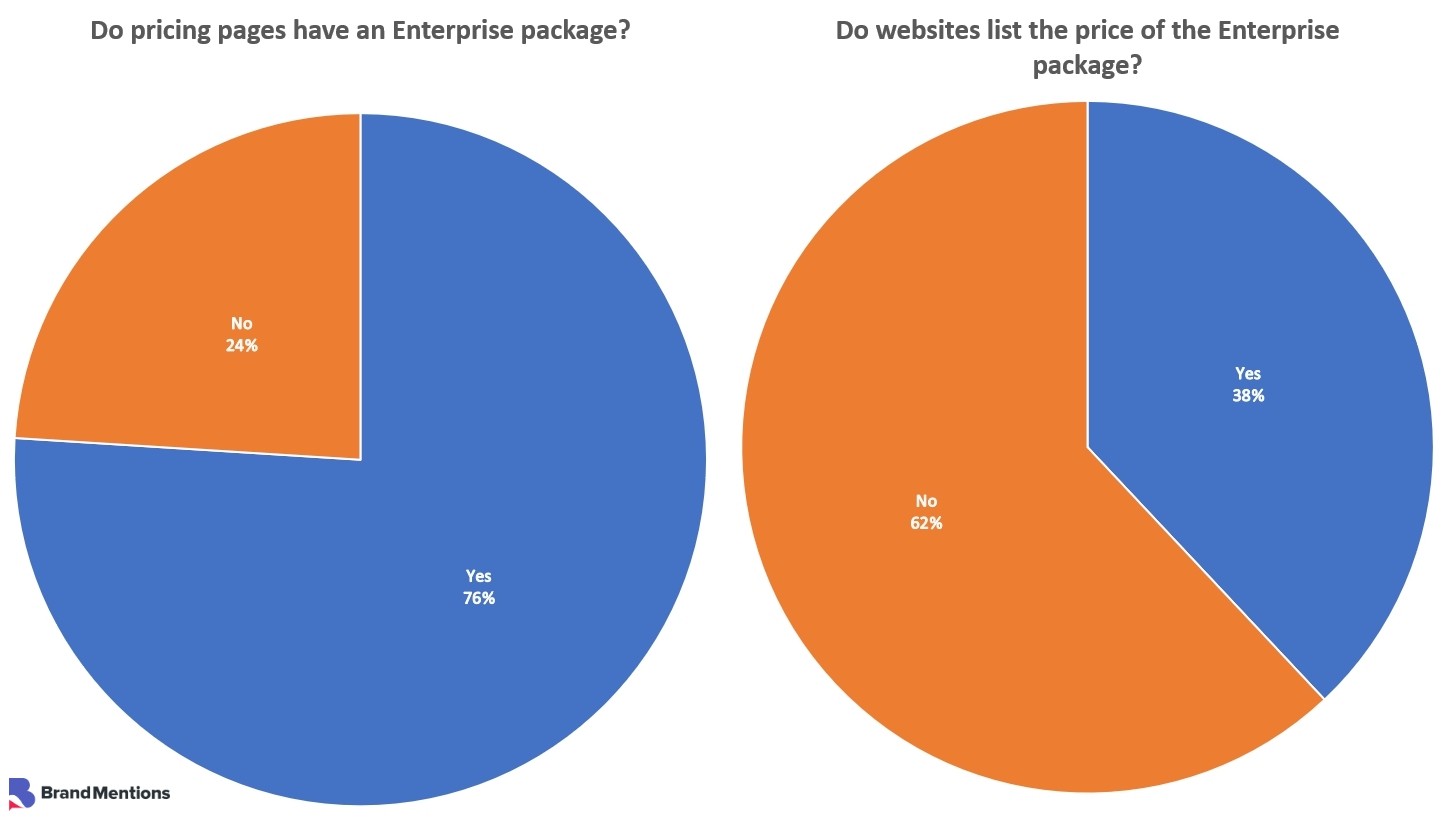 While such a package is not the only B2B offer encountered throughout our study, its name suggests a certain expectation in terms of size and scope, as well as the level of customer support that is offered.
Enterprise packages were most often found in industries such as Lifestyle (surprisingly) and eCommerce.
How the 'perfect' pricing page should look
If we combined all of the above pricing trends and best practices into a template for the "perfect' pricing page, we might arrive at something like this: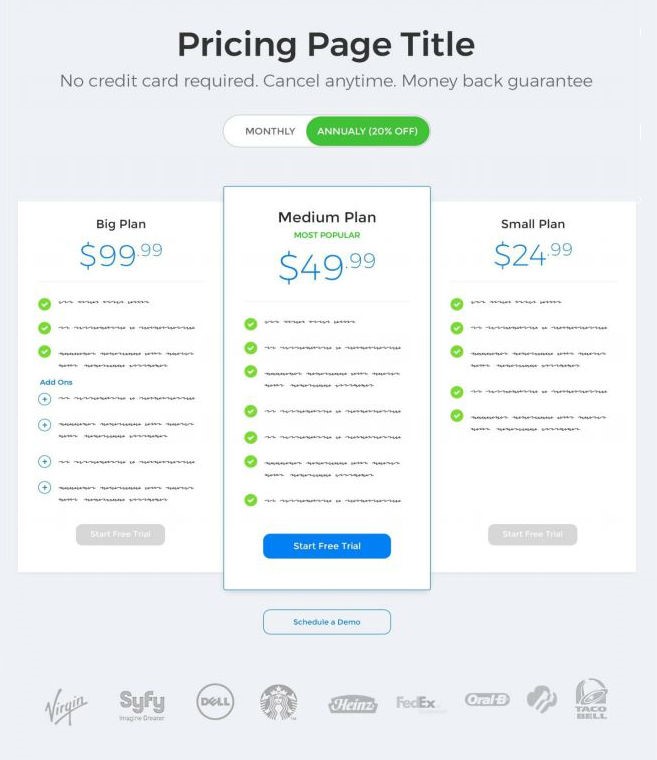 Naturally, this mock-up doesn't apply to all types of businesses or subscription models, but it may serve as a good source of inspiration for crafting or improving your pricing page.
If you're curious about the other findings of our pricing page study or want to see some statistics for your particular industry, you can download the complete study results from our website.
About the author
Adrian Cojocariu is a passionate SEO Analyst who discovered the digital marketing world at a very early age. He is also a professional piano player and a martial arts enthusiast. Still, SEO remains his biggest love of all.