In the fast-paced digital commerce space, users nowadays expect the option to be able to monitor, review or update their order details, in a self-service style. Whereas in the past, shoppers would rely on phone or email interactions to retrieve information about their online orders, the digital shopping experience today gives full control and transparency to the end-user. One way of upgrading this experience and meeting customers' expectations is to provide a self-service account where one can look up and update transaction and payment data. Make users' self-service experience efficient and seamless, by providing them with a shopper my account area.
This is where the new-and-improved 2Checkout myAccount can help.
What is 2Checkout myAccount?
myAccount is a self-service platform where shoppers can access details about purchases they made, for which the payment processing was done by 2Checkout. These details include subscription status, costs, invoice, delivery and billing information, reference number, and more, all data that is updated in real time in the account.
In other words, myAccount is a self-service portal that allows customers to track their order history from placement to delivery/fulfilment.
What's more, 2Checkout myAccount is designed to centralize the shopping and post-purchase activity of your customers, giving them better visibility into their purchase status and buying activity.
3 Benefits of using myAccount
Providing a real-time self-service order tracking portal like myAccount can drive many positive outcomes for your brand.
1. Reduced costs
Customers want the ability to track their orders. If you don't give them that option, you'll be bombarded with "where's my order?" support tickets, which could get costly in the long run.
By providing a self-service order status portal to your customers, you're reducing the burden on your customer support team, leaving you more resources to invest in other ways to delight shoppers.
2. Improved customer experience
The modern customer craves more control in their shopping experience. No wonder  51% of shoppers want real-time visibility into the status of their orders. With an order solution like myAccount, you're making the post-purchase experience a predictable one for your customers.
The result? More engaged customers and more profitable relationships.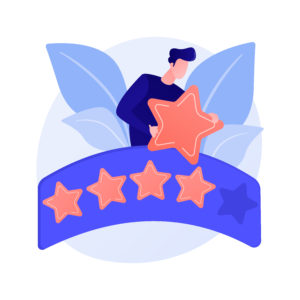 3. Improved retention
Driving repeated purchases comes down to trust. By letting customers monitor their recurring contracts and their next billing interval, you're adding a layer of transparency to the post-purchase experience. This makes your business more reliable and trustworthy in your customers' eyes. The more they trust you, the more likely they'll keep buying.
2Checkout myAccount's features:
With the 2Checkout myAccount customer portal, shoppers can:
Access detailed information of all products/services purchased via 2Checkout
Gain insights into products and subscriptions purchased through 2Checkout, including any changes made throughout the order's history
Manage subscription settings and configure renewal options (like turn auto-renewal on or off, or pause their subscription for a set period of time) and associated notifications
Order on-demand renewals for their subscriptions (available only when a subscription is 90 days or less from the expiration date)
Upgrade on-demand products and subscriptions
Retrieve license keys and authorization codes supplied with the product or service
Download product files such as spec sheets, user manuals, key store files, warranty documents, etc.
Update payment information for subscriptions
Reactivate the auto-renewal system of on-demand subscriptions
Order Lookup: How shoppers can track their order history
Once logged in, customers need to click the Order Lookup tab. After entering the order number/Paypal Invoice ID and the email address used upon placing the order, shoppers can track the status of their order in real-time.
Besides tracking their order status, customers can use Order Lookup to access their transaction history, including payments, refunds, invoices, credits, and so on. To gain access, they have to enter the first and last four digits of the card used to place the order, plus the total amount paid, and the currency used.
If the information matches the payment data in the 2Checkout system, the customer will receive additional transaction details through email.
Shoppers can still do all of the above without logging into myAccount. But if they want to access their complete order and product/service data, they have to sign up for myAccount and log in.
Introducing the redesigned myAccount portal
We're happy to announce that the 2Checkout myAccount portal now comes with an improved, fully responsive design.
The redesigned portal is available to all shoppers that placed orders on merchant websites using 2Checkout as their eCommerce provider (regardless of the merchant's business model and commercial terms in partnering with us).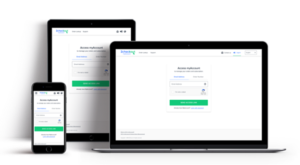 What will this mean for your business? Two things.
First, the new and improved, fully mobile optimized design makes it easier for your customers to access their order information, subscriptions, and refunds.
Second, because of the user-friendly interface, you get fewer support tickets regarding refunds and subscription cancellations.
In other words, the new myAccount portal provides a more efficient self-help resource for your customers, resulting in a more engaging and comfortable shopping experience.
Will the new design disrupt any special customization settings?
No. The visual changes only apply to merchants using the Standard visual layout. If you've set special customizations for your shopper portal, you get to keep your current design. That said, you have the option to switch to our new design if you feel it's going to improve the post-purchase experience.
How do I activate the new design?
You don't have to do anything. The new design will be activated by default for all accounts. If you've made special customizations to your shopper portal, you get to keep your current settings even after the new layout has been activated.
How to access 2Checkout myAccount
Shoppers can access the 2Checkout myAccount customer portal in two ways:
By using a link
Via Single Sign-On
How shoppers can access myAccount using a link
You can set up shoppers to access the myAccount portal by setting up an auto-email containing the link (https://secure.2co.com/myaccount/) for specific actions such as order placement, payment confirmation, etc.
If you're using a custom domain, a portion of the link will be replaced with your domain (for example www.store.custom.com/myaccount).
Once shoppers click the link, they are taken to myAccount portal access page where they can sign in using two options:
Log in using the email address (associated with the order/subscription) or the order number.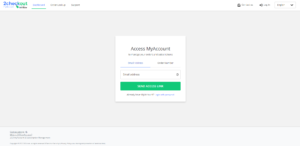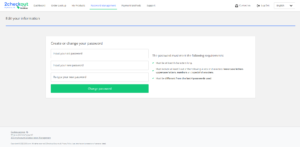 Log in using the email address (associated with the order/subscription) and a password (the one previously set for the 2Checkout myAccount portal).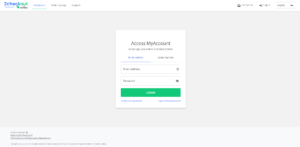 How shoppers can access myAccount via Single Sign-On
You can automatically log in shoppers to the myAccount customer portal based on subscription information or customer reference number provided by the Single Sign-On server.
If you want to simplify your customers' shopping experience and add a layer of security, using Single Sign-On is a great idea. It's also useful if you want to direct shoppers to specific pages on the myAccount shopper portal (including a specific subscription listing, order lookup, etc.).
Final Words
When it comes to boosting sales and enhancing brand loyalty, your post-purchase experience is just as important as the shopping experience that leads to the sale.
The new and improved 2Checkout myAccount is a powerful solution you can use to create predictable, seamless experiences for shoppers, even after the purchase is made.
Looking to discover the types of features that are needed to acquire new users, boost sales, increase conversion rates, boost subscription renewals, or curb cart abandonment? Then read our eBook to find out how 2Checkout's marketing and sales tools can help you get more from each user.