Are you listening to what people are saying about you on social media? You might think so.
But if you're not taking action based on what you hear, you're actually just monitoring. This article lays out the difference between social media monitoring and listening and helps you get started with both.
Social media listening is much more than monitoring: it's using what people are saying about you and your industry to actively create and participate in real conversations about your brand and products. Compiling data about what's already happened, or social media monitoring, is the first step in this process.
Social media listening can help you retain existing customers or gain new ones, identify influencers, track keywords and phrases and improve your overall online reputation. To get started, you just need to figure out what your goals are and set up your strategy. Once you have your social listening strategy in place, be sure to pick the best monitoring tool (or tools) to make your program as efficient as possible.
Also: Check out the 6 Social Media Musts Your B2B Company Can't Ignore in 2017.
To help you out, we've come up with a list of the top tools that can assist you in social media monitoring before you take the next step to full-fledged listening. Keep in mind that these tools monitor, and you listen, deciding what action to take based on what you hear.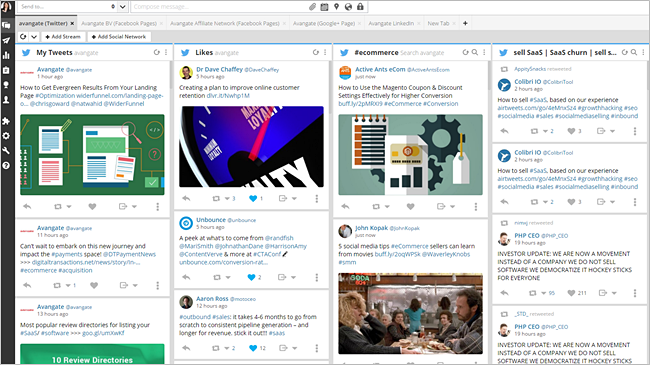 Hootsuite is one of the most popular social media monitoring tools around. Named for the call of the owl, it helps you figure out "who" is talking about you (get it?), as well as what they're saying. Use Hootsuite to better engage with your audience, monitor comments in real time, listen for conversations by keyword and also find leads and influencers from your own industry. Set up specific live streams based on certain keywords, search queries, likes, shares and more, for each social media platform.
There is a free plan available, but upgrades provide access to custom analytics reports, 24/7 support, bulk scheduling and more.
Price:  Free for individuals, paid plans start at $19/month.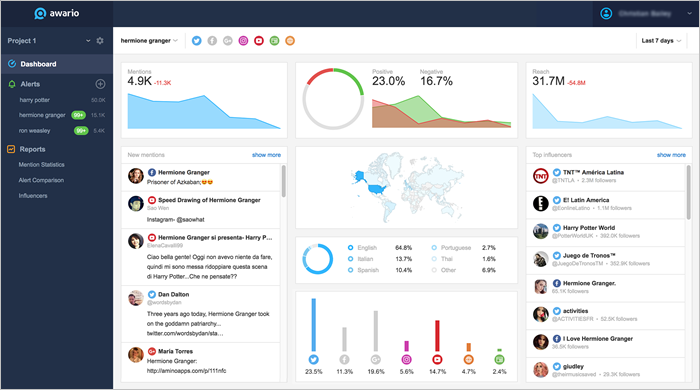 Awario is a social media and web monitoring tool that lets you track mentions of your brand, competitors, industry keywords, and practically anything else online. Awario's alerts have a flexible Boolean mode for those of you looking to set up a complex search with numerous conditions and filters. It also offers handy reports you can use to show a breakdown of your brand's most influential mentioners, compare your mentions to competitors', and track how the word-of-mouth about your business grows over time.
Price: Starting at $29/mo (free 14-day trial available).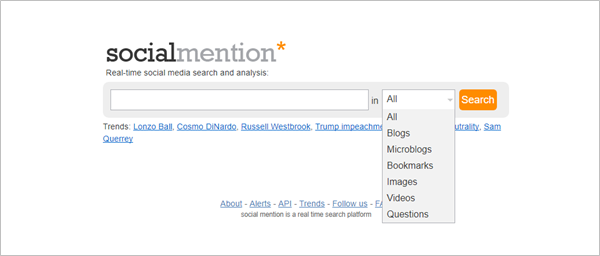 This is probably one of the best and most straightforward social monitoring tools you can get. It's super simple to use and helps you see who's mentioning your brand and products—or any other topic, for that matter. Social Mention also measures influence using four key metrics: Strength, Sentiment, Passion and Reach. Strength is the likelihood that your brand is part of social media conversations. Sentiment is the ratio of positive mentions to negative ones. Passion is the likelihood that those talking about your brand keep doing so, while reach measures how many people are seeing these conversations.
Get started fast by deciding what you want to monitor. If you selected the default "search all" platforms, you'll see results from Facebook pages, videos, blogs and more. You can always choose to filter later on.
Price: Free
Google Alerts is a simple way to set up automatic notices about your brand or any topic you might be interested in. You only need to set up the alerts and that's it. Just pick the keywords and phrases you need to track, the type of news you want and how often you want the notifications, then fill in the email address where you'd like to receive these alerts and you're done! You'll get emails whenever new results for the topic show up in Google search, and you can work with your team to address mentions as needed.
Price: Free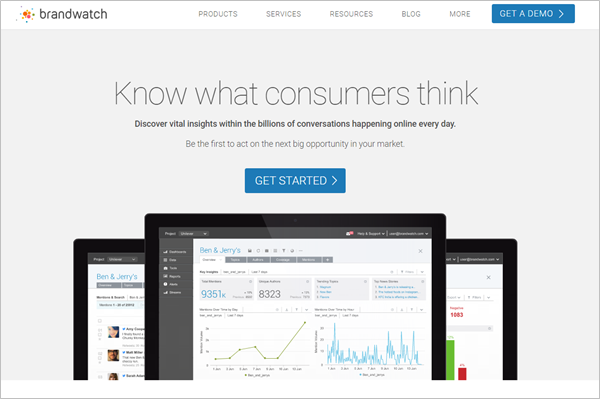 Brandwatch is another comprehensive platform for social media monitoring, letting you analyze conversations from across the web to better understand what your customers and prospects are thinking.
Brandwatch searches more than 80 million online sources, including blogs, news websites, forums, videos, social networks, review directories and even images, to find mentions of your brand or topic. It tracks coverage in 44 languages and delivers sentiment analysis, topic analysis, demographic insights and more: everything you need to start an effective social media listening program.
The platform includes many useful features for analysis, including advanced filtering, alerts, tagging and categorization, flexible charting, topic and sentiment analysis and other data management capabilities.
Price: Contact Brandwatch.

SharedCount works a bit differently from other monitoring tools. Rather than tracking topics, it helps you track social URL shares, likes and more. So if you're curious to see how specific links performed on Facebook, Google, Pinterest, LinkedIn, StumbleUpon, SharedCount is the perfect tool for monitoring the popularity of your content and understanding what topics your users respond to the best.
Price: Free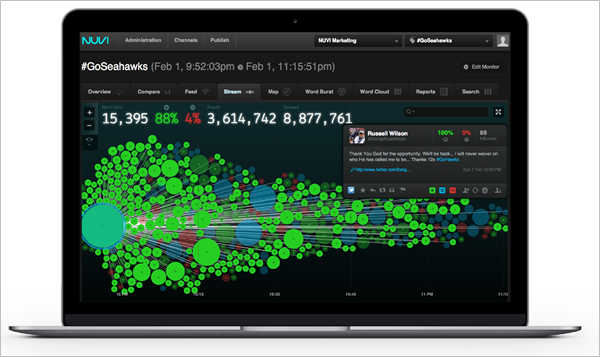 NUVI offers a simple way to track keywords, URLs, topics, social media handles and more. You can keep tabs on your customers, markets, industries, products and competition using data from Twitter, Instagram, YouTube, Reddit, Facebook, VK, Stack Overflow and over 3 million blogs and RSS feeds.
This tool also provides mobile alerts, helping you monitor sentiment in real time to make sure you don't miss a major event when you're away from the office. You can also track your brand in 24 languages and get compelling visual reports that make it easy to take action on data.
Price: Contact the NUVI team for a personalized plan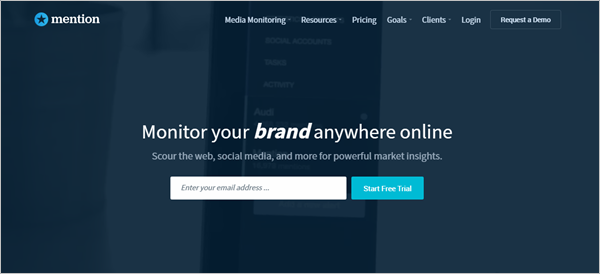 Mention allows you to create keyword-based alerts on your company, brand and competitors, as well as receive updates in real time about any of the topics you choose.
With Mention, you can monitor more than 1 billion sources every day, including social media, forums and blogs. Mention provides all the tools you need to monitor and improve your brand's perception online, including overall sentiment of mentions and reputation for your brand and your competitors.
Price: The free version includes only basic functionality; paid versions start at $29/month.

BuzzSumo provides insights into what content is most popular online and who's sharing it. Just type in a keyword to find popular related content that's likely to gain a lot of attention and engagement when posted. BuzzSumo is also useful for keeping an eye on the competition. You can set alerts to notify you as soon as your competitor publishes new content and even see who has been sharing it. You can also find out as soon as there is a new backlink added to your site (or any other designated site).
It's really a great tool for social media marketers like you as it helps you gain an understanding of what your target audience likes.
Price: Some features are free to use, while paid plans start at $79/month.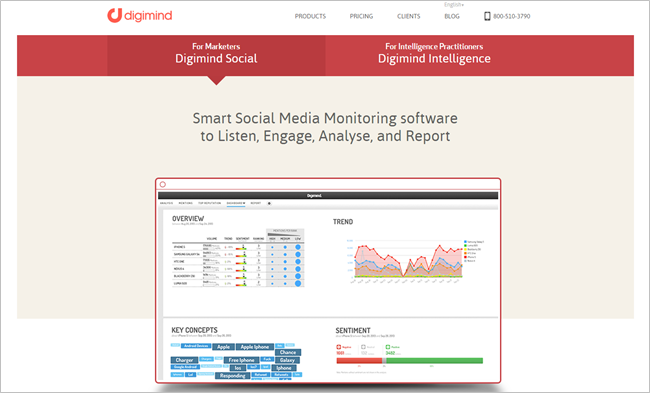 Digimind Social is a social listening and analytics tool that enables brands around the world to instantly understand their online presence and competitive standing. It incorporates data from owned media, earned media and search engines to deliver a comprehensive picture of social conversations.
An integration with Hootsuite helps you better engage with your communities, while Digimind's proprietary Top Reputation module lets you follow in real-time everything your customers want to know about your (and your competitors') brands, products and team, as well as other subjects that interest you.
Price: Contact Sales
ReviewInc helps companies monitor their online reviews and reputation. By now, we all know that positive ratings improve search results and can help drive overall business, while bad reviews can hurt sales. The ReviewInc platform tracks reviews on over 750 major review sites to help you maintain a good online reputation, with help from a dedicated Project Manager who will help you configure your account, custom website and Customer Portal.
Review reports come on a daily and weekly basis, and ReviewInc creates a custom website for your company where all your customers can leave private feedback, reviews and star ratings of your business.
Price: ReviewInc offers a variety of plans, designed for businesses of all sizes, from enterprise to small business, and in all verticals.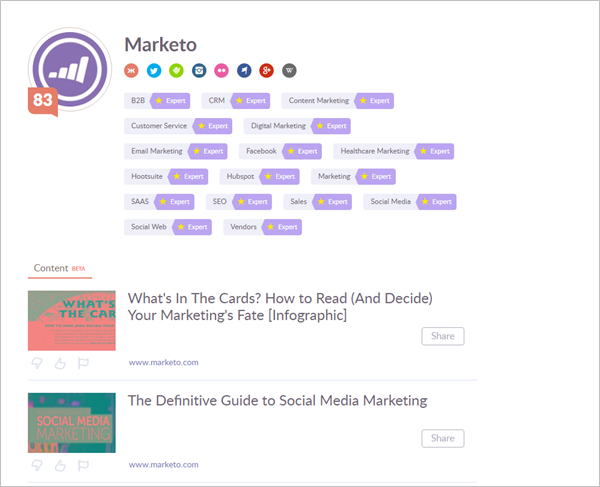 Klout analyzes data from your online activities (including messages, data or other content that you may upload or post) on social networking sites and uses it to measure your online social influence with a metric called the "Klout Score." This is a numerical value between 1 and 100 that complements a rating of your expertise in particular areas of interest, called "Klout Topics."
It monitors many of the most popular social media networks, such as Facebook, Foursquare, Google+, Instagram, LinkedIn, Twitter, and Wikipedia, combining data from all of these sources to create an overall Klout Score. The higher your score, the higher your online social influence in a topic.
Klout also analyzes content to identify the top influencers for each topic, so it's not just for finding your own rating: use it to make relevant influencers a part of your social media listening strategy.
Price: Free to use.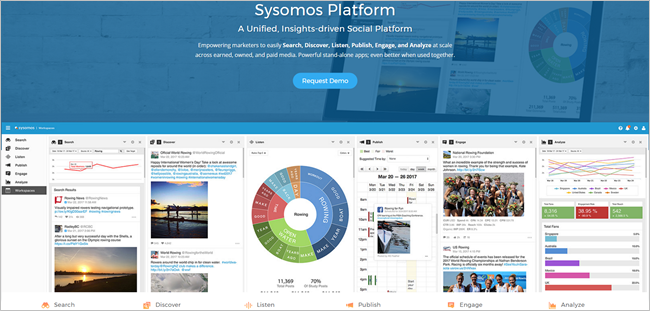 Sysomos Listen is a powerful social monitoring platform that collects relevant conversations and images in real time so you're always aware of what's going on in your industry.
You can do a lot with Sysomos: track social perception of your brand, analyze competitors, benchmark performance, monitor campaigns and discover relevant influencers to your industry.  You can extend your search to monitor text, objects, scenes and even your logo across social networks.
I recommend using Sysomos Engage to monitor all mentions of your brand. This helps you deliver efficient response management and top-notch customer service no matter what happens. You can set automated alerts to enable quick action in a crisis situation.
Price: Contact Sysomos.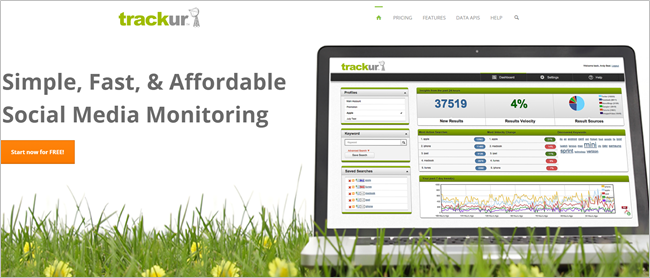 Trackur is a social media monitoring tool designed to help you track what's said about you on the internet. It scans hundreds of millions of web pages–including news, blogs, video, images and forums–and lets you know if it discovers anything matching the keywords that interest you.
Price: A free trial is available; after that, pricing starts at $97/month.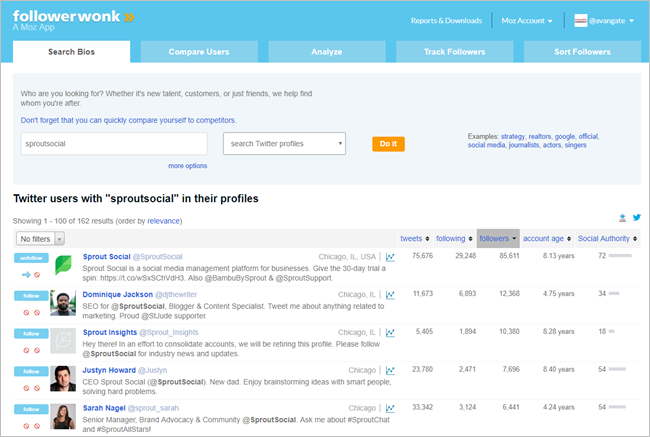 Followerwonk is a Moz app, focused specifically on Twitter. It helps you find Twitter bios that are relevant to you, compare users, analyze users by tweets or followers, track your followers and sort them by influence. If you need precise statistics about who has followed you or a competitor, Followerwonk tracks every change to your social graph and shows interactive charts that allow you to explore changes to your followers and follows. It's a great way to find influencers and sort them by their social authority.
Price: Moz starts at $99/month.
Use Simply Measured to find out what people say when they mention your brand, as well as discover relevant keywords and hashtags. See which audience segments talk about your brand, category, and competitors most often, and use these insights to filter by age, gender, and location. This helps you understand how different audiences behave and what they care about, as well as partner with influencers who can extend your reach.
Price: Contact Simply Measured
Synthesio helps teams listen to and analyze consumer conversations across social and mainstream media, all within one platform.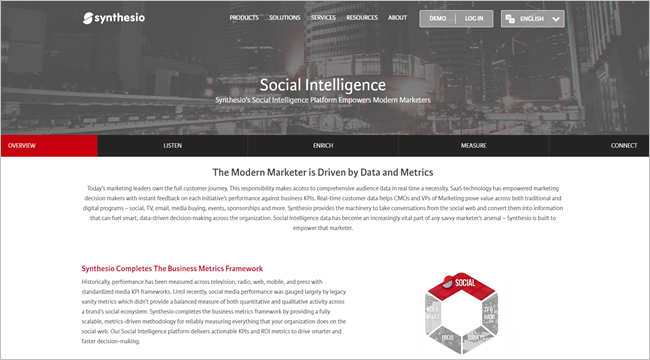 Synthesio monitors 100,000 sites worldwide, in more than 80 languages, and offers custom sourcing to ensure that your dashboards only show the social networks, websites, blogs and other sites most relevant to your brand. Even better, they provide Social Media Listening dashboard templates, and if you're not satisfied with the existing ones, you can build your own from scratch.
The company recently launched a new product, Synthesio Plus, which brings social media interaction data from Facebook, Twitter, Instagram and YouTube directly into your Social Intelligence dashboards. It includes new visuals and also two new KPIs – Media Value and Engagement Rate – to take your social listening to the next level.
Price: Contact Synthesio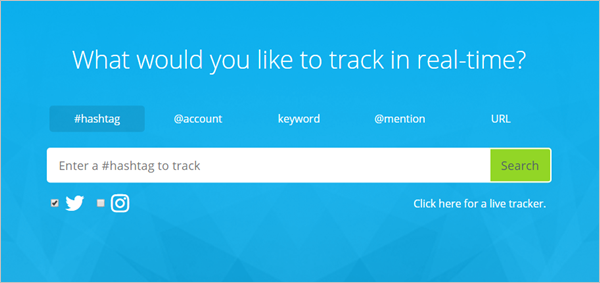 Keyhole gives you a glimpse into what's happening online. You can track anything in real time, from hashtags and social media accounts to specific keywords and URLs, plus much more! On top of campaign tracking, influencer marketing, and social listening, you can also schedule and publish your social media posts, all in one platform. The only drawback of this tool is that's only available for Twitter and Instagram. If that works for you, Keyhole lets you easily follow and join the current social conversations that impact your brand, reply to customer messages, track key competitors and get inspiration for your future content pieces!
Price: Starting at $132/month.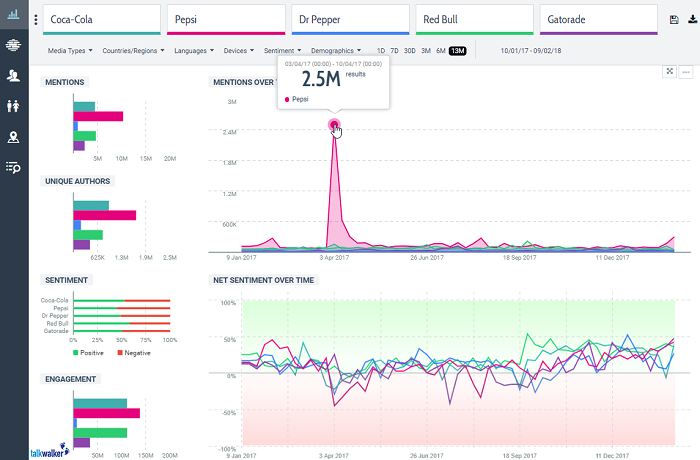 Talkwalker's Quick Search is a simple and user-friendly social media search engine. Deep dive into your competitors' online presence and find valuable insights into their online activity. You can leverage this data to create your own winning marketing strategy. This social media listening tool also enables you to listen and find content ideas, identify influencers, get to know your audience, and recognize trends.
We hope this overview of social media monitoring tools has shown you just how much you can do with a single tool, and how much you'll still need to do once you have one in place. After all, you're not really "listening" if you're not responding.
So choose the metrics and platforms you want to monitor, then pick the monitoring tool that can help you make the most of the data from the tool, truly listen to your customers and grow your business by building on the power of personal conversations.
What social monitoring tools are you using?