As a company, our goal is to to provide businesses with reliable solutions that bring them the best results in terms of sales and customer satisfaction.
We've been updating our integrations to enable online merchants worldwide to start selling fast and grow their revenue. We're excited to say that integrating your business with WooCommerce has never been easier!
WooCommerce is an open-source eCommerce plugin for WordPress, and is active on more than three million websites. The plugin enables you to turn your website into an eCommerce platform in just a few simple steps, covering multiple use cases, like marketing, shipping, and payment processing.
We have just released a new, improved payment integration for the WooCommerce plugin. Our new solution brings you three ordering engines that are conversion-rate-optimized and tailored to provide the best purchasing experience.
Use Convert Plus, InLine Checkout, and 2Pay.js With Your WooCommerce Plugin
Trusted by customers all over the world, our ConvertPlus, InLine Checkout, and 2Pay.js solutions are compatible with any business model and provide a fresh experience that builds trust with shoppers while enabling you to:
Have a faster loading time and increased conversion rates with optimized checkout flows
Sell internationally any type of product, with a localized solution
Offer a seamless experience that adapts and integrates across any device and web channel
Collect, process, and safeguard credit card information.
ConvertPlus – Hosted Cart
ConvertPlus helps you simplify the process of collecting payments from your customers while offering a straightforward and unique buying experience with the most popular international payment methods as well as inContext PayPal Express.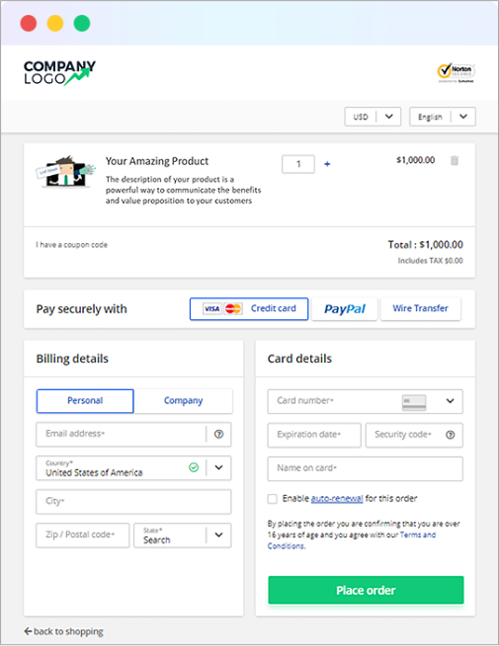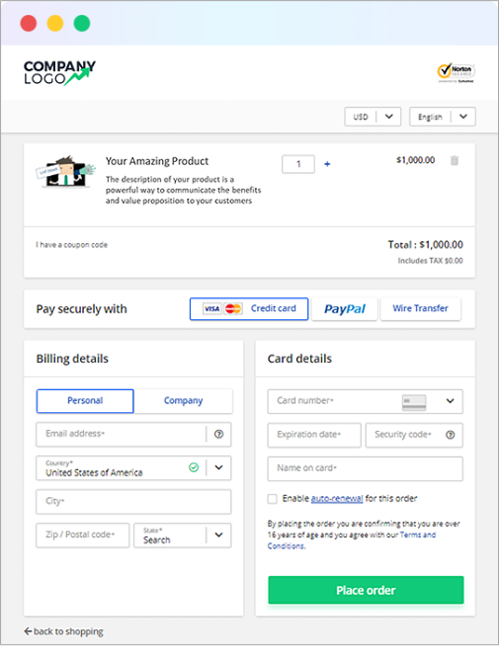 InLine Checkout – Hosted Cart
The InLine Checkout is a simple and straightforward interface that follows the latest conversion optimization best practices, offering your customers access to the most popular international payment methods and features for deep localization.
With InLine, you remove any distracting elements during the ordering process without redirecting customers to other pages.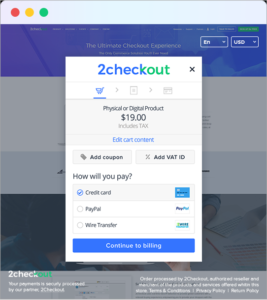 2Pay.js – API Payments
2Pay.js is a checkout solution built with security and compliance in mind, while maintaining a seamless approach in its integration with your online business.
With 2Pay.js, the card data is collected by the 2Checkout system, tokenized, and stored in a secure environment, while leveraging one of the strongest encryption algorithms. All these steps ensure you can benefit from full cart ownership without touching customers' card data, as well as a simplified PCI DSS validation process.

The Main Benefits of the New WooCommerce Plugin Update
A new and refreshed one-step checkout interface with conversion-rate-optimized logic
Localized shopper experience with twice as many supported languages and more payment methods
An easy way to update your business logo and review various shopping experiences using test payment methods
Access to 200 countries and more than 100 currencies
Visibility into your funnel with supported third-party analytics tools like Google Analytics and Google Tag Manager
The new integration can be downloaded from our Github page and the WordPress plugin marketplace. If you are using 2Checkout to process payments, or even if you are just getting started, the new extension requires you to change your integration to the updated version.
Check this article to see how fast you can start using one of the new shopping carts.
Businesses that start using the new integration will enjoy significant benefits from additional features and functionalities that will lead to higher conversion rates. This update will help you generate more customers and revenue, as shoppers will benefit from an improved  flow for a more intuitive and better checkout experience.
So don't miss this great opportunity and update your integration today!